Charter Prime is a forex broker based in New Zealand and is registered with the Financial Service Providers in New Zealand. Committed to maintaining good connections wit their liquidators, Charter Prime promises competitive trading conditions and top customer service. In this review, we will be looking through the service that is being provided so you can decide if Charter Prime is the right broker for you.
Account Types
There are three different accounts on offer from Charter Prime, these are a variable account, an ECN account, and a swap-free account, let's take a little look at them in more detail to see what they offer.

Variable Account: The variable account requires a minimum deposit of $100 to open, it does not charge commission as it is a spread based account. Leverage can be up to 1:500 and the minimum trade volume is 0.01 lots and goes u[p in increments of 0.01. You are able to use MetaTrader 3 with this account type.
ECN Account: The ECN account also requires a minimum deposit of $500, this account charges a commission of $8 due to it having much lower spreads. MetaTrader 4 is available with this account and the maximum leverage remains at 1:500 and the minimum trade volume as 0.01 lots.
Swap-Free Account: The swap-free account is for those whose beliefs mean that they can not pay or receive interest charges. This account is similar to the variable account apart from there is an additional $40 per lot every Wednesday in order to make up for the lack of swap fees.
Platforms
Just one platform available with Chartered Prime, but luckily that platform is MetaTrader 4 (MT4).
MetaTrader 4 (MT4): MetaTrader 4 (MT4) is one of the world's most popular trading platforms and for good reason. Released in 2005 by MetaQuotes Software, it has been around a while, it is stable customizable and full of features to help with your trading and analysis. MT4 is compatible with hundreds and thousands of different indicators, expert advisors, signal providers and more. Millions of people use MT4 for its interactive charts, multiple timeframes, one-click trading, trade copying and more. In terms of accessibility, MT4 is second to none, available as a desktop download, an app for Android and iOS devices and as a WebTrader where you can trade from within your internet browser. MetaTrader 4 is a great trading solution to have.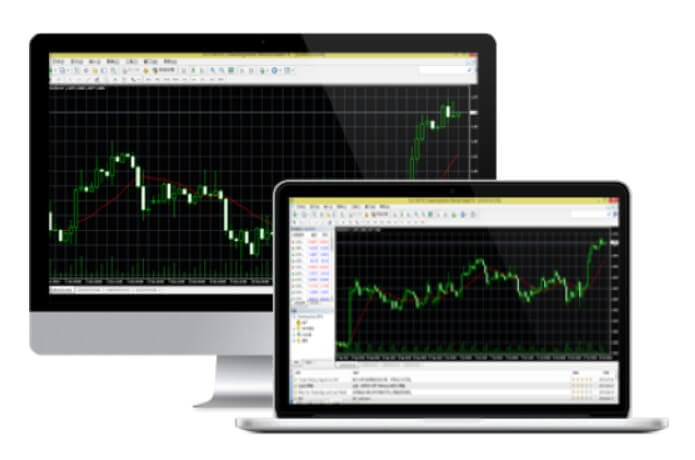 Leverage
All accounts have maximum leverages of 1:500, this can be set when opening up an account. Leverage can choose from anywhere between 1:50 to 1:500 and can be changed from within the client portal or by sending an email to the support team as long as there are no open trades at the time of the request.
Trade Sizes
The minimum trade size is 0.01 lots which are also known as a micro lot, trade sizes increase in increments of 0.01 lots so the next level would be 0.02 lots and then 0.03 lots. There is no indication of the maximum lot size but this normally sits between 50 lots and 100 lots. We would not recommend making trades bigger than 50 lots anyway due to it becoming harder for liquidity providers or the market to execute larger trades quickly.

Trading Costs
The Variable account does not have any additional charges applied to it besides the spreads (we will look at spreads later in this review). The ECN account has an added commission of $8 per lot traded which is not too far off the industry standard of $6. The swap-free account has a commission of $40 per lot which is charged every Wednesday.
Except for the swap-free account, swap charges are either paid or received for holding trades overnight, the exact fees can be viewed from within the MetaTrader 4 trading platform once you log into your account.
Assets
There are over 50 different instruments to trade spread over a number of different categories:
Forex Currency Pairs: A number of different major and minor currency pairs are available to trade such as AUD/CAD and CHF/JPY.
Commodities: Commodities are also available to trade with Charter Prime, including assets such as US Crude Oil. There are not as many available as one would expect though.
Precious Metals: The usual Gold and Silver are available to trade along with Platinum, these are the only three metals currently available to trade with Charter Prime.
Index CFDs: There are a small number of indices to trade as well, including the likes of the UK 100 Index, Singapore 30 and US Tech 100 Index.
There are currently no cryptocurrencies available to trade which is a shame because they are quickly becoming a major trading asset for both new and experienced traders.
Spreads
The spreads that you get are dependant on the account that you are using, if you are using a variable account or the swap-free account then you will receive additional spread markup, an example of the current spreads are 2.9 pips for AUD/CAD or 3.0 pips for EURAUD, the ECN account has reduced spreads and the same pairs are 0.8 pips for AUD/CAD and 0.8 pips for EUR/AUD.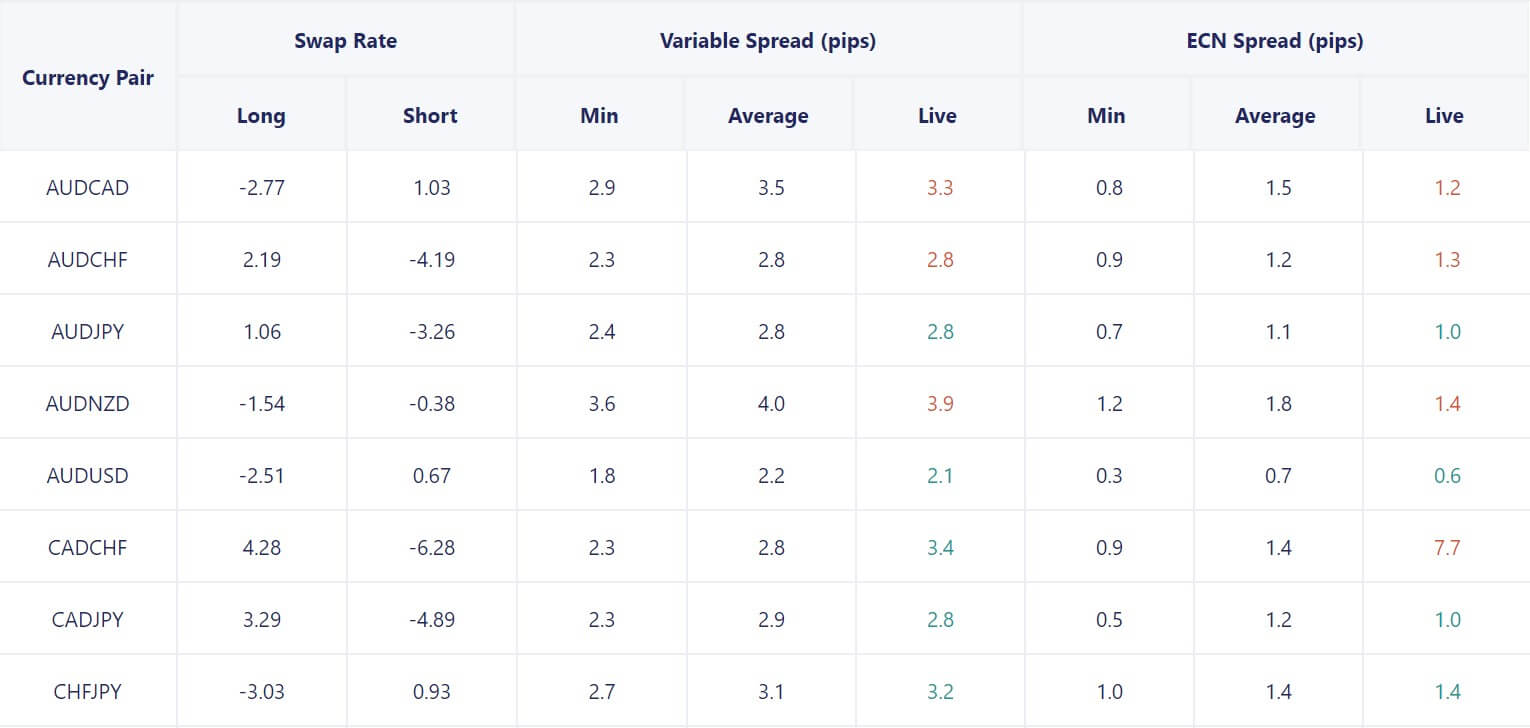 It is important to know that spreads will go up and down depending on the volatility of the market, but the spreads mentioned are the lowest they will go, so they will often be seen slightly higher. It is also important to note that some pairs naturally have higher spreads than others.
Minimum Deposit
The minimum deposit in order to open up a new account is $100, often once an account is open the minimum deposit reduces for any further deposits into that account but it is unknown if that is the case with Charter Prime.
Deposit Methods & Costs
There are a few different methods available to use when depositing with Charter Prime. These include Bitcoin, Tether, UnionPay, Bank Wire, Skrill, Neteller, and Local Gateway. All methods are fee-free with the exception of Tether, which carries a 5% fee. The broker's website notes that your bank may charge a fee on each wire transfer, but the broker itself does not charge a fee on wires.
Withdrawal Methods & Costs
The same methods to deposit are available to withdraw, we have put together a list with relevant information in regards to withdrawals:
Bitcoin – Free – $100 Minimum
Tether – 5% Fee – $100 Minimum
UnionPay – Free – $25 Minimum
Wire Transfer – Free – $200 Minimum
Skrill – 1% Fee – $50 Minimum
Neteller – 2% Fee – $50 Minimum
Local Gateway – Free – $75 Minimum
It is a shame to see that withdrawal fees are not being covered by Charter Prime as that is quickly becoming the usual practice from most modern brokers and a trend we would like to see all brokers taking part in.
Withdrawal Processing & Wait Time
The processing time for all payment methods other than bank wire is three business days. On bank wire transfers, that is extended to 3 to 5 business days. As per usual, online payments are the fastest way to get your money, while bank wire is the slowest and most costly option due to bank processing and fees.
Bonuses & Promotions
There is currently a 30% trading bonus promotion active with Charter Prime. This promotion has a few requirements such as having a minimum initial deposit of $1000, account must be in USD and do not have a VIP, PAMM or MAM account. Promotion is capped at $60,000 ($200,000 deposit), the following trading volume is needed to convert the bonus funds into withdrawable funds.
Educational & Trading Tools
Charter Prime offers some basic economic news and an economic calendar to their clients. The news offers some basic information but far better news sources exist out there on the internet, similarly, the economic calendar shows you any upcoming news events, but there are more detailed ones available elsewhere.
Customer Service
Should you wish to get in contact with Chartered Prime regarding a query or concern, you can do it in a number of ways. You can use the broker's online web form to fill in your query, and can then expect a reply via email. There are also 3 physical addresses available should you wish to send a letter and there is also an email to send a message directly. There was not a phone number on the contact page, but there is one present at the bottom of the website in the footer.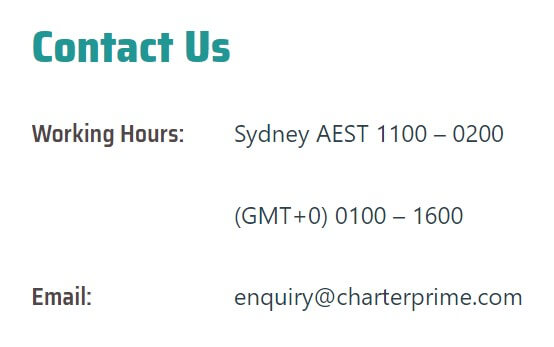 The working hours are Sydney AEST 11:00 – 02:00 or GMT+0 0:100 – 16:00. You should get a response within 24 hours and support are open from Monday to Friday, closing at the same time as the markets.
Demo Account
Demo accounts are available, simply click the demo account button, instead of creating ana account this will simply download the MT4 platform which will create an account once you open it. It would appear that these accounts last indefinitely but we would not be surprised if it was closed if left dormant for too long.
Countries Accepted
We could not locate information in regards to accepted or excluded countries so if you require this information we would suggest getting in contact with the customer service team to see if you are eligible for an account or not.
Conclusion
Charter Prime seems like a competent broker firm, their trading conditions are competitive and are in line with the current industry standards. It would have been nice to have seen cryptocurrencies as a tradable asset (along with a larger selection of other assets too) and the fees included for withdrawals are a little bit of a concern. Having said that, there is a decent selection of deposit and withdrawal methods to use should you decide to have Charter Prime as your broker of choice.
We hope you like this Charter Prime review. Be sure to check out some of the other reviews to help find the broker that is right for you.