The cryptocurrency market had another great day. After a day of consolidation that the industry had yesterday, the past 24 hours have been quite bullish. Most cryptos ended up in the green, and some of them even broke their old key levels. If we take a look at today's prices, Bitcoin went up %4.84, and it is now trading at $7,484. Ethereum gained 3.12%, while XRP went up 3.13%.
Of the top100 cryptocurrencies by market cap, the biggest gainer is Siacoin, with an explosive gain of 33.82% on the day. The biggest losers of the day were Silverway and Molecular Future, which lost 14.83% and 4.84% of their value, respectively.
The most recent jump in price was disproportional when we take into consideration all cryptocurrencies. Bitcoin's dominance has increased more than 0.5% when compared to the value it had yesterday as it gained more value than the rest of cryptocurrencies. Its dominance is currently 66.52%.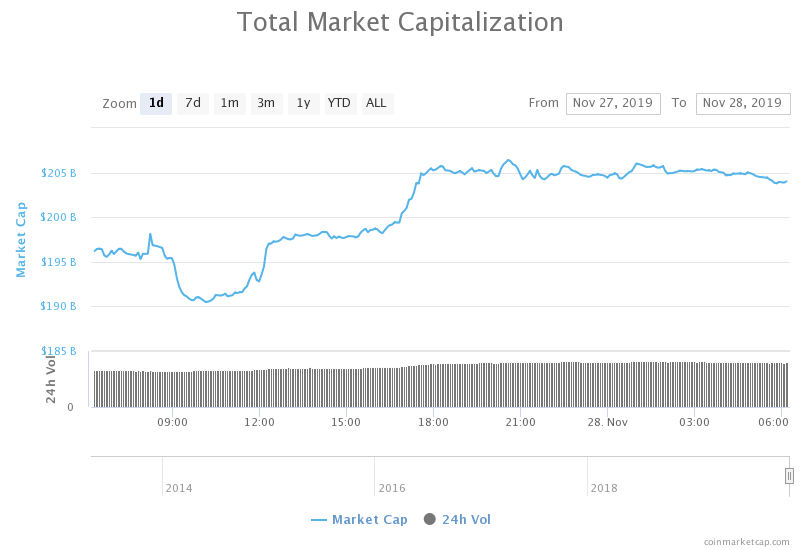 The cryptocurrency market as a whole now has a market capitalization of $203.87 billion, which represents a significant increase when compared to the value it had yesterday.
What happened in the past 24 hours
China is showing its teeth with its latest crypto-crackdown. As reported, at least five local exchanges had to stop their operations or announce that they will no longer serve domestic users this month. Chinese regulators issued a series of warnings and notices as part of a cleanup of cryptocurrency trading.
The latest wave of shutdowns and restrictions in the crypto industry represent the biggest cleanup of the sector since September 2017.
_______________________________________________________________________
Technical analysis
_______________________________________________________________________
Bitcoin
Bitcoin did not spend much time consolidating its price as the bulls seemed to have made a decision to move the price up. After consolidating above 7,000, the bulls pushed Bitcoin above $7,415. This move was successful and Bitcoin has now made this key level its support.
Bitcoin's volume was on the levels it was at during the sell-offs, which happened a few days ago. Its RSI level is currently more near overbought than near oversold territory.
Key levels to the upside                   Key levels to the downside
1:  $8,000                                          1: $7,415
2: $8,425                                           2: $6,620
3: $8,640                                
---
Ethereum
Ethereum bulls also had their run but left Ethereum right on the key level of $153. Ethereum is now trying to decide whether its price will stay above this line or below it. However, whether the price ends up above or below $153, the bullish move was successful as this key level was not the only one that the price passed to the upside.
Ethereum's RSI is now approaching overbought territory, while its volume has decreased heavily after the move has ended.
Key levels to the upside                    Key levels to the downside
1: $167.8                                            1: $127
2: $178.6
3: $185
---
XRP
XRP was another cryptocurrency that had a bull rally in the past 24 hours. However, its price is still not stable enough that we can say that this move was completely successful. After consolidating at around $0.21, XRP's price shot up to $0.227 it is now trading at. However, with no key resistance levels broken and no real support levels formed, this move hasn't brought XRP out of the limbo yet.
XRP's RSI is slowly increasing while its volume is declining slightly.
Key levels to the upside                   Key levels to the downside
1: $0.235                                           1:  $0.202
2: $0.245
3: $0.266