ICE FX is a Forex and CFD broker founded and based in Malaysia. Their main values are to offer transparency to their clients, to offer real investor statistics and to offer transparency in the trading of their company and manager. ICE FX work not only as a broker for your own trading, but it also works as an investment company. In this review, we will be looking into the services offered on the broker and trading side of things rather than the investment side.
Account Types
There are three different account son offer each with varying requirements and trading conditions, so lets briefly look at what they are.
STP Account: The STP account requires a minimum deposit of at least $30, the account comes with leverage between 1L1 and 1:300 and there is a commission between 0.0025% and 0.25%. The base currency must be in USD and it uses market execution. In terms of tradable assets, it has 62 currency pairs, 5 spot metals, 11 indices, 3 commodities, and 15 cryptocurrencies. The account also comes with risk management and a demonstration of position hedging.
STP-MA Account: This account increases the initial deposit required up to $500 and the account must be in USD. Leverage on the account is between 1:1 and 1:100 and there is an added commission of 0.004% to 0.006%. The account has 62 currency pairs, 5 metals, 11 indices, and 2 commodities available to trade. It uses market execution and has risk management and a demonstration of position hedging.
Cent Account: The Cent account has a minimum deposit of $1 and a maximum deposit of $100. It has leverage between 1:1 and 1:500 and a minimum trade size of 0.01 lots. There are 62 currencies, 5 metals, 11 indices, 3 commodities and 15 cryptos to trade. The account must be in USD and there is a commission of 0.0025% to 0.25%, it uses market execution and there is risk management available.
Platforms
ICE FX uses MetaTrader 4 as its trading platform, providing it in PC and application (Android & iOS) formats. MetaTrader 4 is a leader among forex trading platforms and has remained the gold standard within the industry for many years. Its large scale functionality and plethora of trading opportunities, along with its intuitive interface make this platform suitable for traders of all skill levels. MetaTrader 4 offers not only a large number of tools and trade opportunities for fast and efficient trading but also delivers a wide variety of functions and tools that can be used for analyzing the marketplace. The system further supports trading robots (EAs), including tools for their development and testing. MT4's popularity can be credited to its infrastructure, which was developed by a team of professionals consisting of script developers, advisers, experienced investment managers, trading signal providers, and more.
Leverage
The leverage that you can have depends on the account type you use.
STP Account = 1:1 to 1:300
STP-MA Account = 1:1 to 1:300
Cent Account = 1:1 To 1:500
Leverage can be selected when opening up an account and is known as floating which means that it increases or decreases depending on the volume of open trades, the higher the trade volume the lower the leverage will become.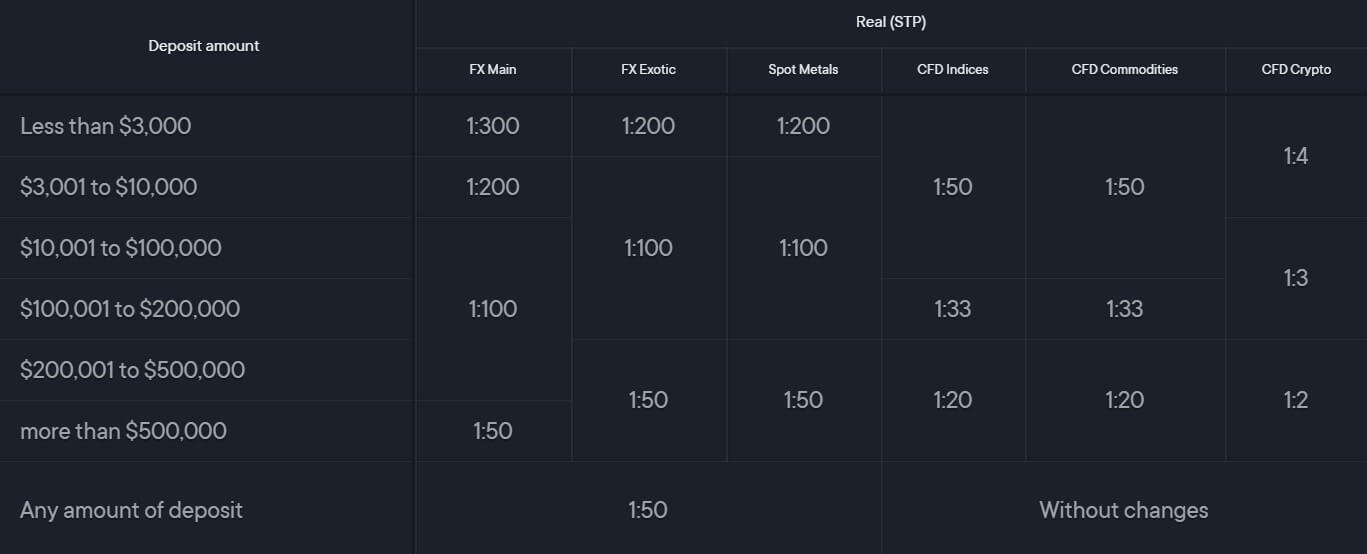 Trade Sizes
The different instruments have different minimum and maximum trade sizes, we have outlined them for you below.
Forex Main: 0.01 lots min / 0.01 lots increments / 1000 lots max
Forex Exotic: 0.01 lot min / 0.01 lot increments / 100 lots max
Metals: 0.01 lot min / 0.01 lot increments / 100 lots max
Indices: 1 lot min / 1 lot increments / 250 lots max
Commodities: 1 lot min / 1 lot increments / 250 lots max
Crypto: 0.1 lots min / 0.01 lots increments / No max
While the maximum trade sizes are quite high, we would recommend not trading in sizes larger than 50 lots, as the bigger a trade becomes the harder it is for the markets or liquidity provider to execute the trade quickly and without any slippage. There is also no limit to the number of open trades you are able to have.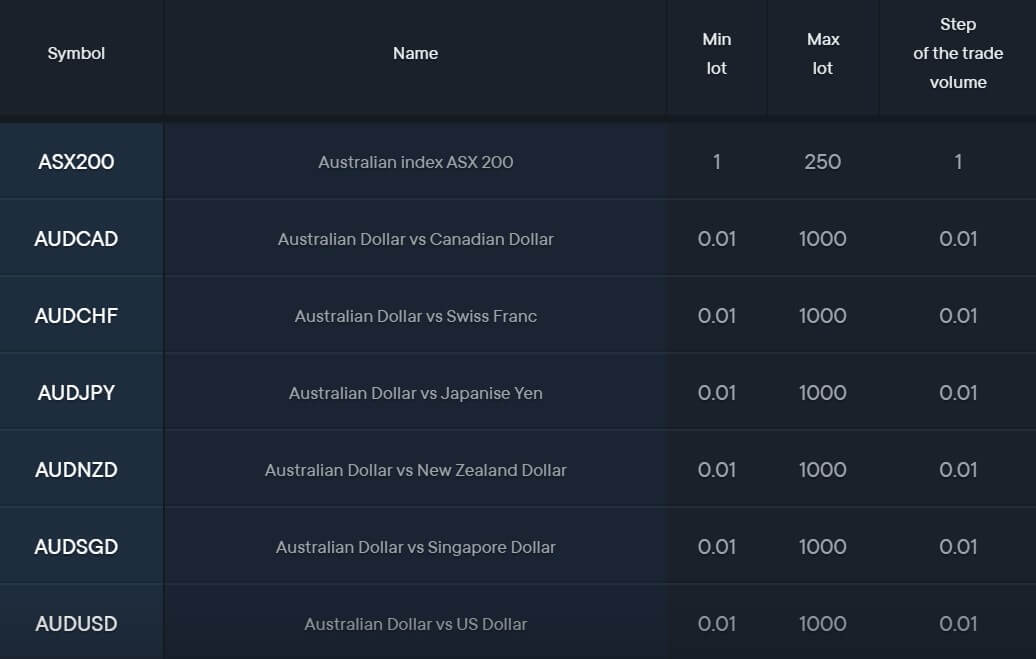 Trading Costs
There is a commission on all accounts, ICE FX has set out their commission as a percentage rather than a fixed pip. The commission is between 0.0025% and 0.25% on the STP and Cent accounts and between 0.004% and 0.006% on the STP-MA account.
Swap charges are also present, these are interest charges that are incurred for holding trades overnight, they can be both negative or positive and can usually be viewed from within the trading platform of choice.
Assets
ICE FX have broken down their assets into a number of different categories, let's have a look at what they are.
Forex: AUD/SGD, NZD/JPY, AUD/SGD, NZD/JPY, CHF/SGD, EUR/RUB, EUR/PLN, AUD/CAD, AUD/CHF, AUD/JPY, AUD/NZD, AUD/USDCAD/CHF, CAD/JPY, CHF/JPY, EUR/AUD, EUR/CAD, EUR/CHF, EUR/DKK, EUR/GBP, EUR/JPY, EUR/NOK, EUR/NZD, EUR/SEK, EUR/SGD, EUR/TRY, EUR/USD, GBP/AUD, GBP/CAD, GBP/CHF, GBP/JPY, GBP/NZD, GBP/USD, ZD/CAD, NZD/CHF, NZD/USD, NZD/JPY, USD/CAD, USD/CHF, USD/CNH, USD/JPY, USD/NOK, USD/PLN, USD/DKK, USD/RUB, USD/SEK, USD/SGD, USD/TRY. USD/ZAR, EUR/CZK, EUR/HUF, EUR/ZAR, GBP/DKK, GBP/NOK, GBP/SEK. GBP/SGD, GBP/TRY, USD/CZK, USD/HUF, NOK/SEK, SGD/JPY, NOK/JPY, USD/HKD, USD/MXN.
Metals: XAU/EUR, XAG/EUR, XPT/USD, XAU/USD, XAG/USD
Indices: DAX 30, CAC 40, IBEX 35, FTSE 100, STX 50, DJI 30, SP 500, NQ 100, HSI 50, JP 225, ASX 200
Commodities: Brent Crude Oil, WIT Crude Oil, Natural Gas
Crypto: BAT/USD, ETC/USD, IOT/USD, XLM/USD, BCH/USD, BTC/USD, DSH/USD, EOS/USD, ETH/USD, ZEC/USD, LTC/USD, NEO/USD, OMG/USD, XMR/USD, XPR/USD

Spreads
It seems like all account types have the same spreads, so the spreads you get depend on a couple of factors. The spreads are variable (also known as floating) so this means that when the markets are being volatile, the spreads will often be seen higher. It is also important to note that different instruments and assets have different starting spreads, so while EURUSD may start at 1.1 pips, other assets like GBPJPY may start slightly higher, in this case, 2.7 pips.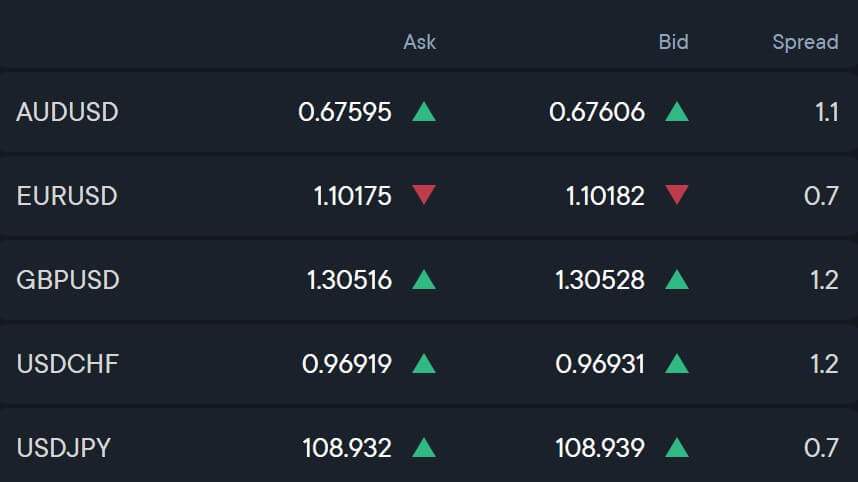 Minimum Deposit
The minimum deposit possible by the deposit methods available is $50 which will allow you to open either a Cent account or an STP account.
Deposit Methods & Costs
There are a number of different methods available, each coming with their own minimum deposit amounts and charges, we have outlined them below.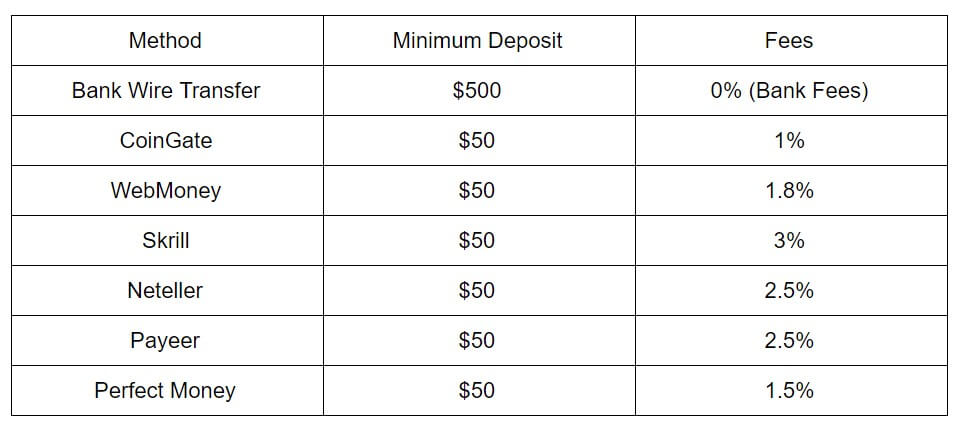 It is a shame to see deposit fees, this is something a lot of brokers are looking to phase out so it would be nice to see ICE FX do a similar thing. When using Bank Wire Transfer be sure to check with your bank to see if they add any fees of their own.
Withdrawal Methods & Costs
We have outlined the deposit methods below along with their minimum / maximum withdrawal and the fees charged.
When using Bank Wire Transfer be sure to check with your bank to see if they add any fees of their own.
Withdrawal Processing & Wait Time
The amount of time it takes ICE FX to process withdrawals could not be located by us, if it is there we may have just missed it. Depending on the method you use though, you could expect any time between 1 to 5 business days to receive your funds.

Bonuses & Promotions
There are two different promotions on offer, the first being a commission rebate on deposits and withdrawals, these have already been calculated into the figures we mentioned in the previous sections of this review.
Rebates: There is a rebate system which to us seems a little confusing. When creating an account you can select an increased amount of commission, doing so entitles you to more rebates. You can recover up to 25% of your commission back as a rebate. Any rebates received are received as live funds and can be withdrawn at any time.
Educational & Trading Tools
When it comes to education and tools, there are a lot of things but they are all scattered over the website which makes it hard to work out where and what everything is, we have managed to find the following though.
The Tradebox is a page offering live information including quotes, spreads, and swaps, there is also an economic calendar detailing upcoming news events and stating which currencies they may affect. There is also a VPS on offer, you are able to get this for free as long as you have a high enough balance or are a VIP client.
There may be other tools but we can not find them in the crowded menu system.
Customer Service
The contact page was quite hard to find as the menus of the site are so crowded, once you get to the contact us page there are a number of different ways to get in contact. You can start a chat using the online chat system, you can also use Skype if it is easier. There is also the main support email as well as a direct phone number to support. The support department is open 24 hours a day from Monday to Friday.

There are also skype and email addresses for the Trade Operations Department, Legal Department, Financial Department, Execution Help, Working With Managers, Working With VIP Clients, Forum Rules and, the Partnership Department
Demo Account
Demo accounts are available: STP-Demo simulates an STP-account without the need to deposit real money. It differs by the order execution method, certain trading conditions, and the absence of part of the marginal requirements. It is not recommended to consider the trading results received on an STP-Demo account as real or retrospectively apply them on an STP-account.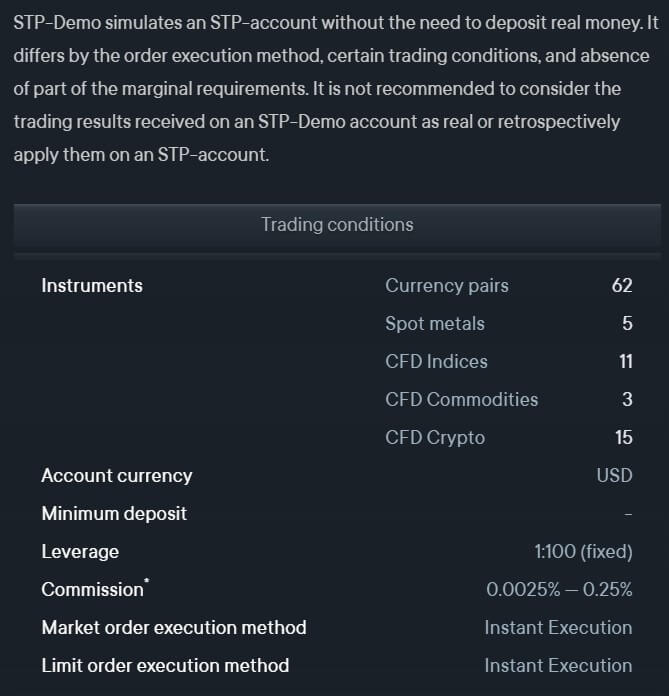 The demo account comes with 62 currency pairs, 5 spot metals, 11 indices, 3 commodities and 15 cryptos to trade, its base currency is USD and leverage are set at 1:100. Commission on it is 0.0025% to 0.25% and ut has instant execution.
Countries Accepted
The information about which countries are accepted and which are not is not present on the website, so if you are interested in joining, be sure to get in contact with the customer service team to check if you are eligible for an account or not.
Conclusion
There is a lot of information available on the ICE FX site, in fact, there may be too much the menus can be very hard to navigate and to find exactly what you are looking for, That aside, the accounts page is informative and there is plenty of information on trading conditions like spreads and trading costs. The costs seem reasonable and quite competitive. Plenty of deposit and withdrawal methods are available but the addition of fees, even after a commission rebate means it can be quite expensive to move your money about. Plenty of ways to get in contact with the customer service team and a whole host of tradable instruments can make ICE FXC an appealing broker to try, as long as you are ok with the costly deposits and withdrawals.