The crypto market might be on the verge of a bull season. Bitcoin, as the most prominent cryptocurrency, stepped above $9,000 level and is currently establishing its price above it. Bitcoin's price went up 4.43% on the day. It is currently trading for $9,012. Meanwhile, Ethereum gained 2.68% on the day, while XRP went up 1.29%.
KickToken gained 22.81% on the day, making it the most prominent daily gainer. Bytecoin lost the most today (6.62%), which made it the most prominent daily loser.
Bitcoin's dominance increased slightly in the past 24 hours. It is now at 65.99%, which represents an increase of 0.21% when compared to the value it had yesterday.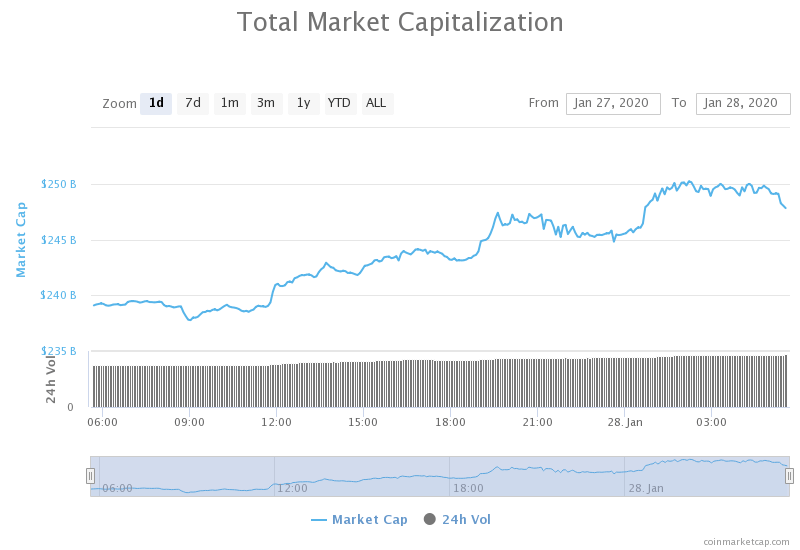 The cryptocurrency market capitalization gained quite a bit of its value in the past 24 hours, as all the bigger cryptocurrencies went up in price. It is currently valued at $248.77 billion, which represents an increase of $8.84 billion when compared to yesterday's value.
What happened in the past 24 hours
Deutsche Bank, Germany's largest bank, said that cash is unlikely to be replaced by crypto any time soon despite being used less and less over time as a payment method, as well as despite the surge of digital currencies.
Deutsche Bank, which previously predicted that cryptocurrencies would almost certainly replace fiat by 2030, now changed its statement and said that cash "will be around for a long time."
Honorable mention
Bitcoin Gold
The Bitcoin Gold blockchain has suffered a 51% attack, which resulted in over $70,000 worth of BTG being double-spent. James Lovejoy, a researcher at MIT's Digital Currency Initiative, posted on GitHub that the Bitcoin Gold network was hit by two deep reorganizations, which counted over ten blocks. This event happened on Jan 23 and 24.
A 51% attack is a network breach where a single entity controls over half of the hashpower which secures a blockchain. This allows the aforementioned entity full control over confirmation of new transactions. If this power is abused, it could reverse completed transactions, allowing for the double spending of coins.
_______________________________________________________________________
Technical analysis
_______________________________________________________________________
Bitcoin
Bitcoin had another great day, leading the cryptocurrency market to new highs. The largest cryptocurrency passed a major milestone of $9,000, and started consolidating right above it. The $9,120 resistance level seems to have stopped Bitcoin from going up, at least for now. Bitcoin's closest support line (bestides the $9,000 level which is not exactly a support level, but rather an emotional barier) is $8,905.
Bitcoin's RSI is deep into the overbought territory on the 4-hour chart, while its volume is elevated and on the approximately the same level as all the significant price fluctuations (up or down) in the past two weeks.
Key levels to the upside                    Key levels to the downside
1: $9,120                                           1: $8,905
2: $9,251                                           2: $8,815
3: $9,585                                           3: $8,650
---
Ethereum
Ethereum also continued to increase in price after a good weekend. Its price passed the $167.8 support line on Sunday, but the bulls and bears were continually fighting for the next day on whether ETH will remain above the price level. However, the most recent spike in price decided that for sure. Ethereum is now in the middle of the range, with the closest resistance level being $178.5, and the closest support level still being $167.8.
Ethereum's volume is elevated, while its RSI bounced off of the overbought territory and is (for now) moving down.
Key levels to the upside                    Key levels to the downside
1: $178.5                                             1: $167.8
2: $185                                               2: $164
3: $193.6                                            3: $160
---
Ripple
XRP followed the market to the upside, but it gained much less than Bitcoin and Ethereum. XRP bulls tried pushing the price above its resistance level of $0.235 but failed to do so. Ripple is now trading just below this price, with $0.235 being confirmed as a major resistance point. Its closest support level is still $0.227.
XRP's volume is still not elevated and is on the same level as it was over the past few days. Its RSI is oscillating between 55 and 65 for the past two days.
Key levels to the upside                    Key levels to the downside
1: $0.235                                            1: $0.227
2: $0.2454                                          2: $0.221
3: $0.266                                            3: $0.211