The cryptocurrency market has spent the weekend closely watching the timer to Bitcoin's halving. Most cryptos had an over 10% price decrease on Sunday. Bitcoin is currently trading for $8,698, which represents an increase of 0.85% on the day. Meanwhile, Ethereum gained 0.25% on the day, while XRP went up by 0.13%.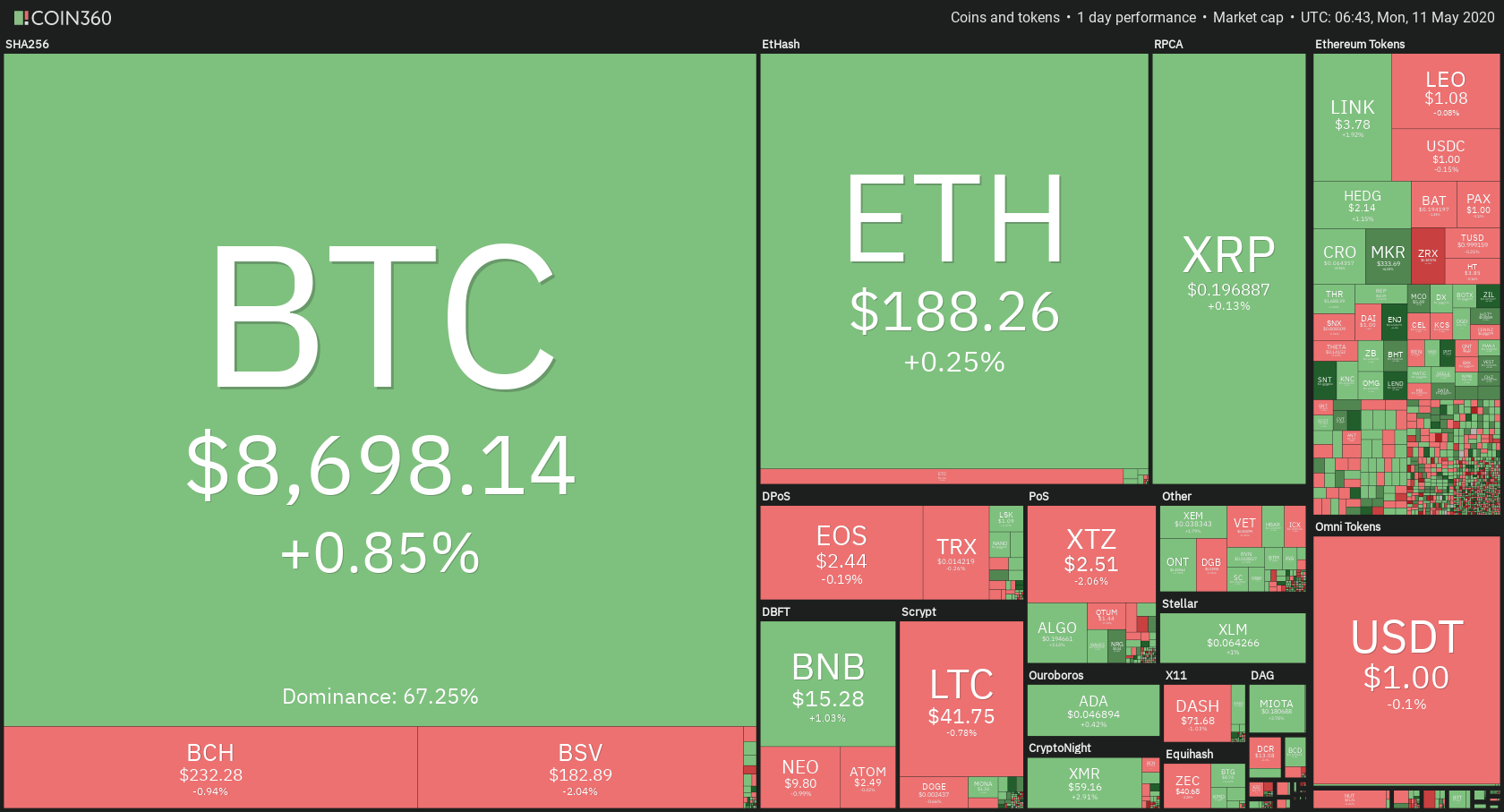 Crypterium took the position of today's most prominent daily gainer, with gains of 31.95%. Hyperion lost 22.39% of its daily value, making it the most prominent daily loser.
Bitcoin's dominance decreased over the weekend, with its value currently at 67.25%. This value represents a 0.68% difference to the downside.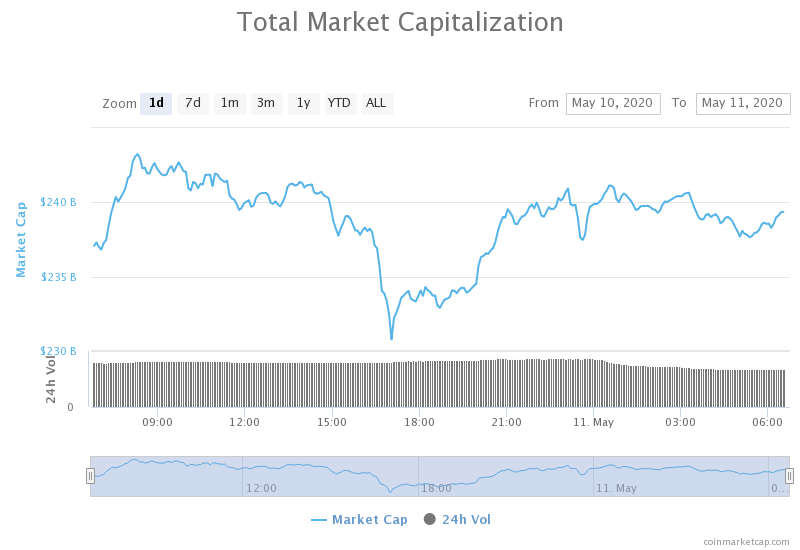 The cryptocurrency market capitalization decreased when compared to Friday's value, with its current value being $239.74 billion. This value represents a decrease of $25.81 billion when compared to the value it had on Friday.
What happened in the past 24 hours
With Bitcoin halving being just hours away, everyone is looking at the biggest and most well-known cryptocurrency. However, just like before the previous halving in 2016, Bitcoin's price dropped right before the event.
People are not scared though, as the fear and greed index shows that Bitcoin investors are in the greed phase, which shows us that people are quite interested in grabbing their Bitcoin before it becomes too late.
_______________________________________________________________________
Technical analysis
_______________________________________________________________________
Bitcoin
The largest cryptocurrency by market cap has, after failing to break the $10,000 resistance, started testing support levels in order to find one it can consolidate at. However, one support level by another fell and Bitcoin quickly reached double-digit losses, standing at under $9,000. It is currently bound by its immediate resistance at $8,880 and support at $8,650. It is important to note that Bitcoin fell back into a long-term upwards facing trend, which its price reacted to.
Key levels to the upside                    Key levels to the downside
1: $8,820                                           1: $8,650
2: $8,980                                           2: $8,000
3: $9,120                                            3: $7,750
Ethereum
Ethereum also lost quite a bit of its value over the weekend. The second-largest cryptocurrency by market cap failed to break $217.6 which triggered a downturn that brought its price to $178.65 levels. However, the price quickly recovered and Ethereum is back above $185. Ethereum is, unlike  Bitcoin, in a descending trend which its price completely respected and acknowledged.
Key levels to the upside                    Key levels to the downside
1: $193.6                                            1: $185
2: $198                                              2: $178.65
3: $217.6                                            3: $167.8
Ripple
XRP pretty much followed the market when it comes to price movement over the weekend. The third-largest cryptocurrency by market cap also had an over 10% loss, which resulted in XRP falling below the $0.214 support (now turned resistance).
XRP managed to stabilize above $0.19, where it is trading at the moment.
Key levels to the upside                    Key levels to the downside
1: $0.2                                               1: $0.19
2: $0.205                                           2: $0.178
3: $0.214                                            3: $0.147