The crypto market took another try at reaching new highs after a day of consolidation. Altcoins seems to have taken over the day, as most of the large altcoins moved up more than Bitcoin. Bitcoin, the largest cryptocurrency by market cap, is currently trading for $9,450, which represents a 2.08% increase. Meanwhile, Ethereum gained 6.2%% on the day, while XRP went up 4.24%.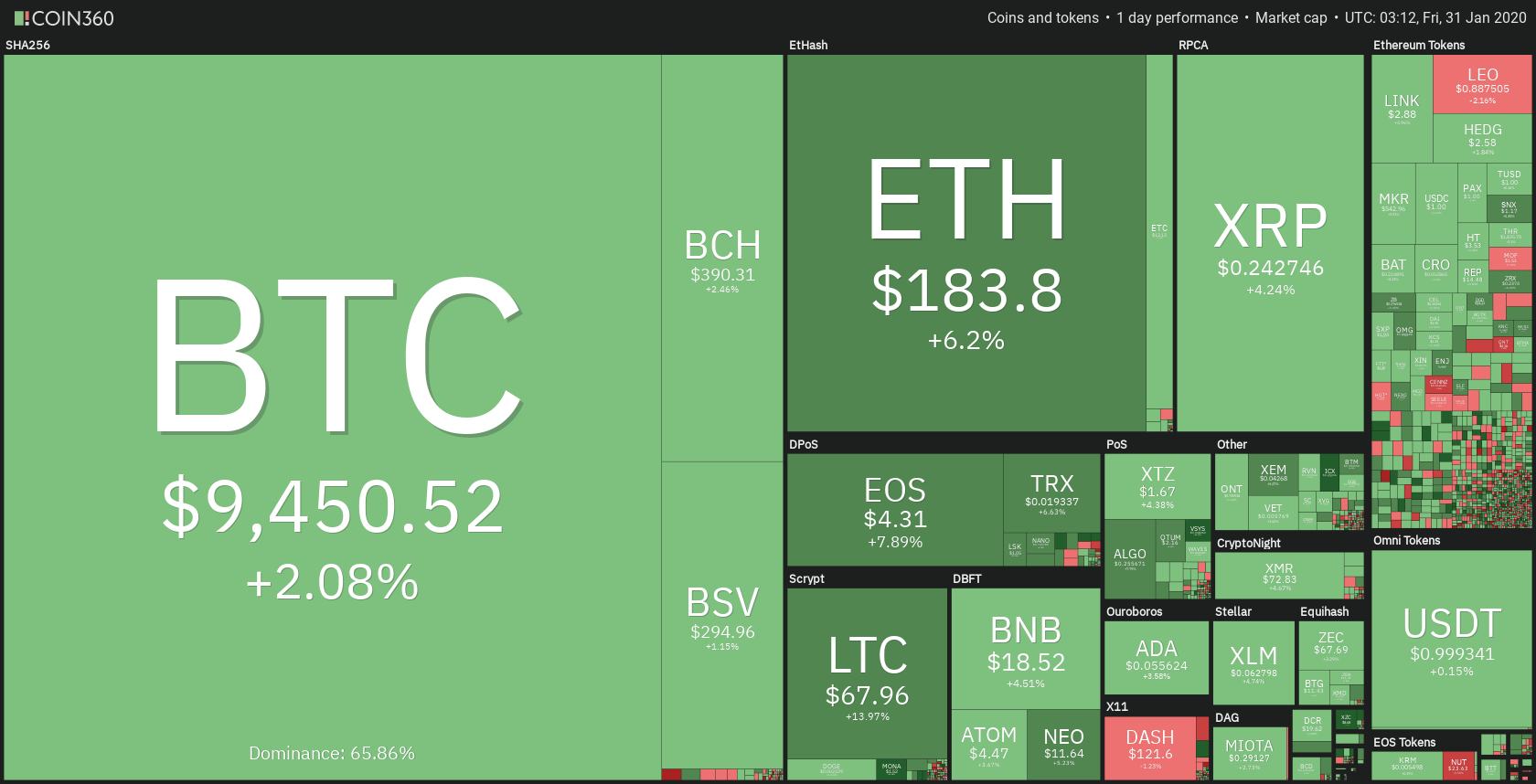 Kick Token took today's most prominent daily gainer title with gains of 47.56%. On the other side, DxChain lost 11.01% on the day, which made it the most prominent daily loser.
Bitcoin's dominance decreased significantly in the past 24 hours. It is now at 65.86%, which represents a decrease of 0.76% when compared to the value it had yesterday.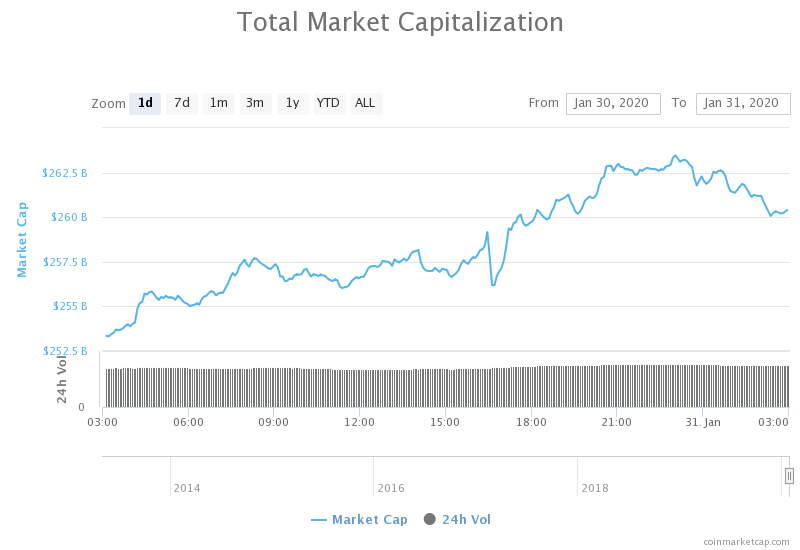 The cryptocurrency market capitalization gained a considerable amount of value in the past 24 hours. It is currently valued at $260.37 billion, which represents an increase of $7.05 billion when compared to yesterday's value.
What happened in the past 24 hours
The crypto boom of 2017 made mainstream financial entities look at the crypto industry. That was also the time they began moving into it. The Chicago Mercantile Exchange (CME) launched Bitcoin futures trading in December 2017, and since then, it has hosted over $100 billion in trading volume.
CME Group Managing Director, as well as Global Head of Equity Index Alternative Investment Products, Tim McCourt, told the press that the news of total volume of over $100 billion in Bitcoin futures trading is true.
Honorable mention
XRP
The world's third-biggest cryptocurrency, XRP, is facing more regulatory concerns than ever. As these concerns have intensified, many people stepped in and talked about what they think about this asset.
Ben Askren, a former UFC fighter as well as a known Bitcoin bull, posted a tweet that expressed a lot of skepticism towards XRP. He tweeted on Jan 28: "I think XRP is a scam." Askren is s well-known Bitcoin and Litecoin fan, but not quite a fan of XRP (as we can see from the tweet).
_______________________________________________________________________
Technical analysis
_______________________________________________________________________
Bitcoin
Bitcoin bulls tried to propell the price of the largest cryptocurrency above $9,500. However, the buying power was not as high as it needed to be, and Bitcoin failed to make it above this resistance level. Bitcoin immediately pulled back to the mini-support line of $9,375 (which is a 14.6% Fib retracement from the move – usually not a well-respected retracement level). Bitcoin is currently trading between its nearest big support of $9,251 and the $9,585 resistance level.
Bitcoin's RSI is dancing around the overbought level line, while its volume is quite normal, apart from the one 4-hour candle which came out when BTC started a big upwards-facing move.
Key levels to the upside                    Key levels to the downside
1: $9,585                                           1: $9,251
2: $9,732                                           2: $9,120
3: $10,000                                         3: $8,905
---
Ethereum
Ethereum is one of the altcoins that gained more than Bitcoin in the past 24 hours. The second-largest cryptocurrency managed to push over its $178.5 resistance and finally break above. The moves were strong and without much resistance, while the volume was enormous (in comparison to the volume of the past week or so). Ethereum also tried to go over the next resistance level of $185 but failed to do so. It is currently consolidating just above the resistance level.
Ethereum's volume was huge during the time of the price spike, while its RSI is slowly leaving the overbought territory.
Key levels to the upside                    Key levels to the downside
1: $185                                                1: $178.5
2: $193.6                                            2: $167.8
3: $198                                           3: $164
---
Ripple
XRP also outperformed Bitcoin on the day. Its price moved up in order to pass the $0.2454 resistance level but failed to do so. However, XRP did make a good move to the upside. Its price is now just below the resistance.
XRP's volume was elevated on the day, while its RSI level almost reached the overbought territory. However, it quickly backed down as the price stopped moving up.
Key levels to the upside                    Key levels to the downside
1: $0.2454                                          1: $0.235
2: $0.266                                            2: $0.227
3: $$0.285                                          3: $0.221