The cryptocurrency market has spent the day attempting to break its immediate resistance levels. Bitcoin is currently trading for $9,202, which represents an increase of 0.56% on the day. Meanwhile, Ethereum gained 1.57% on the day, while XRP gained 0.66%.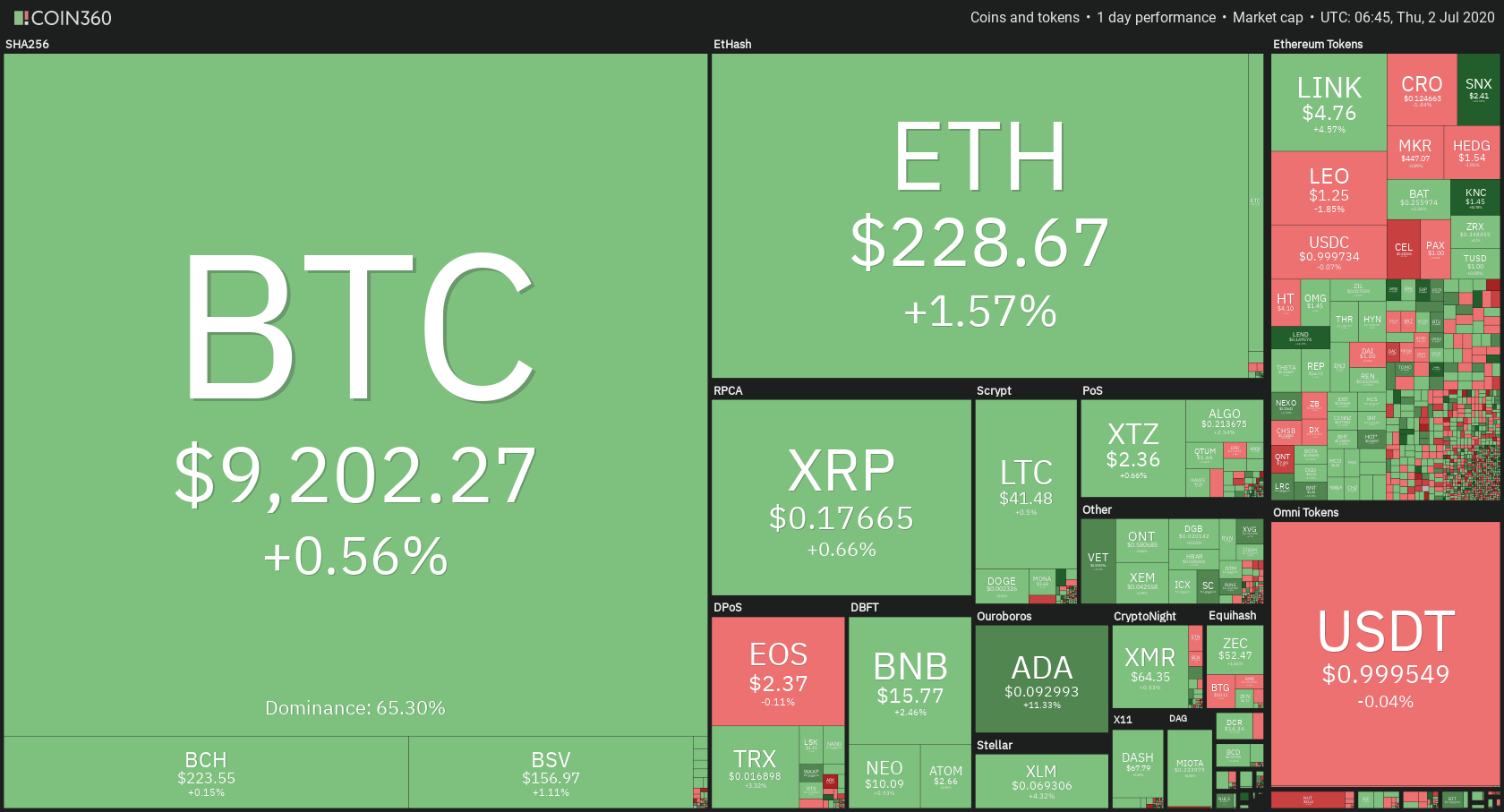 Daily Crypto Sector Heat Map
When talking about top100 cryptocurrencies, Synthetix Network gained 22.77% on the day, making it by far the most prominent daily gainer. Kyber Network (16.35%) and Aave (14.66%) also did great. On the other hand, Celsius has lost 9.71%, making it the most prominent daily loser. It is followed by Compound's loss of 9.57% and SwissBorg's loss of 4.86%.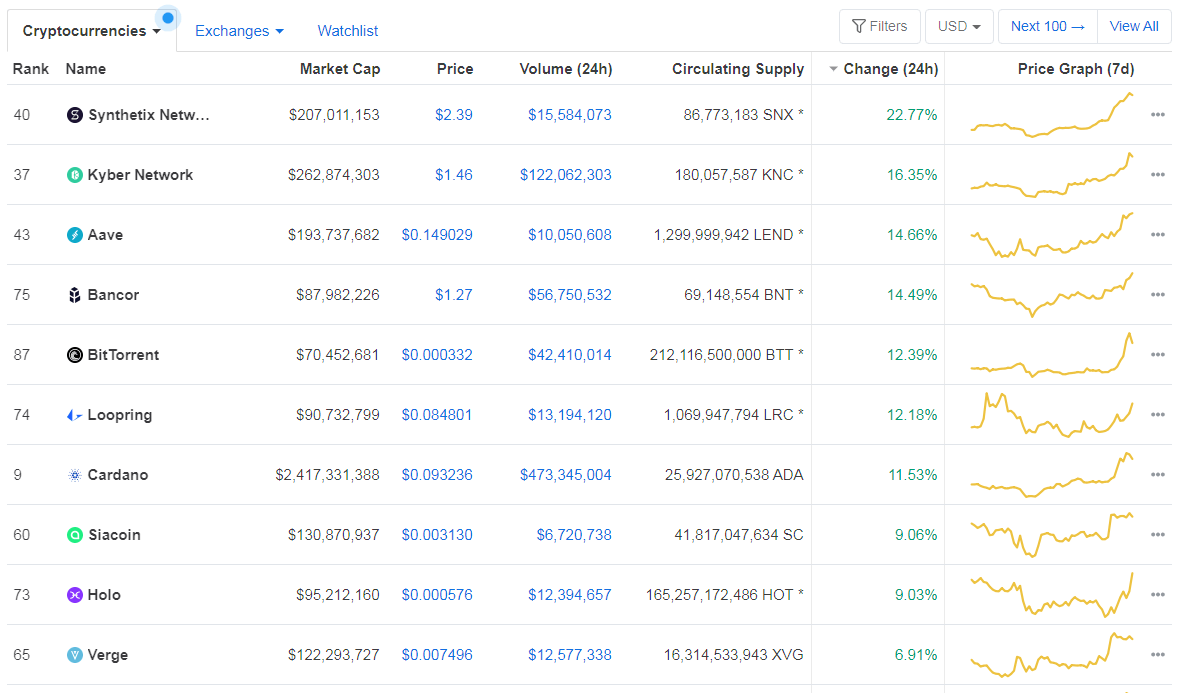 Top 10 24-hour Performers (Click to enlarge)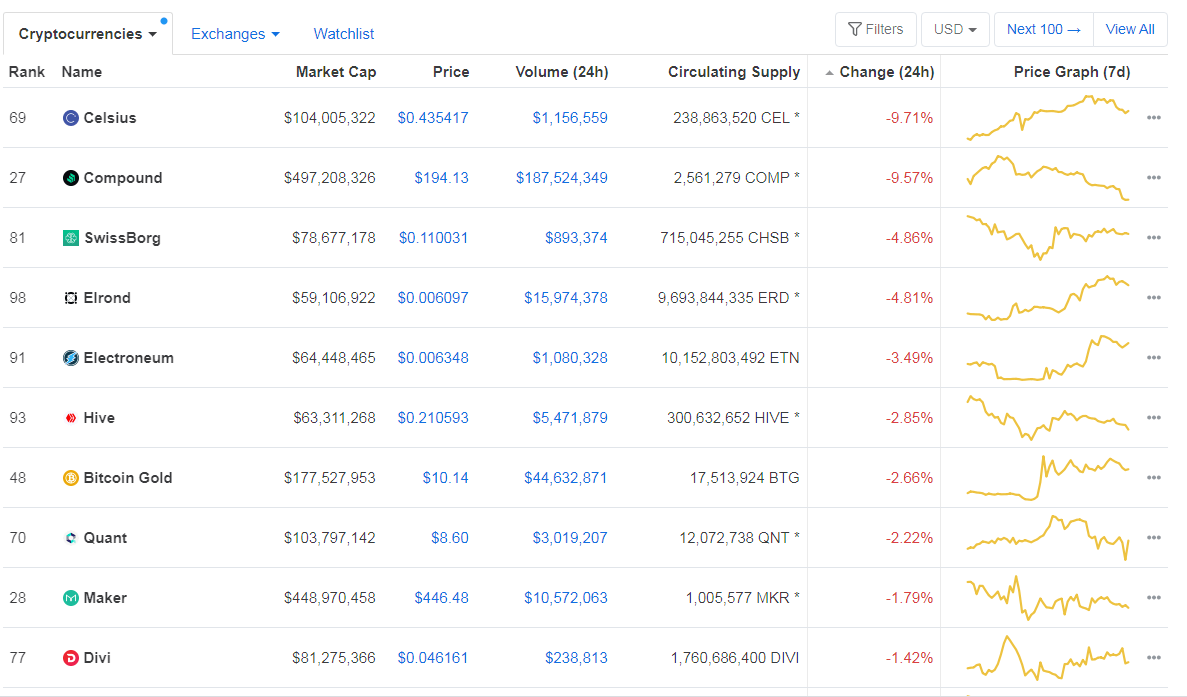 Bottom 10 24-hour Performers (Click to enlarge)
Bitcoin's dominance level decreased slightly since we last reported, with its value currently at 65.30%. This value represents a 0.06% difference to the downside when compared to yesterday's value.
Daily Crypto Market Cap Chart
The cryptocurrency market capitalization increased slightly when compared to yesterday, with the market's current value being $262.59 billion. This value represents an increase of $3.11 billion when compared to the value it had yesterday.
_______________________________________________________________________
What happened in the past 24 hours?
_______________________________________________________________________
_______________________________________________________________________
Technical analysis
_______________________________________________________________________
Bitcoin
The largest cryptocurrency by market capitalization has spent the past day trying to reach above its $9,251 resistance level. As the volume increased, Bitcoin managed to tackle this level, but only for a short period of time. The price didn't manage to stay above $9,251, and Bitcoin moved below it yet again. It is now consolidating right below it.
Traders should be wary of trading Bitcoin just based on its momentum. They should rather watch for confirmations or pullbacks and trade those.


BTC/USD 4-hour Chart
Technical factors:
Price is above its 50-period EMA and its 21-period EMA
Price is above the Middle B.B. (20period SMA)
RSI above the middle point (55.5)
Increased Volume (Coming back to normal)
Key levels to the upside          Key levels to the downside
1: $9,251                                 1: $9,120
2: $9,580                                 2: $8,980
3: $9,735                                  3: $8,820
Ethereum
Ethereum was also ready to move to the upside in the past 24 hours, which it did a bit more successfully than Bitcoin. The second-largest cryptocurrency by market capitalization gathered up buyers and tried to reach higher levels (though not necessarily to break any resistance levels like $240 is too far away. However, it got stopped in its tracks around the $233 mark, where the price hit the newly-formed trend upper line.
Ethereum traders should have an easy time trading within the boundaries of the newly-formed trend.


ETH/USD 4-hour Chart
Technical Factors:
Price above the 50-period EMA and the 21-period EMA
Price right above Middle B.B. (20-period SMA)
RSI above the middle point (52.7)
Increased volume
Key levels to the upside          Key levels to the downside
1: $228                                    1: $225.4
2: $240                                    2: $217.7
3: $251.4                                  3: $198
Ripple
The third-largest cryptocurrency by market cap is continuing its path towards the downside by following the descending trend line. XRP doesn't have enough volume to tackle the $0.178 level at the moment, so its moves are either to the downside or right to the resistance level.
There aren't many XRP trading opportunities at the moment, but most of them are completely straightforward, as they are always accompanied by sharp increases in volume.


XRP/USD 4-hour Chart
Technical factors:
XRP in a mid-term descending trend
XRP lacks strong support levels below $0.178
The upside is guarded by the 21 and 50-period EMA
Price in a narrow range between the Middle B.B. (20 SMA) and Lower B.B.
RSI is below the middle point (47)
Average (extremely low) volume
Key levels to the upside          Key levels to the downside
1: $0.178                                    1: $0.147
2: $0.19                                    
3: $0.2