The cryptocurrency market has spent the past day preparing for the Bitcoin halving event. While there was some price uncertainty, it eventually turned out to be a pretty stable day. Bitcoin is currently trading for $8,680, which represents a decrease of 0.07% on the day. Meanwhile, Ethereum gained 0.07% on the day, while XRP went down by 0.61%.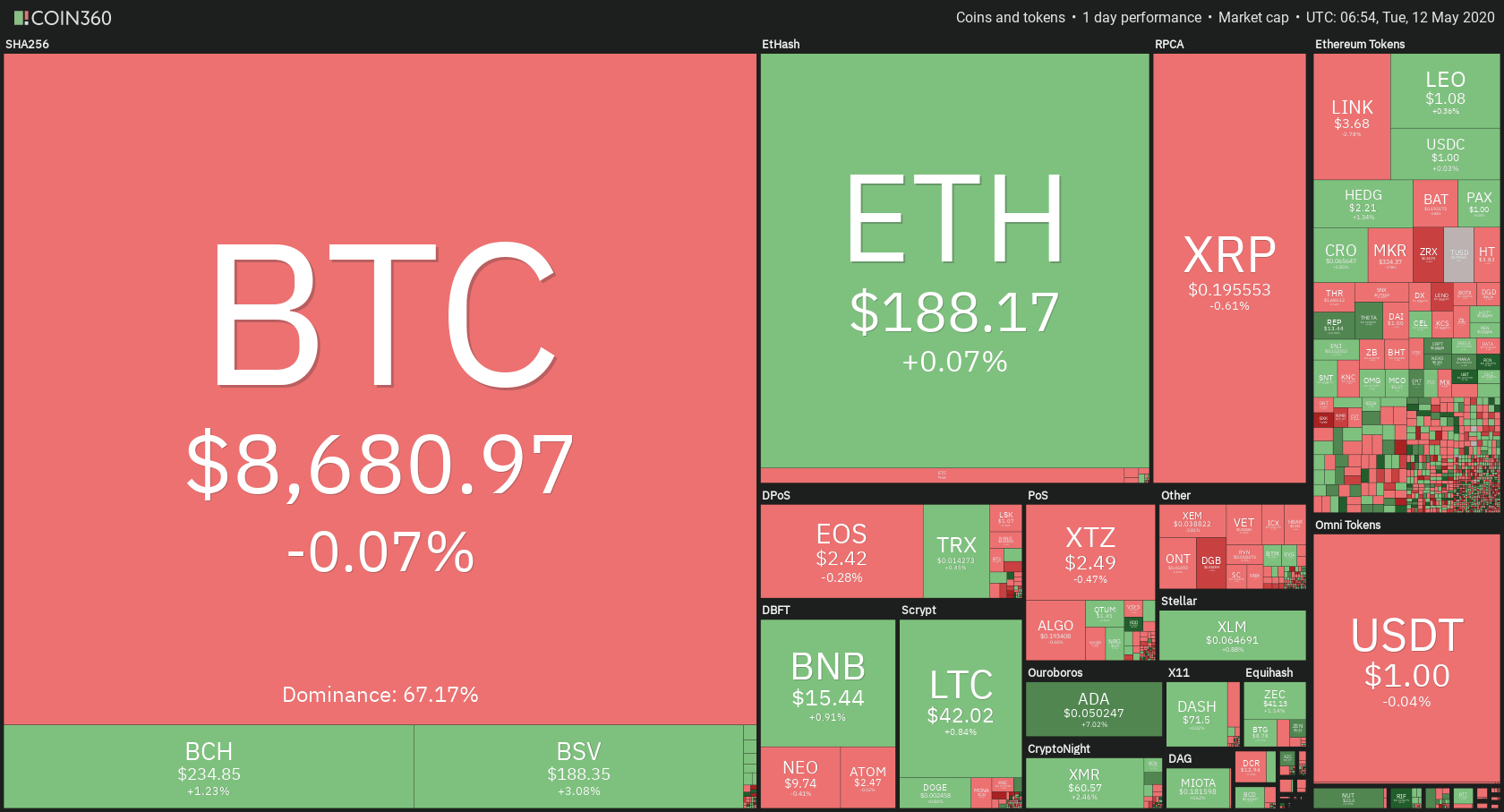 ReddCoin took the position of today's most prominent daily gainer, with gains of 31.95%. 0x lost 11.75% of its daily value, making it the most prominent daily loser.
Bitcoin's dominance stayed at the same place since we last reported, with its value currently at 67.17%. This value represents a 0.08% difference to the downside.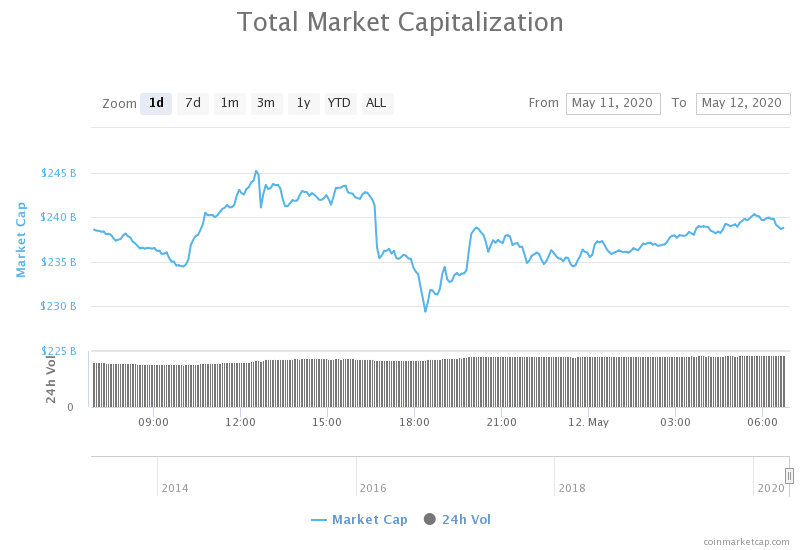 The cryptocurrency market capitalization stayed at the same place when compared to yesterday's value, with its current value being $238.75 billion. This value represents a decrease of $0.99 billion when compared to yesterday's value.
What happened in the past 24 hours
Bitcoin Halving
With Bitcoin finishing its halving event, investors are expecting to see a market response. However, the past 24 hours have been pretty uneventful when it comes to price movement. Analysts are mostly bullish in the long run but concerned in the short-term as Bitcoin is still in a downtrend that started near the end of 2017.
On the other hand, if we take a look at the fundamentals, Bitcoin has improved greatly since the last halving. The number of small Bitcoin addresses with less than 0.01 BTC after the third halving increased by 235% when compared to the second halving that occurred in July 2016.
_______________________________________________________________________
Technical analysis
_______________________________________________________________________
Bitcoin
The largest cryptocurrency by market cap has undergone its third halving event, cutting miner's incentive in half. The price did not immediately react and the day went pretty uneventful price-wise. Bitcoin remains bound between the $8,650 support and $8,820 resistance levels as well as within a small ascending trend.
Traders may expect a breakout to either side to be a great opportunity. However, Bitcoin, in its current position, is almost impossible to trend due to how narrow the range is.
Key levels to the upside                    Key levels to the downside
1: $8,820                                           1: $8,650
2: $8,980                                           2: $8,000
3: $9,120                                            3: $7,750
Ethereum
Ethereum seemingly stopped its downtrend and started moving sideways. Its price is currently held up by the $185 support level, which is of great importance for quite some time now. However, we still have to consider Ethereum being short-term bearish as it is still stuck within a descending trend. Only after it goes above the descending channel, it may be considered neutral or bullish.
Key levels to the upside                    Key levels to the downside
1: $193.6                                            1: $185
2: $198                                              2: $178.65
3: $217.6                                            3: $167.8
Ripple
XRP followed the market and spent an uneventful day as well, as all the eyes were looking at Bitcoin. The third-largest cryptocurrency by market cap started moving sideways right above the $0.19 level. However, the fact that it started making lower lows with each move makes it a bit scary for the XRP bulls. With that being said, XRP is quite stable at this price, as $0.19 is considered a strong support level.
XRP's volume is on the lower side of the spectrum, while its RSI is at the value of 36.
Key levels to the upside                    Key levels to the downside
1: $0.2                                               1: $0.19
2: $0.205                                           2: $0.178
3: $0.214                                            3: $0.147