Circle Markets is an online foreign exchange broker based in New Zealand. Founded in 2008, Circle Markets allows you to trade on any one of 140 currency pairs. Traders can also choose from 7 different commodity markets and any one of 14 leading world stock market indices. Foreign exchange trading is complicated. Circle Markets aims to simplify the process. Whether you're a professional trader, account manager or investor, Circle Markets makes it easy to do what you need to do. That is the claim from Circle Markets themselves, we will be using this review to see if they really do achieve this and to see how they compare next to the competition.
Account Types
There are three different accounts available to use, they each have their own conditions and features. The account comparison page doesn't give a whole bunch of information so we will expand on the differences as we go through the review, we have outlined the information we do know below.
Standard Account: This account requires a deposit of $50 to open, it can be leveraged up to 1:500. The account has institutional grade spreads with no added commissions. The account can be in a currency of EUR, USD, GPB, JPY, ETH, BTC or USDT with a stop out level being set at 40%.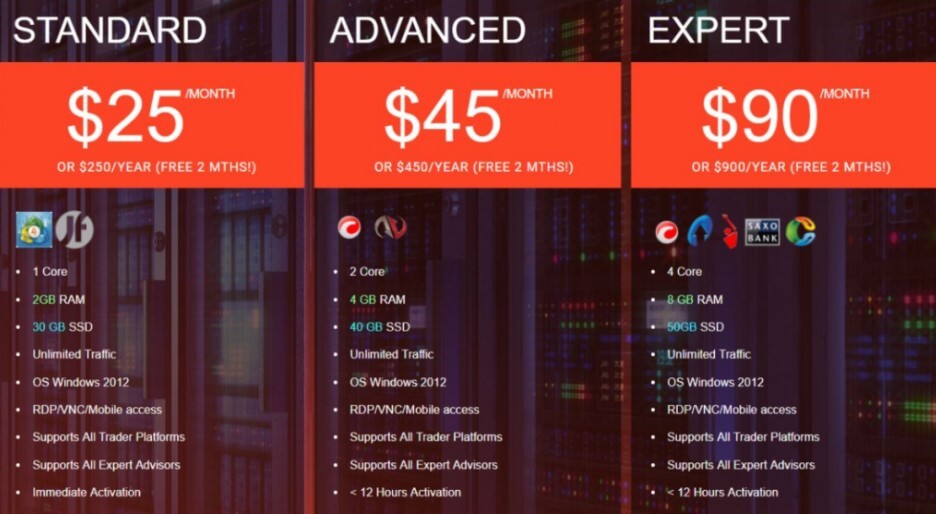 Swap-Free Account: Swap-free accounts do not pay or earn swap or interest on any trades for Currencies, Metals & Indices, only an Administration fee is applicable on any overnight trades. The account requires a deposit of $50 to open, it can be leveraged up to 1:500. The account has STP spreads with no added commissions. The account can be in a currency of EUR, USD, GPB, JPY, ETH, BTC or USDT with a stop out level being set at 40%.
ECN Account: This account requires a deposit of at least $2,000 to open and can use EUR, USD, GPB, JPY, ETH, BTC or USDT as a base currency. The account can be leveraged up to 1:500, it comes with spreads on EURUSD averaging from 0 pips to 0.3 pips and due to the low spreads, there is an added commission of $3 per side or $6 per round lot traded, the stop out level for the account is set at 40%.
Platforms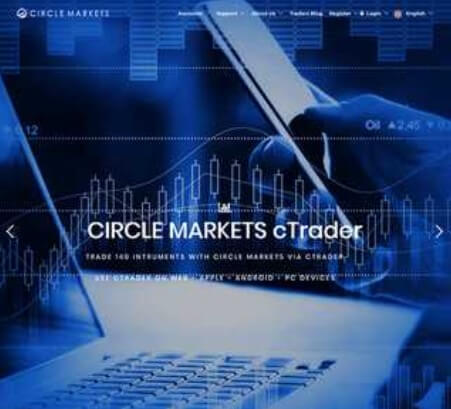 Just the one main platform available from Circle Markets, MT4 is an all-in-one trading platform with a user-friendly interface and easy to use functionalities allowing traders to analyze the markets, place orders and manage their own risk all with a single click; traders can also manage several trading accounts simultaneously, not to mention its cutting edge technology which includes a web-based solution enabling traders to trade at any time from any device and from anywhere in the world. Thousands of free and paid signals with various profitability and risk levels working on a demo and real accounts are at your fingertips. MetaTrader 4 provides the full-fledged environment for the development, testing and optimizing algorithmic/automated trading programs.
Leverage
The leverage on all three accounts can go as high as 1:500, the leverage can be selected when opening up an account and can be changed by sending a request to the customer service team.
Trade Sizes
Trading sizes on all three accounts start from 0.01 lots (this is also known as a micro-lot) and go up in increments of 0.01 lots, so that would mean that the next available trade would be 0.02 lots and then 0.03 lots. We, unfortunately, do not know what the maximum trade size is or how many trades you can have open at any one time. CFDs have a minimum trade size of 1 lot and a maximum trade size of 100 lots.
Trading Costs
The ECN account has an added commission of $3 per side, which equates to $6 per lot traded which is in line with the average that we see around the industry. The Standard and Swap-Free accounts do not have any added commissions as they use a spread based system.
There are swap charges on the ECN and Standard accounts, these are fees that are charged for holding trades overnight and can be viewed either on the site or within the MT4 trading platform. The Swap-Free account does not have this fee, however, it has an additional administration fee instead.
Assets
The assets have been divided up into various groups that we will now outline them below along with the instruments found within them.
Forex: AUDCAD, AUDCHF, AUDJPY, AUDNZD, AUDUSD, CADCHF, CADJPY, CHFJPY, EURAUD, EURCAD, EURCHF, EURGBP, EURJPY, EURNOK, EURNZD, EURSEK, EURUSD, GBPAUD, GBPCAD, GBPCHF, GBPJPY, GBPNZD, GBPUSD, NZDCAD, NZDCHF, NZDJPY, NZDUSD, USDCAD, USDCHF, USDCNH, USDTRY, USDJPY, USDNOK, USDSEK, USDSGD, USDZAR, USDCZK, EURCZK, EURTRY, EURZAR.
Crypto: BTCUSD, BTCEUR, and ETHUSD (Bitcoin and Ethereum).
Indices: Australia 200, EU Stocks 50, France 40, Germany 30, Japan 225, UK 100, US 30, US 100, US 400, Spain 35.
Commodities:
XAUUSD (Gold), XAGUSD (Silver), US Crude Oil, Brent Crude Oil, Natural Gas.
Spreads
The Standard account states that it has Institutional grade spreads, looking at the spread page, it seems that EURUSd is starting at around 0.7 pips. The Swap-Free account uses STP spreads, but we believe they will be around the same value. The ECN account has spreads starting from between 0.0 pips and 0.3 pips.
The spreads are variable which means they will be influenced and move with the markets, the more volatility will cause them to grow larger, as will a lack of liquidity in the markets. Different instruments will also have different spreads, so while EURUSD has a starting spread of 0.7 pips, GBPUSd has a starting spread of 1.9 pips.
Minimum Deposit
The minimum deposit requirement to open up an account is $50, this will allow you to use the Standard account or Swap-Free account, if you want to use the ECN account then you will need to deposit at least $2,000. Once an account has been opened the minimum deposit amount reduces down to $10 depending on the method you use to deposit with.
Deposit Methods & Costs
There are a few different methods available to deposit with, these are Credit/Debit Card, Local Bank Transfer, SEPA Bank Transfer, Payeer, FasaPay, Bank Wire Transfer. There are no added fees for depositing into Circle Markets, however, you should check with your own bank or processor to see if they add any outgoing transfer fees of their own. It should be noted that the 0% deposit fees for Credit/Debit cards are for deposits under $2,000, for deposits over you should contact the customer service team to find out what the cost will be.
Withdrawal Methods & Costs
The same methods are available to withdraw with, however, they each now have their own fees and conditions.
Credit/Debit Card – There is an added fee of 2.5% when withdrawing, you can only withdraw the same amount that you deposited, any additional withdrawals will need to use another available method.
Local Bank Transfers – There is an added fee of 2.5% for withdrawals.
Euro Transfer – There are no added withdrawal fees.
Payeer – There are no added withdrawal fees.
FasaPay – There are no added withdrawal fees.
Bank Transfer – A fee of $20 is added to the withdrawal request.
As always, you should check with your own bank or processor to see if they will add any fees for incoming transfers and processing.

Withdrawal Processing & Wait Time
Circle Markets will start the withdrawal process within 1 hour of your request, and it takes 1 working day by us before you are credited with your funds via the same payment method you used in order to deposit. Neteller and Skrill are the fastest systems for withdrawal, overseas wire transfers are often very fast reaching European banks the next day, some intermediaries can cause delays of up to 7 days for clients in certain countries.
Bonuses & Promotions
When looking through the site we did not come across any information on promotions or bonuses so it does not appear that there are any active ones at the time of writing this review. This does not mean that there won't be any so if you are after a bonus, you could always contact the customer service team to see if any are coming up that you could take part in.
Educational & Trading Tools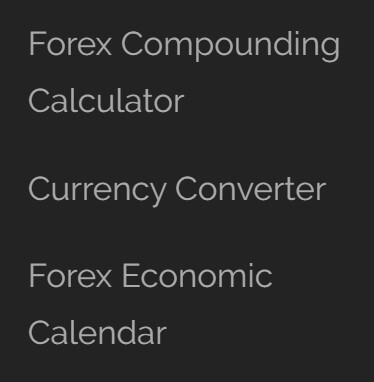 There are a few small aspects available on the site, the first is a forex compounding calculator allowing you to see how the compounding of your account will work, there is also a currency converter available. The next section is an economic calendar, this details different upcoming news events and also indicates any potential effect the news could have on the markets. There is also a guide to CFDs and even a few small guides based on how to use the trading platforms.
Circle Markets offers VPS hosting, however the plans that they have all cost around $20 a month minimum, this is a shame as a lot of brokers are now offering a free VPS to their clients as long as they have a certain balance or, maintain a certain trading volume.
Customer Service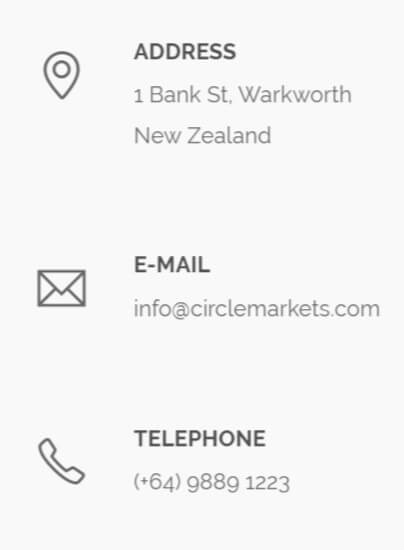 The Circle Markets support team is available 24 hours a day 7 days a week so they are always reachable. You can contact Circle Markets using the available submission form, simply fill it in and you should then get a reply via email. They also provide you with a postal address, email address and a phone number for a choice of contact methods.
Address: 1 Bank St, Warkworth, New Zealand
Email: info@circlemarkets.com
Phone: (+64) 9889 1223
Demo Account
In order to open up a demo account, you will need to sign up for an account, due to this we do not know what the trading conditions of the demo account are or if there is an expiration time on it. The demo account will allow you to test out new strategies or trading conditions without any real risk.
Countries Accepted
The following statement is present on the site: "Circle Markets Ltd does not provide services for citizens/residents of certain regions, such as Canada, Cuba, Iran, Iraq, Myanmar, North Korea, Sudan, Syria, The United States. We Only accept New Zealand clients who are defined as 'Wholesale Investor' or 'Eligible Investor' as per New Zealand law for Financial Services Providers Act FSPA 2008."

Conclusion
Circle Markets offers a small choice in trading conditions through their various accounts, the leverage is good up at 1:500, the spreads are also reasonable, combined with the industry average of $6 per lot traded on the ECN account, the trading costs are competitive. There are enough assets to keep you busy and when it comes to funding methods there is a choice available, however, they are slightly limited, there are also fees when withdrawing depending on the method used. There is a little bit of education but nothing that will make you an expert and the customer service team is available 24/7 which is good to see.