AMarkets is an online FX and CFD broker that was established back in 2007. The company's main office regulated by the Financial Services Commission (FSA) and located in St. Vincent & the Grenadines. Additional offices are located in Nigeria, South Africa, the United Kingdom, Montenegro, Cyprus, Turkey, Ukraine, Armenia, Russia, Kazakhstan, and Thailand. The broker offers high-leverage trading on FX, Stock CFDs, Metals, Crypto pairs, Bonds, Commodities, and Indices. If you're in the market for a new broker, you should definitely take a look at our detailed review to find out whether to invest in this option.
Account Types
This broker offers three account types; Fixed, Standard, and ECN. In addition to the main account types, Islamic accounts are also offered on the Fixed and Standard account versions. The same tradable instruments are offered across the board and the Standard account is tagged by the broker as being the best option for beginners. The Fixed and Standard account types offer some similar conditions. Both accounts share the same minimum deposit requirement and leverage caps, with no commission fees, although spreads on fixed on the Fixed account and floating on the Standard account.
The ECN account type requires a slightly larger deposit, lowers the cap on the maximum leverage offer, provides floating spreads from 0 pips, and charges commission fees. The ECN account is also excluded from participating in several bonus opportunities. Below, you can take a look at the conditions for each account type.
Fixed Account (MT4)
Minimum Deposit: $100 USD/EUR
Leverage: Up to 1:1000
Spread: Fixed from 3 pips
Commission: None
Standard Account (MT4/MT5)
Minimum Deposit: $100 USD/EUR
Leverage: Up to 1:1000
Spread: Floating from 1.3 pips
Commission: None
ECN Account (MT4/MT5)
Minimum Deposit: From $200
Leverage: Up to 1:200
Spread: Floating from 0 pips
Commission: $2.50 per Standard Lot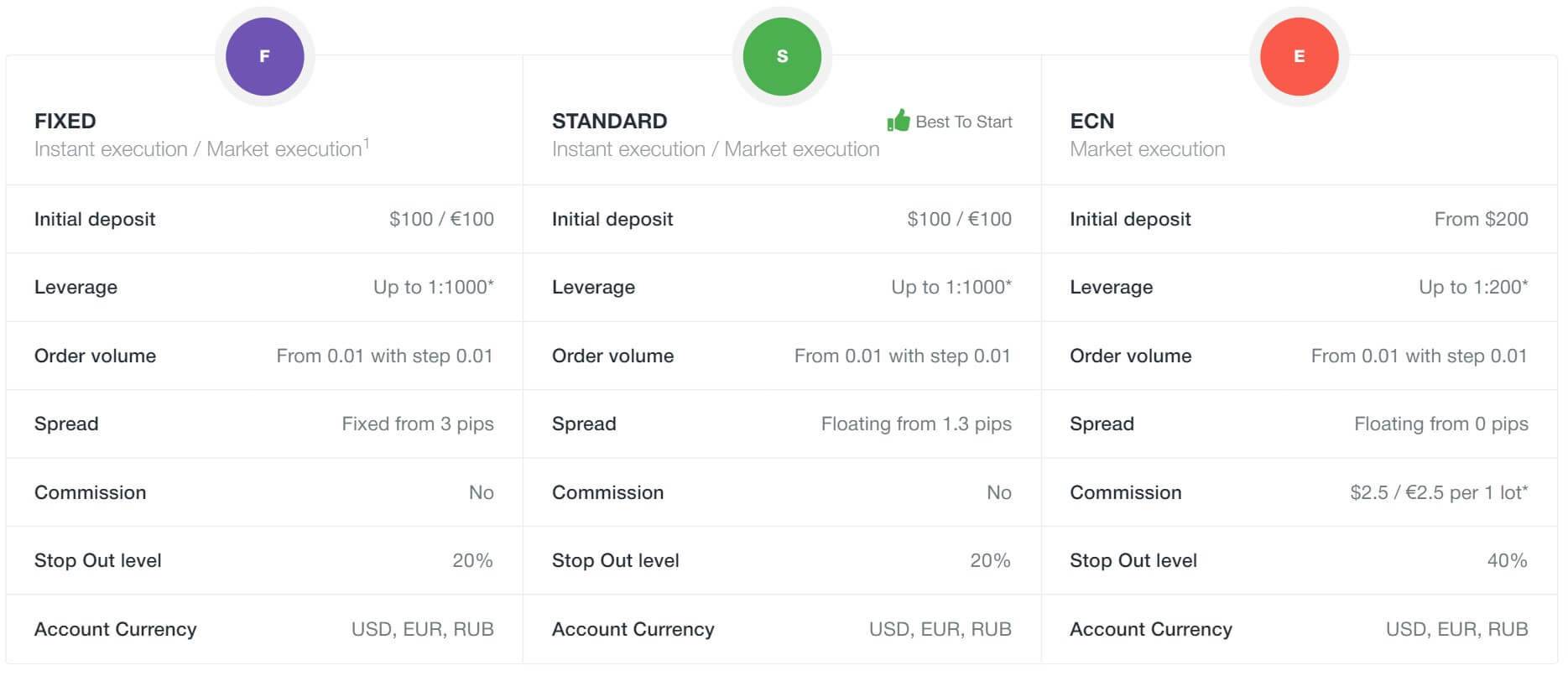 Platform
The Fixed account supports MetaTrader 4, while the Standard and ECN accounts allow traders to choose between MT4 and MetaTrader 5. Since the broker offers the same conditions and tradable instruments on both platforms, the choice really comes down to personal preference; however, one might want to consider that some bonus opportunities are limited to the MT4 platform. MT4 offers a perfect combination of functionality and convenience and is the industry's standard trading platform.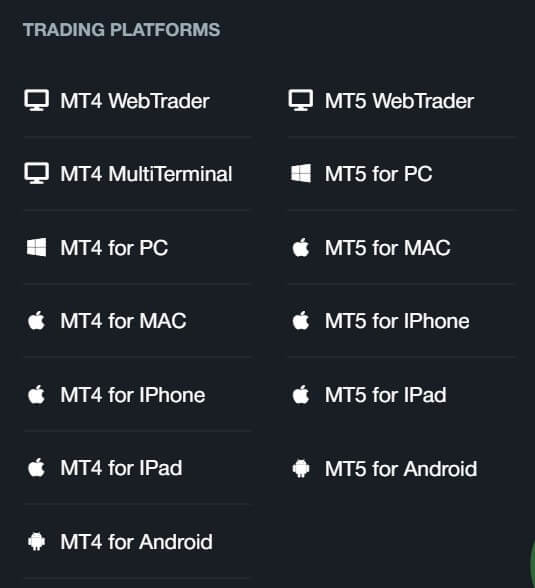 MT5 offers advanced trading functions and superior tools for comprehensive price analysis, algorithmic trading, and copy trading. Both platforms are available for download on PC, MAC, IPhone, IPad, and Android devices. MT4/MT5 can also be accessed through the WebTrader. MT4 provides the option to access MultiTerminal, which would allow one to manage multiple trading accounts from one terminal.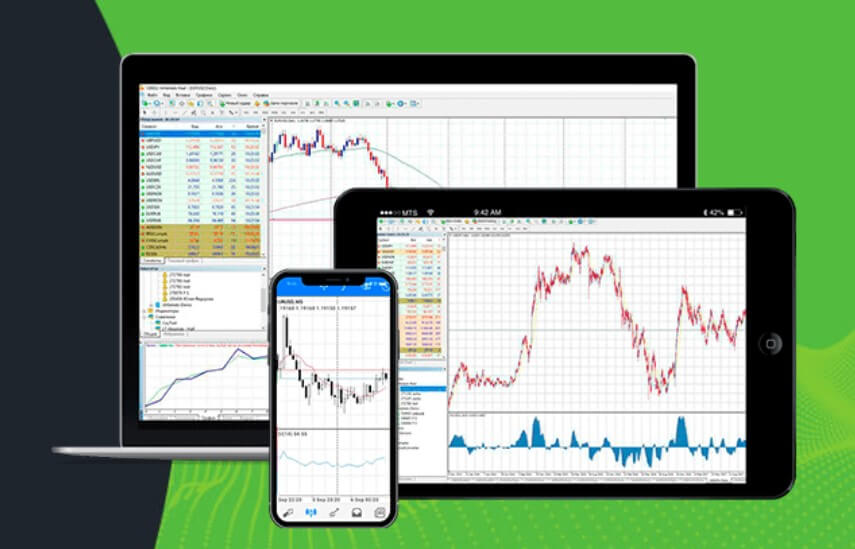 Leverage
Leverage options are the most flexible on Standard and Fixed accounts, with a leverage cap set at 1:1000. This amount is significantly higher than the offers you'll find with most brokers, and many even place smaller limits for professional clients. Conditions are more realistic on ECN accounts, with the maximum leverage cap being set at up to 1:200. After taking a more in-depth look at the conditions, we found that there are some limits based on the amount of funds in the account. The 1:1000 option is applicable for accounts holding less than $5,000. Accounts holding between $5,000 and $19,999 have a maximum leverage cap of 1:500. Deposits between $20,000 and $49,999 are limited to 1:200. There is a cap of 1:100 on amounts from $50,000 to $100,000. Amounts over $100,000 are limited to 1:50.

On Cryptocurrencies, the caps are much more limited, with the maximum leverage being 1:10 on accounts with less than a $20k balance and the lowest cap is set at 1:1 for accounts with more than $50,000. The broker automatically assigns the highest applicable leverage option to accounts when they are opened. If you'd like to change the default leverage, you can do so by visiting the 'Trading' > 'Leverage' section within the personal area of your account. We would highly recommend choosing a lower setting than the 1:1000 option if you're a beginner, don't have a lot of capital to risk, or if you aren't used to trading with high leverages, since trading with higher leverages is a large financial risk.
Trade Sizes
All account types set the minimum trade size at one micro lot. The broker does not provide details on the maximum trade sizes on their website. We did reach out to support to check these restrictions, but our customer service person suggested we contact our account manager for more details on maximum trade sizes. It was somewhat frustrating that support wouldn't provide us with a simple answer. The margin call level is 50% on all accounts. Once the stop out level is reached, the system will automatically close out trades one by one. The stop-out level is set at 20% on Standard and Fixed accounts and is at 40% on ECN accounts.
Trading Costs
This broker profits through commissions, spreads, and swaps. Commission charges of $2.50 per side per Standard Lot are charged on ECN accounts. On Equities, commission is 0.1% (lot size*market price). On Indices, Commodities, and Bonds, the commission is $10 per lot. On Crypto pairs commission charges are 0.5% (lot size*market price). Commissions are not applicable to Standard and Fixed accounts. Spreads start from 0 pips on ECN accounts, are floating from 1.3 pips on Standard accounts, and are fixed from 3 pips on Fixed accounts.

Swap fees are charged on positions that are left open overnight and are charged at triple the rate on Wednesdays. Long and Short swaps can be viewed under the 'Trading' section of the website. Trading conditions on Islamic accounts are identical to those on real accounts, except that Islamic accounts have no swaps or rollover charges on FxCFD instruments. The swap-free service does not apply to CFD Indices, Commodities, Bonds, Metals, Cryptopairs, or Equities.
Assets
This broker's list of tradable instruments includes Forex, Stocks, Metals, Crypto pairs, Bonds, Commodities, and Indices. All instruments are offered for each account type and on both trading platforms. FX options include 42 currency pairs and are made up of majors, minors, and exotics. In total, 150+ Stock CFDs are available for popular companies like Apple, Dell, Facebook, and more. Metal options include Gold and Silver. There are seven total Crypto pairs available, including BCHUSD, BTCUSD, DSHUSD, ETCUSD, ETHUSD, LTCUSD, and XRPUSD. The broker offers a rather extensive list of Commodities, with 17 options in total. In addition to these options, 2 Bonds and 16 Indices are available, making for a total number of 240 tradable instruments.

Spreads
As we mentioned earlier, spreads can either be floating or fixed. Spreads are floating from 0 pips on ECN accounts and are fixed from 3 pips and up on Fixed accounts; however, spreads remain floating on Indices, Bonds, Crypto pairs, Equities, and instruments with Market Execution, even on the Fixed account type. Under the 'Trading' tab, one can select certain asset categories in order to view the minimum and typical spreads on all instruments for each account type. If you take a look at that section of the website, you'll notice that spreads can actually be higher than those advertised. For example, the ECN account advertises spreads starting from 0 pips. On EURGBP, the minimum spread is 0.1 pips, while the typical spread is 1 pip.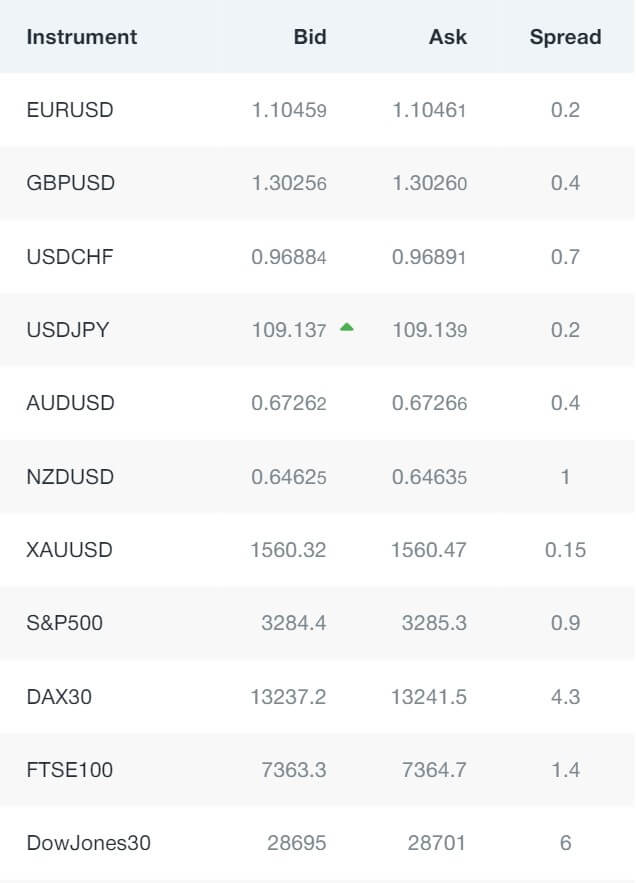 Taking a look at the Fixed account, we see that several of the spreads on currency pairs are fixed at 8 pips. This amount is much higher than the industry average of 1.5 pips, even considering that commissions are not charged on this account type. We would definitely suggest taking a few minutes to compare typical spreads before deciding which account type to open.
Minimum Deposit
Both the Standard and Fixed account types require traders to make a deposit of at least $100 USD/EUR in order to open an account. This amount should be realistic enough, even for beginners, although we always enjoy seeing brokers offering lower requirements on at least one account type to support those that are just now opening their first trading accounts. The ECN account sets the deposit requirement slightly higher, at $200. These amounts should provide traders with enough flexibility to place several trades.
Deposit Methods & Costs
Accounts can be funded with cards, through Bank Wire, or through several electronic payment methods. All of the available funding methods include Visa/MasterCard, Prepaid cards, Bank Wire, PerfectMoney, WebMoney, FasaPay, Neteller, and Skrill. It can take between 3 and 5 days for Bank Wire transfers to be processed and credited to accounts. Fees are not charged on these deposits from the broker's side, although your personal bank may charge fees from their side. All of the other deposit methods are credited instantly and are fee-free for deposits.

Withdrawal Methods & Costs
Withdrawals must equal at least $10 on all methods aside form Bank Transfers, which requires a minimum withdrawal of $100. No more than $2,000 can be withdrawn through WebMoney per day and there is a limit of $1,500 USD per day on card withdrawals. Fees are charged on all withdrawal methods and have been listed below.
Visa, MasterCard: 2.5 % + 3 USD, 3 EUR, or 70 RUB
Bank Wire: Depending on Bank/$10 min
Neteller: 2% (min $1 – max $30 USD)
PerfectMoney: 0.5%
WebMoney: 0.8% (max 50 USD)
Skrill: 1%
FasaPay: 0.5%
The broker has a special offer where they cover the commissions on withdrawals every Wednesday, so it would definitely be worth waiting an extra day or two in order to have the fees compensated for. Platinum status clients can receive a refund for any incurred withdrawal fees on any day of the week by contacting their account manager once their withdrawal is complete.
Withdrawal Processing & Wait Time
If certain conditions are met, funds of up to $1,000 USD will be automatically processed; however, the broker does not detail what would warrant an expedited withdrawal. All requests under $15,000 USD are processed on the same business day from 8:00 – 17:00, UTC+1. Any requests for amounts over this limit are processed within two business days. In some cases, the withdrawal period can take up to 5 business days.
Bonuses & Promotions
This broker is currently offering multiple bonuses and promotional opportunities. To start, there's a 25% bonus for simply signing up for an account with the broker. In addition, bonus offers include: Cashback, Double your Trading Deposit, $150 to New Webmasters, $50 for First Review, and $10 for Every Friend. The broker lists 0% Commissions and Predict to Profit under their available promotions. We've provided a quick outline of each offer below, although you'll definitely want to check out all of the terms and conditions for each opportunity if you think you may qualify.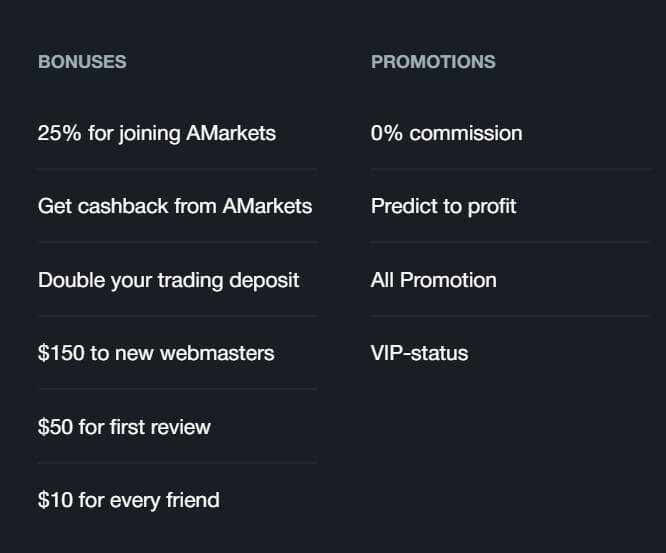 25% Bonus (Fixed and Standard Accounts/MT4): In order to qualify, one would simply need to sign up for a real account through the broker. 25% of the total deposit amount will be credited in the form of non-withdrawable trading credits. The bonus is available for 30 days, is canceled if any funds are withdrawn, and only applied on Forex instruments. The bonus cannot be combined with any other offers.
Cashback (Fixed and Standard Accounts/MT4): Through this Loyalty Program, the broker pays back part of the spreads to regular clients. The program has 5 levels and pays more cashback per each higher-ranking level. To advance, you'll need to meet the required trading volume of 5 lots per month. Progress will be lost if any withdrawals are made during the monthly period.
Double your Trading Bonus: Bonus funds are paid as non-withdrawable credit and not added to real account funds. The maximum bonus is $10,000 and can only be withdrawn once a certain trading turnover has been met. This promotion cannot be combined with any other offers.
$150 to New Webmasters: This bonus is offered to those that open Partner accounts and choose Webmaster as their model of cooperation. You'll then need to post a detailed review of the company on your website and make a video review of the broker's products and services and share it on a popular hosting channel.
$50 for First Review: This bonus is offered to partners that post a detailed article about the company on their site. Some conditions must be met, for example, you must get at least 3,000 visitors on your website every month in order to qualify.
$10 for Every Friend: Through this bonus, you'll receive $10 for every client that you refer to the broker. In addition, referred clients will receive a 25% trading bonus on every deposit that is made of $100 or more. The bonus tops out at $5,000 USD.
0% Commissions: The broker offers to return any fees incurred when funding accounts. Clients must contact their personal account managers to claim these refunds.
Predict to Profit: Through this contest, traders will predict the exact price of an announced instrument during a specified time bracket. An exact prediction will be rewarded in the form of a $100 no deposit bonus and in the event that there are no exact guesses, the first five candidates with the closest predictions will each receive a $30 no deposit bonus.
If the person has received a no deposit bonus before, the reward will be a 25% bonus on their next deposit. Traders must participate on the company's Facebook page through the comments section.
Educational & Trading Tools
The 'Research and Education' mini-section on the website is made up of Forex News, Analytics, a Blog, Trading Robots, AutoChartist, an Economic Calendar, and a Trader's Calculator. As you may have noticed, the majority of these options lean more on the tool's side of the category and educational offers are limited. One would need at least some knowledge of the Forex market and terms in order to follow along with the information in this section, so it would be best to conduct research elsewhere. Also, remember that demo accounts are available, although one would still need to be somewhat educated in the field in order to practice from a demo account.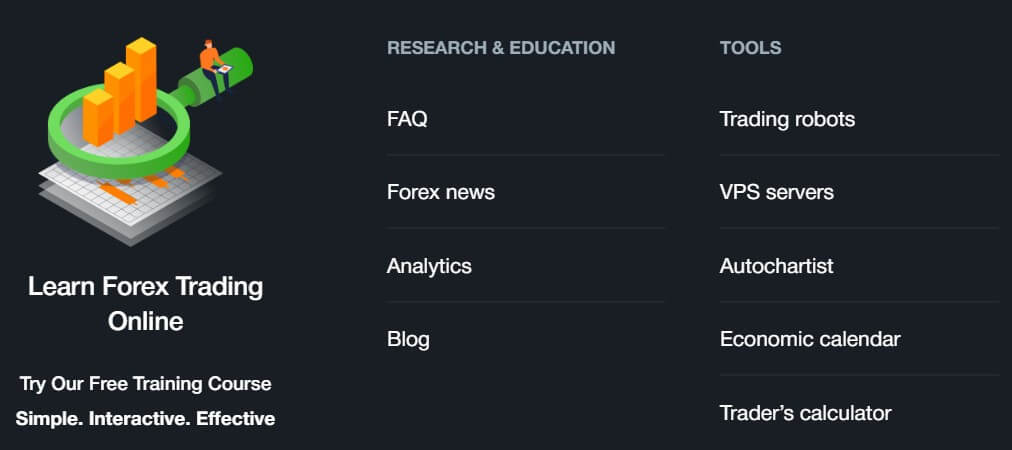 Demo Account
Free demo accounts are available for 30 days to any potential or existing clients. Demo accounts can be an excellent source for practice, while also providing traders with the ability to test different account types, test market strategies, try out different leverages, and more. According to the broker, all quotes are exactly the same and as on live accounts and orders are placed and executed in real market conditions. The only difference would be the fact that virtual funds are used on demo accounts. To open a demo account, you'll need to click on "Free Demo" from the upper left corner of the website and then fill out a short registration form.
Customer Service
Support is available 24/5 and can be contacted through LiveChat, phone, email, Telegram, and WhatsApp. We decided to test out the company's LiveChat feature late at night since they boast about providing superior customer service. Initially, the broker showed us that agents were online, but mentioned they were taking a while to respond and asked if we would like to play a game. A mini-game then popped up within the chat window and entertained us for about 30 seconds before an agent swiftly responded with an answer to our question. On another note, our second experience was not as rewarding due to the fact that the support agent would not directly answer our question about maximum trade sizes.
Moving on, the broker is also active on Facebook, LinkedIn, Instagram, and YouTube. It would definitely be worth following the company on Facebook, considering that their Predict to Profit bonus takes place on their Facebook page. If you're an existing client of the company, you can take part in this contest for free and may win a reward in the form of a bonus. Separate phone numbers are available for the company's extra offices and can be viewed on the 'Contacts' section of the website. We have included all contact information for the company's main office below.
Phone (Mon-Fri 13:00 – 22:00): +38 220 405 820
Information Center: +44 20 380 869 68
Email: [email protected] / [email protected]
WhatsApp: +382 68 394 350
Telegram: @amarkets_supportbot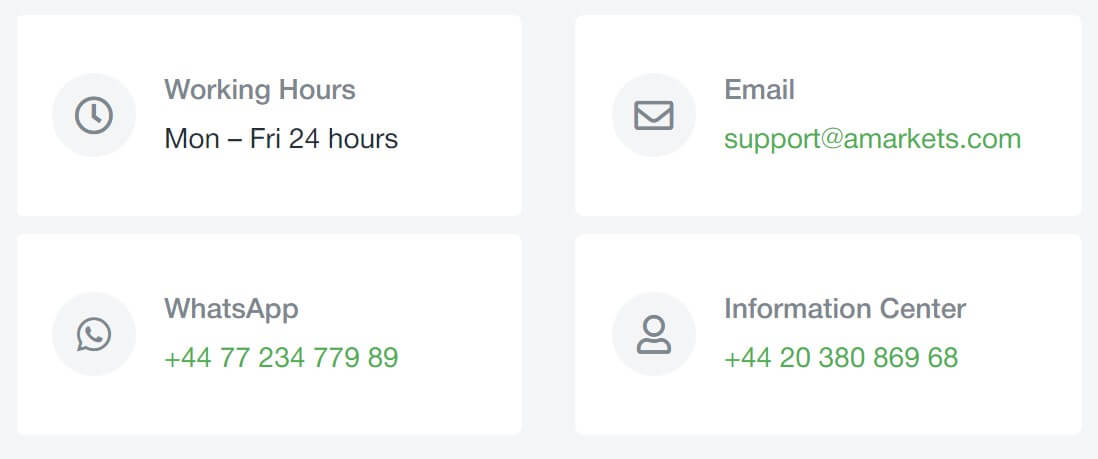 Countries Accepted
On their website, the broker claims that service is not offered to residents of the following countries: Angola, Armenia, Bangladesh, Benin, Botswana, Burkina Faso, Burundi, Cape Verde, Cambodia, Cameroon, Chad, Comoros, Democratic Republic of the Congo, Ethiopia, Gabon, Gambia, Ghana, Grenada, Guinea, Guinea-Bissau, Guyana, Haiti, Honduras, India, Ireland, Jamaica, Japan, Kiribati, Kosovo, Laos, Latvia, Lesotho, Liberia, Liechtenstein, Lithuania, Madagascar, Malawi, Maldives, Mauritania, Mongolia, Mozambique, Myanmar (Burma), Namibia, Nauru, Nepal, New Zealand, Nicaragua, Niger, North Korea, Paraguay, Republic of Ivory Coast, Rwanda, Senegal, Sierra Leone, Somalia, South Sudan, Sudan, Suriname, Swaziland, United States of America, Zambia and Zimbabwe.
In case of violation of this condition, the company reserves the right to block the trading account of the client. The broker does not require one to input their country on the website; however, the website blocked us for registering with a US-based phone number, so it seems that these restrictions are reinforced.
Conclusion
AMarkets offers leveraged trading of up to 1:1000 on Forex, Metals, Crypto pairs, Commodities, Stock CFDs, Bonds, and Indices. It costs between $100 and $200 to open one of the three available account types. Trading costs differ based on the chosen account; spreads can be floating or fixed starting from 0 to 3 pips, although typical spreads do seem to climb higher than initially advertised, and commissions are only charged on the ECN account type.
Several funding methods are available with no fees charged on deposits. Fees are charged withdrawals, except the broker reimburses those fees on Wednesdays and for platinum status clients. Support is available 24/5 via a variety of methods and we had a pleasant experience testing out the broker's LiveChat on our first attempt. Some tools are offered on the website, although educational offers really aren't present. There is also a long list of restricted countries, including the US, so you'll need to check to see whether you'll have the option to open an account from your location.