LegacyFX is not one of the most talked-about, however, they do have a good service to offer. For those interested in a broker that offers the latest MT5 platform, this broker may be of interest to you. Although they are not regulated by a legitimate regulating body, they are however connected with Vanuatu Financial Services Commission which does safeguard clients and their funds to some degree, should you experience any trade issues with this broker, the VFSC body can investigate this for you, which certainly does add peace of mind for clients.
Account Types
LegacyFX offers 3 account types, and a comparison table is displayed on the website to help you select the one you feel is more suitable for you. The Silver account has a minimum deposit of $500, while the Gold requires $5,000 and the Platinum requires a minimum of $25,000. Note that all 3 account types offer a maximum leverage of up to 1:200 and access to the MetaTrader 5 Platform. Starting spreads to vary, however, which we will go into shortly.
Platforms
LegacyFX offers MetaTrader 5 platform which is the latest from MetaTrader, and also increasingly popular in the industry. You can download MT5 directly from the LegacyFX website if you do not already have it. Mobile and Desktop versions are both available so that you can trade both at home or on the go.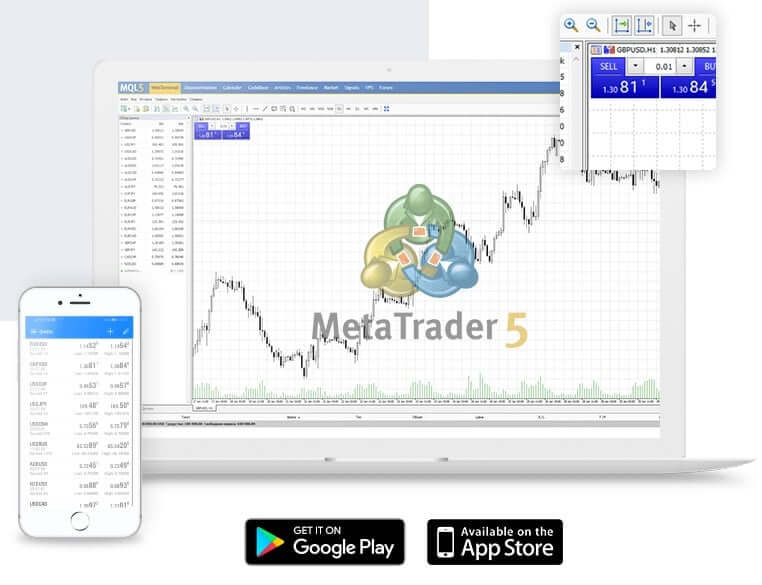 Leverage
As mentioned earlier, it is rather generous that LegacyFX offers leverage of up to 1:200, and this is available via (all) Silver, Gold and Platinum accounts. This means that even though you may wish to choose the smallest account with the lowest deposit, you will not be penalized and granted different leverage to what you could have on the other accounts. This adds an element of fairness among all types of trader clients.
Trade Sizes
Minimum trade sizes allowed, and this goes for all Silver, Gold and Platinum account traders, is 0.01 lot, and this applies to all tradable pairs, all of which are displayed on the website for an example guide.
Trading Costs
The FAQ page shed some light on trading fees or lack thereof; LegacyFX offers the luxury of trading without being charged any commission fees or even swap fees. This is applicable to all 3 account types. This means the broker accumulates profits via the spread, instead, so do bear this in mind when trading larger volume.
Assets
With LegacyFX, you are at liberty to trade the following: Forex, Commodities, Metals Cryptocurrencies, Stocks, and Indices. You can find a complete list of all available tradable assets are found on the website, complete with the spread variations on each pair (fixed and floating). Overall, the variety and selection of tradable assets available with LegacyFX should be satisfactory for many, if not all traders.
Spreads
It appears that all clients, regardless of the account type you opt for, you may choose between fixed and variable spreads. The Fixed and Floating (starting) spreads are set out on the website, for all 3 account types. Even at just a quick glance, we can deduce that the variable spreads do stand out competitively amongst other broker spreads. The Fixed spreads perhaps not so much, but this also depends on which you prefer to trade with, and how well either or work with your personalized trading strategies.
Minimum Deposit
As mentioned earlier on, the minim deposit required depends on which account option you go for, which are as follows:
Silver: $500
Gold: $5,000
Platinum: $25,000
These minimum deposit requirements first and foremost indicate quite strongly the ideal level of experience a trader must have before opening the account.
Deposit Methods & Costs
The deposit methods available are Visa/Maestro/Mastercard Debit/Credit Card, Wire Transfer, Skrill, and Neteller. LegacyFX FAQ page clearly states that there are no deposit fees charged by the broker for either option which is an added bonus for the client.

Withdrawal Methods & Costs
You may withdraw your funds and profits from LegacyFX via Card, Wire Transfer, Neteller or Skrill. Withdrawal fees are not charged by LegacyFX but be sure to check with your banking provider before requesting any withdrawals, as they may apply their own charges. One must note that the minimum withdrawal amount is $200.
Withdrawal Processing & Wait Time
The FAQ page states that all withdrawals take a minimum of 3-5 business days to process. It is also stated that completion timescales for banking transactions can vary depending upon your banking provider, so it is good to check individually with your provider before you begin the withdrawal process. There is no specific mention of Skrill and Neteller timescales although typically speaking, these are usually the faster options.
Bonuses & Promotions
Deposit bonuses and promotional schemes will not be found with LegacyFX, as confirmed by a live chat representative.
Educational & Trading Tools
LegacyFX offers some trading courses or 'mentorships' which you will have access to once you sign up. This is a great service alongside the demo account for those who are perhaps just starting out in their Forex Trading journey. Another bonus is that these mentorships are free of charge, and all in one place. You can sign up directly from the website.
Customer Service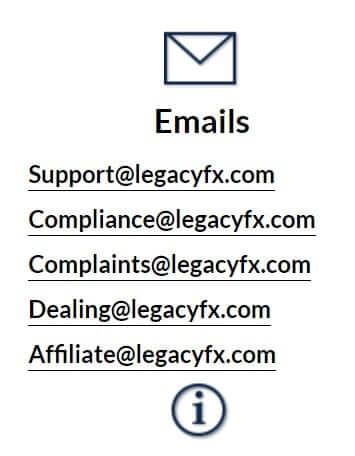 LegacyFX provides a very satisfied customer support service via Telephone, Email and Live Chat. If you need to reach out to LegacyFX with any issues or queries, you may send your messages in between the hours of 8 AM-10 PM (UK time) Monday – Friday. Overall it should be noted that the quality of customer service is more than adequate, and responses are delivered efficiently. All answers received were comprehensive, polite and friendly, and live chat responds very promptly (a couple of minutes).
Demo Account
LegacyFX offers a demo account version of their live service, which you could make use of if you wish to fully backtest their trading conditions prior to registering as a live client. A reminder that demo accounts serve a purpose- to be used; it is always good practice to demo with any broker before opening a live account.
Countries Accepted
The footer of the website does not state any regulating body that LegacyFX are compliant with, other than that they are connected with VFSC, which is not to confused with a regulating body such as FCA or CySEC, per example; VSFC is NOT a regulating body, but merely a body that investigates client trades where clients feel the broker has manipulated a result in some way, shape or form. Therefore, since this broker is not actually regulated, one must be aware that clients from the USA would not be allowed to register for a live account.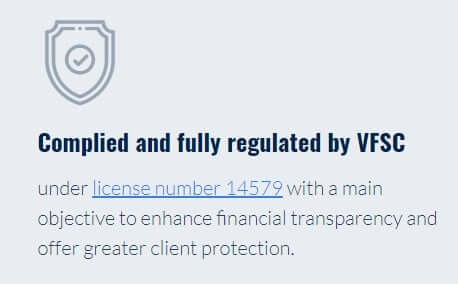 The FAQ page also states the following: "Legacy FX is regulated under the Cyprus Securities & Exchange Commission and is therefore compliant with all E.U. regulations governing financial market transactions. Client applications from the U.S., Yemen, N. Korea, and Iran will be denied.'' It should also be pointed out that the 'Cyprus Securities & Exchange Commission' is not a regulation body, but appears to be a reference to VFSC and/or similar services.
Conclusion
Although it appears that LegacyFX has attempted to lure clients in with a false appearance of being regulated when asked, they will tell you that they are not regulated, but in association with the Vanuatu Financial Services Commission, which should not be confused with an actual regulating body. Overall, LegacyFX offers excellent trading conditions in terms of assets available, leverage allowance and spreads. The customer support team is consistent in politeness and efficiency with their responses in both time and content. Providing you are able to meet the minimum deposit requirements of the accounts offered by this broker, there is no reason to hesitate from checking out what they have to offer.