FXORO is a forex broker based in Cyprus and was founded in 2012 by a team of young entrepreneurs from the world of finance, all with a common dream: to create an innovative approach to the world of trading In a few years FXORO quickly gained a central role in the financial markets. Today, FXORO is a reference point for all those traders who require a more effective, direct and a customer-oriented trading environment. At least that is what they say on their website, in this review we will be taking a closer look at what is being offered to see if they live up to their statements and so you can decide if they are the right broker for you to trade with.
Account Types
There are three accounts on offer from FXORO and they are all based around their spreads (we will look at spreads in more detail later in this review), let's take a look to see what is on offer.
Fix: The fixed account means that the spreads are fixed and do not move, this account has a spread starting at 2 pips and you are able to use your full margin. Leverage has a maximum of 1:400 and there are no commissions added to this account. The minimum deposit for this account is $200.
Floating: The floating account has floating spreads which means they move with the market. The account has a minimum deposit of $1,000 and leverage has been slightly reduced to a maximum of 1:200. Similarly to the fixed account, there is no commission added to the account and the margin stop out level has moved to 25%.
ECN: In order to open up an ECN account, you will need a minimum deposit of $5,000, the ECN account has a spread starting at 0 pips however there is now a commission of $6 per lot traded. Leverage further reduces down to 1:100 and the stop out level has moved to 50%.
Islamic accounts are available for all account variants and provide a service for those that are not able to pay or receive interest in holding trades overnight.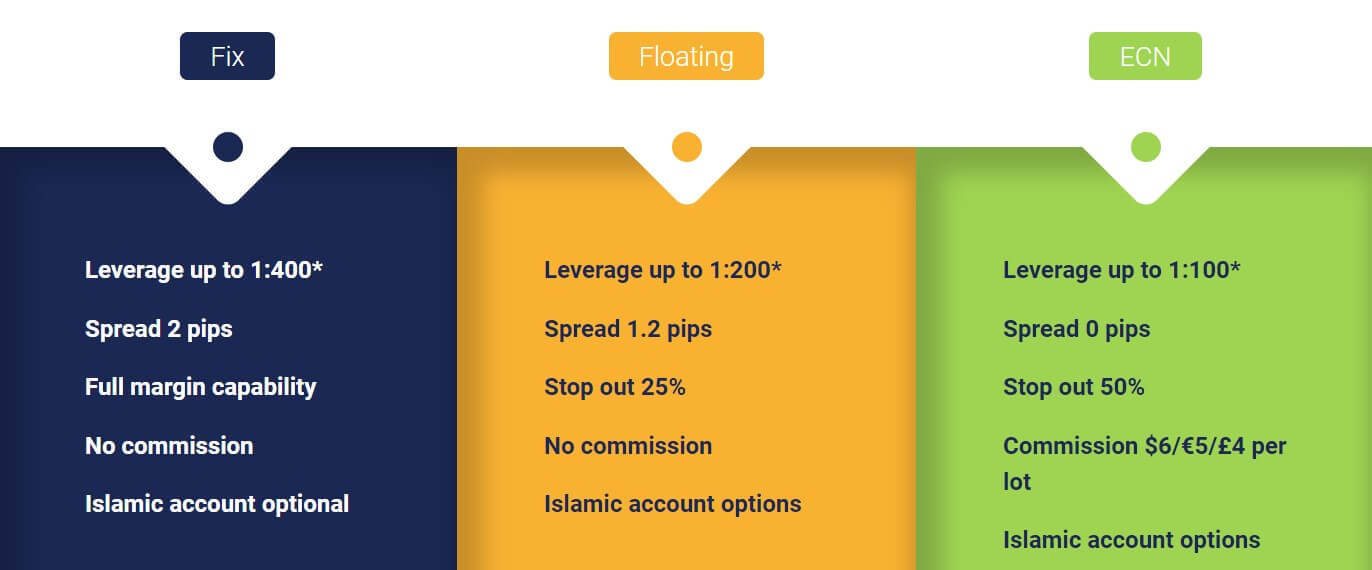 Platforms
Just the single platform on offer from FXORO, that is MetaTrader 4 so let's take a look at it in more detail.
MetaTrader 4 (MT4) is one of the world's most popular trading platforms and for good reason. Released in 2005 by MetaQuotes Software, it has been around a while, it is stable customizable and full of features to help with your trading and analysis. MT4 is compatible with hundreds and thousands of different indicators, expert advisors, signal providers and more. Millions of people use MT4 for its interactive charts, multiple timeframes, one-click trading, trade copying and more. In terms of accessibility, MT4 is second to none, available as a desktop download, an app for Android and iOS devices and as a WebTrader where you can trade from within your internet browser. MetaTrader 4 is a great trading solution to have.
Leverage
The maximum leverage that you can utilize depends on the account that you are using, the fixed account has a maximum leverage of up to 1:400 which the floating account has a slightly reduced leverage of 1:200 and the ECN account has a further reduced maximum at 1:100. Leverage can be selected when opening up an account and can be changed by contacting the customer support team, there needs to be no open trades or orders when making a request for a change of leverage.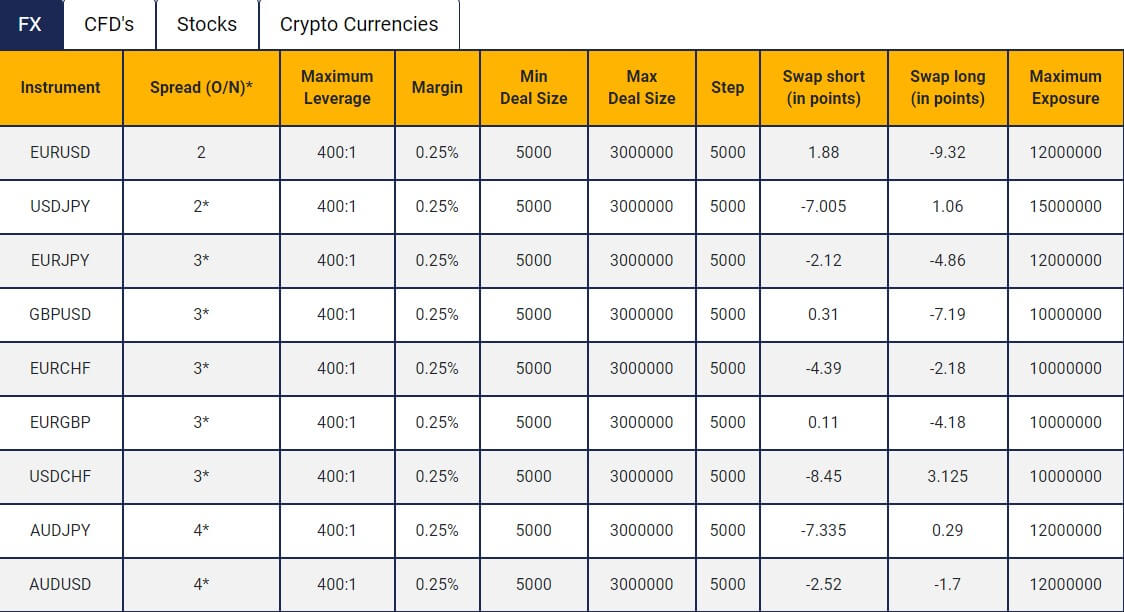 Trade Sizes
Trades start at 0.01 lots which is also known as a mini lot, trades then go up in increments of 0.10 lots so the next available trade is 0.20 lots and then 0.30 lots. The maximum trade size is 300 lots which his far too big, we would not recommend trading over 50 lots per trade as it will become increasingly harder for liquidity providers and the markets to instantly execute larger trades.
Trading Costs
There are no additional trading costs added to the fixed or floating accounts apart from the spreads which we will look at later in this review. The ECN account has an added commission of $6 per lot traded which seems to be the industry standard these days.
There are also swap fees that are either paid or received from holding trades overnight, if you have an Islamic account then you will not have these fees but instead will have an administration charge added to your account of similar value.
There is also an inactivity fee when you have not traded for 3 consecutive months, there will be a fee of 25 base currency each month until a trade is made or the balance reaches 0.
Assets
Assets and instruments with FXORO are broken down into 5 different categories so let us take a look at what they are. There are Forex pairs that include over 60 different pairs from major, minor to exotic pairs. There are CFDs available which are broken down into further categories of stocks commodities and indices. In terms of commodities, there is not a full breakdown but assets such as oil, metals (Gold and Silver) and others are available to trade.
As mentioned indices are also present however the full breakdown is not available so we can not comment on individual indices. Finally, there are cryptocurrencies that are fast becoming one of the go-to trading instruments for both new and experienced traders. It would seem that only Bitcoin, Litecoin and Ethereum are present at this time, however, there may be more as the full breakdown is not available.
Spreads
Similarly to the leverage, the spreads that you receive are dependant on the account you are using and is what the account types are based around. When looking at the fixed spread account, they start at 2 pips which means this is the minimum pip value that there will be, this is true for major pairs such as EUR/USD when you move onto minor and exotic pairs this value increases to values such as 4 pips for AUD/USD. The value of spreads does not change no matter how volatile the markets are.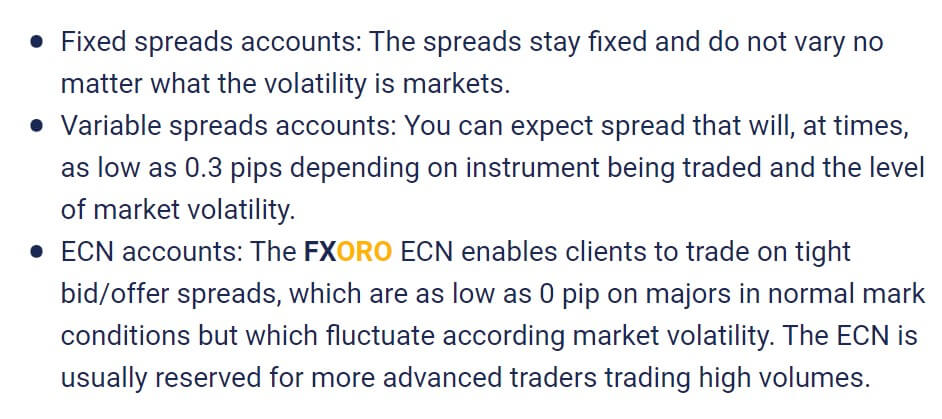 The floating spreads start at 1.2 pips, floating spreads mean that they move with the markets, so when the markets are being volatile the spreads will increase higher, but never fall below 1.2 pips. Similarly to the fixed spreads, some pairs will naturally have higher spreads, the 1.2 pip minimum is true for EUR/USD but when looking at AUD/JPY as an example, the minimum spreads are 2.6 pips.
The final account is the ECN account which has a further reduced spread due to the added commission. Unfortunately, even with the added commission, the spreads do not drop far enough, many ECN brokers have average spreads for majors ar 0 pips or 0.1 pips however the average with FXORO is 0.6 pips for EUR/USD which is high for a commission paying account. These spreads are also floating and so will move with the markets and increase in times of high volatility.
Minimum Deposit
The minimum deposit to open an account is $200 which will open the fixed spread account. Usually, once an account is open the minimum deposit will reduce, however, there is no mention of a similar scheme or any other minimums based on deposit methods noted on the site.

Deposit Methods & Costs
There are a few different ways to get your funds into your FXORO account, you can use your debit or credit card, Visa, MasterCard, and Maestro are available to sue. You can use a bank wire transfer for a few different e-wallets including Skrill, Neteller, and Wire2Pay. There are no added fees and FXORO will cover all transaction fees when depositing. Different methods have different base currency options so be sure to check which method supports your currency choice before depositing.
While FXORO covers its own banking fees, you must check with your own bank to see if they will charge any transaction fees of their own.
Withdrawal Methods & Costs
The same methods are available to withdraw as they were to deposit, the bad news is that there are now some withdrawals fees added. Credit and Debit card withdrawals have a fee of 5 base currency added which bank wire has a fee of up 50 for transfers between 1 and 10,000 base units and 140 for withdrawals over 50,000 base units. Skrill has a fee of 5 base units while Neteller has 15 base units and finally, Wire2Pay has a fee of 5 USD + 10%.
Withdrawal Processing & Wait Time
Withdrawals from FXORO are normally processed within 48 hours for credit/debit cards and e-wallets and up to 10 days for bank wire transfers. These are the overall waiting times rather than the time it takes for FXORO to approve the request.
Bonuses & Promotions
Looking through the site, apart from the usual affiliate scheme, there does not appear to be any promotions or bonuses going on, this does not mean that there won't be in the future so if you are looking fora bonus be sure to check back regularly, particularly around any special events.
Educational & Trading Tools
There are a few different tools and educational things available from FXORO, we will outline a little about them now.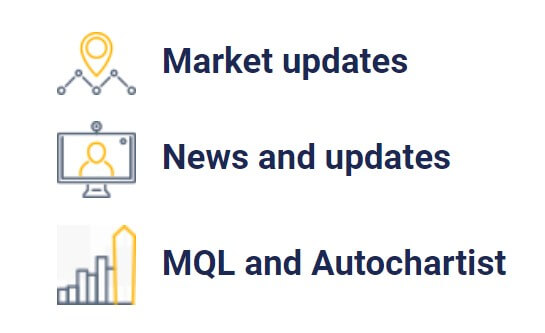 Autochartist is available and is one of the world's most advanced tools that aims to supply the automatic identification of both chart and Fibonacci patterns. Additionally, its technology permits users to monitor thousands of Forex financial instruments 24 hours a day automatically, exposing trading opportunities as soon as they occur. There is also an economic calendar and a new section to give you an idea of what news is coming and what impact it may have, however, there are more in-depth resources already available on the internet. There is a basic signals page too where they give buy and sell signals but they are not incredibly in-depth and the accuracy has not been tested by us.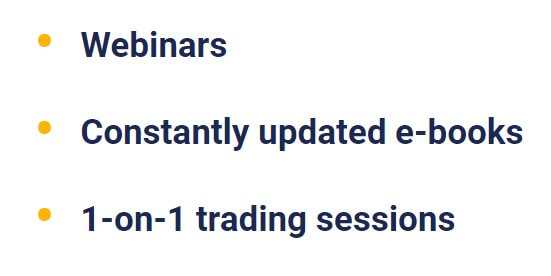 In terms of education, there are some basic courses as well as some separate in-depth courses on different aspects of trading and how to use different platforms and analysis techniques. There are also a couple of ebooks to download as well as a glossary of forex based terms.
The information provided is more aimed towards people just starting out rather than experienced traders, they will help you get to grips but won't make you an expert.
Customer Service
Should you have any questions or need any support there are a few ways you can get in contact with FXORO, you can use the online support form to fill out your query, you will then get a reply via email or phone. You can also contact different departments directly such as support, general, partnerships and complaints via email. Finally, there are also some phone numbers available to use should you wish to speak to someone directly.

Demo Account
When registering there is not an option available for creating a demo account, nor is there mention of it on the site so it would appear that they are not available with FXORO, however, we did not get into the client area to see if one can be created from within there.
Countries Accepted
The following statement is present on the FXORO website: "MCA Intelifunds Limited does not offer Contracts for Difference to residents of certain jurisdictions such as the United States of America, the Islamic Republic of Iran and Canada." If you are unsure of your eligibility, be sure to get in contact with the customer support team to find out.

Conclusion
FXORO offer ok trading conditions, we are a little disappointed in the level of spreads that are present on the ECN account as there is an added commission on top so you would expect the spreads to be lower. Plenty of ways to get in contact with the support team which is a big benefit and plenty of tools and education for those just starting out. As with any broker, it is a shame to see fees being present with withdrawals as this is a practice that is being stamped out by a lot of brokers. If you can live with those downsides then FXORO could be a competent broker.
We hope you like this FXORO review. If you did, be sure to check out some of the other reviews to help find the broker that is right for you.