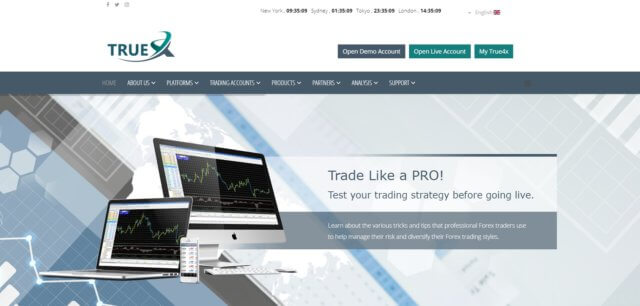 TRUE FOREX LTD is located and registered in Saint Vincent and the Grenadines (24123 IBC 2017). This broker offers 5 different account types with relatively attractive spreads and minimum deposits. Clients can choose between fixed or floating spreads depending on which account they choose. On their site, this broker claims to offer 24-hour customer service, fast deposits & withdrawals and seamless execution and access to Tier-1 banks. True4x uses secure, fast and reliable MT5 as their platform and they also offer some bonuses to new clients. We've taken a deeper look at what True4x has to offer so keep reading to find out if this broker is the perfect one for you.
Account Types
TRUE FOREX has a number of different accounts that you can choose from namely; True4x Mini Account, True4x Standard Account, True4x PRO Account as well as a Swap Free Account.
The True4x Mini Account comes with the cheapest minimum deposit required of $200 and the highest leverage at 1:400. This account is fee-free and spreads start from 2 Pips. If you opt for this account you can choose between Currencies, Metals and CME Energies Indices as your financial instruments.
The True4x Standard account has quite a high minimum deposit required of $5000 but this account is also fee-free. Swaps and scalping are not allowed when using this account. Leverages are set to 1:200 and spreads start from 2 Pips.
An account that is suited for more professional traders is the True4x Pro which has a steep minimum deposit required of $50,000. This account comes with the largest amount of financial instruments available namely; FX Currencies, CME Energies Indices, Commodities, and CFD US Stocks. No commissions or Swaps are present for this account and spreads are very attractive as they start from a minimal 1Pip. Leverages are set at 1:200 and Stop out level is at 5%. The website indicates that this 5% stop out level comes with some conditions but we were unable to locate this information on their website.
The ECN Account has a minimum deposit requirement of $500 and leverages are the lowest for this account as they are set at 1:100. Unlike the other accounts, this one comes with variable spreads and commissions. Scalping is allowed and hedging is set at a 50% margin.

The last account that TRUE FOREX has to offer is tailored towards clients of the Islamic faith; the Swap Free Account. This account has no interest, no swap fees, and no storage fees. When opting for this account, clients are given the opportunity of holding their positions for an unlimited amount of time. Unfortunately, we could not find basic information such as minimum deposit required for this account, so if you are interested in this account it would be advisable to speak to the broker for more detailed information regarding the Swap Free Account.
You can find the main characteristics of these accounts outlined below.
True4x Mini Account
Minimum Deposit: $200
Leverage: Up to 1:400
Spreads: 2 Pips
Commissions – None
True4x Standard Account
Minimum Deposit: $5000
Leverage: Up to 1:200
Spreads: 2 Pips
Commissions – None
True4c Pro Account
Minimum Deposit: $50,000
Leverage: Up to 1:200
Spreads: From 1Pips
Commissions – None
ECN Account
Minimum Deposit: $500
Leverage: Up to 1:100
Spreads: Variable
Commissions – Commission
Swap Free Account
Minimum Deposit: Not available
Leverage: Not available
Spreads: /
Commissions – None
Platforms
TRUE FOREX uses the award-winning, easy to use True4x MT5 platform. The main advantage of this platform is that it allows the execution of orders in several financial markets and stock exchanges through a single trading account. This is definitely a big plus for seasoned traders that are dealing with more than one execution at a time. Apart from this, MT5 has plenty of other advantages such as; 1-hour response time on all customer inquiries, very user-friendly interface, real-time charting and indicators and much more. You can download this platform for your desktop or mobile device through this broker's website.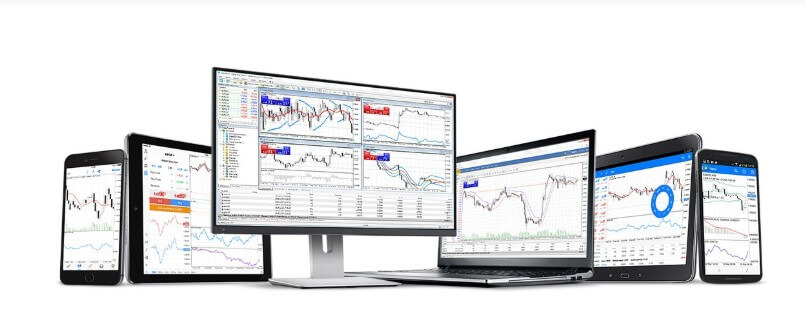 Leverage
Leverage with TRUE FOREX goes up to 1:400 for their True4x Mini Account. Although this account is catered for beginners as it has a low minimum deposit requirement, it is important for new traders to be cautious of having such high leverage as this can result in major wins as well as major losses. The Standard and Pro accounts both have leverage set to 1:200 whilst the ECN account has the lowest leverage set to 1:100.
Trade Sizes
The minimum trade size for the Mini, Standard, and Pro accounts is that of 0.01 lot. The ECN account has an increased minimum trade size of 0.10 lot. There was no indication of the maximum trade size that clients can trade when using this broker, but, we did find that accounts are limited to a maximum of 10 open trades/pending orders at any one time.
Trading Costs
From this broker's Accounts page, one can notice that the Mini, Standard, and PRO accounts are commission-free, whereas the ECN account has a commission fee associated with it. We weren't able to identify what this commission is as there seems to be no information regarding it. Although TRUE FOREX claims that there are no fees when dealing with the above-mentioned accounts, we did find this statement in their trading conditions; "All trading performed on this website shall be subject to the following potential charges: spreads, overnight interest and inactivity fee". After some in-depth searches, we managed to locate the value of this inactivity fee which is $25 for 30 days of inactivity and $100 after a year of inactivity.
Assets
When it comes to assets, this broker has quite a variety to choose from including Forex Currencies, Metals, CME Energies, Indices, Commodities, and CFD US. If you want to trade currencies, you have a choice of 30 major and minor pairs available. This broker also offers gold and silver as precious metals and Light Sweet Crude Oil and Natural Gas as CME-Energies. TRUE FOREX offer DJ30, S&P500, NASDAQ 100 and DAX30 as Indices and Sugar, Cotton and Coffee as commodities. This broker also has a good number of CFD's available namely; Apple, Google, Amazon, Facebook, Microsoft, Bank of America, Citigroup, General Electric, GM, Johnson & Johnson, JP Morgan Chase, Twitter, and McDonald's.
Spreads
TRUE FOREX offers both fixed as well as variable spreads according to which account the client opts for. The Mini, Standard and PRO accounts boast quite tight spreads as they start from as low as 1-2 Pips. Clients can find a clearly outlined spread values for each asset that they wish to trade with on TRUE FOREX's website. For example, both EUR/USD and USD/JPY have spreads starting at 2Pips.
This broker also offers some more information regarding spreads on their Trading Conditions page like the fact that Gold and Silver spreads may be wider than indicated on their list from approx. 22:00 – 020;00 GMT and that Crude Oil and Natural Gas spreads may be wider during weekly inventories.
Minimum Deposit
The cheapest minimum deposit offered by this broker is that of $200 with the MINI account. This increases to $5000 for the Standard account, $50,000 for the Pro account and it decreases again to $500 for the ECN account. As we mentioned before, there is no information regarding the minimum deposit requirement for opening up a Swap-free account with this broker.
Deposit Methods & Costs
TRUE FOREX accepts a number of different depositing methods including – Credit cards, Skrill, Neteller and Wire transfer exclusively by its member banks. In their transfer fees section, this broker only mentioned the Bank wire method, which indicates that no fees are associated with this depositing methods.
Withdrawal Methods & Costs
Since there is no indication of what withdrawal methods are available with this broker, we are assuming that the list is identical to that of the deposit methods, but obviously we cannot be 100% certain. On their Account Funding Channel, they do mention that withdrawals by bank transfer may have intermediary and/or beneficiary bank fees applied. There is also some information in their terms and conditions page regarding withdrawal procedures, but it is not very specific. We did send TRUE Forex an e-mail regarding this query, but no answer was provided during the completion of this review.
Withdrawal Processing & Wait Time
Withdrawals by bank wire may take up to 3-5 business days to be cleared. This is basically all the information provided regarding withdrawal processing and wait time, so we cannot offer more info regarding this at the time being, but this broker states that they offer one of the fastest processing times in the market.  We also could not view the withdrawal request form from this broker's page as this document was unavailable.
Bonuses & Promotions
At the moment, this broker seems to have 2 bonuses available. The first is the 20% welcome bonus. This bonus is only applicable to clients holding a MINI account. With his bonus, clients can maximize their deposited funds by up to 20%. In order to receive this bonus, clients must make a minimum single deposit of $100 or more as any deposits under that amount will be not entitled.
Bonuses are applied to the clients' first deposit as a new customer during the promotion period. As always, one should be wary of these bonuses as there are usually strings attached. For example, for this 20% welcome bonus, a client must execute a minimum trading volume of 10,000 base instruments for every $1 bonus within 3 months. If this target is not reached, the bonus will be canceled and removed from the account.
There seems to be another bonus available at the moment, the $25 Live Welcome bonus, but the page for this particular bonus was not working whilst we were writing the review. We are unsure if this is a technical issue or whether this bonus is no longer available for clients.
Educational & Trading Tools
TRUE FOREX has a LEARN page that has the usual basic information regarding trading such as the meaning of frequently used terms within the trading industry. Apart from these short explanations, this broker falls short of offering any up to date information or news regarding Forex or trading.
On the other hand, TRUE FOREX does have a number of additional trading tools available such as; Economic Calendar, Holidays Calendar, Currency Convertor, and Forex Glossary. Obviously clients can also make full use of trading tools found in the MT5 platform.
Customer Service
TRUE FOREX offer 24/5 support through live chat and a one-hour response rate for e-mails. Clients may also place orders via telephone with their dealing room. Clients can also fill in a Call Back Request, but no information is provided regarding the response rate for these types of requests. Here is the contact information provided by TRUE FOREX on their website.
Address – C/o Suite 305, Griffith Corporate Centre, Beachmont, Box 1510 Kingstown, St. Vincent and Grenandines.
Telephone – +995599465093
+995551557528
Email – support@treu4x.com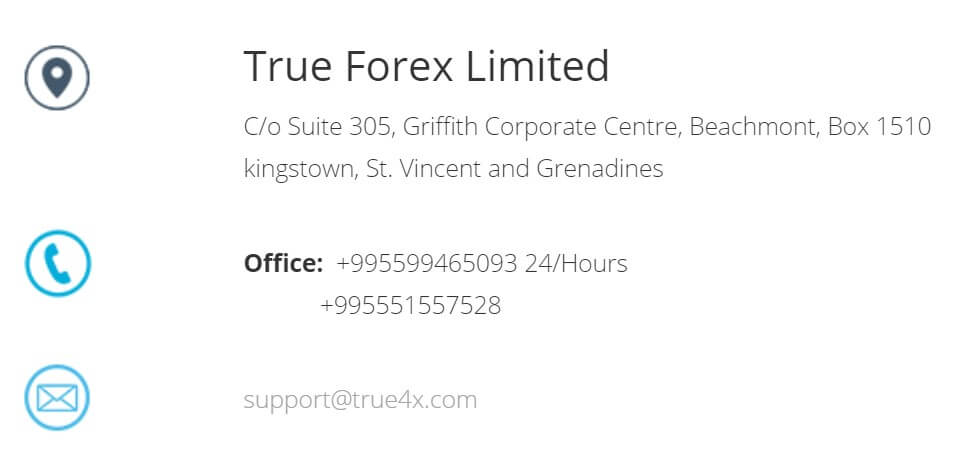 Demo Account
Potential clients can improve their trading skills with the MT5 platform without actually opening up a live account. The possibility of opening up a free demo account enables new-comers to experience the market, practice trading strategies as well as gain precious insights from global market analysts.
To open up a demo account with this broker, one needs to fill in a simple form that shouldn't take more than a minute to complete. Clients will be asked to choose between a number of different leverages offered as well as an account with hedging or without.
Countries Accepted
We could not find any information regarding any restriction this broker might have when it comes to certain countries, but whilst checking out the list of countries available when opening up a new account, we did realize that only the United States Minor Outlying Islands are listed and not the US.
Conclusion
The diverse accounts available, as well as tight spreads offered, make this broker an interesting one to consider. Obviously one must be cautious of high leverages and unreachable bonuses. Although their website has a modern look and is quite user-friendly, we did notice some spelling mistakes here and there which makes us wonder whether this broker is as professional as he claims to be. We must also mention that True4x is a trade brand of TRUE FOREX LIMITED, a company that seems to be based in the United Kingdom, but it is not licensed by the FCA or any other European financial regulator, which is something potential clients should consider.
Although there is no mention of cryptocurrencies being available, this broker does offer quite a wide variety of assets available for trading. Another plus is that True Forex uses one of the best trading platforms out there which is the MT5 which enables users to make use of some great trading tools which may help them with their trading endeavors. If you have any more queries regarding this broker, they do have extensive terms and conditions page which might have the information you're looking for.