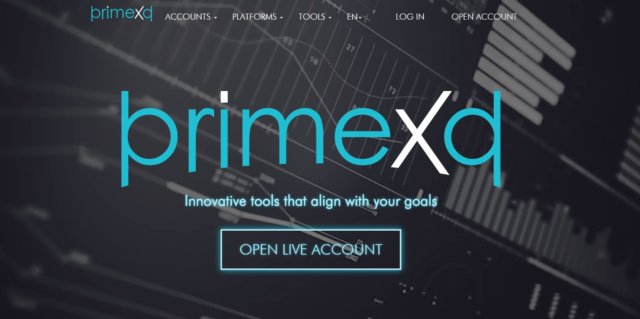 PrimeXQ is an FX and CFD broker that describes themselves as a company with a mission to help their clients soar in the world of Forex trading – by keeping up with the lightning-fast financial markets, collaborating with teams all over the world to provide the best pricing, and providing rich educational resources to aid in their client's success. The company was founded a couple of years ago, so there hasn't been enough time to tell whether this broker will manage to stay afloat in the competitive field of Forex trading. It is unclear whether this broker is operated by one person or by a group, and the exact location is not listed. Read on to find out what our research revealed about this company.
Account Types
PrimeXQ offers three account types; Mini, Classic, or Premium. Unfortunately, the website can be vague and/or contradicting when it comes to certain information, so we have done our best to decipher the actual trading conditions on each account type. Oddly enough, all three accounts do seem to share the same leverages and spreads, with the key difference being the minimum deposit amounts. Accounts also share the same commission fees, so there initially appears to be no real incentive for opening one of the more expensive account types, at least not when it comes to trading conditions. Accounts can be upgraded at a later stage, should one want to upgrade from a Mini account to a Classic account, or from a Classic account to a Premium account.
After taking a look at all of the conditions, it seems that the only differences in each account type, aside from deposit requirements, would be extra perks – online phone support, real-time trading signals, and the Trading Education program are not offered on the Mini account, while the executive team is not available 24/7 for Mini or Classic account holders. All of these options are available for Premium account holders and a trading mentor is provided as well, so one would need to decide if this is worth making the larger deposit amounts. Details for all account types are listed below.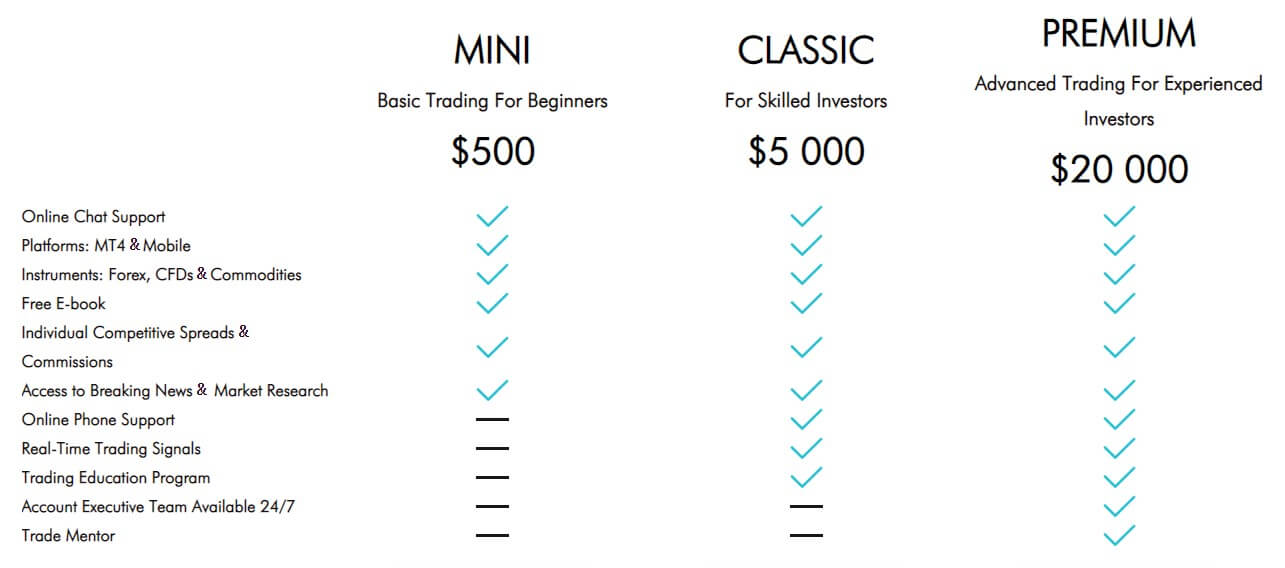 Mini Account
Minimum Deposit: $500
Leverage: Up to 1:400
Spreads: 3 pips
Commission: $6.95
Classic Account
Minimum Deposit: $5,000
Leverage: Up to 1:400
Spreads: 3 pips
Commission: $6.95
Premium Account
Minimum Deposit: $20,000
Leverage: Up to 1:400
Spreads: 3 pips
Commission: $6.95
This broker requires a proof of ID document in the form of a Passport, National ID, or Driver's License, and a proof of address document in the form of a recent utility bill or bank statement that is no older than 3 months. Without those supporting documents, clients will have issues funding their accounts.
Platform
PrimeXQ provides the world-famous MetaTrader 4 platform through the browser-based WebTrader or via download on PC, Mac, or mobile. In addition, the broker's own trading platform is provided for mobile devices. Starting with MT4, one should know that this platform offers an experience that is both powerful and convenient – one-click trading, Expert Advisors, analysis tools, customizable options, multiple languages, instant execution, slippage protection, four pending order types, and more features are supported, making this platform the ultimate option for traders of all skill levels. The PrimeXQ Mobile platform is also a worthy option and was designed to support the convenience of on-the-go trading for a variety of devices, including tablets. The mobile version is entirely free and supports Forex, Futures, and Commodities trading.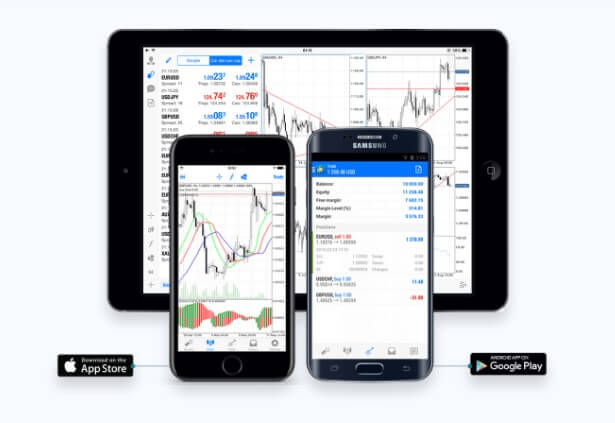 Leverage
According to their website, this broker offers an impressive leverage cap of 1:400, allowing one to trade with 400 times the amount of available funds in their trading account. While this amount is certainly high enough to satisfy any trader, we do have some doubts about this advertised amount. For the Mini account type, this does seem reasonable, although it seems unlikely for the broker to offer such high leverage on their Premium account.
Even more established brokerages lower the leverage limit on these account types, so it is likely that there may be a catch. Also, there are likely some lower limits set on certain options, especially Cryptocurrencies. The website doesn't offer further detail, so one may want to expect to see some limitations later on. If we didn't see contradicting information elsewhere, we would be more likely to believe that the broker actually provides their maximum leverage cap to all clients.
Trade Sizes
The smallest allowed trade size would be 0.01, or one micro lot. Maximum trade sizes are not listed. The broker does mention that stop-limits are in place as their most effective risk management tool; however, the broker doesn't go as far as to detail their margin call or stop-loss levels.
Trading Costs
This broker seems to profit through spreads, commissions, overnight interest, and inactivity fees. To start, we'd like to point out that there is some conflicting information about fees on the website. For example, the broker points out that inactivity fees will never be charged at a point where the commission fees are described; however, the broker clearly states that inactivity fees are applicable under their terms. Under their FAQ, the broker mentions a flat commission fee of $6.95 on every Internet equity trade, regardless of account balance, and this charge seems to be applicable to all accounts.
Spreads seem to average around 3 pips on all accounts as well. In the case that a trader does not close a trade before the end of the trading day, the broker reserves the right to decide whether to move the pending trade to the following day or not. If a trade is moved to the following day, a charge of 0.01% of the profile balance will be applied at midnight, with a triple swap charge on Wednesdays. A steep inactivity fee of $36 is applied monthly once a trading account has been inactive for 30 days. Once the broker has exhausted all of the funds left in an account, the account will be closed.
Assets
PrimeXQ has an investment portfolio that includes FX, Shares, Futures, Indices, Commodities, and Cryptocurrency CFDs. FX options are made up of more than 50 currency pairs, 20 Indices are available, and Stocks are offered from around the world. Cryptocurrency CFDs include Bitcoin, Ethereum, Ripple, Dash, Litecoin, Zcash, and more, which can be traded against USD, EUR, JPY, and GBP. The website advertises more than 450 tradable instruments; however, we cannot count for ourselves, since a detailed product page is not included.
Spreads
Research shows that the spreads offered by this broker average 3 pips on all account types. One of the main draws to opening a more expensive account would be lower trading costs, so it's unclear why this broker wouldn't provide lower spreads, at least on their Premium account type. Three pips is high, but somewhat understandable for a Micro account type; however, we would like to see lower options, especially considering how high the cost is to open an account.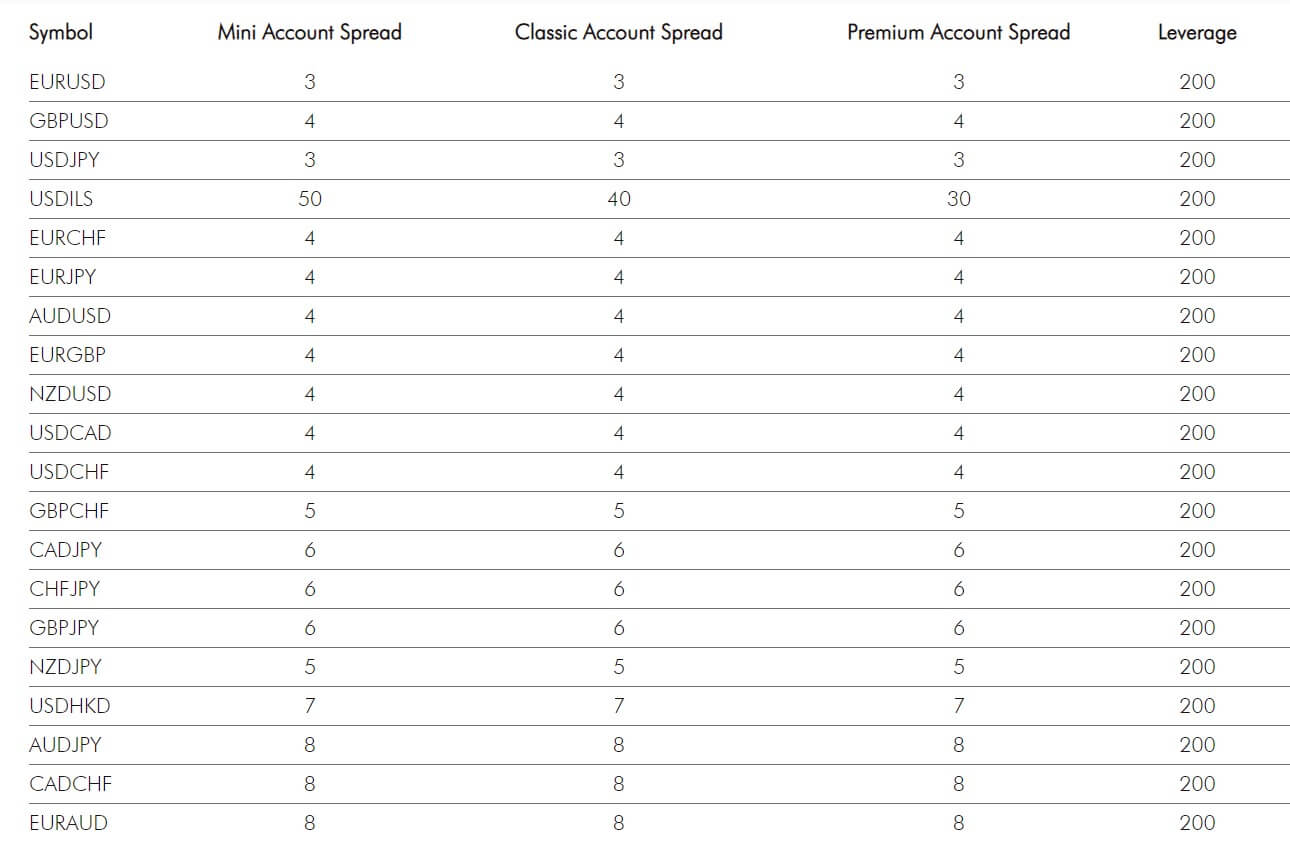 On another note, we did find some inconsistent information that suggests spreads start from 1 pip, and spreads are fixed at 0.7 pips on the demo account. The fixed spread is likely done purposefully to trick traders into thinking that those options will be applied on real accounts. Based on the conflicting information, it would be wise to be very mindful of spreads when trading from a real account.
Minimum Deposit
Some traders will be limited by the minimum deposit requirements on the Classic and Premium accounts and may be forced to choose a Mini account on that basis. For the Mini account, we actually see a deposit requirement of $500, which is much higher than the industry average, even for a Standard account type. The Classic account ups the requirement to $5,000, making this account an expensive option as well.
The most expensive Premium account asks for a minimum deposit of $20,000, so this account type will be best for professional status traders that have the capital to invest. Keep in mind that there aren't many advantages associated with opening a more expensive account and that you'll only be missing out on 24/7 service or a mentor if you simply can't afford to deposit $20,000. In this case, there would be no reason not to choose the Mini account.

Deposit Methods & Costs
This broker advertises Visa/MasterCard, Bank Transfer, Neteller, and Skrill as potential funding methods. Initially, we could only see options to fund by card, although the other methods would likely be unlocked once the account has been approved. Note that the broker reserves the right to cancel any transfer that is made with an unverified account and the broker is not responsible for returning those funds, so it would be wise to provide all documents and to attain approval before attempting to make a deposit.
Funds are typically posted within 1-2 business days, although the website claims that card deposits are processed instantly. In some cases, it could take up to 5 business days for funds sent via Bank Draft to clear. There is a minimum funding amount of $10,000 for Wire Transfers. Fees may apply.
Withdrawal Methods & Costs
Withdrawals must be made back to the originating payment method in the same currency that was used to deposit. Excesses funds (profits) must be withdrawn through Wire Transfer. In order to make a withdrawal request, traders must fill out the required form and send it in via fax or mail. The broker mentions a potential fee of up to $15 fee that may be applicable from their side when making withdrawals.
In addition, currency conversion charges and provider charges may be applicable, which could all add up to be very expensive. Considering the lack of overall information, it may be a good idea to make only the minimum deposit requirement first and then to test out the withdrawal process with a small number of funds. This would reveal any unexplained costs, although it would be too late to avoid these costs altogether.
Withdrawal Processing & Wait Time
This broker seems to take their time processing withdrawals, with one of the longer processing times we've seen, of up to 5 business days. As we mentioned earlier, withdrawal requests can be sent via fax or mail, so we would definitely recommend sending the request via fax to speed up the process. Once the request has been processed, the period of time it takes to receive the funds can vary.
Bonuses & Promotions
While the broker doesn't necessarily mention a specific bonus, there are rules listed under their terms that suggest bonuses are applicable. According to the rules, no bonus amount can be rewarded for more than the client's initial deposit and withdrawal of bonus funds can only be made once the trader makes $500,000 worth of trades in round turns for every $50 bonus offer granted. It is unclear whether this is currently being offered or if this offer is available at certain periods of time. Any bonus or promotional opportunity can be earned on any of the three account types.
Educational & Trading Tools
Unfortunately, the broker does not seem to uphold its mission to provide a vast amount of educational resources. We do see mention of a Trader Education program on the "Account Types" page; however, the website does not offer any further detail on the subject. Another thing we noticed about this program was the fact that is not available to Mini account holders, which makes no sense, considering beginners are more likely to open one of these account types and would need extra help more than a professional client would. The only other option in this category would be a Trading Glossary, which provides definitions for common trading terms.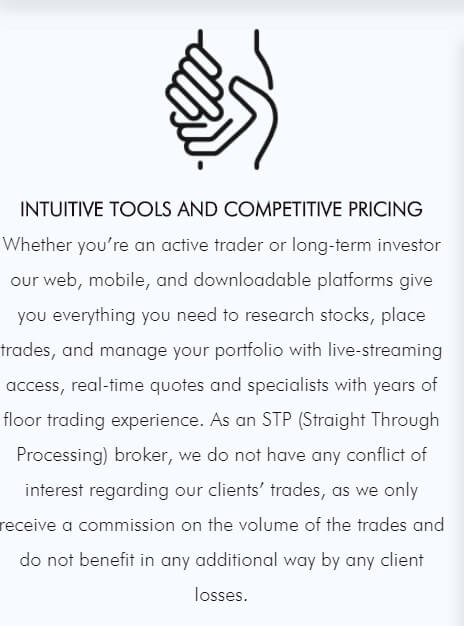 Demo Account
Free demo accounts are offered as a risk-free way for potential or existing clients to test their skills in a variety of different ways. Conditions on demo accounts typically mimic those on real accounts, which provides a safe space to test strategies and to practice under the conditions offered on real accounts. One red flag we noticed about this broker's demo accounts would be the fact that spreads seem to be fixed at lower amounts than those that are offered on real accounts. This could cause one to seemingly make more profits, or to find conditions more attractive when trading on the demo account. The broker has likely manipulated the program to persuade clients into opening a real account with higher expectations.
Customer Service
Support is available from 9:30 – 21:00 GMT Monday through Friday, and from 10:00 – 17:00 GMT on Sunday. Note that the website also mentions 24/7 support, although the first timeframe seems to be more accurate. In order to reach out, one can use Skype, available directly on the website, phone, or email. The popular contact option LiveChat has been replaced by Skype, although this is still a quick and reliable contact method. Unfortunately, it may be annoying if one doesn't already have a Skype account since one would need to be created before support can be contacted. In addition, several phone numbers are provided for different offices, so it would be important to reach out to the correct office based on one's location. Available contact information has been listed below.
Email: support@primexq.com
Phone:
Austria: +43720775471
Switzerland: +41449746080
South Africa: +27129428196
United Kingdom: +442080898014
United Arab Emirates: +97142609875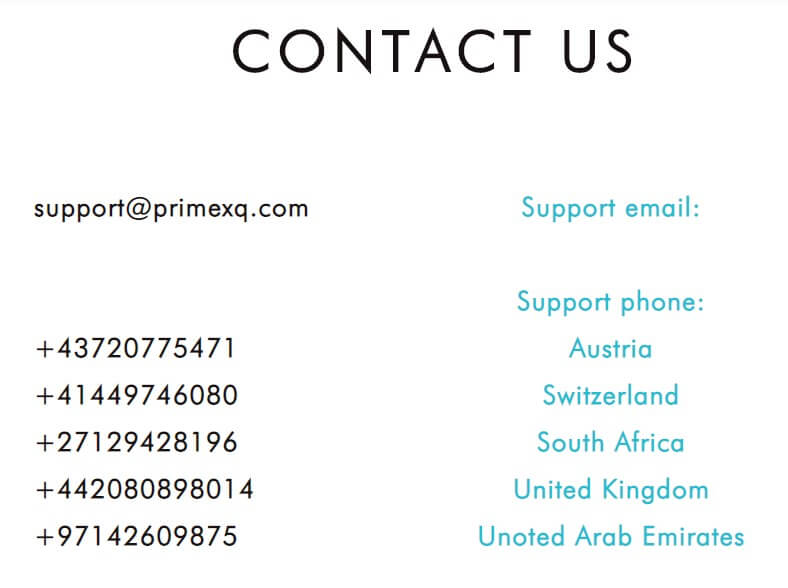 Countries Accepted
On their website, the broker claims that service is not offered to residents of the United States or Japan. Fortunately, these initial restrictions do not seem to be supported, since we were able to open an account with no problem from our US-based offices and we also found Japan to be an option on the registration list. A quick check of the list did show that North Korea, South Korea, and Iran are missing from the registration list. It's likely that we're missing some other options, so be sure to reach out to support if you don't see your country as a selectable option.
Conclusion
This broker seems to have created three account types that basically offer the same thing – the same commissions, spreads, leverages, instruments, trade sizes, etc. It seems that the only reason to pay the high deposit requirements for one of the "better" account types" would be to access 24/7 support or a trading mentor. Otherwise, one would want to stick to the cheapest $500 deposit for a Mini account. One of this broker's main draws would be the variety of tradable instruments that are offered, which includes Cryptocurrencies, in addition to the FX, Indices, Futures, Shares, and Commodity instruments that are also available.
Another plus would be the advertised leverage cap of up to 1:400 on all account types, although we have a feeling that there are likely more limitations that will come up once one begins trading. Support can be reached through Skype, phone, or email, with limited contact hours Monday-Friday and on Sunday. Fees on withdrawals are not entirely clear, although it seems that costs will add up quickly and processing times are fairly slow.
Bonuses may or may not be applicable and while the broker briefly mentions an education program, we see no information that supports this statement. Due to the conflicting and vague information on the website, it can be hard to double-check the facts with this broker. This, coupled with the fact that the broker reserves the right to change their terms at any time, makes it hard to be confident that this will be a reliable choice.