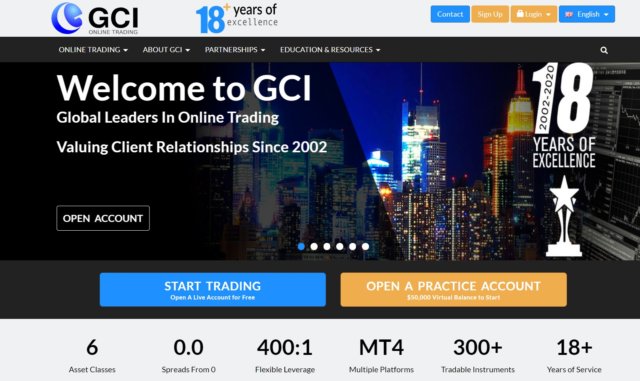 GCI Online Trading is a foreign exchange and CFD broker which was founded in 2002. They have won a number of awards including Best Forex Broker Europe 2015, Best Forex Customer Service Europe 2015 and many more. With awards being won the expectations are set high for the service being offered, so this review will be looking into the services to see if they live up to the expectations and so you can decide if they are the right broker for you.

Account Types
The two account types on offer are based around the two trading platforms that are available, let's take a look at what they are.
ActTrader Account: The account requires a minimum deposit of $500, its trade sizes are slightly reduced at 10,000 units per lot. It has currencies, equity indices, crude oil and metals available to trade, offers a robust multi-account management capability and uses ActTrader as its trading software.

MetaTrader Account: This account requires a minimum deposit of $500 to open, its lot sizes return to the normal 100,000 units per lot, the has currencies, equity indices, crude oil, metals and shares available to trade. It can have a choice of ECN or more traditional execution methods, uses the MetaTrader software and there is no dealing desk instant execution for currencies, there are also no requotes or delays.

Platforms
As mentioned there are two different trading platforms on offer so lets ee what then features of both are.
MetaTrader 4 (MT4): MetaTrader 4 (MT4) is one of the world's most popular trading platforms and for good reason. Released in 2005 by MetaQuotes Software, it has been around a while, it is stable customizable and full of features to help with your trading and analysis. MT4 is compatible with hundreds and thousands of different indicators, expert advisors, signal providers and more.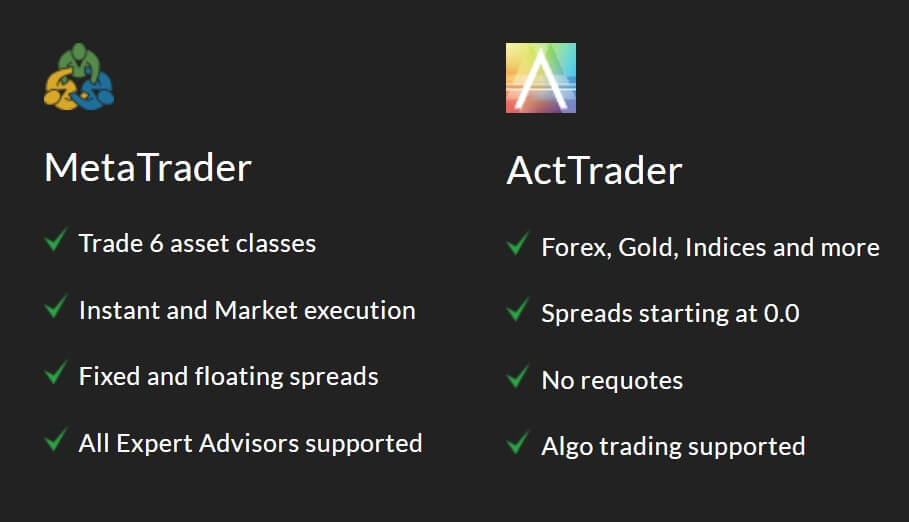 ActTrader: Trading on the most sophisticated and secure Forex software with GCI, and benefit from:
Currencies, Gold, Crude Oil, Indices, and more
1 to 2 pip spreads in major currencies
Unlimited charts and technical indicators
4% interest paid on your account balance
Instant fills. No requotes or delays
Leverage
There is flexible leverage on offer up to 1:400, flexible leverage means it can be changed at any time as long as there are no open trades a the time of the request. The initial leverage can be selected when opening up an account.

Trade Sizes
Trade sizes start from 0.01 lots which are also known as micro-lote, they then go up in increments of 0.01 lots so the next trade would be 0.02 lots and then 0.03 lots. The maximum trade size is unknown however whatever it is we would recommend not trading in sizes larger than 50 lots, as the bigger a trade becomes the harder it is for the markets or liquidity provider to execute the trade quickly and without any slippage. There is also no note of the maximum number of open trades allowed.
Trading Costs
There are no additional commissions on any of the accounts that GCI Online Trading offer, all costs are built into the spreads. There are, however, spread charges, and these are interest charges that are incurred for holding trades overnight, they can be both negative or positive and can usually be viewed from within the trading platform of choice.

Assets
GCI Online Trading has broken their assets down into 4 different categories which are forex, commodities, indices, and stocks, we will outline a few examples from each.
Forex: Plenty of forex pairs to chose from, these include the likes of EURUSD, USDJPY, GBPUSD, AUDUSD, EURCHF, NZDUSD, USDZAR, USDMXN, CADJPY, USDINR, EURNZD, EURTRY and, JPYINR.
Commodities: A number of different instruments are available including Crude Oil (WTI), Gold (Spot), Silver (Spot), Copper (Futures) and, Brent Crude Oil.
Indicies: A few to choose from when it comes to Indices including S&P 500, Nasdaq 100, Dow Jones, Russell 2000, FTSE 100, SPI 200 and, DAX 30.
Stocks: A whole host of stocks to choose from, there are North American shares, European shares and Asia-Pacific shares such as Amazon, Apply, Barclays, Tesco, Nintendo and, Sony.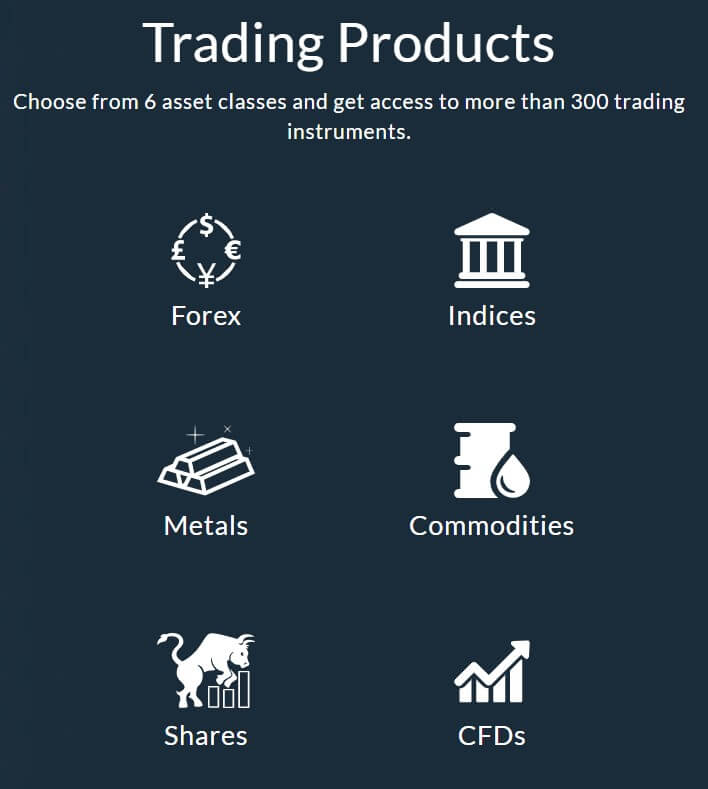 Spreads
Spreads start from 1 pip, the spreads are variable (also known as floating) so this means that when the markets are being volatile, the spreads will often be seen higher. It is also important to note that different instruments and assets have different starting spreads, so while EURUSD may start at 1 pip, other assets like GBPJPY may start slightly higher, in this case, 4 pips.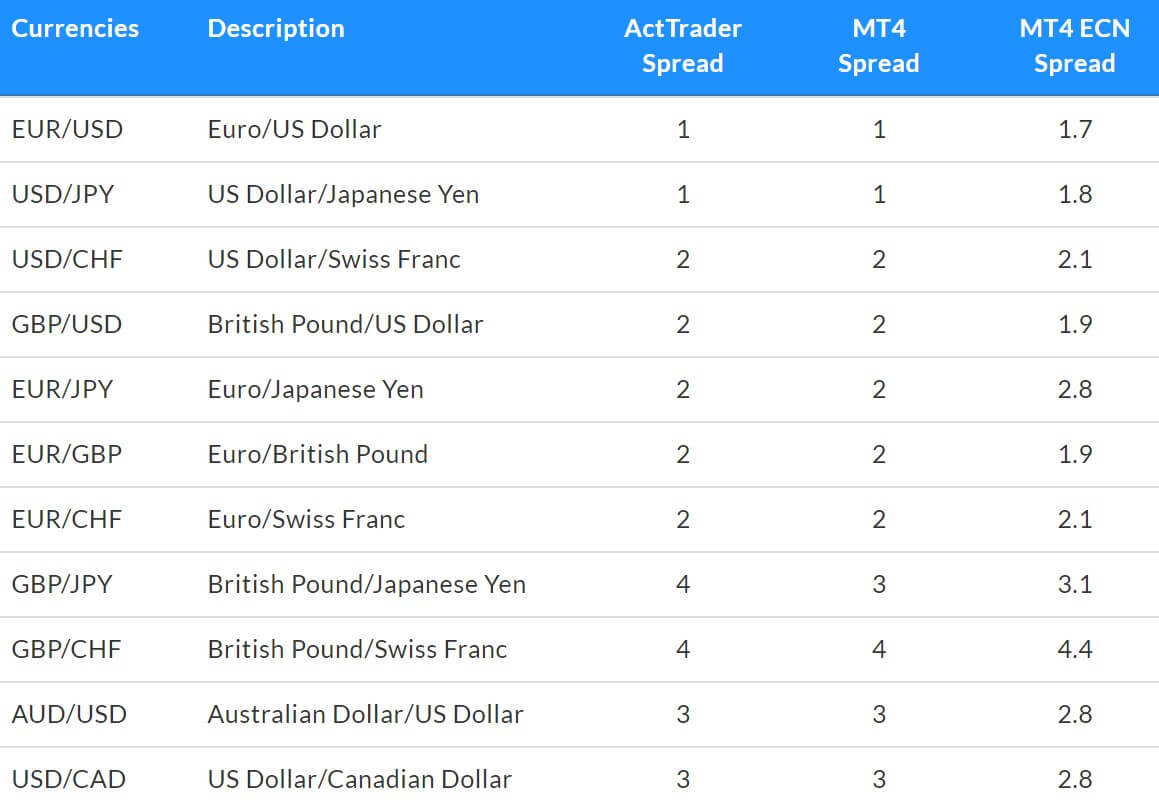 Minimum Deposit
The minimum amount needed to open up an account is $500, this will get you any of the accounts of your choice. Once an account is open the minimum deposit disappears for any subsequent top-up deposits and any amount is ok.
Deposit Methods & Costs
The following methods are available for depositing along with their respective currencies and fees.
Bank Wire Transfer – EUR, USD – Banks Own Fees
Credit / Debit Card (Visa / MasterCard) – EUR, USD – No Fee
Skrill – USD, EUR – No Fee
Neteller – SUD, EUR – No Fee
Perfect Money – EUR, USD, Gold – Perfect Money's Own Commission
GCI is not adding any fees of their own, but be sure to check with your bank or processor to see if they have any fees of their own, especially when using Bank Wire Transfer or Perfect Money.

Withdrawal Methods & Costs
The same methods are available to withdraw with, for clarification, these are Bank Wire Transfer, Visa Credit / Debit, Mastercard Credit ./ Debit, Skrill, Neteller, and Perfect Money. There is no notice about any fees or lack of, so it is unknown if there are any added by GCI, whether there are or not, be sure to check with your bank or processor to see if they add any fees of their own.
Withdrawal Processing & Wait Time
The time it takes for processing is not clearly indicated on the website, would it would be within 48 hours though, at any rate, once the request is processed, depending on the method used it could take an additional 1 – 5 working days for your bank or processor to fully process the withdrawal and make the funds available.

Bonuses & Promotions
We could not locate any information on the website in regards to bonuses or promotions so it does not appear that there are any active ones at the time of writing this review. If you are interested in bonuses then be sure to check back regularly or get in contact with the customer service team to see if there are any upcoming bonuses or promotions.
Educational & Trading Tools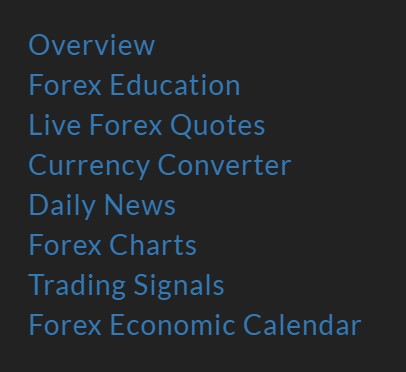 There are a few different educational pieces available on the website, these include a section called Forex Education which goes over a number of different topics, giving brief outlines on how things work and how different tasks can be performed. There is also a currency converter should you wish to change once currency into another, live forex quotes to see where the markets are at any point in time, daily forex news outlining news event sand any potential effects they may have, an economic calendar detailing upcoming news and the effect it will have and, finally, trading signals, however, these have not been updated since 2018 so they are not the most accurate anymore.
Customer Service
If you need to get in contact with GCI you can do so in a number of different ways, there is a phone number to call and speak to someone directly, there are also a number of different email addresses available for different departments including general, introducing brokers, technical support, trading/dealing, account funding administration, and payment administration. There are also different email addresses established for the language you want to use such as English, French, Spanish, German, Russian, Chinese and Japanese. Finally, there is also a live chat to speak to someone that way.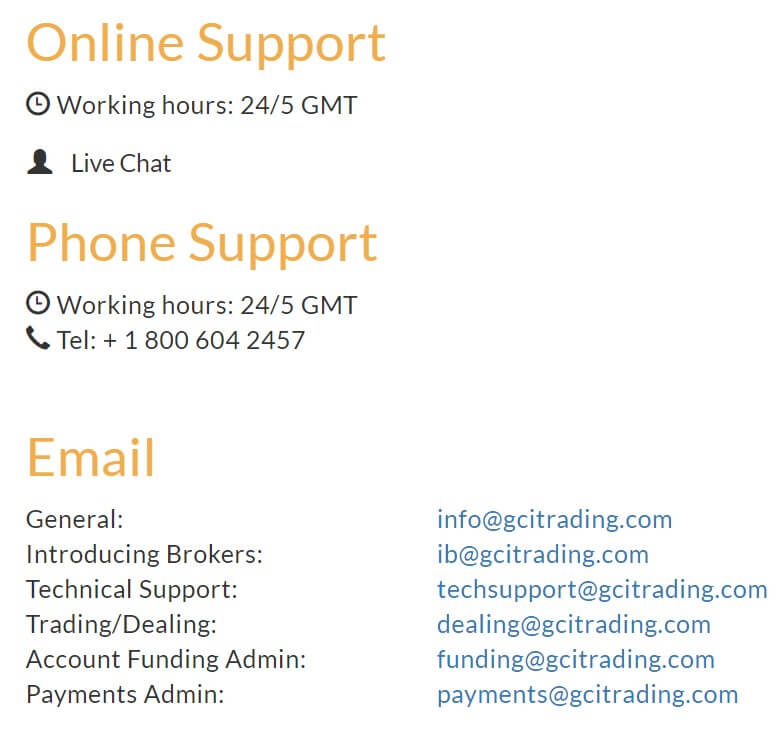 The customer service team is open 24/5 and is closed over the weekends and bank holidays just like the markets are.
Demo Account
You can sign up to a demo account, the demo accounts come with a choice of MetaTrader 4 or ActTrader as its trading platform, leverage up to 1:500 and access to all available trading instruments. The main bit of information missing is in regard to how long the accountants, some brokers now put an expiration timer on the account to save server space but it is unknown if there is one here.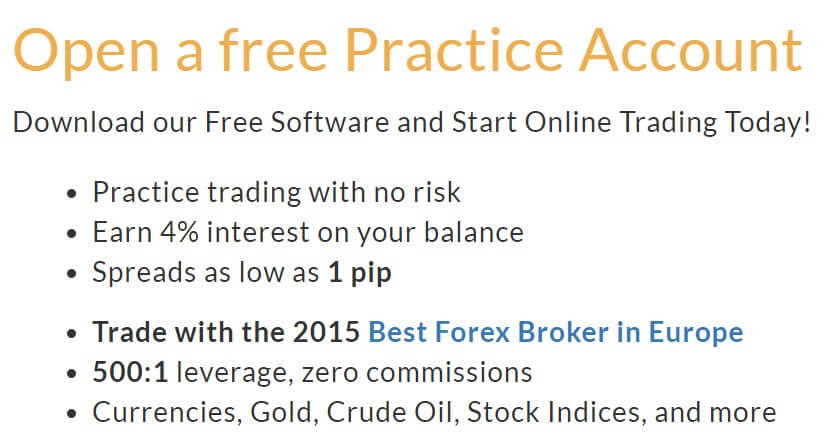 Countries Accepted
The following statement is present on the website: "GCI Financial LTD does not offer its services if you are a citizen or resident of any of the following countries: Afghanistan, Cuba, Eritrea, Iran, Iraq, Kyrgyzstan, Libya, North Korea, South Sudan, Sudan, Syria or the United States of America. This list is not exhaustive and we may in our sole discretion decide to discontinue or restrict our services in other countries at any time and without prior notice."
If you are unsure then you should get in contact with the customer service team to find out if you are eligible or not.
Conclusion
GCI Online Trading offers some very competitive trading conditions, their spreads are very competitive for being non-commission based accounts, there are also plenty of assets to trade so you should always be kept busy. In regards to deposit and withdrawal methods, there are plenty of options available with no added fees for either depositing or withdrawing. All of these things make GCI seem like a tempting broker to pursue, but ultimately, the decision is up to you.