Key To Markets are registered in New Zealand, the UK and Dubai, and are both a DMCC and FCA regulated company. They offer MT4 trading services to their clients as well as PAMM accounts. In addition, they offer IB affiliate programmes and a white-label service for those wanting to expand their trading into a career or even business of their own. One thing that sets this broker apart from other forex brokers is that Key To Markets also offer their very own Savings account, which enables clients to earn interest (0.5% annual interest paid Monthly) on the money they have sat in their account, while it is not being used for trading. This idea is very forward-thinking, and a great tool to attract clients
Account Types
Key To Markets offer 3 accounts, 2 for trading, and 1 for saving and earning interest, which can then be transferred directly to the trading account and used for trading:
ECN MT4 Standard: commission is charged using a 1 pip mark up to the inter-              banking spread, 1.0 pip + raw spread
ECN MT4 Pro: 8$ per traded lot round turn commission, raw spreads
Key To Savings account: 0.5% annual interest paid Monthly, savings can be used          and moved to trade account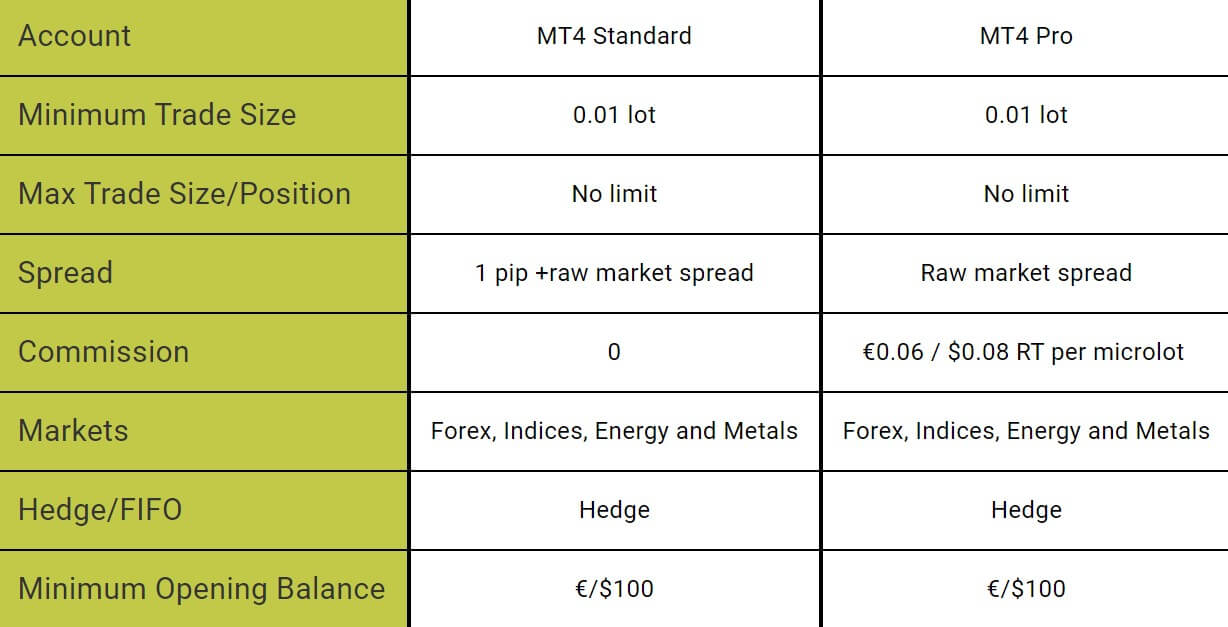 PAMM investor and Social PAMM accounts are also available for those who wish to gain profit from essentially someone else investing their own money for them, with their management and experienced trader skills.
Platforms
Key To Markets offer the MT4 platform, and the trading services are compatible via the following platforms:
MT4 for Windows PC
MT4 for Mac OS
MT4 for iPhone
MT4 Android
Leverage
The maximum leverage that Key To Markets offers on their trading accounts is 1:500. However, the website does not specify if this is for all tradable assets available. In the absence of an FAQ page or live chat service, I called the customer support telephone number provided (during hours of operation) to find out more but was never answered after several attempts, and instead got an automated message on loop. This is very concerning that the customer support team are unresponsive, and not entirely clear on their website on what exactly they offer.
Trade Sizes
For both trading accounts, the minimum trade size requirement is 0.01 lot and the maximum trade volume is unlimited.

Trading Costs
Key To Markets charge trade commissions only on one of the two accounts, the MT4 Standard account charges 0 while the MT4 Pro account charges commissions of €0.06/$0.08 RT per 1 Microlot, so 6 EUR or 8 USD per lot (round turn). Of course, the STandard account spreads are marked up in replacement of the commission fee, so therefore the client cost on either account you choose is essentially almost the same. The commission fee of 4USD to open the trade and a further 4 USD to close the trade is actually not as expensive as it appears and is actually fairly average to what other brokers charge.
Assets
Key To Markets offers over 100 currency pairs to trade which include Forex, Indices & Commodities. Both the Standard and Pro trading accounts have access to the same markets. This broker is potentially limiting in terms of instruments offered, with assets such as cryptocurrencies not being available, which are definitely increasing in popularity to trade on margin, and not just Hold.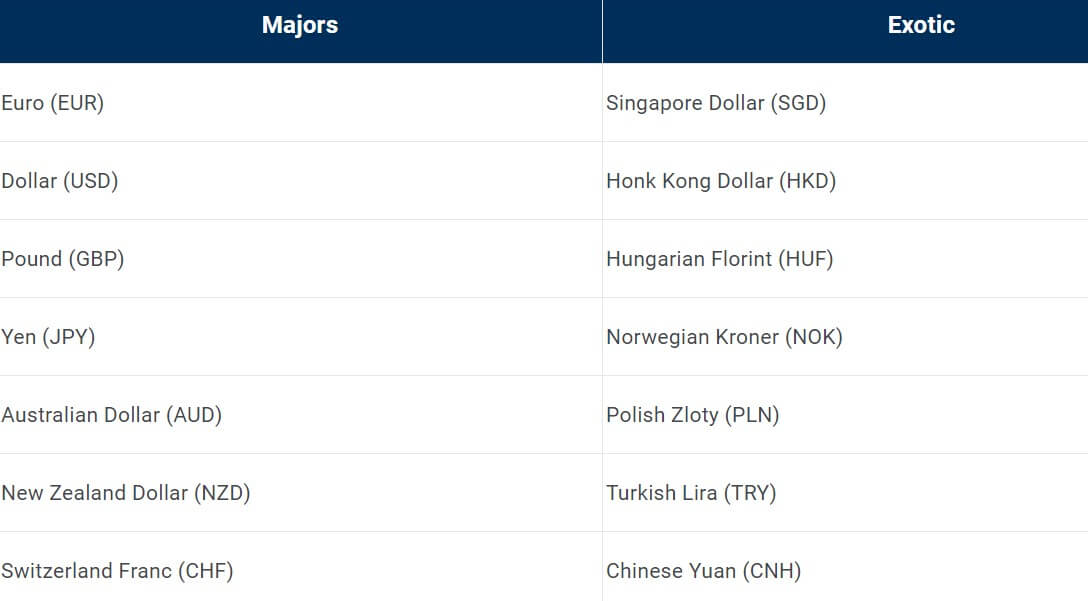 All available pairs are not displayed on the website, nor is there a demo account offered to view them on Market Watch, leaving the only alternative for clients to be opening a live account right away, which is not the norm, and raises suspicion and concern about the transparency of this broker.
Spreads
As mentioned earlier, the spreads offered by Key To Markets differ from the two trading accounts offered; the ECN MT4 Standard offers 1.0 pip + raw spread while the ECN MT4 Pro offers raw spreads. Bear in mind that this account does charge commissions while the Standard, does not, but the broker makes up for the cost by marking up the spreads to the clients, so client cost for trading balances out, no matter which account option you choose.

Minimum Deposit
The minimum deposit requirement set by Key To Markets, for both the MT4 Standard and MT4 Pro accounts are both set at $100, which is a little higher than what a lot of brokers require but at the same time is reasonable and gives ample room and fair start to trade a decent volume and taking into consideration the cost of the commission charge and spread.
Unfortunately, one cannot see the spreads on the website, and a reminder that there is no demo account to check these out, so you would need to open a live account to see all spreads available to you.
Deposit Methods & Costs
Key To Markets claims to offer Instant deposit methods, which are set out on the website, as follows:
-Credit / Debit card (Restrictions are applied to certain countries)
-Skrill (Only for non-European clients)
-Neteller
-Sticpay
-Bank Wire (no fee)
All deposit methods, aside from the Bank Wire method, incur a 2.5% fee, so do bear this in mind when funding your account.

Withdrawal Methods & Costs
The two methods of withdrawal offered by Key To Markets are Skrill or Neteller, and both will incur a 1% withdrawal fee.

Withdrawal Processing & Wait Time
On the website, Key To Markets claims they will process all withdrawals (Skrill and Neteller) within 48 business hours. Of course, this could vary depending on when you make the withdrawal request too; if you make the withdrawal outside of operating hours, you could be left waiting a number of days. To be clear, Key To Markets do NOT offer any INSTANT withdrawal methods.
Bonuses & Promotions
Key To Markets does not offer any bonus schemes to their clients however they do offer IB affiliate programmes for those who wish to expand their income outside of their personal trading. In addition, there is also a 'refer your friend' scheme, whereby you may earn income from onboarding your connections to Key To Markets.
Educational & Trading Tools
Key To Markets offer absolutely nothing in the way of trading tools or educational material. This indicated that the traders they target their services at are perhaps the more experienced traders already and do not require assisting tools provided by their broker. Of course, there is plenty of educational material freely available on many online avenues, including this very website, where ample reading and video material is available for free learning.
Customer Service
Key To Markets offers customer support service, which clients can make use of via contacting via telephone or email during the hours (UK) of 9 AM – 6 PM. There is no live chat service which may be off-putting to some potential clients as this means that to get a response, one must wait for a response, and this could vary in timescale, rather than receive an instant response. There is also no FAQ page for such short queries that a live chat alternative would be beneficial for.

In the duration of writing this review, we had no response from any customer support channel offered, which is highly concerning. How can clients feel assured of the security of their funds and trades, if the customer service is totally unresponsive?
Demo Account
It is very peculiar that an apparent FCA regulated company, do NOT offer their potential clients a demo account to backtest their service. How can you know for sure if this broker is suited for your trading style if you cannot test it fully yourself in the demo client area before opening a live trading account?
Countries Accepted
While there is no direct disclaimer fromKey To Markets regarding which countries are accepted to be clients, bear in mind that if your residency/jurisdiction does not comply with DMCC and FCA regulation policies, you will not be granted access to trade with this broker. Of course, this is your personal responsibility to check before registering to save disappointment, but of course, you will also be screened when you submit your document proof of address and Identification when you sign up for a live account.

Conclusion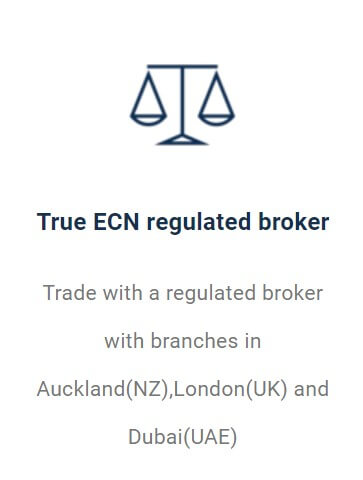 Key To Markets are not wholly transparent when it comes to the ins and outs of their services. It is very disappointing to see they do not offer even a demo account, which does not allow potential clients a fair judgement on whether this broker is suitable and in line with their expectations as well s their prefered trading style and strategies. In addition, it is incredibly poor conduct for a regulated company (FCA) to be totally unresponsive when it comes to customer support. This is a clear demonstration that not all brokers can stand tall with their regulation status being their one tool to attract clients when they have no time or thought for their clients.