Xero Markets was founded in 2017 and aims to make a splash into the forex world. Their mission is to strengthen the trading line of their clients both domestically and internationally promising low spreads, high leverage, excellent and fast service and taking responsibility for any problems. In this review, we will be looking at the service being offered to see if they live up to those promises and so you can decide if they are the right broker for you.
Account Types
Just two different accounts from Xero Markets, the Regular and ECN accounts, let's take a look at what the requirements and features of these two accounts are.
Xero Regular: The regular account requires a minimum deposit of $10, this account comes with spreads ranging from 0.1 pips up to 2 pips and there is no added commission on this account. Leverage can go up as high as 1:500 and the minimum trade size is 0.01 lots with 1000 lots as the maximum. The account has swaps however a swap-free version is also available, the margin call is set for 100% and stop-out set at 35%.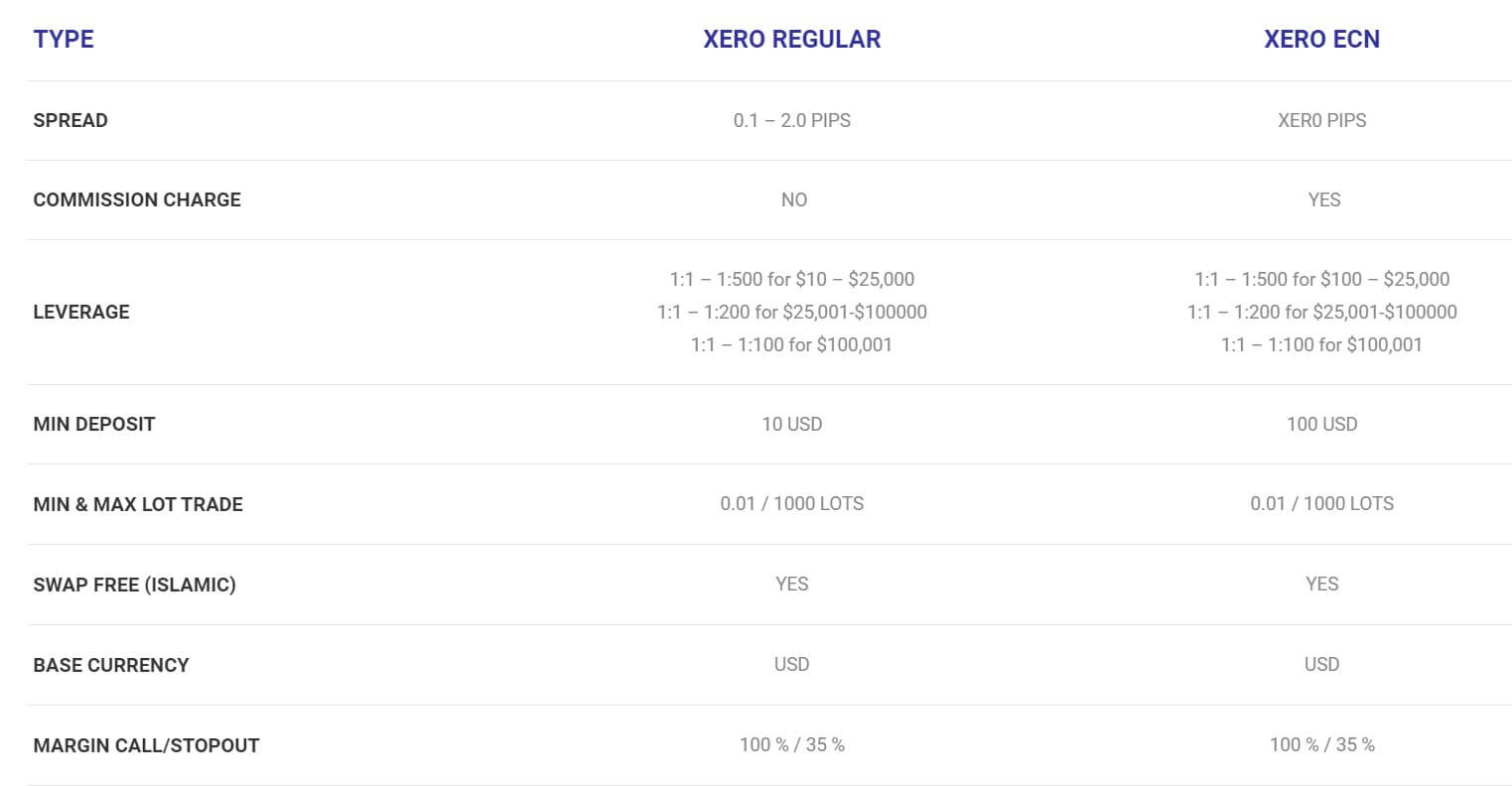 Xero ECN: This account has a slightly higher requirement of $100, the account has spread as low as 0 pips but due to this, there is an added commission on the account. Leverage can go up to 1:500 and the minimum trade size os 0.01 lots with the maximum being 1000 lots. The account has swap charges however a swap-free account is also available. The base currency must be USD and the margin call level is at 100% and stop-out level at 35%.
There is also a copy trading service where you can copy the trades of other traders, it is relatively basic but it allows you to trade handsfree by investing in one of the already successful traders.
Platforms
Only the one trading platform on offer which is MetaTrader 4, so let's see what this platform has to offer.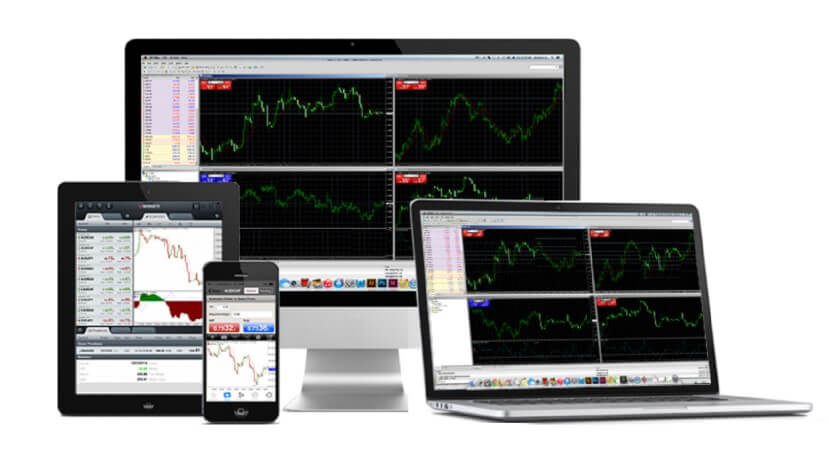 MetaTrader 4 (MT4) is one of the world's most popular trading platforms and for good reason. Released in 2005 by MetaQuotes Software, it has been around a while, it is stable customizable and full of features to help with your trading and analysis. MT4 is compatible with hundreds and thousands of different indicators, expert advisors, signal providers and more. Millions of people use MT4 for its interactive charts, multiple timeframes, one-click trading, trade copying and more. In terms of accessibility, MT4 is second to none, available as a desktop download, an app for Android and iOS devices and as a WebTrader where you can trade from within your internet browser. MetaTrader 4 is a great trading solution to have.
Leverage
The leverage that you have available is the same for both accounts and is decided based on the account value, we have listed the options below:
1:1 – 1:500 for $10 – $25,000
1:1 – 1:200 for $25,001-$100000
1:1 – 1:100 for $100,001
Leverage can be selected when opening up an account, should you wish to change it on an already open account you should get in contact with the customer service team.
Trade Sizes
Trade sizes for both accounts start at 0.01 lots which are also known as a micro lot, trades then go up in increments of 0.01 lots so the next available trade would be 0.02 lots and then 0.03 lots.
The maximum trade size is 1000 lots which is far too high, we would not recommend trading more than 50 lots in a single trade as it can become increasingly harder for the markets and liquidity providers to execute trades quickly and without any slippage.

Trading Costs
The regular account uses a spread based system and does not have any added commission, the ECN account has an added commission of $5 per round lot trade which is just below the industry standard of $6 per round lot traded.
There are also swap charges on the accounts which are interest charges for holding trades overnight, these can be viewed within the MetaTrader 4 trading platform. If you get an Islamic account then these swap charges are replaced with an administration charge.
Assets
Unfortunately, there is not a breakdown of the different tradable assets. This is surprising because one of the first things that potential clients do when looking at a potential broker is to look at what instruments are available for trading, so not having it is a big blow to potential clients. The website simply states that there are 77 instruments to trade.
Spreads
Unfortunately, we can not give good examples of spreads as they are not mentioned on the website. The regular account can have spread from 0.1 pips up to 2pips as a starting position, the ECN account has spreads starting as low as 0 pips. The spreads are variable which means they move with the markets, when the markets are volatile they will often be seen higher. It is also worth mentioning that different instruments will have different starting spreads, so EURUSD will have a different spread to AUDNZD as an example.
Minimum Deposit
The minimum deposit in order to open up an account is $10 which gets you the regular account, if you want the ECN account you will need to deposit a minimum of $100.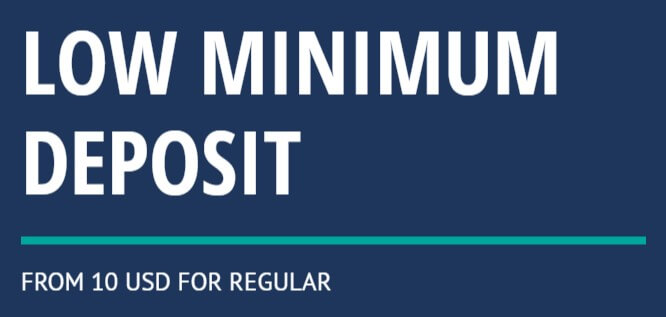 Deposit Methods & Costs
There are a number of different deposit methods available each with slightly different features, we have set out a table;e below to give an easy read of what they are.
Bank Wire Transfer – USD – No Fee
Visa Credit / Debit – USD – 2.6% Fee
MasterCard Visa / Debit – USD – 2.6% Fee
Neteller – USD – No Fee
Skrill – USD – No Fee
Online Banking Malaysia – MYR – RM 4.4 / USD Fee
Online Banking Indonesia – IDR – No Fee
Online Banking Thailand – THB – No Fee
Local Exchange Malaysia – MYR – RM 4.4 / USD
There are no added fees for Bank Wire Transfer but be sure to check with your bank to see if they add any fees of their own.


Withdrawal Methods & Costs
The same methods are available for withdrawing, we have set out a similar table below.
Bank Wire Transfer – USD – No Fee
Visa Credit / Debit – USD – 2.6% Fee
MasterCard Visa / Debit – USD – 2.6% Fee
Neteller – USD – 2% Fee
Skrill – USD – 2% Fee
Online Banking Malaysia – MYR – RM 4.2 / USD Fee
Online Banking Indonesia – IDR – No Fee
Online Banking Thailand – THB – No Fee
Local Exchange Malaysia – MYR – RM 4.2 / USD
There are no added fees for Bank Wire Transfer but be sure to check with your bank to see if they add any fees of their own.
Accounts that have not yet performed a turnover of 200 will have a 10% fee added to any withdrawals.
Withdrawal Processing & Wait Time
There is a little confusion surrounding processing times, the withdrawal policy state that it will take between 4 – 7 business days for Xero Markets to process a withdrawal request, however, the withdrawals page state that Neteller and Skrill are instant withdrawals, Visa and MasterCard withdrawals take 24 hours and Bank Wire Transfers will take between 3 – 7 business days. We will assume that the latter numbers are after the initial processing has been performed, not the overall time required.
Bonuses & Promotions
Promotions change from month to month, so what we have written here may no longer be valid, but can instead be used as an example of the sort of promotions that take place.
Golden Fortune Promotion: The promotion is pretty straight forward, deposit a minimum of $1,000 and trade at least 5 lots you will receive an entry into a prize draw, prizes are different gold (real physical gold). 4 prizes on offer, each member is eligible for one entry into the prize draw.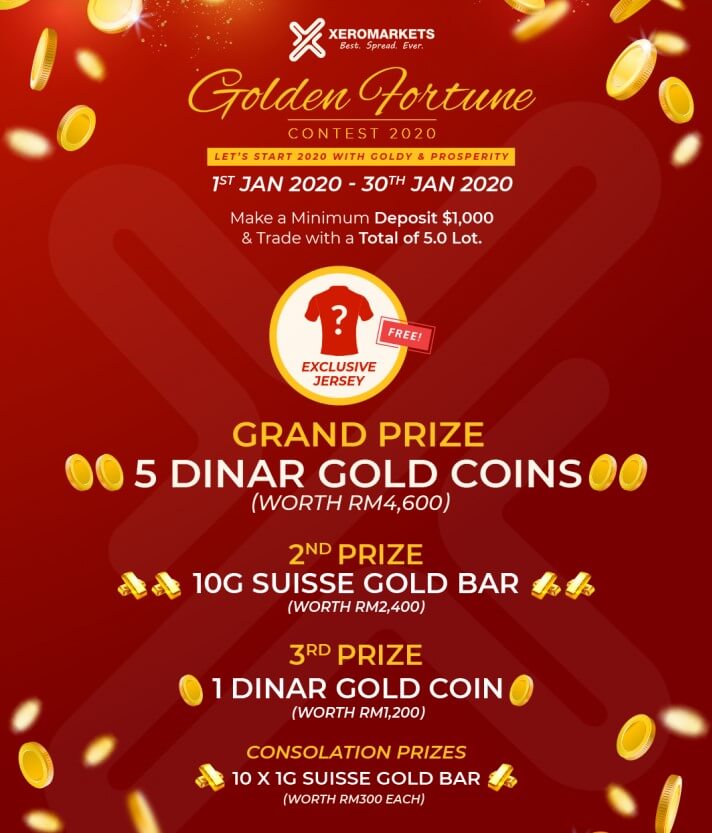 Educational & Trading Tools
There does not appear to be any educational tools on offer from Xero Markets so there is nothing for us to write here, except that a lot of other brokers are looking to help their traders improve, so it would be nice to see Xero MArkets do a similar thing.
Customer Service
The contact us page is as straight forward as you would expect, there is the standard online submission form where you can fill in your query and then you should receive a reply via email. There is also a physical address and a direct email address along with a phone number to call. The support department is open 24/5 and closes over the weekend at the same time as the markets close.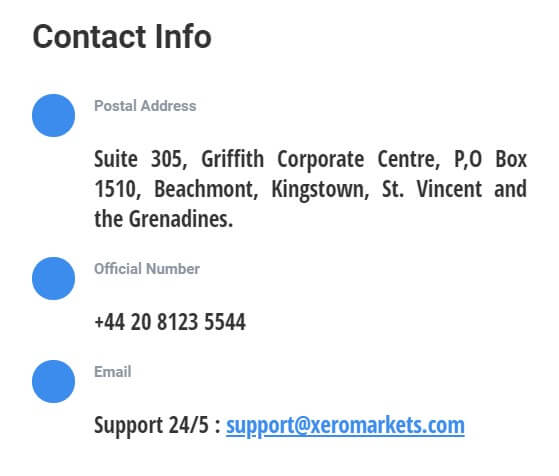 Demo Account
Xero MArkets offer a demo account, you can click the signup button and fill in the form. When signing up for the account you can only select MetaTrader 4 as a trading platform and USD as the account currency, it uses its own account type called Xero Demo so it does not indicate what the trading conditions actually are. There is also no indication as to how long the account lasts which is quite important as a lot of brokers now put a time limit such as 30 days before they expire.
Countries Accepted
The following statement is on the Xero Markets website: "Xero Capital Markets does not offer its services to the residents of certain jurisdictions such as Afghanistan, Cote d'Ivoire, Cuba, Iran, Libya, Myanmar, North Korea, Sudan, Puerto Rico, USA, Australia, Syria, Japan, and Ecuador." If you are not sure of your eligibility, we would recommend getting in contact with the customer service team to find out.
Conclusion
The initial look at Xero Markets gave us some good impressions, the accounts looked good and the spreads stated on the account page were ok for noncommission accounts, unfortunately, things then went downhill with a lack of information on the assets and actual spreads for any instruments. Fees being included on deposits and withdrawals is also a little offputting, but there is a nice selection of deposit methods which is good to see. Withdrawal times could be a little long but nothing that will really put us off in that department.