FBS is an online FX broker regulated by the International Financial Services Commission (IFSC) and located in the Marshall Islands. On their website, the company explains that they value the diversity of their clients and therefore provide options in the form of specialized account types, swap-free accounts, and beginner-level resources. FBS was founded back in 2009 and has managed to win several awards in the time since. With 7,000 traders opening accounts every day, the broker also seems to be well-received among the Forex community. If you're wondering whether to join the numerous traders that have been flocking to the company, keep reading.
Account Types
This broker offers five separate account types; Cent, Micro, Standard, Zero Spread, and ECN. All account types, aside from the ECN account, support 35 currency pairs, 4 metals, and 5 CFDs. Minimum deposit requirements, leverage caps, and commission fees can vary. Most of the accounts share the same trade sizes and support both the MT4 and MT5 trading platforms. We've provided a quick list of each account's features below. This should be enough to give one an idea of which accounts may work best for their own personal trading style, but you'll want to keep reading to find out more specific details about these accounts.

Cent Account
Minimum Deposit: $1 USD
Leverage: Up to 1:1000
Spread: Floating from 1 pip
Commissions: Zero
Assets: 35 Currency Pairs, 4 Metals, 3 CFD
Micro Account
Minimum Deposit: $5 USD
Leverage: Up to 1:3000
Spread: Fixed 3 pips
Commissions: Zero
Assets: 35 Currency Pairs, 4 Metals, 3 CFD
Standard Account
Minimum Deposit: $100 USD
Leverage: Up to 1:3000
Spread: Floating from 0.5 pips
Commissions: Zero
Assets: 35 Currency Pairs, 4 Metals, 3 CFD
Zero Spread Account
Minimum Deposit: $500 USD
Leverage: Up to 1:3000
Spread: Fixed 0 pips
Commissions: $20 per lot
Assets: 35 Currency Pairs, 4 Metals, 3 CFD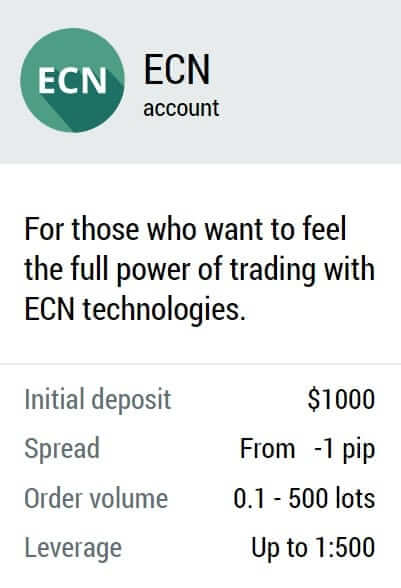 ECN Account
Minimum Deposit: $1,000 USD
Leverage: Up to 1:500
Spread: Floating from 1 pip
Commissions: $6 per lot
Assets: 26 Currency Pairs (Majors and Minors Only)
Swap-free versions are available for the Cent, Micro, Standard, and Zero Spread accounts. Note that ECN accounts are not available as swap-free. Swap-free options are not supported when trading FX exotics or CFDs. For verification, this broker requires a color copy of one's passport or government ID and a document that proves residence.
Platform
This broker offers both the MetaTrader 4 and MetaTrader 5 platforms for PC, Mac, Android, and iOS devices. Traders can also access either platform through the browser-based WebTrader and MT4 MultiTerminal can be used when managing multiple trading accounts at once. Many traders prefer the MT4 platform, even with the newer version available, and it could very well be considered the world's most popular trading platform.

With more than 50 indicators and charting tools, a user-friendly interface, VPS service support, and full functional expert advisors among its many features, there's no wonder MT4 has risen so high in popularity. The second option, MT5, was designed to build upon the features of its predecessor and adds more timeframes, tools, and other features that aren't available in the earlier version. One advantage of choosing MT5 with this broker would be the fact that Stocks are only available for trading within MT5.
Leverage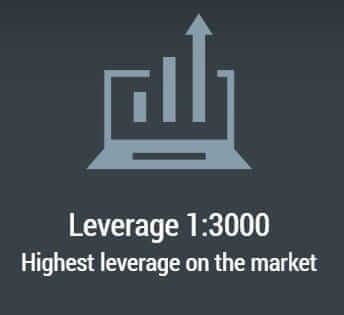 The account with the lowest leverage cap would be the ECN account, which allows for a leverage of up to 1:500. This is still a noteworthy option, and the choices only go up from there. On the Cent account, we see a leverage cap of 1:1000, while all of the remaining accounts (Micro, Standard, and Zero Spread) allow for outstanding maximum leverage of 1:3000. If you prefer the high-risk high-rewards that come with high leveraged trading, then it would be difficult to find better options elsewhere. If you've never used leverage before, or you don't have a lot of capital, you may want to be wary of choosing options as high as the ones offered by this broker, as to limit losses.
Trade Sizes
All accounts share a minimum trade size of 0.01 lots, otherwise known as one micro lot. The Micro, Standard, Zero Spread, and ECN accounts have a maximum trade size of 500 lots. The Cent account limits the maximum trade size to 1,000 cent lots. All of the accounts limit the maximum number of pending and open orders to 200, aside from the ECN account, which has no limits. Margin call level is set at 40%, while the stop out level is set at 20%.
Trading Costs
This broker profits through commissions, spreads, and swaps.
Commissions: Commissions are not applicable on Cent, Micro, and Standard accounts. Commission fees are $20 per lot on Zero Spread accounts and $6 on ECN accounts.
Spreads: Spreads are floating and start from 1 pip on Cent accounts, 0.5 pips on Standard accounts, and 1 pip on ECN accounts. Spreads are fixed at 0 pips on Zero Spread accounts and 3 pips on Micro accounts.
Swaps: These charges are applied when holding positions overnight and are tripled on Wednesdays. Swap-free account holders are exempt from paying swaps but may be charged handling fees.
Assets
Aside from the ECN account, all account types support the trading of 35 currency pairs, 4 Metals, and 5 CFDs. ECN accounts give access to 26 currency pairs, minus exotics, and do not offer trading on any further assets. FX options are made up of majors, minors, and exotics. Gold, Silver, Platinum, and Pallidum are the available Metals. We also found 33 Stocks to be available in major companies like Disney, Google, and more. Note that Stocks are only available when trading from the MT5 platform. If you're looking to trade Commodities or Cryptocurrencies, this broker's choices may seem somewhat slim.
Spreads
Spreads vary based on account type and can be floating or fixed. The Cent and ECN accounts have floating spreads from 1 pip, while spreads on the Standard account are floating from 0.5 pips. If you're looking for fixed spreads, the ECN Account type offers fixed spreads of 3 pips. We were also happy to see fixed spreads on the Zero Spread account type since this guarantees that spreads will stay at the low amount that attracts us to this account type. Spreads are fixed at 0 pips on this account type.
Minimum Deposit
The most affordable account types would be the Cent account, with a minimum deposit requirement of $1, and the Micro account, with a minimum deposit requirement of $5. Standard account holders will need to deposit at least $100. So far, all of these options should be low enough for beginners, or those that may not have a lot of funds to start with. Those opening a Zero Spread account will need to deposit at least $500, so you'll need to make the larger deposit if you're looking to take advantage of the best spreads. The most expensive account type would be the ECN account, with a deposit requirement of $1,000 USD.
Deposit Methods & Costs
Accounts can be funded instantly via Visa, Neteller, SticPay, Skrill, PerfectMoney, Bitwallet, or Local Exchangers. Most of the deposit methods are fee-free, although the current payment system may charge commissions for PerfectMoney deposits and there is a 2.5% + $0.3 commission charge on SticPay deposits. The website does not specify whether commission fees are charged when depositing through Local Exchangers.
Withdrawal Methods & Costs
Withdrawals can be made through all of the payment methods and fees differ based on the chosen method. If an account is funded via credit/debit card and a withdrawal request is received within 60 days from the date of deposit, the funds will be sent back to the card used to deposit. Up to 100% of the deposit amount can be withdrawn back to the card, with any profits being returned via Bank Wire. Taking a look at all of the methods, it seems that Visa and Skrill would be the cheapest methods for withdrawals. Fees for Bitwallet vary and are not listed on the website. All of the applicable withdrawal costs for each method are listed below.
Visa: $1
Neteller: 2% (min $1, max $30)
SticPay: 2.5% + $0.3
Skrill: 1% + $0.32
PerfectMoney: 0.50%
Bitwallet: Commissions May Apply
Withdrawal Processing & Wait Time
After submitting a withdrawal request, you'll be able to check the status in the Personal area in the 'Transaction History' section. Bitwallet withdrawals are the only option that is processed instantly. All other methods are processed within 15-20 minutes, with a total wait time of up to 48 hours. In addition to the 48-hour wait time on Visa withdrawals, the website notes that it can take up to 5 – 7 days for the bank to finish processing these withdrawals. Overall, the wait times for Visa withdrawals could be frustrating for traders that are in a hurry, so another method may be better suited if you need quick access to your funds. The website does not state how long it can take to receive withdrawn profits on Visa deposits via Bank Wire, although we would expect to see a wait time of several business days.
Bonuses & Promotions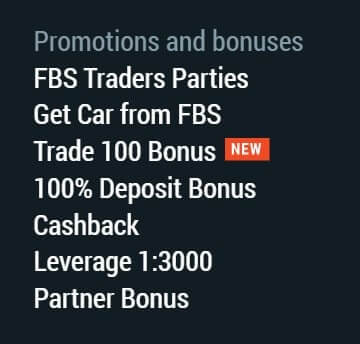 This broker is currently offering a 100% deposit bonus and a Trade 100 Bonus. We also found a promotion to win a car that is not currently running, although it seems to be offered from time to time. Typically, we try to include some of the most important terms and conditions for any offers in this category, but we couldn't access the terms and conditions for at least one of these bonuses without registering an account, which is impossible to do from our US-based offices. If you're going to try to earn any of these rewards, we highly recommend taking a look at that section to be sure that you're meeting all the criteria.
100% Deposit Bonus: This bonus offers the chance to double one's deposit with an unlimited maximum payout amount and trading period. Traders must contact support once conditions are met in order to receive this bonus.
Trade 100 Bonus: The bonus account is available with no need to make a deposit. The account is only supported on the MT5 platform. Once traders sign up and trade at least 5 lots, then a $100 bonus is earned and can be credited to a trading account.
Educational & Trading Tools
Educational offers include a Forex Guidebook, Forex Books, Tips, Webinars, Video Lessons, Seminars, and a Glossary. When browsing through these options, we found a good amount of the content to be focused on beginners, so this would be an excellent place to start if you've never traded Forex before. If you have more experience, then you'll also be able to access some intermediate and expert level content on the website. When it comes to trading tools, we found Market News and Analysis, an Economic Calendar, Currency Converter, and a Trader's Calculator.
Demo Account
With a demo account, you can learn how to trade and master and test trading strategies free of charge. The broker offers real trading conditions on their demo accounts and allows users to load their demo accounts with a chosen amount of virtual funds. Since demo accounts are risk-free, it would be of one's advantage to use the opportunity to gain some extra practice.
Customer Service
Support is available 24/7 and can be contacted via LiveChat, Telegram, Facebook Messenger, or Callback Request. The broker seems to favor the more instant online contact options over email and phone calls. This isn't necessarily a bad thing, although it would be nice for clients to be able to call the company directly, rather than waiting for a response to a callback request.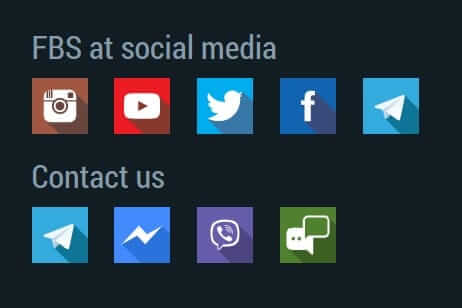 We were having issues finding a few pieces of information on the website, so we used the opportunity to test out the broker's LiveChat feature. We started out in queue position 5, but still received a response within about 30 seconds, so it's safe to say that this broker is keeping up with the demand of providing instant support. You'll also find that this broker is active on Facebook, Twitter, YouTube, and Instagram. The company is located on Ajeltake Road, Ajeltake Island, Majuro, of the Marshall Islands.
Countries Accepted
This broker claims not to offer service to residents of Japan, Canada, the United States, the United Kingdom, Myanmar, Brazil, Malaysia, Israel, and the Republic of Iran. We attempted to open an account from our US-based offices to check, but we were blocked from even entering any information on the sign-up page once the website recognized our IP address as being from the US. We would imagine that the server will recognize any client located in another one of the restricted countries, although it couldn't hurt to try signing up from your location.

Conclusion
FBS is an online FX broker that offers extremely high leveraged trading on Currency Pairs, Metals, a few CFDs, and Stocks. Traders will see differences in spreads, commissions, leverage options, and tradable instruments, based on which of the five account types has been selected. Spreads can be fixed or variable, with fixed options ranging from 0 to 3 pips, and variable options starting from 0.5 to 1 pip.
Some accounts are commission-free, while commission fees are charged on a couple of the account types. Two accounts allow for minimum deposits of $5 or less, while the most expensive account requires a deposit of $1,000. Accounts can be funded through a variety of methods and varying withdrawal fees are charged on all methods. Processing times seem to take around 48 hours, with a longer processing time from the bank's side on Visa withdrawals. The broker is also running a few different bonus opportunities and provides some educational resources on their website.