WealthTrade FX is a foreign exchange broker that doesn't give a lot of information about itself away. Based in the Seychelles, WealthTrade FX has offered some quick stats about itself which include that there are no FIFO rules or restrictions, it offers full hedging capabilities, fast, instant executions on every trade has industry-leading analysis and tools, easy to use funding methods, has practice accounts and has full access to Expert Advisors and scalping capabilities. We will be using this review to learn a little more about the broker and to see how they stand up next to the competition.
Account Types
There are three different accounts available for individuals, these are the Micro, Standard, and Premium accounts. The only information that we have on them at this stage is their required deposit amounts, so we have outlined those below, as we go through the review we will detail any other differences in each individual section, we won't be looking at the joint or corporate accounts.
Micro Account: Requires a minimum deposit of $250 to $10,000
Standard Account: Requires a minimum deposit of $0 to $50,000
Premium Account: Requires a minimum deposit of $50,000 or more

Platforms
WealthTrade FX uses a platform called WealthTrader FX Pro, however, this is basically MetaTrader 4 with a few changes made by themselves. Some of the features stated include the fact that all Metatrader 4 Expert Advisors (EA) are supported, it has direct STP connections and execution, tight STP spreads and quotes, a true non-deal desk environment, no proximity restrictions when placing entry or exit orders, scalping is available, offers leading analysis tools, and offers full hedging capabilities.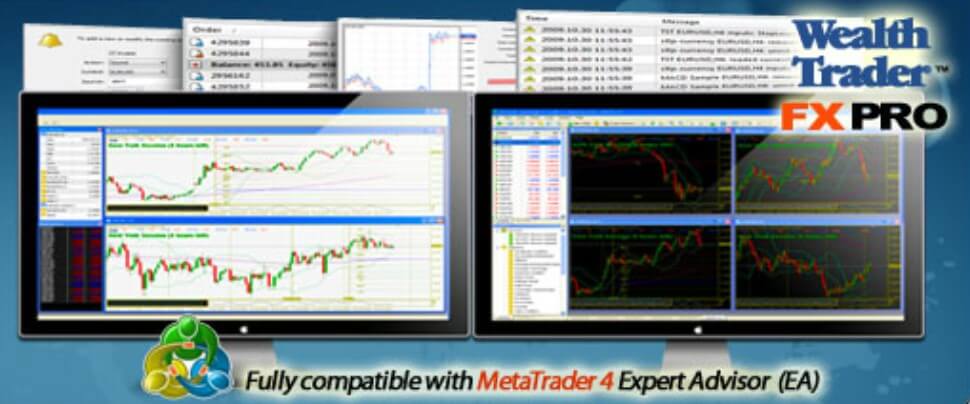 Leverage
When signing up for any of the available accounts, the only option in the leverage section is 1:100, so it appears that all accounts must have this single leverage. This is selected when opening an account and unfortunately cannot be changed.
Trade Sizes
The minimum trade sizes start from 0.01 lots on all accounts, they then go up in increments of 0.01 lots. The next trade would be 0.02 lots and then 0.03 lots. We do not know what the maximum trade size is or how many trades and orders you can have open at any one time.

Trading Costs
We do not know if there are any added commissions, there is no mention of them only of spreads which we will look at later in this review. There are swap charges which differ from one currency pair to another and are determined by the banks. They can be either positive or negative and are charged for holding trades overnight, they can be viewed within the trading platform that WealthTrade FX offers.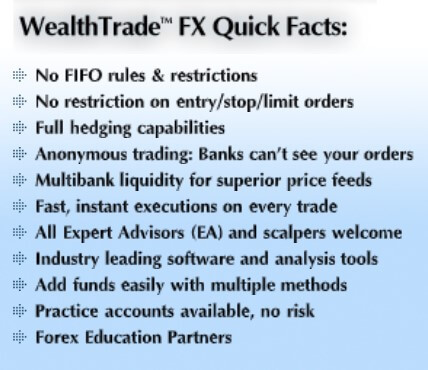 Assets
There doesn't seem to be a full breakdown of the available assets, instead, there is a page detailing forex and a page detailing CFDs, the forex page simply states that most major pairs are available, which doesn't make it sound like there are any at all. The CFD page states that there are 7 major indices including Nikkei 225, Nasdaq 100, S&P 500, FTSE 100, and Dow Jones 30. There are also some commodities which include Oil, Agriculture, and Precious Metals.
It is a shame that there is not a full breakdown as many potential clients will look to see if their preferred instruments are available. Hiding this information can also give the impression that there isn't actually much on offer.
Spreads
We do not have much to go on in regards to spreads. There aren't any actual examples, the only information that we have is that the Standard account has slightly better spreads than the Micro accounts, while the Premium account has better than the Standard and that the spreads are variable. That means that they are influenced by the markets, the more volatility, or if there is less liquidity, the spreads will often widen and be seen larger.
Minimum Deposit
There is no minimum deposit requirement to open up an account as the Standard account does not have a minimum requirement. If you want the Micro account you will need to deposit at least $250, or $50,000 for the Premium account. However, the FAQ does state that the minimum amount required is $500 for the Micro account, which is contradictory to what the account page states.
Deposit Methods & Costs
At the moment only Bank Wire Transfer is available to deposit with. The good news is that WealthTrade FX will not add any additional fees or commissions when depositing, you should, however, check with your own bank to see if they will add any outgoing transfer fees of their own. The site does state that more deposit methods are coming soon.

Withdrawal Methods & Costs
Bank Wire Transfer is the only method available to withdraw with, just like with the deposits there are no added fees from WealthTrade FX, however, some banks can charge for incoming transactions, especially if they are in a different currency, so be sure to check whether your bank does or not.
Withdrawal Processing & Wait Time
WealthTrader FX will aim to process a withdrawal the same day it is received, if not then it will be processed on the next working day. It will then take between 2 to 4 days for the withdrawal to be fully processed, this will depend on the processing speed of your own bank.
Bonuses & Promotions
There does not seem to be any bonuses active at the time that we are writing this review. You could always check with the customer service team to see if there are any coming up that you could take part in.
Educational & Trading Tools
There is no education on the site which is a shame to see, many brokers are now trying to help their clients through education, so it would be good to see WealthTrade FX do something similar. They have information about getting a VPS for your trading platform, however, it is not an offer and instead is just an affiliate link to a VPS provider.
Customer Service
The customer service team is available from 5 pm on Sunday all the way through to 4 pm on Friday (ET). You can contact their support team, trade desk, and deposit/withdrawal department using email, you can also use the direct telephone number or postal address.
Address: WealthTrade FX Ltc, Trident Chambers, Capital City Building, PO Box 1388, Victoria, Mahe, Seychelles.
Support Email: support@wealthtradefx.com
Phone: 877 578 2770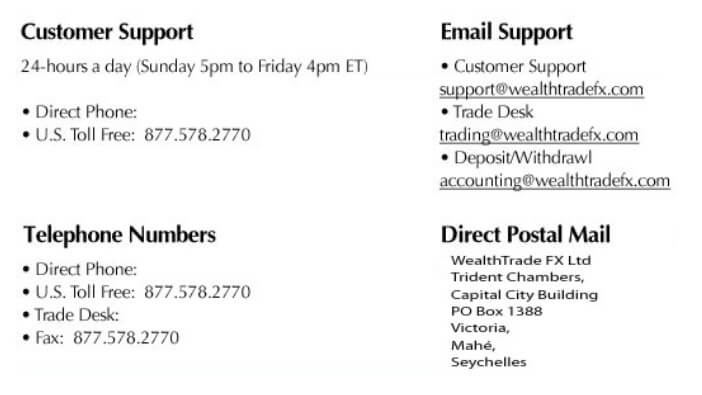 Demo Account
A demo account allows you to test out trading conditions and new strategies without any real risk, they are available from WealthTrader FX, you are only able to get a demo account of the Pro account so the trading conditions will mimic the ones of the Pro account. Other details are not known and we do not know if there is an expiration time on the accounts.

Countries Accepted
This information is not available on the site, so if you are thinking of signing up we would recommend contacting the customer service team first just to make sure that you are eligible for an account.
Conclusion
There isn't a whole lot of information available on the site and the information that is there is very limited and scattered around. We do not know what the difference is between the three accounts apart from them having slightly different ( yet unknown) spreads. The leverage is fixed at 1:100 which is ok, but not as high as we would have hoped, in terms of assets, what they are is unknown, but it doesn't seem like there are going to be any instruments or assets available to trade. There is also just one method of depositing, this could greatly limit the potential client base that could use the broker, the good news is that there aren't any fees for depositing or withdrawing.