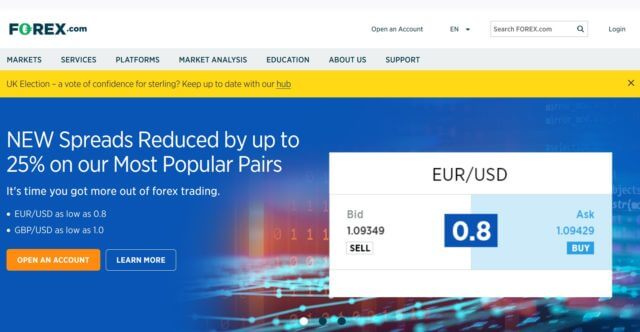 Forex.com is a registered member of the CTFC and a member of the National Futures Association. The company is a product of GAIN Capital Group LLC and has managed to stay afloat in the industry for more than 18 years so far. This broker offers leveraged trading of up to 1:50 on FX and Metals and provides a few different account types and trading platforms.
Account Types
This broker offers three account types; Standard, Commission, and Direct Market Access. The Standard account is ideal for traders that want a traditional spread pricing and currency trading experience, while the Commission account is better suited for traders that are seeking ultra-tight spreads with fixed commissions. With a recommended $25,000 account balance, the DMA account is designed for serious, high-volume traders looking for maximum control. All of the accounts offer the same leverage cap and one of the main differences would be the way that one pays trading costs. Details are listed below.
Standard Account
Minimum Deposit: $50 ($1,000 Recommended)
Leverage: Up to 1:50
Spread: From 1 pip
Commissions: Zero
Commission Account
Minimum Deposit: $50 ($1,000 Recommended)
Leverage: Up to 1:50
Spread: From 0.2 pips
Commissions: $5 per Standard Lot Traded
Direct Market Access Account
Minimum Deposit: $50 ($25,000 Recommended)
Leverage: Up to 1:50
Spread: None
Commissions: Yes (See Trading Costs)

The broker offers swap-free accounts in certain circumstances and asks clients to contact support for more information. ID and address documents are required for account verification. If your ID lists your address, the broker will accept this document as both POI and POA, although they may still ask for another document in some circumstances. The broker also may require a bank account statement or card account statement in order to verify the source of the client's funds. In most cases, accounts are verified instantly.
Platform
Standard account types support MetaTrader 4, while both of the other account types will be trading on the broker's own trading platform. The broker mentions that Commission accounts are coming to MetaTrader in the future, so be sure to look for an update if you prefer MT4. Let's begin by covering some of the highlights for the most we-known trading platform, MT4. In addition to the multitude of tools that are already included in the platform, traders will have access to integrated news, research, AutoChartist Trade Ideas, account management tools, and more when trading through this broker.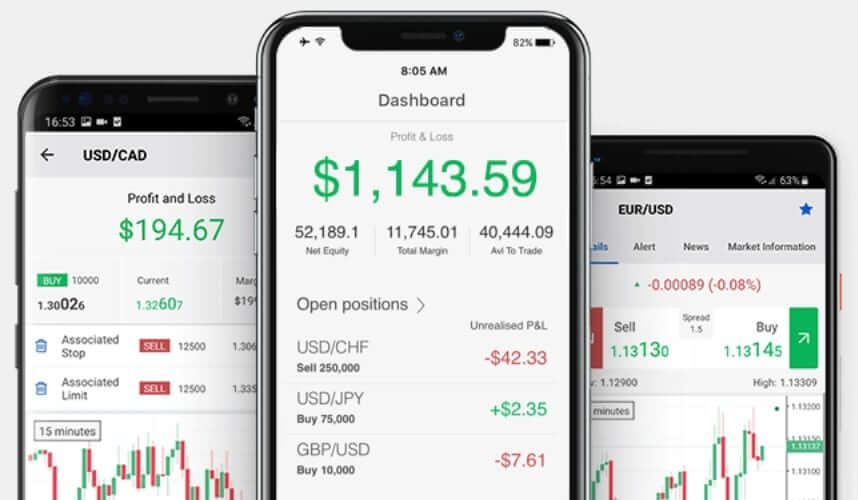 MT4 fully supports the use of Expert Advisors and a VPS service is also offered for users that qualify. MT4 is available on PC, Mobile, Apps, and through the WebTrader. Meanwhile, Forex.com has provided its own trading platform as well. There is one platform in total, which can be accessed through Advanced Trader, on mobile devices, or through the web. The platform is designed to meet the needs of currency traders looking for maximum performance, flexibility, and speed.
Traders will find more than 80 technical indicators, a customizable dashboard, powerful charting tools, and more within the broker's platform. NinjaTrader also seems to be available and offers convenient options like auto trading and advanced trade management. The website doesn't state which account types support this platform, so you'll want to reach out to support if you're looking to trade on this option.
Leverage
The maximum leverage offered by this broker is up to 50:1, meaning you'll be able to trade with fifty times the amount of available funds in your account. Beginners would want to stick to lower amounts around this leverage cap and may not miss the ability to trade with higher leverages for this reason.
On the other hand, when comparing this option to the competition, you'll find that this amount doesn't come close to some of the other offers out there. This would really be a matter that affects more professional high-volume traders, although we've noticed that many professionals prefer to trade with a leverage of at least 1:100, an option that isn't available here. It would be up to the individual trader to decide whether this limitation would be a drawback or something that simply wouldn't grant a second thought.
Trade Sizes
The smallest trade size is 1,000 units of currencies. The minimum trade size on DMA accounts is 1,000 K. Margin requirements differ based on trading platform, market, asset class, and position size. The maximum order size varies by market. Each market's minimum and maximum deal sizes can be viewed under Market Info.
Trading Costs
On Standard accounts, commission charges are not applicable and spreads seem to average around 1.3 pips. Both spreads and commissions are applicable on Commission accounts, with a flat $5 commission fee charged when trading FX options. On DMA accounts, spreads are not applicable and clients only pay commissions. Rather than charging a flat rate, these fees are variable based on the volume traded.

Financing fees, also known as rollovers, are applicable charges that are paid when holding a position open overnight. After 12 months with no trading activity, this broker also applies a $15 activity fee per month. Conversion charges may be applicable when trading in a market that settles in a different currency that your account's base currency. The standard charge is +/- 0.5% from the market rate at the time of conversion.
Assets
The Standard and Commission accounts offer trading on 82 currency pairs, while the DMA account limits the number of available currency pairs to 60. All accounts allow for the trading of Gold and Silver. This broker does not offer trading on Futures or Cryptocurrencies, but they do include a link to their affiliate FuturesOnline for traders that are looking for these options. If you're looking for a traditional FX trading experience, the number of available currency pairs, including majors and minors, should be satisfying. On the other hand, if you're looking for more of a variety of tradable assets, you may want to choose a secondary broker.

Spreads
When trading from a DMA account, all of the costs are built into the commission fees and traders will be able to trade with zero spreads. For the other two account types, spreads are variable. Options start as low as 1 pip on EUR/USD on the Standard account and as low as 0.2 pips on EUR/USD on the Commissions account. Average spreads seem to gravitate more towards 1.3 pips and spreads will fluctuate based on the market's volatility.

Minimum Deposit
With this broker, there is a large difference between the required deposit and the recommended one for each account. While the broker only required deposits of $50, the broker suggests a balance of at least $1,000 on Standard and Commission accounts. On another section of the website, the broker actually recommended traders deposit at least $2,500. The DMA account is meant for high-volume traders and therefore recommends maintaining an account balance of at least $25,000, so you may want to make a larger deposit on this account type.
Deposit Methods & Costs
Accounts can be funded with Debit Cards, through Wire Transfer, eCheck (ACH Payment), and Personal or Business checks. This broker does not accept deposits from third parties and processing time may be lengthened if the name on the form of funding does not match the name on the client's account. Checks are only accepted for USD accounts and it can take 5-10 business days from the date of receipt for checks to be credited to accounts.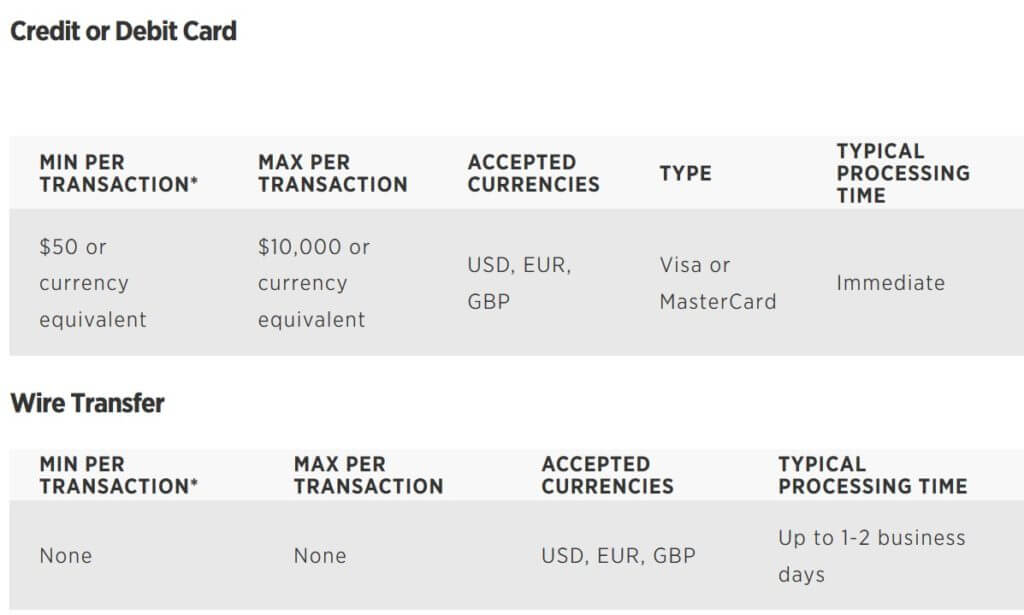 All checks should be made payable to Forex.com. Debit and eCheck deposits are credited instantly, while domestic Wire Transfers can take 1-2 business days for processing and international Wire Transfers can take 2-5 business days processing time. No fees are charged on deposits; however, banks may apply service fees and wires from outside the US may incur a transaction fee from the bank's side.
Withdrawal Methods & Costs
Funds are returned to the originating account in the order of eCheck, Debit Card, Wire Transfer, and then Check. Multiple cards can be used to fund accounts and withdrawals will be processed back to cards in the order that was used. Excess funds may be withdrawn via Bank Transfer, eCheck, or Check. There are no applicable fees on eCheck, Debit Card, or Checks when withdrawing. A $25 fee is charged when receiving Wire Transfers within the United States and a $40 fee is charged for international wires (including Canada). There are no fees on DMA Wire transfers or on withdrawals of at least $10,000.
Withdrawal Processing & Wait Time
Debit Card and eCheck withdrawals are processed within 24 hours, while Wire Transfers and Personal or Business Checks have processing times of up to 48 hours. These times only reflect the time it takes Forex.com to process the withdrawal and it may take additional amounts of time for banks to credit funds. The broker doesn't specify how long this can take, so it is best to plan for withdrawals ahead of time and to expect a wait that could take several business days.
Bonuses & Promotions
This broker features an Active Traders program as a benefit to any traders that trade high volumes. The program rewards said traders with interest payments and cash rebates once conditions are met. It's possible to save up to 18% with cash rebates as high as $9 million traded and interest is paid up to 1.5% on your average daily margin balance. The website doesn't specify exactly how much one would need to trade to qualify for these offers, so you'll want to reach out to support for these details if you think you would qualify.
Educational & Trading Tools
This broker offers several different types of educational materials. Under the 'Traders Themes' section of the website, you'll find Trading Concepts, Risk Management, Technical Analysis, Fundamental Analysis, and Trading Strategies. Trader Topics, Chart Basics, Developing a Trading Plan, and a Glossary are also available.
The broker provides Beginner, Intermediate, and Advanced Courses in another section. Each course is made up of several helpful videos that explain things in simple terms and cover a large amount of important information. One fun addition to the Education section we found was a quiz that will answer the question of what type of trader the test taker is. The quiz will then recommend resources that would be the right fit for that trader's personality. Taking a look at trading tools, there is an Economic Calendar and a large number of resources devoted to Market Analysis. The broker also features webinars and live trading sessions.
Demo Account
Free demo accounts are available for 30 days before expiring. The main difference between a demo and a live account would be the fact that one is trading with virtual funds, although some other conditions vary. For example, rollover/swap fees are not charged when trading from a demo account. Only one demo account of each type can be opened per email address, so you'll want to use your time with the demo account wisely, or sign up for another account under a different email address if your account expires and you still need more practice. Brokers tend to assume that 30 days is plenty of time to practice and therefore set these expiration dates to try to guide the potential client to open a real account.
Customer Service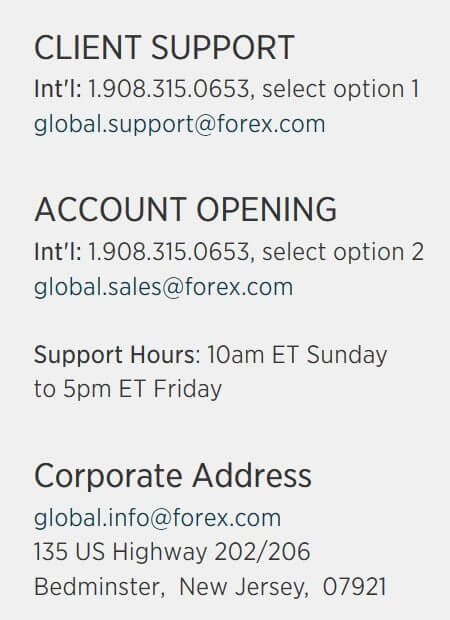 Support is available from 10 am Sunday – 5 pm Friday via LiveChat, email, or phone. We always try to take a moment to test out the LiveChat feature when it is offered. Surprisingly, we found that there was no live agent on the other side – instead, we spoke with a bot. The bot tends to provide a list of selectable options and then tries to pinpoint and answer the user's question from there by providing links to certain sections of the website or prewritten responses. We also tried tying a keyword related to our question in the chat bar and found that the bot did manage to answer our question accurately. You can't beat speaking with a live agent, so this is a little disappointing, although the bot does seem fairly capable. Moving on, we found that the company is also active on Facebook, Twitter, and YouTube. All contact information has been listed below.
Email: info@forex.com
Phone: 1.877.367.3946
Address: (For Checks): Forex.com, Bedminster One, 135 US Highway 202/206, Suite 11, Bedminster, NJ 07921
Countries Accepted
We usually expect to see some type of country restrictions with most online brokers. This broker didn't list any restrictions on the website and the chat support but didn't seem to understand our question, so we decided to test out the application process from our US-based offices, to see if it was possible to open an account from the often-restricted US. Fortunately, we were able to select the United States from the sign-up list, so this broker is one of the few that is still allowing clients based in this location. We did notice that North Korea was missing from the list, so you'll want to check to see if your country is available if you're located in a country that is usually restricted from trading.
Conclusion
Forex.com is an FX broker that offers spread-only Standard accounts, Commission accounts, and commission-only DMA accounts. This broker seems to be more expensive and recommends account balances of at least $1,000 – $2,500 or more. Deposits can be made of only $50, but one's trading flexibility would be severely limited without making a larger deposit. The broker also offers several different trading platforms, which could be considered a plus, although some traders holding Commission accounts may not be satisfied that MT4 is not supported for their account type.

Leverage options only go up to 1:50 and available assets are limited to FX and Metals. Accounts can be funded with debit cards and through a few other methods, with no fees on deposits and charges are only applicable when withdrawing through Wire Transfer. Taking a look at some of the extra options, we found some helpful educational resources and an Active Traders program that pays out on interest and through rebates. Customer support can be contacted quickly, although some may prefer to speak with a live agent over the company's LiveChat support bot.