Topgrowth Futures is a brokerage company that was formed in 2003, based in Indonesia and aimed towards those living in the same jurisdiction. They do not give a lot of information about themselves, some of their main emissions are to become a leading foreign exchange broker through building a transparent platform, good customer service, and a continuous education program. We will be looking into the services that are being offered to help find out a little more about them and the service that they provide their clients.
We had some issues loading the site with Google Chrome so we had to switch over to a different browser, we have noted this just in case you have a similar issue.
Account Types
There are two different accounts available, they are not providing a lot of information about them but the information we do have is below.
Mini Account: A minimum deposit of 5 million Indonesian Rupiah ($500 for USD users) is required to open up the account, it comes with a minimum trade size of 0.1 lots and a maximum trade size of 5 lots. The account uses Meta Trader 4 as its trading platform.
Regular Account: A minimum deposit of 100 million Indonesian Rupiah ($10,000 for USD users) is required to open up the account, it comes with a minimum trade size of 1 lot and a maximum trade size of 50 lots. The account uses MetaTrader 4 as its trading platform.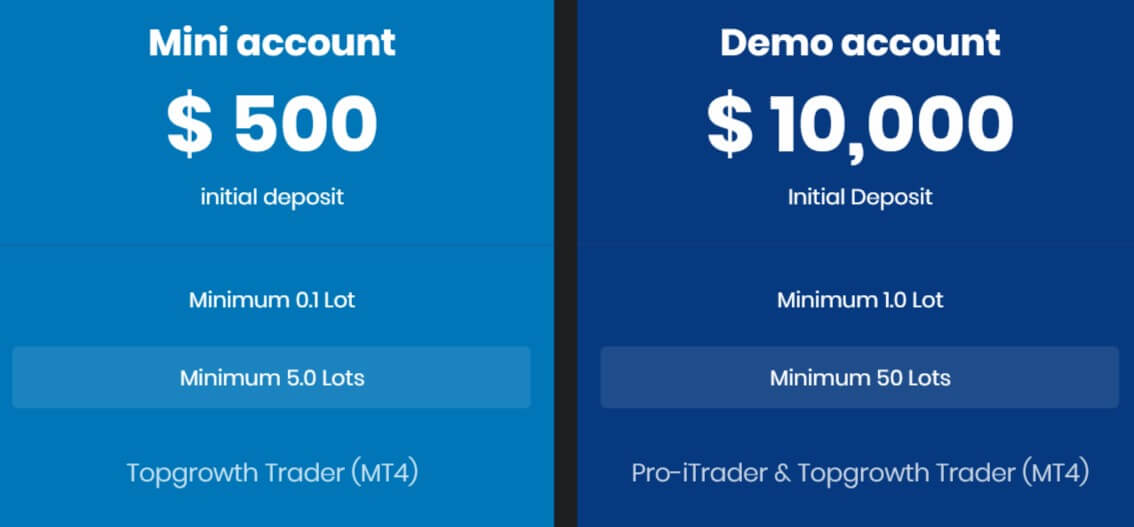 Platforms
While they do not have any information surrounding it, we do know that Topgrowth Futures uses MetaTrader 4 as its trading platform. MT4 is an extremely popular trading platform used by millions all around the world, it comes with a lot of customization to help make it a trading platform that can suit your needs. It has multiple charts, timeframes and is compatible with thousands of expert advisors and indicators to help with both auto trading and your analysis. It can also be accessed via a desktop download, mobile application or web trader so you know you can always have access to your trades and accounts.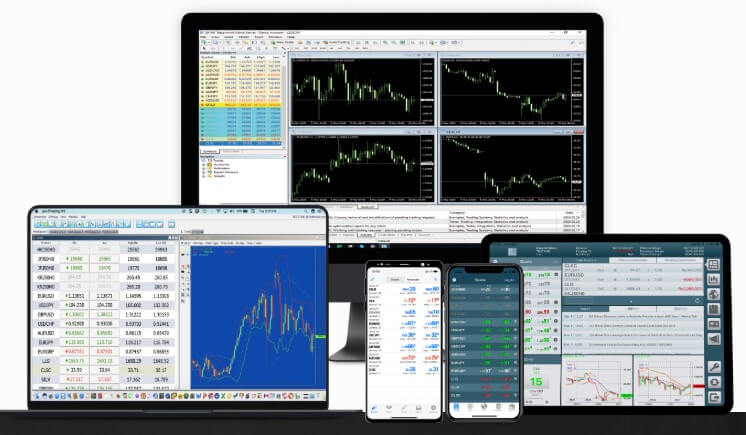 Leverage
We, unfortunately, we do not have any information surrounding the available leverage so we cannot comment on what the maximum leverage for either account type may be.
Trade Sizes
Trade sizes on the Mini account start from 0.1 lots and go up to 5 lots. The Regular account has trades starting at 1 lot and they go up to 50 lots. There is no indication as to how many trades you can have open at any one time.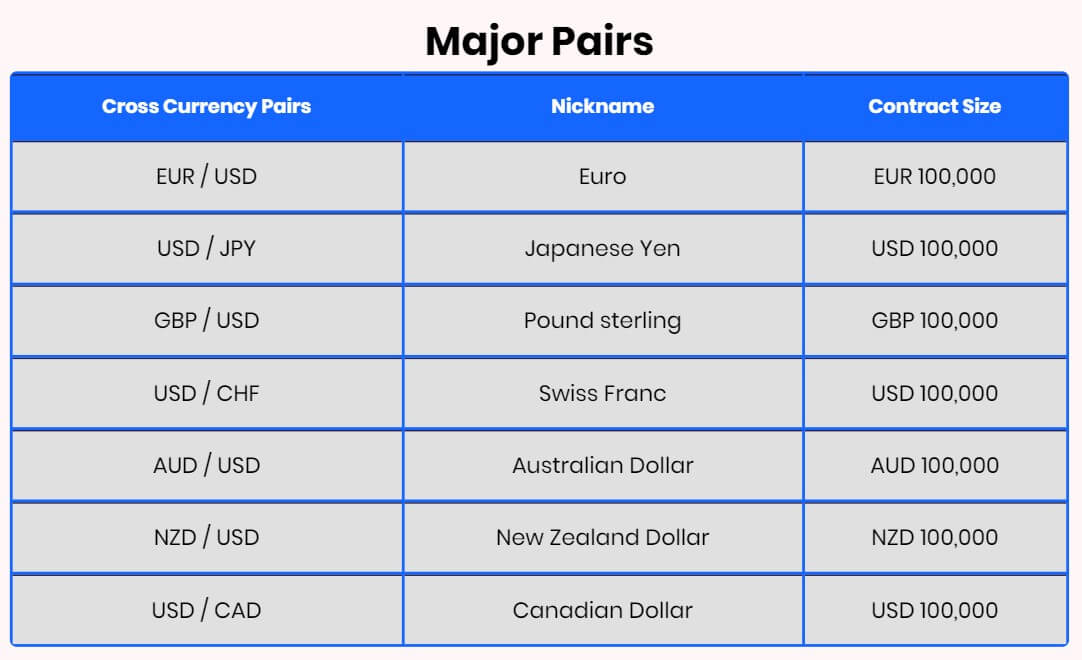 Trading Costs
Trading costs are another aspect that we do not have any information on, this goes for both commissions and swap charges. Due to this, we do not really know how expensive it could be to trade at this broker. While there is no mention of any swap charges, we would expect there to be any unless stated otherwise, they would be charged for holding trades overnight and can be viewed within the MT4 trading platform.
Assets
There is a small breakdown of the available trading assets, we are not sure if they are the entire list as it would be pretty small if it is, however, there is a chance that this is all that is available, we have outlined them below for ease of reading.
Forex: EURUSD, USDJPY, GBPUSD, USDCHF, AUDUSD, NZDUSD, USDCAD, EURGBP, EURJPY, GBPJPY, CHFJPY, and AUDJPY.
Spot Metals: Gold and Silver only.
Commodities: It seems that only gold is available as a commodity, you are able to trade in different sizes from different exchanges using contracts.
Indices: Only three are mentioned which are the Nikkei 225, HK 150 Hang Seng, and the KOSPI 200. It is unknown if there are more available.
CFDs: Lastly, there are CFDs, these include the likes of Dow Jones, S&P 500, Nasdaq, FTSE, Dax, and Crude Oil.
Strangely, some instruments we would expect to see in different categories, but this is how they have been set out on the site.

Spreads
This is yet another aspect of the trading conditions that we do not know, the front page of the site states that there are low costs, which we would assume is relating to the spreads, however, there are not any examples of the spreads and as there is no product specification, there are no details of the spreads there either.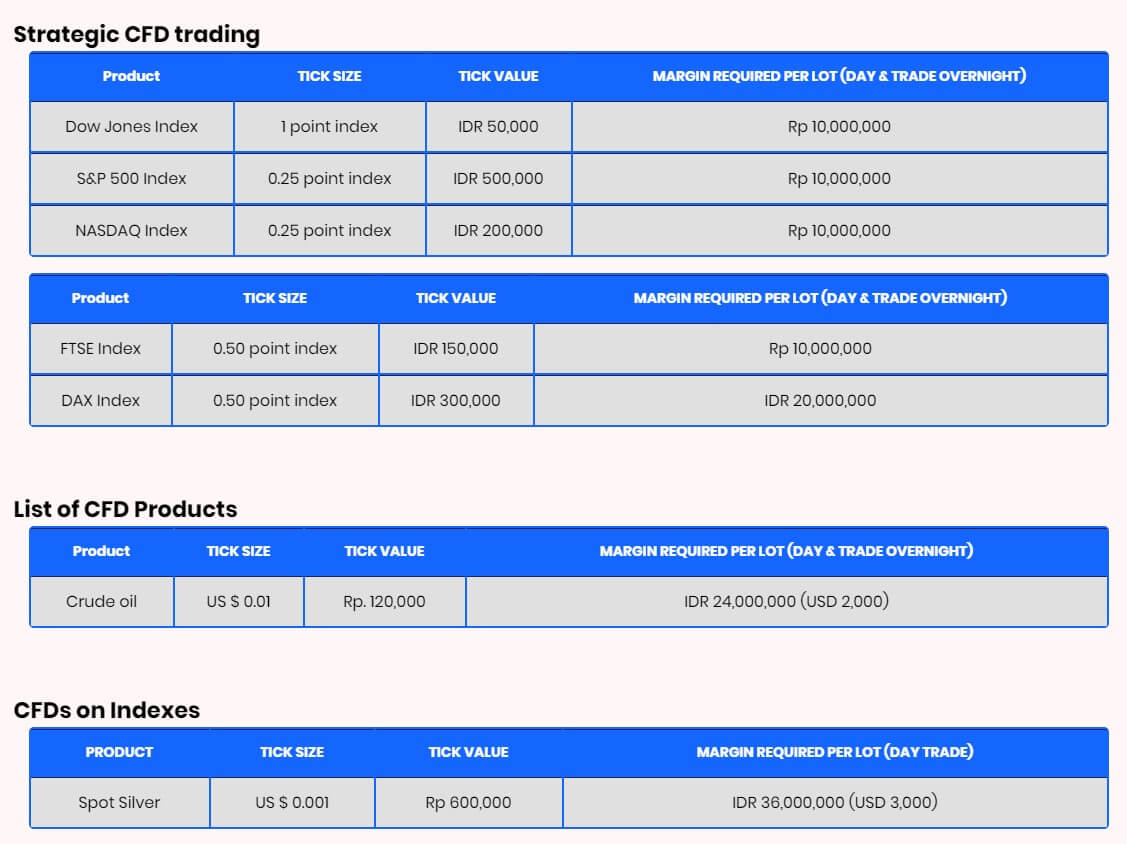 Minimum Deposit
The minimum amount required to open an account is 5 million Indonesian Rupiah or $500, this will allow you to use the Mini account, if you wish to use the Regular account then you will need to deposit at least 100 million Indonesian Rupiah of $10,000 if using dollars.
Deposit Methods & Costs
There doesn't seem to be any information on the site regarding deposit methods, this includes the methods available or any potential fees that may come with them.
Withdrawal Methods & Costs
This information is also not available, this is often vita as it allows potential clients to see how they can get their money back out and also if it will cost them anything, not having this information available long with the deposit methods makes it hard to judge if it is worth signing up and doesn't help to build trust between the broker and client.
Withdrawal Processing & Wait Time
As we do not know how to withdraw, we also do not know how long it will take, we would hope that any withdrawal requests would be fully processed within 7 days of the request being made but we cannot say this for sure.
Bonuses & Promotions
While looking through the site we did not come across any information on bonuses and withdrawals, so if you are interested in them we would suggest contacting the customer service team to see if there are any coming up that you could take part in.
Educational & Trading Tools
Education is an aspect of the broker that they seemed to mention as a big plus, so let's see what they offer. To be honest, not a lot which is a real disappointment. There is a page with a few tutorial videos on how to use the Topgrowth Futures platform and website, there is a section for Trading for Beginners, however, the page is blank and so there is nothing to learn. There are then some more videos on how to use the trading platforms and a Webinar section, which again is blank. On the front page, there are some links to daily analysis that are up to date and being updated.

There is a separate news site called Topgrowth News which is from the same company, however that is not directly part of the broker so we won't go into much detail on it, it does seem that the majority of the educational material is found on this news site.
Customer Service
Another aspect that Topgrowth Futures pride themselves on is their customer service team, there is no indication as to their opening times but we would expect them to be closed over the weekends when the markets are also closed.
You can get in touch using the online submission form, fill it in and you should get a reply via email, there is also a postal address and phone number available to use. At the bottom of the site, there is also an email address present.
Address: Sahid Sudirman Center, Lantai 40, Unit F-G, Jl. Jend Sudirman Kav. 86, Jakarta 10220 Indonesia
Phone: +62 21 2788 9393
Email: customerservices@topgrowthfutures.com

Demo Account
Demo accounts are available however there is no information available on the trading conditions of the demo account. You can sign up by creating an account and it uses MetaTrader 4 but that is all we know, we do not know if there is an expiration time on the account. Demo accounts are great as they allow clients to test out the markets as well as new strategies without any real risk to their own capital.
Countries Accepted
This information is not present on the site, however, it seems like the broker is aiming more towards those that are from Indonesia, however, if you are interested in joining we would recommend contacting the customer service team to see if you are eligible for an account, prior to opening one up.
Conclusion
There is a lot of helpful information missing from the Topgrowth Futures site, we do not know what the trading conditions are, leverage spreads and commissions are all missing, so the total cost of trading is also unknown. There is also a complete lack of information surrounding deposit and withdrawal methods, it is important for potential new clients to know how they can get their money in and out and also how much it will cost them to do so. Without any of this information being readily available, it is hard for users to recommend Topgrowth as a broker to use.