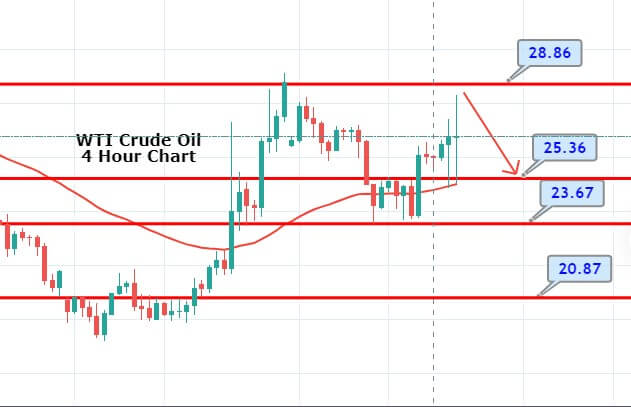 A day before, the WTI crude oil prices were boosted by reports that massive output cuts would be agreed upon when OPEC and its allies, including Russia, meet later today. U.S. Nymex crude oil futures jumped to trade $27.09 a barrel. 
Meanwhile, the U.S. Energy Information Administration reported that crude oil production in the country sank to a six-month low of 12.4 million barrels per day last week. The agency also said crude oil stockpiles increased 15.2 million barrels, much higher than a build of 8.4 million barrels expected.
Declining demand due to coronavirus fears and lockdowns, Russia's announcement comes at a suitable time. Whereas, the Energy Information Administration (EIA) said overnight that the U.S. crude oil inventory has grown by 15.2 million barrels for the week ending April 3, against analyst expectations of a 9.37-million-barrel build. The American Petroleum Institute (API) also estimated a build of 11.9 million barrels yesterday. 
OPEC meeting will likely be more successful than their meeting in March, where they failed to agree to continue supply cuts and fueled a price war between Saudi Arabia and Russia.
Apart from the OPEC+ meeting, energy ministers from the Group of 20 major economies are expected to meet in order to find new ways to help ease the impact of the COVID-19 pandemic on global energy markets.


Daily Support and Resistance
S1 24.14

S2 26.37

S3 27.77
Pivot Point 28.59
Crude oil is on a bullish run, trading around 27.15 level. The U.S. oil is likely to face immediate resistance around the triple top level of 28.86. Today, crude oil may find immediate support around 25.45 level, and above this, the WTI crude oil prices can show a bullish bias until 28.85 resistance. A bullish breakout of 28.85 level can lead WTI prices further higher until the next resistance area 30.22. The bullish bias remains dominant, and we should look for buying trading over 26.15 today. Good luck!