Real FXM is a UK based foreign exchange broker that is operating as a Straight Through Processing (STP) broker. They claim that some of the main benefits in using them include commission-free trading, access to advanced trading tools, negative balance protection on all accounts, access to a dedicated account manager, the use of straight-through processing, no dealing desk, the ability to use high leverage, free demo accounts and training, an array of instruments to trade, fund segregation and high levels of security. We will be using this review to see if all of the above is really offered and you help you decide if they are the right broker for you.
Account Types
When signing up with Real FXM there are three different accounts that you can choose from, we have outlined them below along with their requirements and features.
There are some features that come with all accounts including fixed spreads, economic calendars, real-time news, daily analysis, one-click trading, exclusive chart access, traders' views, and analysis, and data security.
X-Standard Account: This account requires a minimum deposit of $200 in order to open, it has standard spreads and a leverage of 1:200. It only has Forex pairs available to trade and uses the X-Web trading platform. There is a free demo account that lasts for 2 weeks and there is limited personal training. You can have a maximum of 25 open trades or orders and there is limited access to online chat support and a personal account manager.
X-Premium Account: This account has a minimum deposit requirement of $2,000. It comes with premium spreads and leverages up to 1:400. It has Forex pairs and metals available to trade and uses the X-Web trading platform along with mobile apps. There is a free demo account that lasts for 1 month and there is complete access to personal training. You can have a maximum of 75 open trades or orders and there is access to online chat support and a personal account manager.
X-Pro Account: This account has a minimum deposit requirement of $5,000. It comes with premium spreads and can be leveraged up to 1:400. It has Forex pairs, metals and commodities available to trade and uses the X-Web trading platform along with mobile apps. There is a free demo account that is unlimited and there is complete access to personal training. You can have a maximum of 200 open trades or orders and there is access to online chat support and a personal account manager.

Platforms
X-Web is the only platform available to use from Real FXM, the platform is easy to use and does not require any installation or download it can be accessed by clients through a PC or Laptop from anywhere in the world.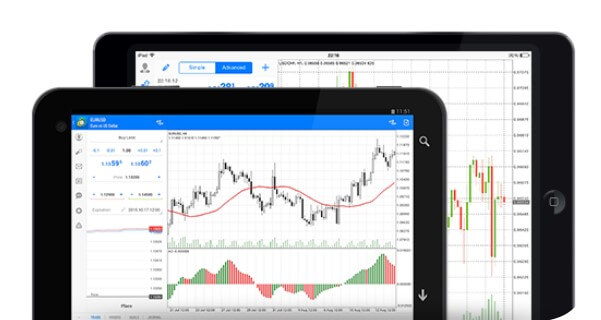 A few of its many features are its customization, chart analysis, and trading, news and analysis, one-click trading, built-in the economic calendar, and automated trading. It also comes as a mobile application that offers the ability to trade on the move, it's easy to use and is optimized for mobile devices.
Leverage
The leverage you are able to use depends on the account you use. If you use the Standard account you can have the account leveraged up to 1:200, using the Premium or Pro accounts will allow you to use leverage up to 1:400. The account leverage can be selected when opening up an account and should you wish to change it you can do so by contacting the customer service team with the request.
Trade Sizes
Trade sizes on all three accounts start from 0.01 lots which are known as a micro lot and equates to 1,000 currency units. The trades then go up in increments of 0.01 lots until it reaches the maximum. Unfortunately, we do not know what the maximum trade size is for any of the accounts or how many open trades and orders you can have at any one time.
Trading Costs
All three accounts use a spread based system (that we will look at later in this review) and so there are no added commissions added to the accounts or trading. There are things called swap charges though these are fees that are charged when you hold a trade overnight, they can be both positive or negative and can normally be viewed within the trading platform that you are using. Some brokers offer swap-free accounts but we did not see a mention of them here at Real FXM.

Assets
Sadly, there isn't a full breakdown of the available assets or a product specification available, there is however a small section indicating some of the available assets which we will briefly go over.
Forex: We do not have a full breakdown but Real FXM gives you the opportunity to trade major currency pairs like EUR/USD, GBP/USD, USD/JPY and also exotic currencies like USD/MXN (Mexican peso), USD/TRY (Turkish lira).
Metals: Through CFDs, you can also trade metals like Copper etc. and you can also trade precious metals like Gold, Silver & Platinum at a much lower cost than the physical purchase of them.
Commodities: Soft commodities like Sugar, Coffee, and Crude Oil are available to trade, there seems like there will be more but those are the only ones mentioned by name,
Indices: A selection of major global indices in the UK, US, Europe, Asia, and Australia is available to trade. Some examples given are France 40, Nifty 50 and UK 100.
Shares: Shares from all over the world are available including shares from the UK, US, Europe, and Asia.
Spreads
We do not fully understand the spreads, we know that the higher tier account you get the lower your spreads will be but we do not have any specific examples of actual spreads. The Standard account gets standard spreads, the PRemium account gets premium spreads and the Pro account gets pro spreads, what these actually equate to we do not know, so ultimately, we do not know what the overall trading cost of trading with Real FXM is.
Minimum Deposit
The minimum amount required to open up an account is $200, this will allow you to access the Standard account, if you want the Premium account when you will need to deposit at least $2,000 and $5,000 if you want to use the Pro account. Usually, once an account has been opened the minimum deposit amount reduces, unfortunately, we do not know if that is the case here with Real FXM.
Deposit Methods & Costs
There are a few different methods available to deposit with, these are Bank Wire Transfer, Credit/Debit Card and Neteller.
The deposit information page talks a lot about when you should deposit (after opening an account) but it does not mention anything to do with fees, so we are not sure if there are any added. What we are sure of, is that you should check with your own bank or card issuer to see if they will add any outgoing transfer fees of their own.

Withdrawal Methods & Costs
The same three methods are available to withdraw with, for clarification those are Bank Wire Transfer, Credit/Debit Cards and Neteller. When using a Credit or Debit card you can only withdraw the same amount that you deposited, any extra will need to use one of the other available methods. There is an added withdrawal fee of $20 depending on your country when using Bank Wire Transfers. There is no indication for any fees for the other two available methods.
Withdrawal Processing & Wait Time
The withdrawal processing time is not indicated on the site, we would hope that Real FXM would process any requests within 48 hours of the request being made, once it has been processed by Real FXM it will then take an additional 1 to 5 working days for the funds to be fully processed by your bank, this time will vary from bank to bank.
Bonuses & Promotions
There are a few little bonuses available to sue, the first one is a referral scheme which is just like any other, there is also an introducing broker scheme which works much the same but on a larger scale.
The main bonuses available are an exclusive deposit bonus. You can get this bonus on your first deposit of $500, you will get an additional 25% bonus and reduced spreads on an instrument of your choice. You can then get up to a 50% bonus on further deposits depending on your account. We do not know the terms of these bonuses such as how to convert the bonus funds into real funds.

There is also a social media promo, simply like and connect with Real FXM through Facebook, Twitter or Instagram and get access to weekly promotions such as a $25, $50 or $100 bonus, again the terms of these bonus funds are not known to us.
Educational & Trading Tools
There is a forex school part to the site, unfortunately once the first overview page loads, any additional pages are giving an error stating that the page cannot be found. This is a shame as it would have been good for their clients to have some learning materials to help them improve their trading, so with it not working, the section may as well be removed from the site.
Customer Service
The customer service team can be contacted 24 hours a day 5 days a week, they close over the weekend and on bank holidays.
You can use the online submission form, fill it in with your query or request and you should then get a reply via email. You can also use the provided postal address, phone number, support email, compliance email or Skype username.
Address: C B C House Realfxm, 24 Canning St, Edinburgh EH3 8EG, United Kingdom.
Phone: +441316189330
Support Email: support@realfxm.com
Compliance Email: compliance@realfxm.com
Skype Username: realfxm.Support, Realfxm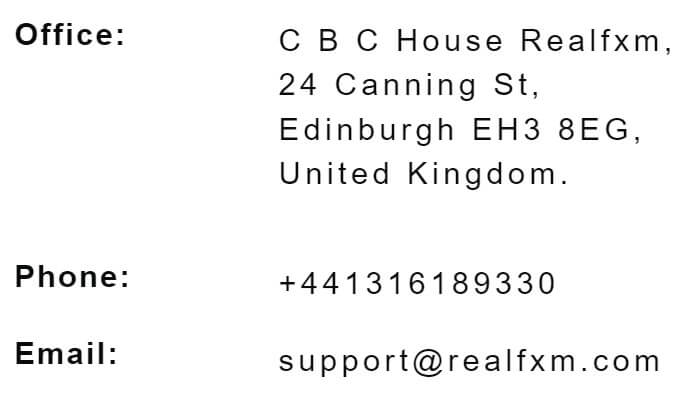 Demo Account
Demo accounts are available but there isn't much information about them as you need to be fully logged into your website account in order to open one up. The demo accounts allow you to test out market conditions and strategies without any real risk, we do not know the full details or conditions of the demo account at Real FXM such as which account it mimics or if there is an expiration time on the accounts.
Countries Accepted
This information is not readily available on the website, so if you are thinking of joining Real FXM, we would recommend getting in contact with the support department before you do, just to be sure that you are in fact eligible for an account with them.
Conclusion
The available accounts offer a range of conditions, unfortunately, when it comes to the cost of trading we do not know as we do not have a full understanding of what the spreads are, we know that the higher tier accounts have lower spreads, but no indication of what they actually are, some of that lack of information is due to there not being an asset breakdown or specification.
There is also a limited number of ways to deposit and withdraw, it does not seem like there are any fees for depositing but there are for withdrawing via Bank Wire, it's not the biggest fee but it is still present. Plenty of ways to get in touch with the customer service team. The site is well laid out, but the main downside is the lack of the finer details, product specification, things like the bonus terms and conditions are not shown and other smaller details are what let the site down.