CF Merchants was established in 2011 in St. Vincent and the Grenadines. CF Merchants aim to offer the best service to all their customers with a service team available 24/6, offering the best trading platforms, variety in trading assets, competitive spreads and high leverage. In this review, we will be looking into what CF Merchants actually offer and so you can decide if they are the right broker for you.
Account Types
There are four different accounts available from CF Merchants, each with different entry requirements and trading conditions, we will now give a brief overview of what each one offers.
CFM Standard Account: This account has a $100 minimum deposit in order to open it, it has a spread starting from 1.6 pips and has no added commission. Leverage on the account can go up to 1:500 and margin call is set at 99% while the stop out level is at 50%. The minimum trade size is 0.01 lots and the maximum trade size is 8 lots. Hedge margin on the account is 50% and this account can also be made as an Islamic swap-free account.
CFM Prime Account: The prime account also has a minimum deposit amount of $100, spreads are slightly reduced to 1 pip and there is again no commission added to this account. Leverage remains at 1:500 as a maximum and the margin call and stops out levels remain at 99% and 40% respectively. Trade sizes start at 0.01 lots and go up to a maximum of 8 lots. The hedge margin is 50% and this account can also be used as a swap-free Islamic account.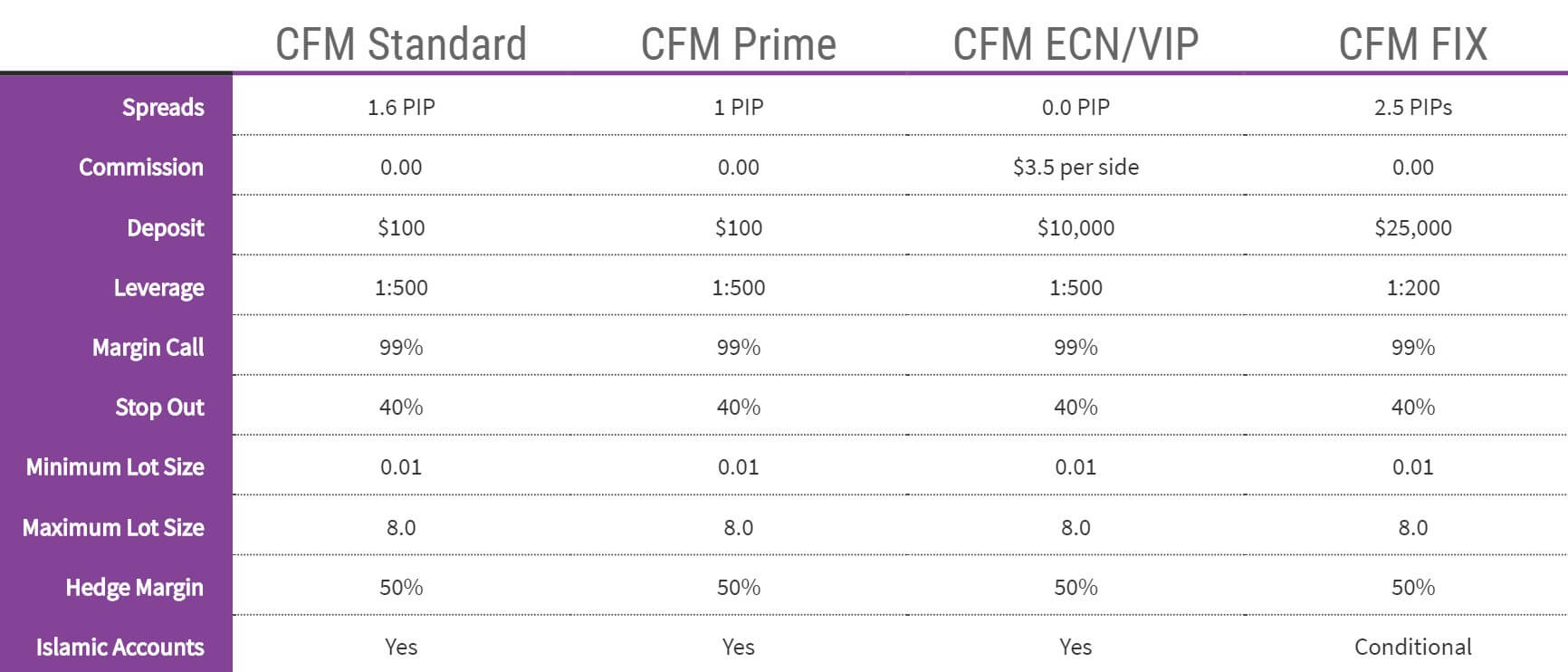 CFM ECN/VIP Account: This account increases the minimum deposit up to $10,000, this account has spreads starting as low at 0 pips but due to this there is a $3.5 commission on opening and closing trades, so $7 for a complete trade per lot. Leverage remains at 1:500, so does the margin call and stop out levels at 99% and 40%. Minimum and maximum trade sizes remain the same at 0.01 lots and 8 lots. This account can also be used as an Islamic account.
CFM Fix Account: This account requires a minimum deposit of $25,000, this account is different as it has a fixed spread starting at 2.5 pips and there are no added commissions. All other features remain the same as the other accounts except this time getting an Islamic swap-free account is conditional so you will need to be in contact with the customer service team to get one opened up.
Platforms
CF Merchants offers MetaTrader 4 as their only trading platform, so let's take a little look at what MetaTrader 4 offers. In terms of accessibility, MT4 is second to none, available as a desktop download, an app for Android and iOS devices and as a WebTrader where you can trade from within your internet browser. MetaTrader 4 is a great trading solution to have.
Leverage
The accounts page state that the maximum leverage on all the account sis 1:500, however on the "Why Choose Us" page it states that the leverage ranges between 1:1 and 1:400, as the numbers are different we will look at 1:400 as the maximum, however, if it is 1:500 then that is a bonus.
Trade Sizes
Trade sizes for all accounts start at 0.01 lots which are also known as a micro lot. Trades then go up in increments of 0.01 lots so the next trade size would be 0.02 lots and then 0.03 lots. The maximum trade size is currently 8 lots which are quite low when looking at the competition, however, the majority of retail traders may not make it this high, or can be limiting for those that do.
Trading Costs
The Standard, Prime, and FIX account use a spread based system which we will look at later in this review. The ECN / VIP account uses a commission-based system and adds a commission of $3.5 for each side of a lot. This means $3.5 when opening trade and $3.5 when closing it, totaling $7 per round lot traded.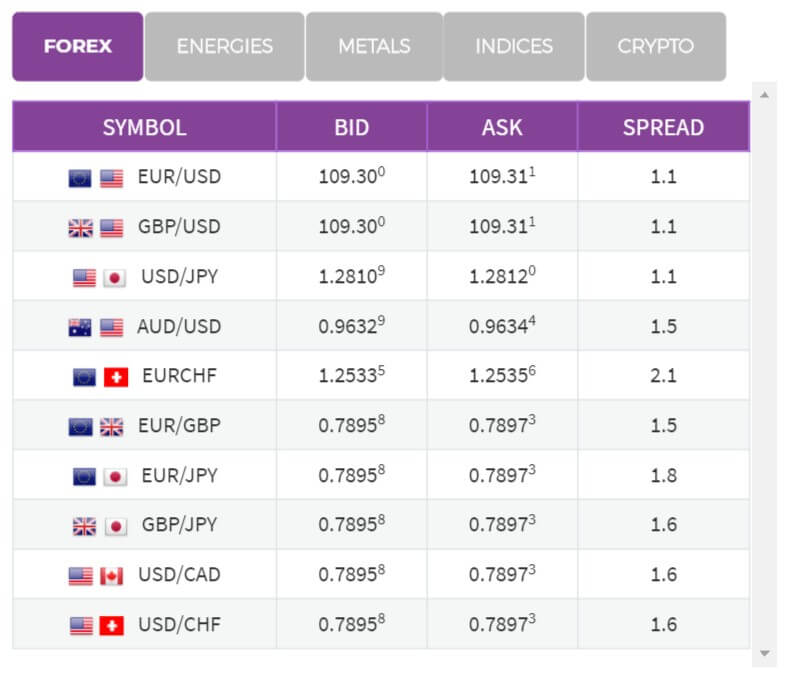 There are also swap fees on all accounts, these are fees charged for holding trades overnight, they can be both positive or negative and can be viewed directly within the MetaTrader 4 trading platform. If you opt for an Islamic swap-free account then these fees will be substituted with an administration charge.
Assets
CF Merchants have broken down their assets into a number of different categories, there are forex currencies, majors, minors and exotics, lots available with a minimum trade size of 0.01 lots and a max of 8 lots, examples are EUR/USD, GBP/AUD and ZAR/USD. Energies in the form of Crude Oil and Brent Oil are available along with precious metals like Gold, Silver, Palladium, and Platinum. Stock Indices such as DOW 30, GER 30 and UK 100 are available along with the addition of cryptocurrencies, only four are available which are Bitcoin, Ethereum, Litecoin, and Ripple but it is great that they are included.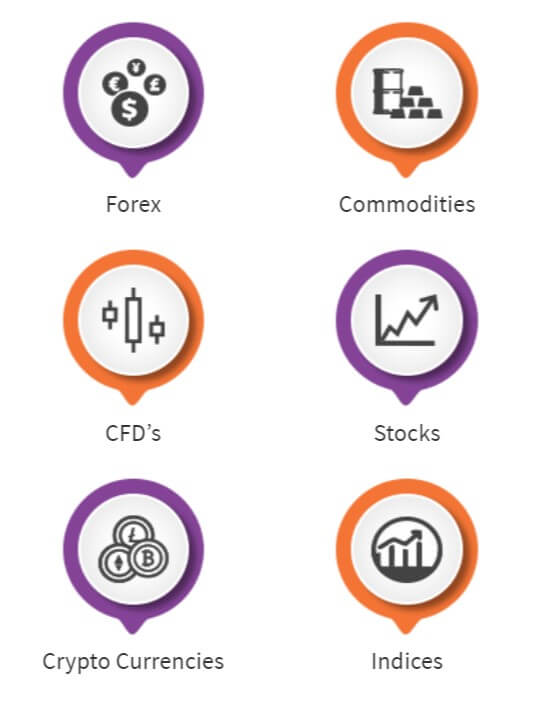 Spreads
Spreads are dependent on the account type you are using, with the Standard account spreads start at 1.6 pips, the Prime account starts at 1 pip and the ECN / VIP account they start as low as 0 pips. These spreads are variable (also known as floating) which means they move with the markets, when the markets are being volatile they often widen and become bigger, so the starting spread is the minimum but they are often seen higher.

The Fix account has fixed spreads, this means that they do not move, they start at 2.5 pips and no matter what the markets are doing they do not change. It should be noted that different assets have different minimums so while EURUSD may be 1.6 pips, other currencies such as AUD/USD will have a slightly higher starting spread.
Minimum Deposit
The minimum required to open up an account is $100, however, once an account has been opened the minimum amount required for a top-up reduces down to $25 for all methods except for bank wire transfer which remains at $100.
Deposit Methods & Costs
The following methods are available to deposit with: Bank Wire Transfer, Skrill, Neteller, Perfect Money and Visa/Mastercard both Credit and Debit cards. There are no additional fees added by CF Merchants, however, be sure to check with your processor and bank to ensure that they do not add any fees of their own.

Withdrawal Methods & Costs
The same methods are available to withdraw as they were to deposit, for clarification these were Bank Wire Transfer, Skrill, Neteller, Perfect Money and Visa / Mastercard both Credit and Debit cards. Similarly to deposits, there are no additional fees when withdrawing, again be sure to check with your processor just in case they add any fees of their own.
Withdrawal Processing & Wait Time
Withdrawal times on the site state that all withdrawal methods have an instant processing time apart from bank wire transfers which have a processing time of 3 – 5 days. All withdrawals will be processed to the same method used to deposit. Bank wire to bank wire, Skrill to Skrill, Neteller to Neteller, Perfect Money to Perfect Money and credit card to credit card.
Bonuses & Promotions
There seems to be three different promotions on offer, we will outline the basics of each one below using information from the website.
10% Credit Bonus:
Minimum Deposit 2500$
The client needs to send email to the support team to get Credit Bonus.
On First withdrawal All Credit Bonus will be deducted.
This Bonus is not cashable in any case only tradeable.
This offer will be credited only in the Deposit Account.
No IB can claim this Credit Bonus.
The company reserves the right to cancel this Bonus at any time without mentioning any reason or prior notice.
This offer is only for Online Skrill, Neteller, Perfect Money Deposits.
Champions Welcome Bonus: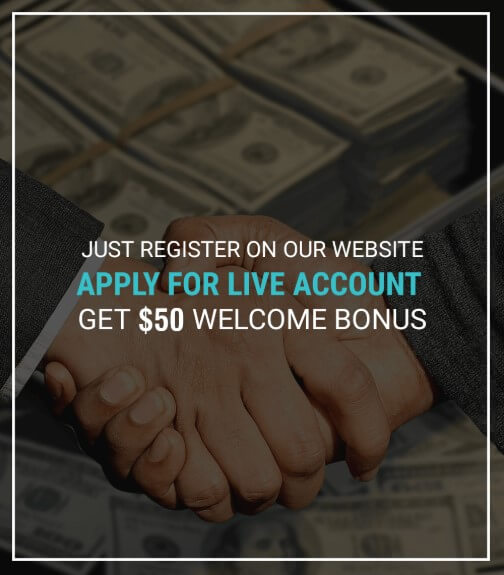 All new clients registered on our website are entitled to get a $50 bonus in their first trading account only.
For crediting a $50 Welcome Bonus, you are required to send an email at [email protected], you must mention your trading account no in your message.
For account, opening client must complete the verification of the documentation process.
$50 bonus amount is only tradeable not Cashable.
Profit earned on No Deposit Bonus is withdrawable, The maximum profit withdrawal limit is $100 without depositing funds and a minimum of 50 Standard lots are required.
If client deposits a minimum of $100 into a bonus account, then the client needs to place a minimum of 10 more standard lots after deposit to withdraw unlimited profit.
Whenever clients withdraw from the trading account, the company will deduct its bonus amount on first withdrawal.
Only one trading account will have a $50 welcome bonus Against One ID.
For deposit & withdrawal amount, see our deposit and withdrawals policy.
Leverage on these bonus accounts will be 1:50 maximum.
All accounts will be opened in ECN spreads category only.
Demo Contest:
The duration of the contest will be 1 month only, (1st Nov to 30th Nov 2018).
The leverage in the demo trading account is 1:1000.
All Participants will get the Initial deposit of $10,000 in demo Contest trading.
All Participants must be at least 18 years old or legal age according to their origin.
One ID/Passport has only one account in Demo Contest.
At the end of the contest, all open positions will be settled before final calculations.
The company has the right to terminate the account at any time if fraud and any specious activities have been found.
The Company can discontinue the contest at any time without prior notice.
All winning account is in Standard account Category & shall not be under any IB.
Winner will get a live trading account.
The winning amount is withdraw-able.
Withdrawals are only in Skrill, Neteller, Perfect Money.
Educational & Trading Tools
CF Merchants have broken down their education and research into the two distinct categories.
Education: The majority of the education provided by CF Merchants is based around getting to know the trading platform as well as how to use the CF Merchants platform. There are two sections based around reaching charts and basic indicators which could be helpful, but if you are really looking to learn how to trade we would recommend looking for more in-depth information out on the internet.

Research: There is the standard economic calendar offering you information on upcoming news events and which markets they may affect. There are also some daily feeds, however, these have not been updated since April 2019. Finally, there is some market analysis that can help you decide what to trade, again though this has unfortunately not been updated since April 2019.
Customer Service
The contact us page is quite empty, there is an online submission form for fill in and you should get a reply via email, there's also a single email address, however, a second email address for the support team can be found at the bottom of the page.
We did not manage to test out the customer service team, but it would have been nice to see more options and a phone number would have been good to see too. We are also unsure of the opening times but we expect the customer service team to be closed over the weekend at the same time as the markets.
Demo Account
Demo accounts are available with CF Merchants however the details on them are unknown, we do not know the trading conditions or how long they last.
Countries Accepted
The following statement is available on the CF Merchants website: "CF Merchants (SV) Ltd does not provide services and accept applications from the residents of certain countries, such as the United States of America, Canada, Israel, North Korea, and Saint Vincent & The Grenadines. The statistics on this website is not directed at residents in any country or jurisdiction where such distribution or use would be contradictory to local law or regulation." If you are unsure of your eligibility, be sure to get in contact with the customer service team to find out.
Conclusion
CF Merchants have decent trading conditions, they are in line with a lot of the competition, plenty of ways to deposit and withdraw along with no fees is also a good point, not to mention the vast number of tradable assets means you will always have something to trade. The main downside comes when we look at the support system, there is no phone number available and just a simple contact form and email address, it is vital to have clear lines of communication when using a financial institute, so it is up to you to decide if that is important to you or not.