eDeal FX is a Saint Vincent and the Grenadines based foreign exchange broker. Their vision is to become one of the best forex brokers online, to inspire everyone by making the trading platforms readily accessible, and to continuously change and to be perfect professionals. eDeal FX also wants to provide an efficient and committed service and to provide fruitful indicators to their clients. Throughout this review, we will be looking into the services on offer to see if they manage to achieve these things and so you can decide if they are a broker you would want to trade with.
Account Types
There are 5 different accounts to choose from should you decide to sign up with eDeal FX, lets briefly look at their features.
All Accounts:
All account some with the following features: Forex currency pairs, spot metals, and oils, contract sizes of 100,000, no swap fees, no commissions, hedging is allowed, variable spreads, trade sizes starting from 0.01 lots. Use of expert advisors is allowed, there is also access to trading signs & alerts, one-click trading, use of the MetaTrader 4 trading platform and, access to live chat, email, and telephone support.

Professional:
The minimum deposit for this account is $5, it has leverage up to 1:500 and has a maximum trade size of 5 lots which a maximum of 150 open trades at any one time.
Extreme:
The minimum deposit for this account is $100, it has leverage up to 1:100 and has a maximum trade size of 60 lots which a maximum of 300 open trades at any one time.
Ultimate:
The minimum deposit for this account is $100, it has leverage up to 1:100 and has a maximum trade size of 10 lots which a maximum of 100 open trades at any one time.
Advanced:
The minimum deposit for this account is $20,000, it has leverage up to 1:300 and has a maximum trade size of 80 lots which a maximum of 400 open trades at any one time.
Prime:
The minimum deposit for this account is $100, it has leverage up to 1:100 and has a maximum trade size of 10 lots which a maximum of 100 open trades at any one time.
Platforms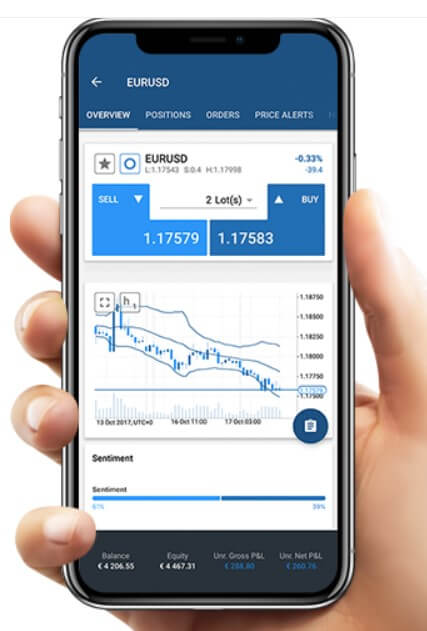 eDeal FX uses MetaTrader 4 from the MetaQuotes company as their only trading platform. It is one of the world's most popular trading platform and comes with a whole host of features to make your trading life easier. These features include a complete friendly interface for ease of use, news feeds every second to keep traders updated, ready state analytical tools for your requirement, various best in class charts and calculations, developing advises from experts to use them on the go, multilingual platform, anytime account statement, real-time fund details, a summary of portfolios, unrealized/realized profits and loss and allocations and, effective and efficient indicators to determine trade dependencies and trailing stop loss facility. MetaTrader 4 is available on multiple paltforms including desktop, mobile devices and as a trader on your web browser.
Leverage
The maximum leverage available depends on o the account type you are using, we have outlined them below.
Professional: Up to 1:500
Extreme: Up to 1:100
Ultimate: Up to 1:100
Advanced: Up to 1:300
Prime: Up to 1:100
Leverage is selected when first opening up an account. Should you wish to change it afterward, you will need to contact the customer service team with your request.
Trade Sizes
Trade sizes on all accounts start at 0.01 lots which are known as a micro lot, they then go up in increments of 0.01 lots. The maximum trade size depends on the account you are using, as it the maximum number of open lots/trades at anyone, time, so we have outlined them below.
Professional: 5 lots / 150 trades
Extreme: 60 lots / 300 trades
Ultimate: 10 lots / 100 trades
Advanced: 80 lots / 400 trades
Prime: 10 lots / 100 trades

We would suggest not trading over 50 lots in a single trade due to execution speed and slippage.
Trading Costs
There is no added commission on any of the accounts as they all use a spread based system, there is also no swap charges on the accounts. Please check the spread section of this review for overall trading costs.

Assets
eDeal FX has broken down their assets into two different categories, we will now outline what can be found in each.
Forex:
AUDUSD, USDKPY, EURJPY, EURGBP, USDCHF, USDCAD, NZDUSD, EURCHF, NZDJPY, CADCHF, CADJPY, AUDJPY, GBPUSD, EURCAD, GBPCHF, CHFJPY, AUDCAD, AUDNZD, GBPCAD, EURAUD, AUDCHF, NZDCHF, GBPAUD, USDSGD, USDHKD, ZARJPY, NZDCAD, GBPNZD, EURNZD, USDCNH, USDDKK, USDTRY, USDCZK, USDHUF, USDSEK, USDNOK, EURPLN, EURNOK, USDPLN, EURHUF, EURDKK, EURRON, USDRON, USDMXN, USDZAR, USDRUB.
Metals and Energies:
UK Brent Oil, US Crude Oil, Solver (EUR and USD), Gold (EUR and USD) and, US Natural Gas.
Spreads
Spreads seem to start around 2.1 pips, it does not look like there are many differences between the accounts, at least not stated in the contract specification or accounts pages. The spreads are available which means they move with the markets when there is a lot of volatility they will often be seen a lot higher than when the markets are calm.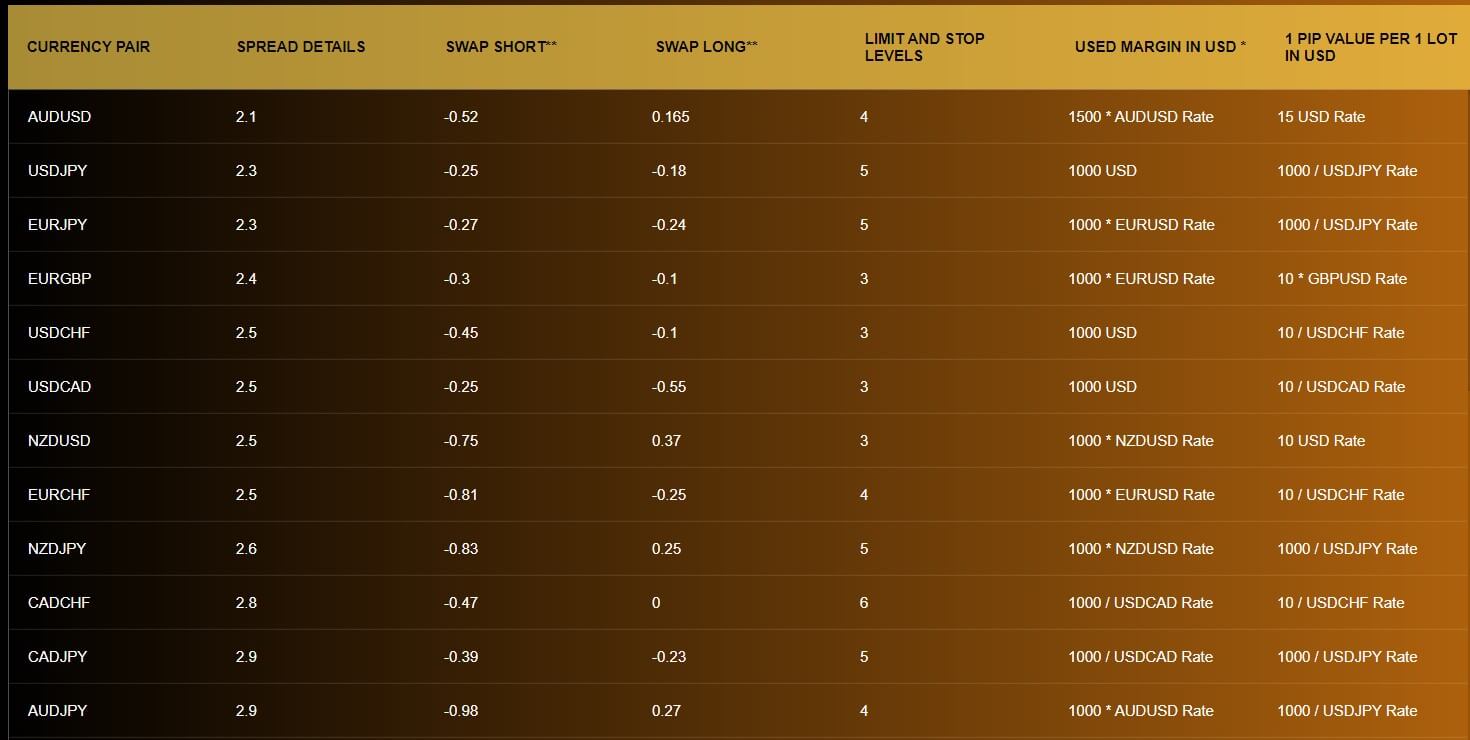 Minimum Deposit
The minimum deposit required to open up an account is currently $5, and this will get you the Professional account.
Deposit Methods & Costs
Unfortunately, it does not appear that there is any information about deposits, so we do not know which methods are available to use or if there are any fees for depositing. This can out of a lot of potential clients who need to know that they can use their preferred method to deposit.
Withdrawal Methods & Costs
Just like with the deposits, there is no information about withdrawals either, we do not know how we can get money out or how it will cost us. This will prevent a lot of people signing up and it is vital to know how you can get your money back out.
Withdrawal Processing & Wait Time
As there is no information about withdrawals we also do not know the withdrawal or processing times. We would hope that you would have your request fully processed between 1 to 7 business days from the request depending on the methods which are actually available.
Bonuses & Promotions
In regards to bonuses or promotions, there seems to be just the one available when we wrote this review, this is a Cashback offer. We have outlined what you can earn below: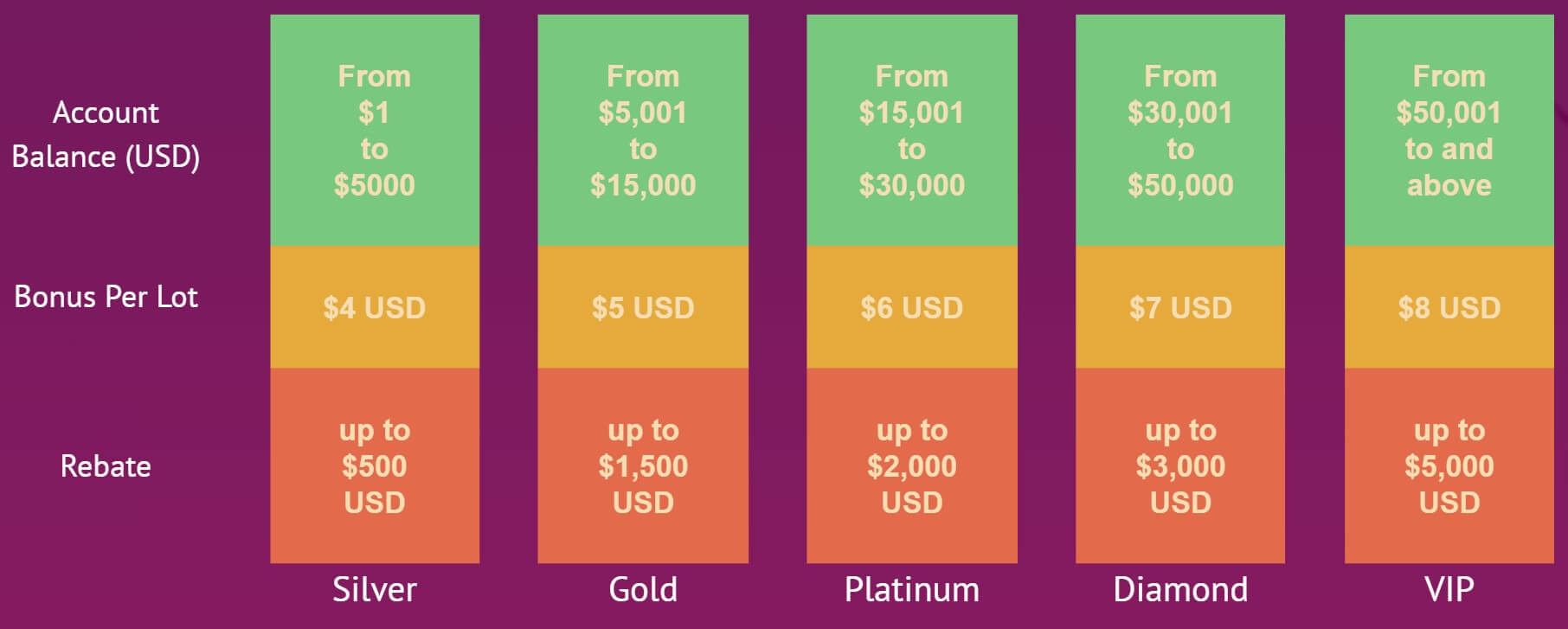 Educational & Trading Tools
There are a few different resources in regards to education and tools, with the first being a simple page detailing information about what Forex is and how it works. There is a market news section, however, the page is not loading properly for us. There is then an economic calendar, and this details upcoming news events and also which currencies or markets they may affect. There is also daily technical analysis, weekly technical analysis, and blogs. Unfortunately, these were not working at the time we were looking at the site. There are also daily, weekly and monthly pivot tables available.
Customer Service
You can contact the customer service team via live chat, phone or email…the choice if yours. They have support in a number of different languages and locations including Hong Kong, the USA, Dubai, India, Australia, Qatar, and the Maldives.
USA Support:
Address: #13401, Metric BLVD APT 411, Austin, Texas-78727, United States of America
Phone: +1 513 746 1112
Demo Account
Demo accounts are available and it just takes a short form to get on up and running. You can select leverage up to 1:500 and a balance of up to 1,000,000. We do not know which account it uses the trading conditions from or if there is an expiration time. Demo accounts are a great way for you to test out the trading conditions and servers, it also allows you to test out new strategies without risking any real capital.
Countries Accepted
This information is not made readily available on the site, so if you are thinking of joining, be sure to check your eligibility with the support team prior to joining.
Conclusion
There is a lot of information missing from the eDeal FX website. We have no understanding of what the deposit or withdrawal methods are, and this makes it hard for us to build any level of trust. eDeal FX will be dealing with our money, we need to know how we can get it in, out and how much it will cost us. The trading conditions seem fine. The spreads can be a little high but there is no added commission or swap charges. In terms of tradable assets, there are enough currencies but not much else so it would be nice for there to be more instruments to trade. Because of the missing information, it is very hard for us to recommend eDeal FX at this point in time.