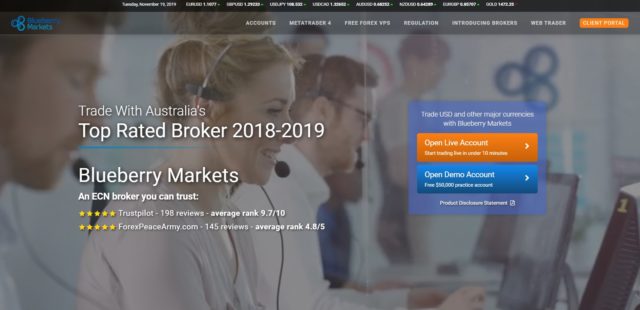 Blueberry Markets was founded In 2016 taking the slow, steady growth strategy without the use of debt. To position on the market, and differentiate, Blueberry Markets marketing strategy focused on user feedback as the prime channel for client pool development. Visitors will be met with some background videos that may give an impression the broker wants to get interactive and stir the right emotions by direct contact with the customer. Right from the start, the website will point the main selling points of Blueberry Markets, Customer support, and user ratings on the two most dominant review sites for Forex and other industries.
Forex Peace Army (FPA) and Trustpilot show an amazing over 4.5/5 star rating that is the best rating we have seen, also taking into account the number of feedbacks. This is really hard to achieve, especially if we know the fact that most of the people lose money trading and there is a good chance dissatisfied customers will leave bad feedback unrelated to the broker quality of service. Forex Peace Army is heavily marketing Blueberry Markets on its website, further solidifying their image. We have evaluated why is this result so good and what internal, cultural processes are responsible for Blueberry Market's success.
Account Types
Blueberry Markets has two account types although the first option they present is the Demo or Practice Account. This Demo account will be reviewed later in this review. The other two accounts are Standard and Professional Account. Standard account features no commissions, wider spreads than Professional Account, from 1 pip, smaller deposit threshold, MT4 trading platform, the same leverage level and the number of trading instruments as the Professional Account.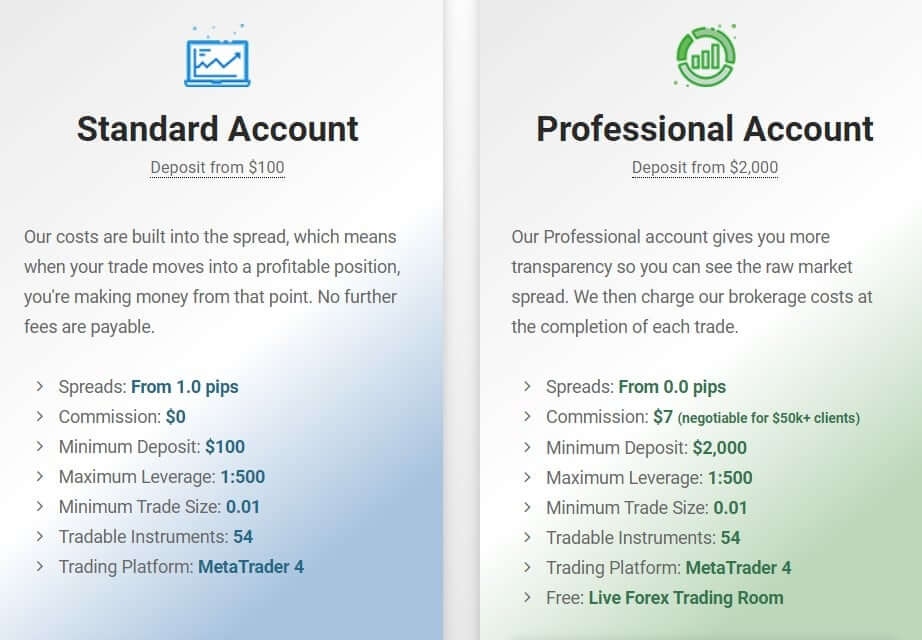 Also, Professional Account features Live Trading Forex Room for free but also a commission that can be reduced for clients that deposit $50.000. For all Accounts, there is a possibility to have a free VPS for trading 10 lots per month. This concept of having one account with wider spreads and no commissions and one with commissions and narrow spreads is common for brokers who offer a good trading environment for fast strategies and Expert Advisors (EAs).
Platforms
Blueberry Markets offers MetaTrader 4 and 5 although MT5 is not presented on the website, for instance, there is no section about MT5 and the Account types selection does not mention MT5, just the MetaTrader 4 platform. Interestingly, once clients apply for a live account they will have a selection drop list to choose MT5 or MT4. If you select the MT5 option, you will receive an email upon completion with the link to MT4. Upon closer inspection, we have noticed the link to download MT5 for Mac that requires XQuartz.
MT4 is updated to the latest build and shows around 260ms ping to the Blueberry Markets servers. The platform is set to default settings with some standard templates. One-click trading buttons are visible with classic four currency pairs charts. The execution times are around 340ms which is a bit slower than usual for ECN brokers. As we went on we have noticed that the assets specification window is showing all important information for trading. The only thing that is left out is the swap calculation method. The symbols are categorized into Metals, Forex, UK Oil, US Oil, and CFD where all the Indices reside.
Leverage
Blueberry Markets has scalable leverage from 1:1 to 1:500, for all account types. The leverage level can be modified at any time. For Forex exotics the leverage is up to 1:100 and 1:200 for Indices. Oil and Metals remain with a maximum of 1:500 leverage. By default, Blueberry Markets sets the leverage to 1:100.
Trade Sizes
The minimum rade size is in micro-lots or 0.01 lots. The volume steps are also in micro-lots. The maximum trading volume is 100 lots. For Indices it is a bit different, 0.1 lots are the minimum trade size with the same volume steps size and the maximum at 40 lots. This scheme for Indices also applies to Oil assets. Metals have the same trading sizes as with Forex. The Stops Levels is at 30 points for Forex and Oil is at 1. Blueberry Markets has a Stop Out level at 50% margin levels which is somewhat higher than other brokers in the industry.
Trading Costs
The commission is charged for the Professional Account – $7 per round. For the Standard Account, there are no commissions at the expense of wider spreads. The swaps are under normal levels, although they are not disclosed on the website, nor the legal documentation. For EUR/USD the swap is -10.306 for long and 5.939 positive for short. On the USD long side it is common to see a positive swap, for example, USD/JPY has 7.113 and -11.645 for short, USD/CHF 7.086 and -11.117 short position swap. Some rare currency pairs like EUR/HUF do not have substantial levels on either side, -3.489 long and 0.623 short. USD/MXN has an interesting swap, 6.2 short positive swaps and -15.257 long. For the Metals, spot Gold has -12.09 points swap for long and 6.527 for short. Silver has low-level swaps, -0.891 long and 0.353 points long.
Assets
Blueberry Markets does not have a wide range of assets when comparing to other brokers. Cryptocurrencies are completely left out, commodities are based on Oil only and Stocks are also missing. There is a total of 54 trading instruments, and most of those are Forex currency pairs.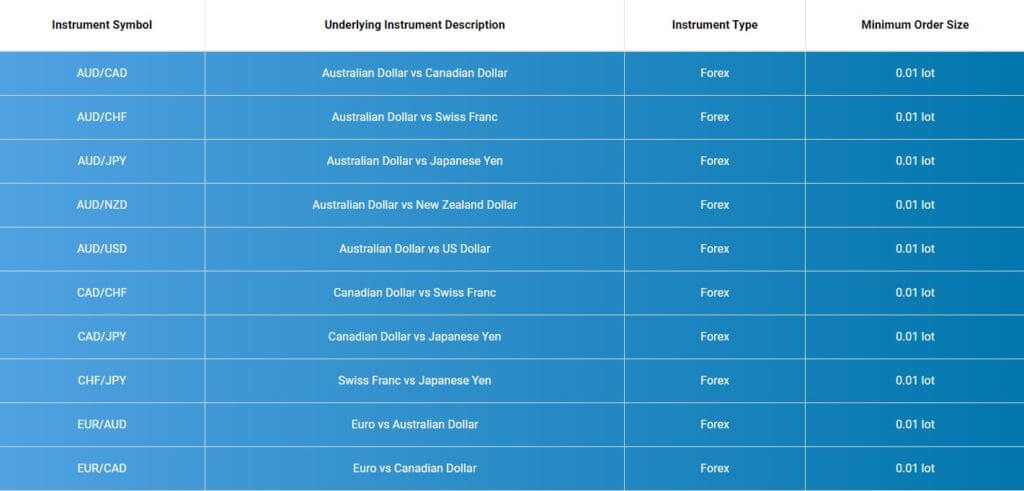 Forex has a total of 48 currency pairs and it can be said that Blueberry Markets is focused on this market. All the majors are listed with a good number of exotics like USD/MXN, USD/PLN, USD/TRY, USD/HUF, and Scandinavian currencies. These exotic currencies are also combined with the EUR. Metals offer is limited as only spot Gold and Silver are listed.
Indices are present with 10 optional trading assets. All are majors except for EUSTX50, AUS 200 and Hong Kong 20. The remainder of the trading assets is both Oil types, WTI and Brent.
Spreads
All spreads are floating type and the levels depend on the trading account type selected. The Standard Account has spread from 1 pip although they were starting from 1.3 pips according to our reading in the MT4 platform. The Professional Account should feature spread from 0.0 pips, but in practice, the spread is 0.3 pips for the EUR/USD. It widens by 1 point for USD/JPY, AUD/USD, EUR/GBP and EUR/JPY. The spread gets disproportionally wider as we check the cross pairs like AUD/JPY – 3.2 pips, EUR/CHF – 5.7 pips, EUR/NZD – 21.2 pips, GBP/NZD – 28 pip. From the Exotics, the spread is average, USD/PLN has 440 points and USD/HUF 310 points. Gold has a reasonable 28 pips, similar to spot Silver at 22 pips. The spreads on the Standard Account have about 1 pip markup on the tighter spreads featured in the Professional Account.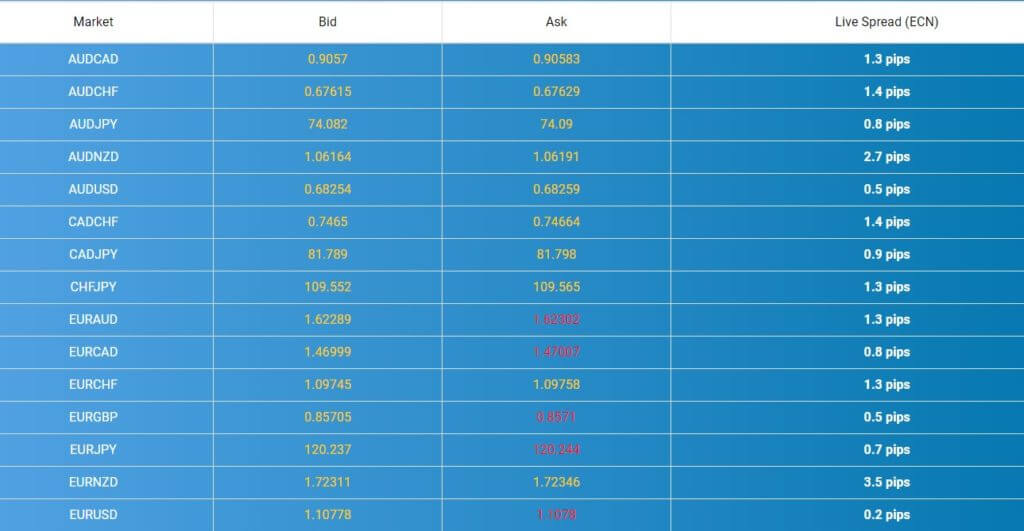 Minimum Deposit
The minimum is $100 or currency equivalent for the Standard Account type. For the Professional Account with raw tight spread and $& commission, the minimum deposit is $1000. Deposit currency can be AUD, USD, CAD, GBP, NZD, EUR, and SGD.
Deposit Methods & Costs
Blueberry Markets does not have any fees related to deposits. It also features several deposit methods that may not be available for all countries. These are Bank Transfer, Visa, MasterCard, Skrill, Fasapay, China Union Pay. According to the Product Disclosure Statement, Blueberry Markets will cover the fees that are on their side although some fees could be charged by the recipient bank. This will depend on the location, policies, and Credit Card / Account type. The broker will notify 30 days before any additional fee or a structure change. Skrill has recently updated its terms that involve 3-4% transfer fees as well as Fasapay with 0.5%.
Withdrawal Methods & Costs
Blueberry Markets does not have any fees for withdrawals, and this is also a good marketing element towards a "friendly broker" image. The methods will be available within the Client Portal but in general, the same methods as with deposit exist.
Withdrawal Processing & Wait Time
The broker does not take any longer than 24 hours to process the withdrawal request. Withdrawals are requested within the Clients Portal.
Bonuses & Promotions
We have found a document that promotes a $50 bonus for certain clients that match the requirements and this promotion was available for that month. Currently, no such bonuses or promotions are mentioned. Introducing Programs are available.
Educational & Trading Tools
We can say Blueberry Markets Blog is the source of all educational and trading material. There are 6 articles about some interesting trading topics like "The Psychological Power of Trading" by Dean Hyde, Blueberry Markets founder. In the mix is the recent news across markets and currency pairs. The analysis includes charts with support/resistance lines, trends and some key price levels. There is not much depth to any of the mentioned news-analysis articles, although they cover a few of the markets. Apart from this, blueberry Markets do not have any event calendar or tools. The free VPS service is available for traders that can execute 10 lots of trading volume in 1 month. The server reportedly has an amazing execution time of 2ms.
Customer Service
Blueberry Markets highlight and the carrier of the business model is their Customer Support. Chat service is 24/5 with very responsive staff. The FAQ and the rest of the website have mediocre content, which is average in quality and quantity. What traders appreciate is what is going on behind the curtain. Blueberry hires premium staff that is knowledgeable, fast, polite, although we have noticed some information is limited to them. The broker can be contacted by email, chat, and phone that is also 24/5.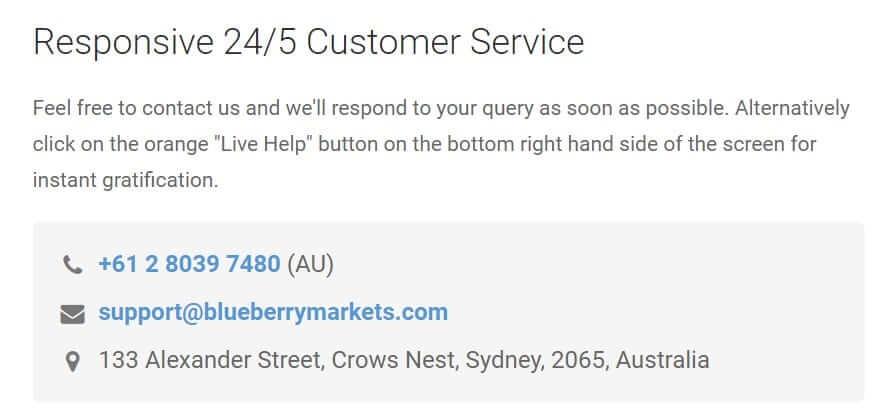 Demo Account
The Demo account is presented to have 50.000 virtual funds and expiration of 30 days regardless of activity. The Demo can be extended with a request. We have managed to fund our demo with more than 50.000 as there are more options to choose from within the MT4 registration.
Countries Accepted
Blueberry Markets has a bigger number of prohibited countries. These are Canada, Cyprus, Egypt, Ethiopia, Eritrea, Iran, Iraq, Israel, Japan, Kosovo, Lebanon, Libya, Myanmar, North Korea, Palestine, Puerto Rico, Russia, Serbia, Sierra Leone, Somalia, Sudan, South Sudan, Trinidad and Tobago, Tunisia, USA, Ukraine, Venezuela, Yemen, and Zimbabwe. These countries are still available for the Demo.
Conclusion
Blueberry Markets is regulated, based in Australia without offshore offices. Some of the most popular forex trading mentors have recommended this broker and it is also a sign of heavy research and investment into finding quality traders pool that will keep trading. This aligns with the company vision. It could also mean Blueberry Markets seek more advanced trader focused mainly on forex markets, hence the lack of any educational material.

Blueberry Markets is an authorized representative of EightCap. This is another company over the Blueberry Markets brand that has a somewhat lower rating and the number of reviews. We have the impression that the broker is open to any kind of trading, be it scalping, hedging or using fast trading EAs. This is how Blueberry Markets differentiate, although there is much more room for improvement. The instrument offer range is below average, as well as additional tools and material.
The website also has limited information even transparent, leaves the impression it is not yet complete. It is really hard to find these flaws in the reports form their clients, on the FPA and Trustpilot. The ones that leave bad feedback are noticed by the broker staff and they receive a reply. Traders that want more assets and better trading conditions may skip this broker, great customer support is not their main deciding factor. This is also something to consider if Blueberry Markets looks for long-lasting traders.