The cryptocurrency market was mainly consolidating in the past 24 hours. Most cryptocurrencies gained and lost values that were not significant enough to cover. If we take a look at the past 24 hours, Bitcoin went down 0.45%, and it is now trading at $8,113. Ethereum lost 0.25%, while XRP gained 1.65%.
Of the top100 cryptocurrencies by market cap, the biggest gainer is Crypterium, with 21.06% daily gain. The biggest loser of the day was Aurora, which lost 9.37% of its value.
Bitcoin's dominance remained at the pretty much the same place from the last time we checked the markets. Its dominance now sits at 65.87%.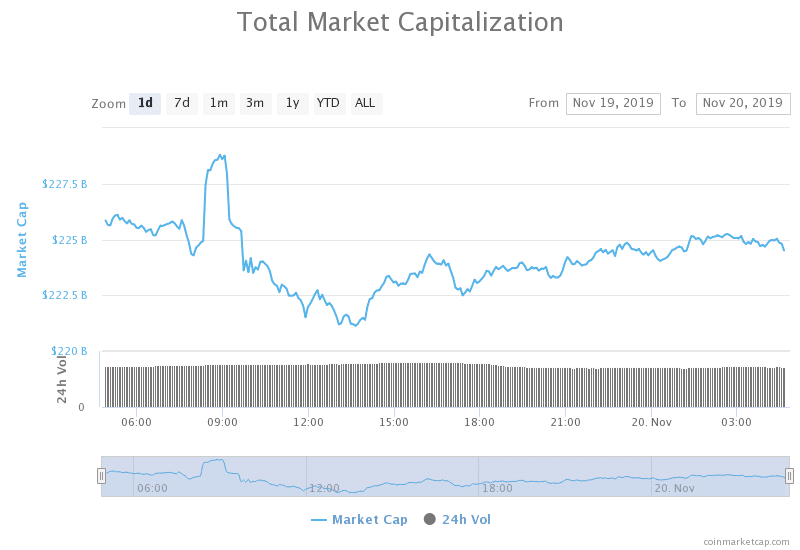 The cryptocurrency market as a whole now has a market capitalization of $224.9 billion, which represents a slight decrease when compared to the value it had yesterday.
What happened in the past 24 hours
There was no big fundamental news that could impact the market positively or negatively today. Small price movements showed that no technical or fundamental indicators gave any signals.
Big Four auditing firm KPMG released its 2019 Fintech100 ranking. KPMG lists the top100 fintech firms in the world each year. This year, the list saw a drop in Bitcoin and crypto-related companies.
_______________________________________________________________________
Technical analysis
_______________________________________________________________________
Bitcoin
Bitcoin had a pretty slow day in the past 24 hours. After yesterday's price drop, the price stabilized above $8,000 resistance line. This support key level seems to have been respected as bulls started to buy Bitcoin at this price point and stopped bears from taking over completely.
Bitcoin's volume is continuing to gradually decrease from the big drop in price. Its RSI level is in the oversold territory for some time now.
Key levels to the upside                   Key levels to the downside
1: $8,640                                           1: $8,425
2: $8,820                                           2: $8,000
3: $9,120                                         
---
Ethereum
As Ethereum broke another support key level, it is currently stuck in a price limbo. The price broke the $178.6 key support level and is currently trading just below it. There are currently no attempts of Ethereum going back above this key level.
The key level of $178.6 moved to the upside as the price went below it. It is likely that Ethereum won't manage to go above this level in the short future as its volume and bull presence, in general, are not there.
Key levels to the upside                   Key levels to the downside
1: 178.6                                             1: $167.8
2: $185
3: $193.5
---
XRP
XRP had quite a turbulent day. Its price fell to its key support level of $0.245, but bulls kicked in and kept the price above it. XRP is currently trading in the middle of the range, stuck between the 0.245 support line and the 0.266 resistance line.
The key levels still remain the same as they were as XRP didn't pass any key levels up or down.
Key levels to the upside                   Key levels to the downside
1: $0.266                                           1: $0.245
2: $0.285
3: $0.31