USG Australian Forex Marketplace is an online FX and CFD broker that is regulated by the Australian Securities and Investment Commission (ASIC), with an Australian Financial Services License (AFSL). The broker advertises low spreads, with minimum slippage and minimum requotes. Traders are given a variety of options to choose from, including four separate account types and two separate trading platforms, with different conditions offered on each account type. Stay with us to find out about the advantages and disadvantages of choosing this broker.
Account Types
This broker offers four different accounts: Mini, Standard, VIP, and Pro ECN. Before you begin to compare account types, you'll need to know that it costs $10,000 to open a Standard account and $50,000 to open VIP or Pro ECN account types, so this may limit potential options. Leverage options go up to 1:500 on the majority of the account types; however, the options are more limited on the Pro ECN account. If you're looking for the lowest spreads, the best option would be the VIP account, which offers floating spreads that start from 1.3 pips. The website can be vague on some subjects and does not offer any information about commission fees, so we can't say which accounts are offering an advantage there. The same trading platforms and minimum trade sizes are offered on all accounts, so there is no need to compare there. You can view some of the most important details below.
Mini Account
Minimum Deposit: $100 USD
Leverage: 1:100 – 1:500
Spread: From 2.8 pips
Standard Account
Minimum Deposit: $10,000 USD
Leverage: 1:100 – 1:500
Spread: From 2.2 pips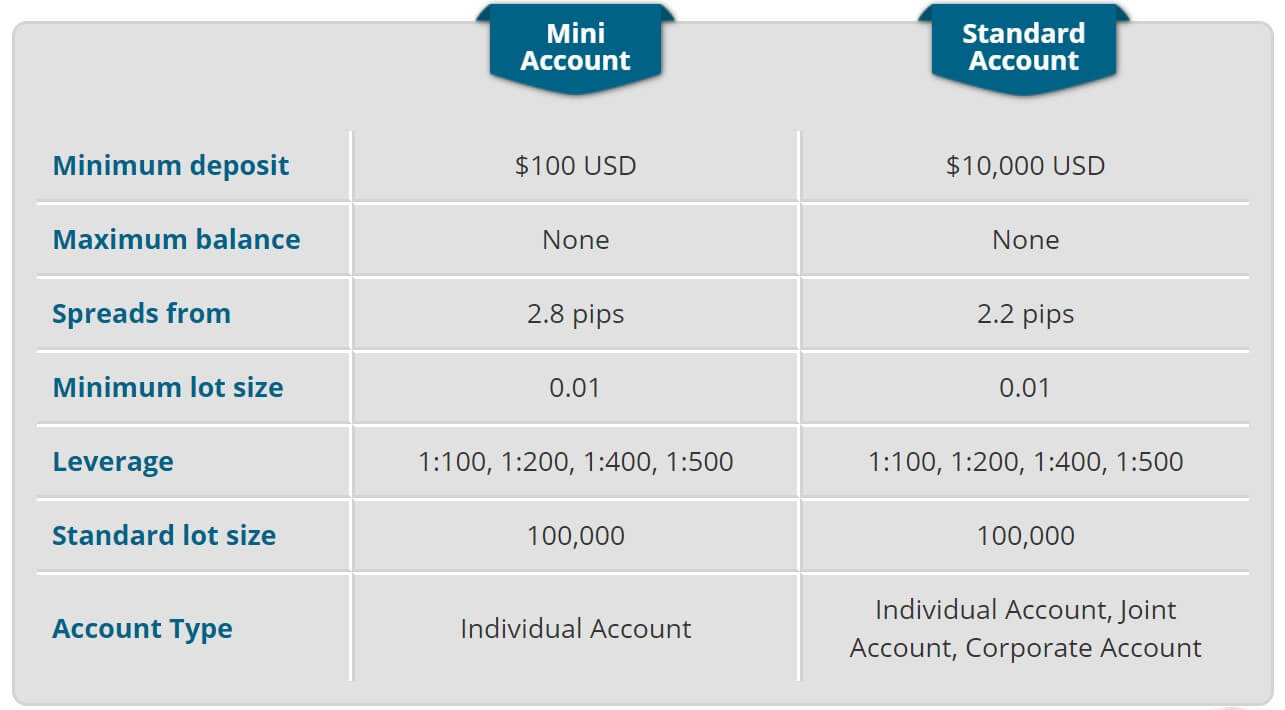 VIP Account
Minimum Deposit: $50,000 USD
Leverage: 1:100 – 1:500
Spread: From 1.3 pips
Pro ECN Account
Minimum Deposit: $50,000 USD
Leverage: 1:100
Spread: From 1.5 pips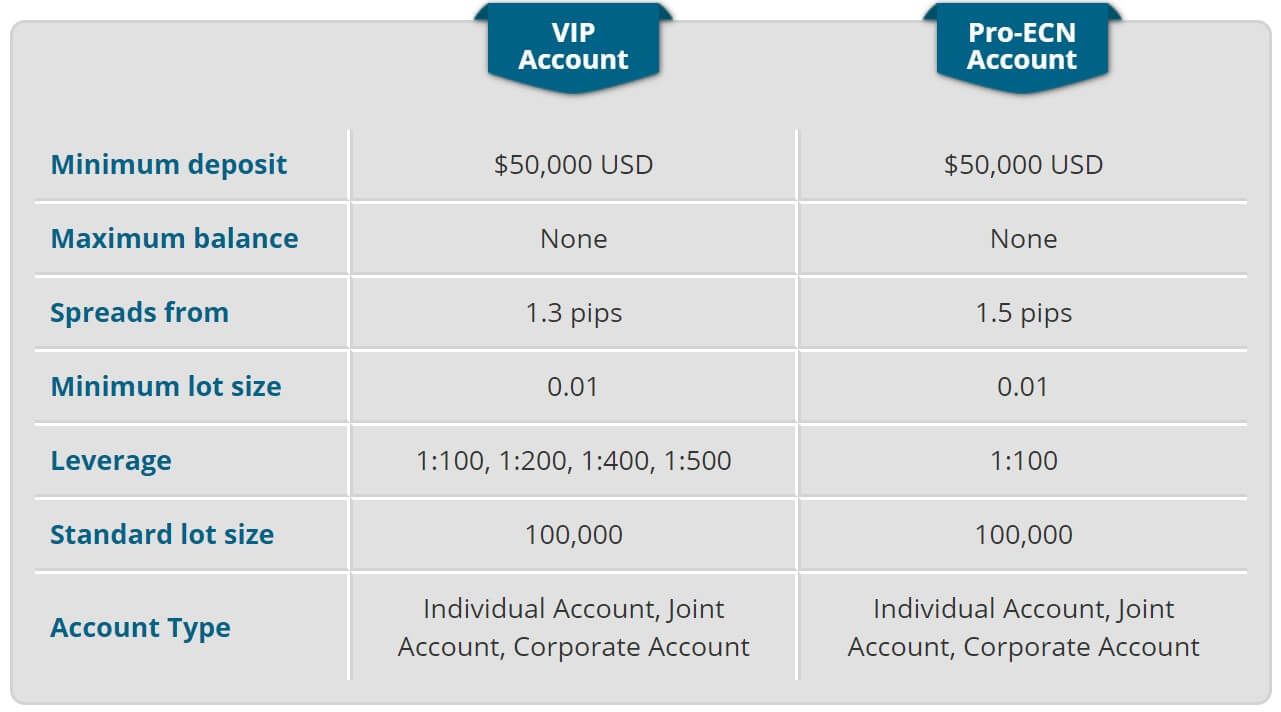 The broker requires proof of ID (passport or other government-issued ID, front and back) and proof of address (bill dated within the last 3 months) for registration. Further documents are required for joint or corporate accounts. The broker does not specify whether Islamic accounts are available.
Platform
This broker offers the advantage of choosing between the MetaTrader 4 and 5 trading platforms. Both platforms feature useful tools and offer a user-friendly and customizable experience. If you're looking for differences, you'll find that MT4 supports MultiTerminal, which allows one to manage multiple trading accounts from the same terminal, while MT5 offers additional pending order types, technical analysis objects, chart types, and an economic calendar. All accounts seem to support both platforms, so the choice would come down to personal preference. The platforms can be downloaded on PC, Mac, or Mobile devices, or accessed through WebTrader, the browser-based version and all options are available directly from the website.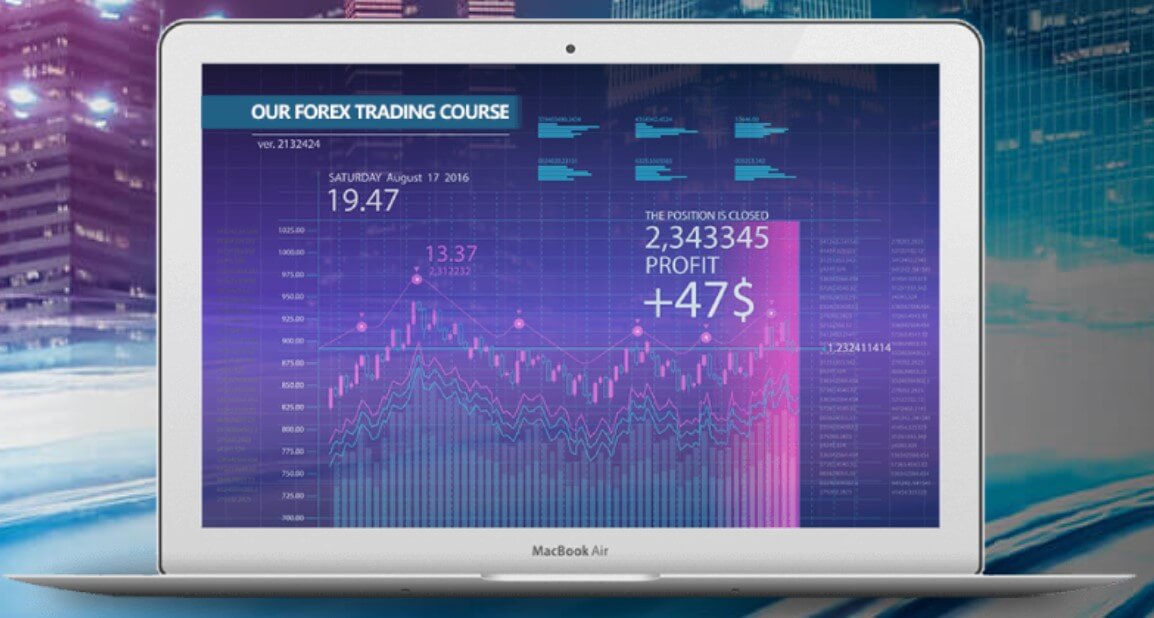 Leverage
If you're trading from a Micro, Standard, or VIP account, you should have no complaints about the highest leverage option, since the cap goes as high as 1:500. This should be more than enough for professional traders and would be higher than most beginners would be comfortable with. However, we were a little concerned that the minimum leverage is 1:100, since some traders may want to trade with a lower option. Also, the website doesn't detail whether this leverage would be limited when trading certain instruments, so we assume that this option is available for all categories. If you're trading from a Pro ECN account, the only leverage option available is 1:100.

Trade Sizes
The minimum trade size is 0.01, or one micro lot, on all account types. The margin call level is set at 100%. As far as maximum trade sizes or stop out levels go, the broker fails to offer further information. We did reach out to support, but it seems that it is harder to get this information if you aren't a registered client with the company.
Trading Costs
The broker is extremely vague when it comes to this category. Where the majority of brokers list commission fees when explaining specifics for each account type, this broker doesn't even list commissions as a category. If the broker had done away with commission fees altogether, we would expect to see the broker advertising it on their website, so it's safe to assume that some types of fees are being charged. It's possible that the broker may not charge commissions on some account types, although there is no way of knowing for sure since support refuses to answer the question.
Moving on, swaps are also applicable, so traders will want to keep this in mind when holding positions overnight. We're sorry to say that there just isn't any further information we can provide for this section. Considering that this is one of the most important sections to consider, we're disappointed with the broker's lack of information on the matter.
Assets
This broker advertises 60 plus Forex, Commodities, and Indices as being available from their homepage. Of course, we wanted more detail on the available instruments; however, the website fails to even list these options. Most brokers provide a detailed review of these options and even list live or typical spreads alongside each instrument, so it is disappointing to see such a lack of information here. This left us with several questions that support did not answer. Does the broker offer exotic options? We may know that 60 instruments are offered, but how many of those make up each category? Are assets limited based on account type? Lack of information seems to be a common theme on this broker's website.

Spreads
The best spreads available through the broker start from 1.3 pips on VIP accounts and are from 1.5 pips on Pro ECN accounts. Keep in mind that it would cost $50,000 to open one of these account types, so those that can't afford either option will have to go with one of the other account types. Spreads start from 2.2 pips on Standard accounts. The highest spreads are applicable on Mini accounts and start from 2.8 pips. Overall, the spreads here aren't the most competitive, especially for lower-ranking account holders. Since the broker doesn't list their instruments in more detail, we weren't able to actually compare options to see if spreads are much higher than those advertised.
Minimum Deposit
The most affordable account type available would be a Mini account, which has a standard $100 USD deposit requirement. If you're looking at one of the other account types, you'll be making a significantly larger deposit. The Standard account requires a $10,000 deposit, which is very expensive for this account type. The wide range between the $100 and $10,000 for the cheaper account types will likely force some traders to choose the Mini account or to go with a cheaper broker. For the VIP and Pro ECN accounts, the deposit requirement is $50,000 USD. For these types of professional accounts, we aren't as surprised to see a larger amount listed.
Deposit Methods & Costs
Accounts can be funded via Visa/MasterCard, Bank Wire Transfer, WebMoney, PerfectMoney, FasaPay, Thailand Online Banking, Malaysia Online Banking, Indonesia Online Banking, Vietnam Online Banking, Philippines Online Banking, POLi Internet Banking, Vogue Pay, and BPay. If a client deposits through UnionPay, SticPay, or Vogue Pay, the deposit fee will be waved for amounts over $1,000 once the client trades 3 lots. For all other methods, the deposit fees will be waived once the client places a trade. This means deposit fees won't be applicable to these methods, as long as you make at least one trade.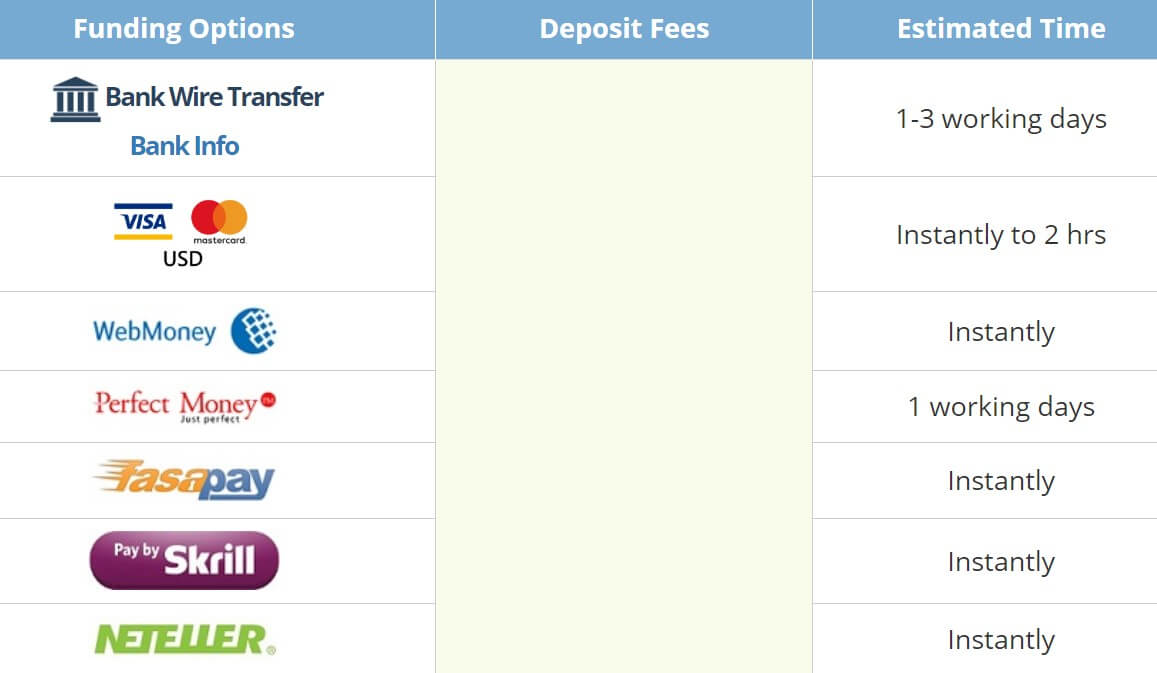 If you fail to do so, the company will actually charge the deposit fee, in addition to the withdrawal fee, once the withdrawal request has been made. However, any fees charged by the issuing bank will not be waived for Visa/MasterCard withdrawals. The broker doesn't list what the exact fees would be in the case that the client doesn't meet these terms. You can expect to see most payments credited instantly, with a one business day waiting period for PerfectMoney and BPay withdrawals, and a 1-3 working day waiting period for Bank Wire Transfer deposits.
Withdrawal Methods & Costs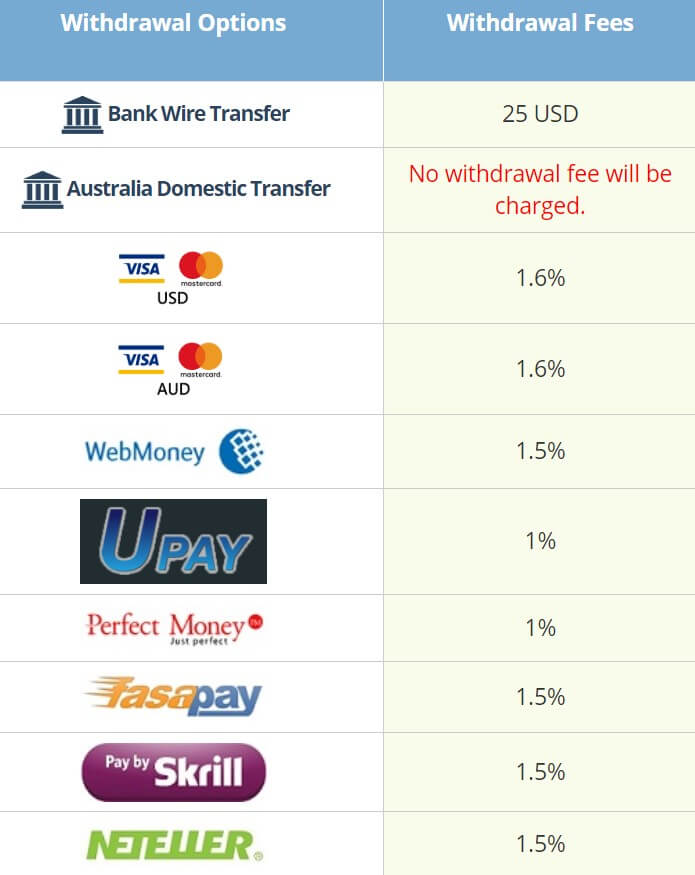 In accordance with their regulation, the broker has a few boundaries set in place when it comes to withdrawing funds. Clients who have made a deposit via card must withdraw the amount of their deposit back to that same card within 180 days of the initial deposit. Withdrawal of additional funds that exceed the initial deposit amount can be made via separate payment methods. Also, an extra 3% charge will be applied to any withdrawals of more than $3,000 USD made through e-wallets (WebMoney, PerfectMoney, Skrill, Neteller, Vogue Pay, Vietnam Online Banking). The only fee-free method would be Australian Domestic Bank Wire; however, regular Bank Wires will be charged fees. All applicable fees have been listed below.
Bank Wire Transfer: 25 USD
Visa/MasterCard: 1.6%
WebMoney & FasaPay: 1.5%
UPay, PerfectMoney, GPay: 1%
Thailand, Malaysia, Indonesia Online Baking: 1.7%
Vietnam Online Baking: 1,000vnd + 1.1%
Philippines Online Banking: 2%
VougePay: 1.5% + $5.00 USD (+ extra 30 units of currency surcharge on amounts      less than $1,500.)
Withdrawal Processing & Wait Time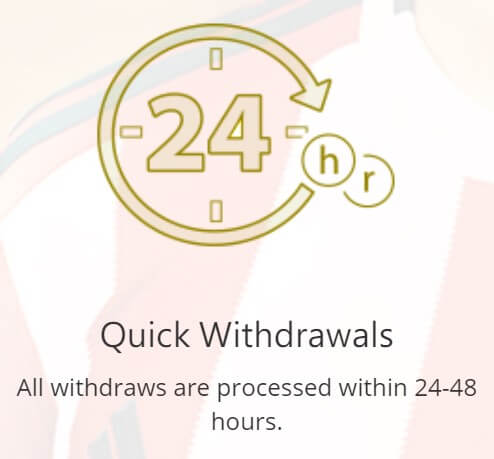 All withdrawals are processed by the finance team within 24-48 hours. The broker doesn't go into further detail as to whether it would take a longer amount of time to actually receive the withdrawal. In the case of Bank Wire Transfers, it would be best to expect it to possibly take 3-5 business days, especially for international transfers. This is based on the fact that banks tend to have a longer waiting period before funds are credited. Hopefully, all funds would be available within a day or two.
Bonuses & Promotions
The broker is currently offering four separate bonuses: 50% Bonus, 10% Welcome Bonus, Deposit Bonus up to 25%, and Welcome Bonus $30. Most of the bonuses cannot be combined with other offers, so it is important to consider which offer one could gain the most benefit from. There are also some conditions that limit the types of accounts that can participate in each bonus, with only one VIP option and no offers for ECN account types. We've outlined the available bonuses below.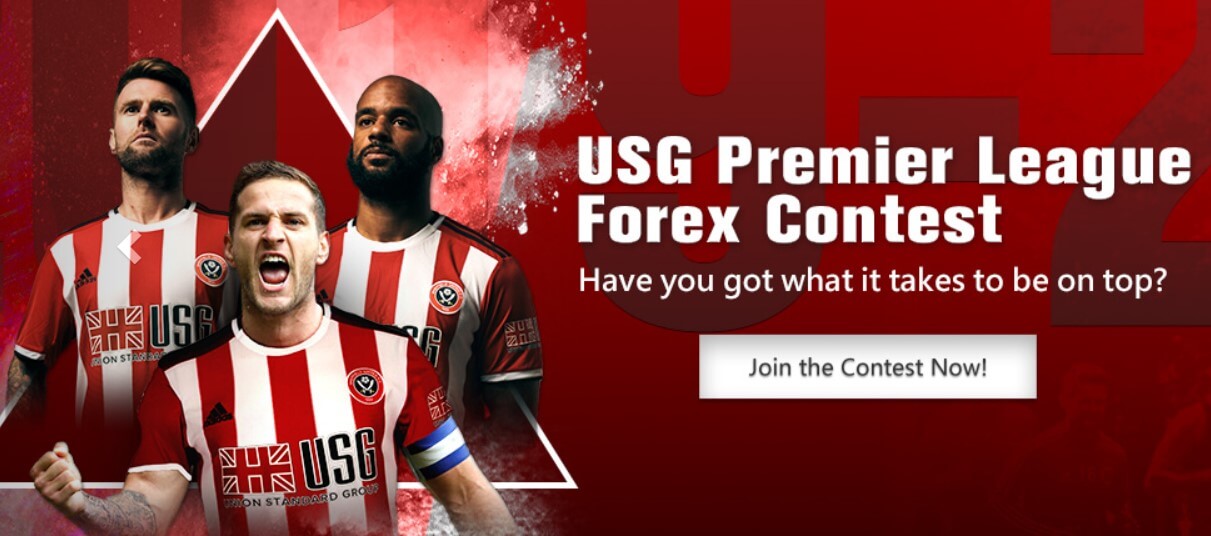 50% Bonus (Mini & Standard Accounts): Applied on initial deposits and can be turned into withdrawable cash once 14% of trading volumes are reached. If the net worth of the account drops below the deposit amount, the bonus will be dropped. This promotion is only valid on Forex instruments and cannot be combined with other offers.
10% Welcome Bonus (Mini, Standard, VIP Accounts): This bonus is only valid on initial deposits made to new accounts and cannot be combined with any other offers. The bonus can only be withdrawn once a minimum trading volume has been met. That volume is calculated by dividing the amount of the bonus by 5. The maximum amount that can be granted is $3,000 and the amount is losable. A bonus is canceled if the client's stop out is reached or a withdrawal is made before the trading volume has been reached.
Deposit Bonus up to 25% (Mini & Standard Accounts): The percentage of the bonus is based on the deposited amount and a larger number of lots are required in order to receive a larger percentage of the bonus. For example, a deposit of $100-$2,500 is applicable for a 10% bonus and requires a trading volume of 14%. To qualify for the 25% bonus, a trading volume of 20% must be reached and the deposited amount must be between $7,501-$10,000. The bonus will be rewarded at once after 60 calendar days and is rewarded to one deposit every three months.
Welcome Bonus $30 (Mini Accounts): Applied once the account is verified and the first deposit of at least $100 is made. Bonus is withdrawable after making 10 Standard Lots of traded volume and can be lost if a withdrawal is made before the required trading volume has been reached.
Educational & Trading Tools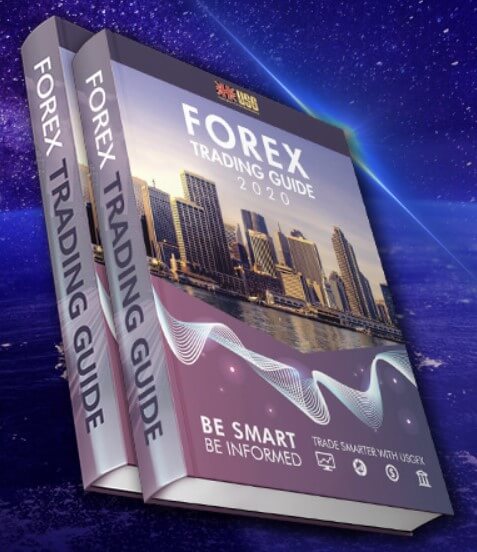 This broker seems to understand the importance of educating their clients, based on the fact that the website has devoted an entire section to an "Education Centre". The category is made up of an FX Blog, Trading Guide (Book), USGFX TradersClub, Webinars & Seminars, Forex Exhibition, Forex Contest, Forex Seminar, Everything About Trading Forex Questions, and a FAQ. While taking more of an in-depth look at the TradersClub, we learned that the program is dedicated to educating beginners through an immersive experience with lessons. It is free to participate, but the number of spots is limited, so we would recommend signing up asap if you could use the information.
Webinars & Seminars also cover information for various skill levels, from basic to expert. The Seminars section displays upcoming live events and allows traders to sign-up straight from there. Overall, the broker has definitely done enough to make the learning process smooth and convenient for beginners. The website also hosts a variety of trading tools, all of which have been listed below.
Daily Technical Reviews
Online Technical Research
MT4 Plugin
Forex TV
Featured Ideas Trading System
Economic Calendar
Weekly Market Access

Demo Account
This broker offers the ability for any potential or existing client to open a free demo account as a means to practice trading in a real environment while using virtual currency. All demo accounts opened through this broker will last for 30 days before expiring and additional demo accounts can be opened at any time. These accounts mimic the conditions on live accounts, although there could be some differences with delayed quotes, due to the simulated environment. In order to open a demo, traders can click on "Demo Account", located on the website's homepage.
Customer Service
Support is available 24 hours a day via LiveChat, phone, fax, or email. All contact options are provided for the company's head office, located in Australia. We had a few issues finding some key information on the website, so we used to opportunity to test out the broker's instant contact option, LiveChat. The website made us fill out a few details, including name, email, and question category before connecting us to an agent. The chat window then asks one to wait for an agent to respond and offers the option to send a message from the window instead.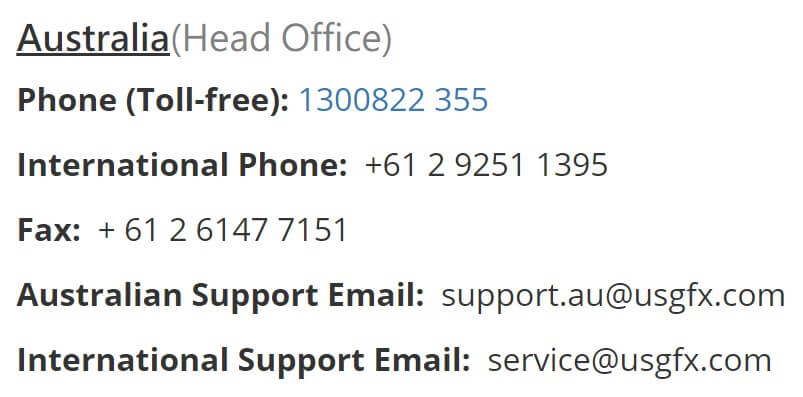 Fortunately, an agent responded within a minute, but she did not manage to answer our questions. Once we informed support that we did not have an account yet, she tried to arrange for an account manager to call us and refused to answer any questions about commission fees, trade sizes, etc. This was frustrating and definitely took away from the convenient experience we were looking for. In case you'd like to contact the broker through another method, we've listed all other contact information below.
Phone (Toll-free): 1300822 355
International Phone: +61 2 9251 1395
Fax: +61 2 6147 7151
Australian Support Email: support.au@usgfx.com
International Support Email: service@usgfx.com
Address: G03, 135 Macquarie Street, Sydney, NSW 2000, Australia
Countries Accepted
The broker mentions that information on the website is not intended for residents of Japan or the United States, or any other country where it would be prohibited for residents to open an account. As usual, we decided to test out the account opening process from our US-based offices, just to see how firm the broker is about their statements. Fortunately, both the Japan and US are selectable options on the registration page, and the broker will allow one to continue with the registration process if one of these options is selected. Since there are a lot of restrictions for those two countries, this would make it worth at least adding this broker to any list of potential options based on that fact, should you be located in Japan or the US.
Conclusion
USG Australian Forex Marketplace is a regulated FX and CFD broker that offers leveraged trading of up to 1:500 on 4 different account types. The broker advertises 60 plus FX, Indice, and Commodities as being available, although the website fails to offer further information. Lack of information seemed to be a reoccurring theme for some subjects, including trade sizes and trading costs. This broker is expensive and only markets one account type for less than $10,000, so many traders may be limited based on affordability. The best spread one would have access to from the $100 Micro account would be from 2.8 pips and it would cost $50,000 to open one of the better accounts that have average floating spreads from 1.3 pips. The broker offers several funding methods and deposit fees would not be applicable in most cases. Varying fees are charged on withdrawals and processing times are within 24-48 hours.

Support is available 24 hours a day and can be contacted by LiveChat, phone, or email; however, our experience with a live support agent was frustrating and the broker will push clients to speak with an account manager if an account has not yet been opened. The broker put a lot of work into the education section of their website and provides enough learning material to educate clear beginners. We also found that this broker is currently offering a few separate trading bonuses, although each client would only be entitled to claim one offer if trading from an account type that supports bonuses. Fortunately, the broker accepts US residents, which is something we're seeing less often as of lately. It seems that this broker rewards clients that are able to make larger deposits with much better trading conditions.