FirewoodFX is an offshore broker, located in St. Vincent & the Grenadines and has been operating, unregulated since the year 2014. On first look, it appears to be a rather well-established broker, offering a range of preferable trading options and tools, and not only offering a palatable trading service but also a variety of IB affiliate programs that clients can make use of, in addition to profiting from the trading services. The website is clearly set out, and a live chat support team is on hand 24/5 should you require assistance.
Account Types
FirewoodFX offers 3 account types, and there is a neat account comparison table displayed on the website, setting out all main features and benefits of each. All accounts may use the leverage of up to 1:1000 and do not accrue commission charges.
Micro: 0.01 lot, min deposit: 10 USD
Standard: 0.01 lot, min deposit:10 USD
Premium 0.1 lot, min deposit: 100 USD
Islamic accounts are also available, and there is the option of PAMM accounts as well, upon request.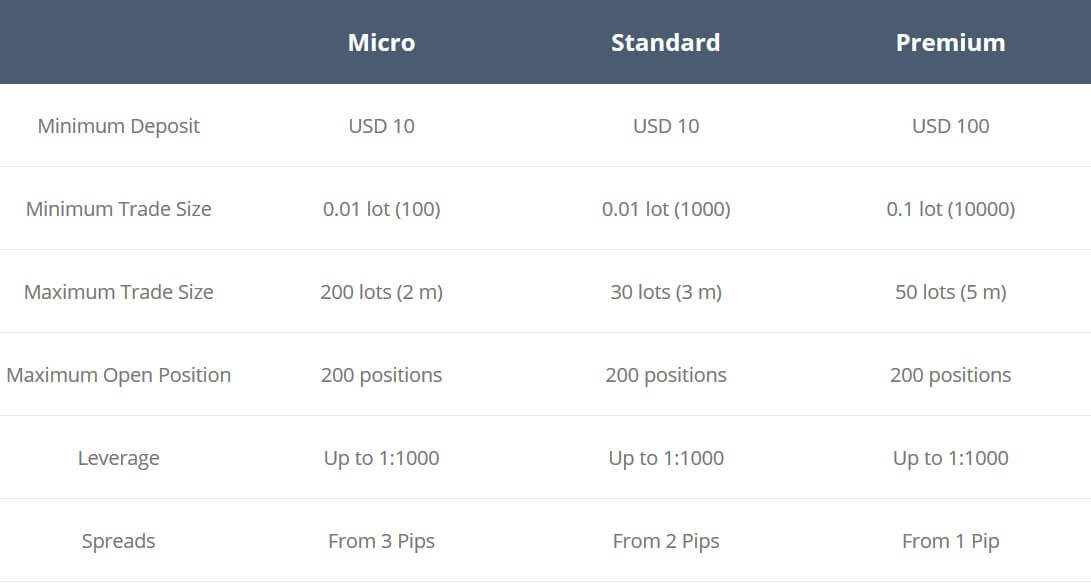 Platforms
FirewoodFX offers the reliable MetaTrader platform, compatible with PC, Desktop Web Trader, and MetaTrader 4 Mobile (iPhone / iPad and Android) which means clients can trade both on the go or at home, regardless of whether you are a Windows or Mac user.
Leverage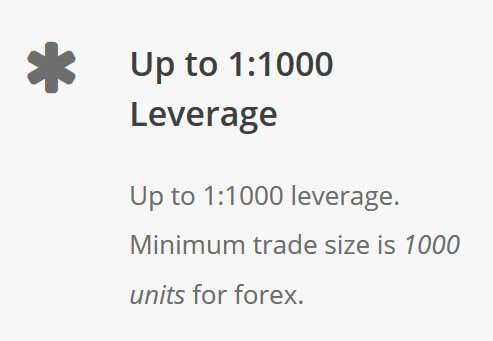 The maximum leverage clients of FirewoodFX are allowed is 1:1000. This leverage allowance is the same across all 3 account types offered. It must be noted that this is extremely high leverage and only those who have a thorough and experienced understanding of how leverage works, and how trading with high leverage especially, works, should delve into the use of it. High leverage trading can be incredibly profitable, as well as incredibly risky and can cause severe losses if you are unfamiliar and inexperienced with it.
Trade Sizes
The minimum trade size requirements are set out on the website and vary according to account type. This also can help prospective clients decide which account is more suitable, depending on the type of trading you like to conduct, complying with the capital you wish to deposit.
Micro: min 0.01 lot, max 200 lots
Standard: min 0.01 lot, max 30 lots
Premium min 0.1 lot, max 50 lots
All accounts have a cap of opening a maximum of 200 positions.
Trading Costs
All clients of FirewoodFX can enjoy a low-cost trading experience since all account types do not charge any trade commission fees, but swaps do apply, which can be calculated according to trade size and pair you are trading. Of course, Swap-free accounts (Islamic accounts) are available upon request if this is applicable to you.
Assets
FirewoodFX does not offer the greatest variety of assets, and certainly do not stand out competitively among the wider majority of brokers these days, with offering just two types: Forex and Metals. All Forex and Metals available are however displayed on the website, with the spreads according to each, and relevant to each account type.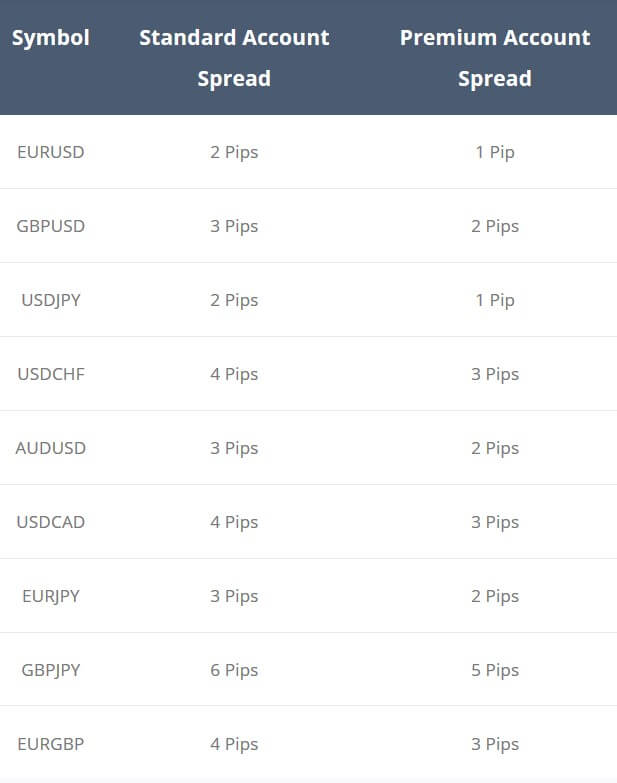 Spreads
Firstly, FirewoodFX offers only FIXED spreads, not floating, which may be ideal for some traders, while for others, perhaps not. FirewoodFX also offers different starting spreads depending on the accounts type you opt for, which are as follows:
Micro: from 3 pips
Standard: from 2 pips
Premium from 1 pip
Even so, each tradable hair has a different starting spread, so for each pair, it varies, as well as depending on the account option you go for. All starting spreads are displayed on the website too which is useful to refer to.
In general, if we compare the starting spreads to competitor brokers, the spreads offered by FirewoodFX are not entirely competitive for all pairs, and in fact, are a lot higher than average, and this goes for all account types.
Minimum Deposit
As mentioned earlier, the minimum deposit requirements depending on the account type you choose. All minimum deposits are low in comparison to what some brokers require, which makes this broker more appealing to perhaps the newer traders who are wary about depositing large sums, to begin with.
Micro min deposit: 10 USD
Standard min deposit:10 USD
Premium min deposit: 100 USD
Deposit Methods & Costs
FirewoodFX should be given credit for the wide array fo funding methods they offer, including Visa/Mastercard Debit/Credit Card ($0.5 + 5% fee), Skrill (3.9% fee), Neteller (4.4% Min $1 + $0.29 fee), UnionPay (2.6% fee), ACB, FasaPay and a handful of bank wire transfers are available.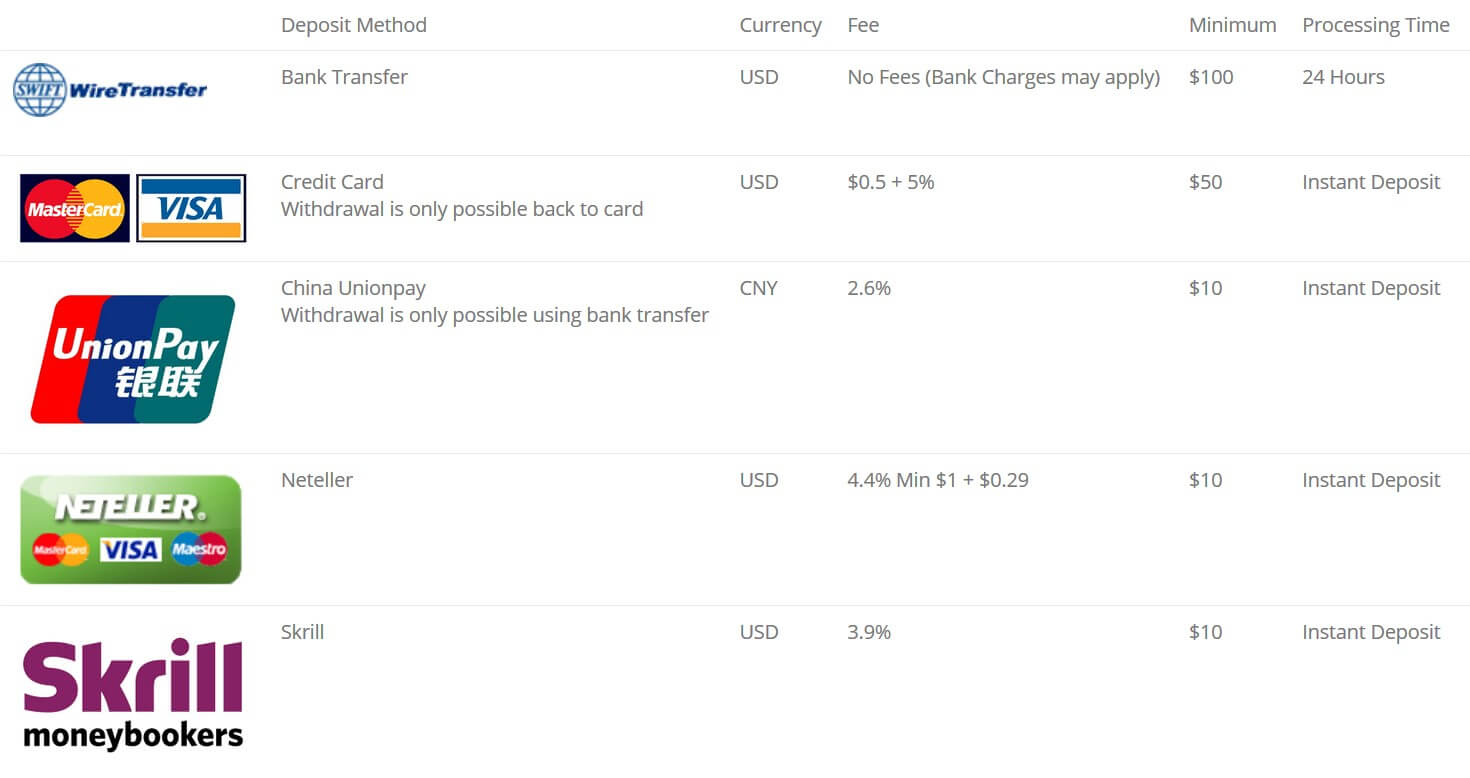 Note that if you are making a bank wire deposit, fees may be applied by your banking provider, so it is always best to check beforehand. As stated above, there are few methods with fees attached, so clients have a good selection of options to choose from.
Withdrawal Methods & Costs
As with the deposit methods, all withdrawal methods available are set out on the website with their applicable costs, which are the same, if not similar to the deposit fees. Of course, as per the above suggestion, for wire transfers, you should check with your provider as you may be liable for some fees.
Mastercard Visa card fees: $10
Neteller: Neteller Fees
Skrill: No Fee (For max $5000 withdrawal within 30 days) and 1% (For over $5000 withdrawal)
OK Pay: OKPay Fees
FasaPay: Fasapay Fee 0.5%, max $5

Withdrawal Processing & Wait Time
All withdrawal processing times are shown on the website, with all aside from wire transfer and card withdrawals (which are within 48 hours), are processed within 24 working hours. Of course, the time is taken for you to actually receive your funds may vary depending on your banking provider or third party processors.
Bonuses & Promotions
FirewoodFX offers a handful of bonuses and promotional schemes including a Deposit Bonus which all clients can take advantage of. This bonus scheme gives 20% of your deposit, on top of what you fund your account with. For example, if you make a $100 deposit or more, you will be eligible for a 20% bonus. Bonuses must not, however, be understood as giving you true extra margin and equity, and the policy to withdraw them are rarely met, therefore very very few traders actually ever get to withdraw their profit.

For Standard and Micro account holders, there is also a promotional offer whereby clients can receive up to $5000 Trading Reward. The slogan, which is highly encouraging for clients to rapidly deposit large sums, reads: 'The more you trade and deposit, the more bonus you get'. This in itself depicts the type of broker this is, seeking only large deposits form clients, using ploys like this to make this happen.
Educational & Trading Tools
FirewoodFX does offer regular daily news articles which are most helpful in one's everyday trading, while charting up, for example. In addition, a Forex Glossary and Margin Calculator can be found directly on the website, so there are ample tools for both the newer and more experienced traders to benefit from.
There is no specific trading educational material or packages to be found, however, this is not an issue for the newer traders out there, as you can easily find training material online, paid courses as well as free.
Customer Service
FirewoodFX offers a customer support team on a 24/5 basis should you require assistance. You may contact them via live chat or email, as you prefer. This broker does not offer a telephone line for support contact, however, the live chat prompt responds and is in fact, a more effective method of contact in the case of a trade query or issue.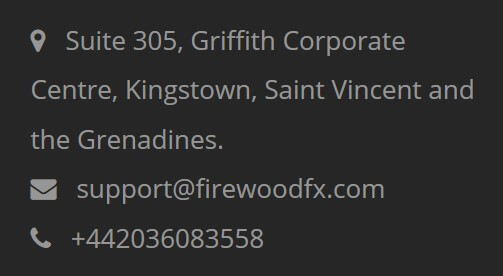 In regards to the quality of client support, this broker offers typically a fast response rate, and consistently a professional and comprehensive answer. In fact, it can be said that the support team is a stand out element of this broker!
Demo Account
As standard goes, FirewoodFX does offer a demo account, which is compatible via the MT4 platform. Ensure to make use of the demo to backtest your strategies alongside the trading conditions offered by this broker, prior to opening the live account, to avoid any nasty surprises.
Countries Accepted
In respect of FirewoodFX unregulated status, it should be known that traders from the USA would not be accepted to use these trading services, which is in fact stated in a disclaimer at the footer of the website.

Conclusion
This broker gives off a mixed signal in the sense that there are some aspects that are very appealing and preferable to traders, while other aspects may be questionable. For example, this broker offers a very small selection of tradable assets and fixed spreads (and they start high), while on the other hand, there are no trade commission fees, decent leverage options, and low minimum deposits. The more questionable side of things is when you consider the deposit bonus scheme which encourages clients to trade, at times, aggressively and without thinking clearly which more often than not, results in hefty losses. This is also made more than possible with the wide spreads and high leverage.
All things considered, this broker does do what it says on the tin, so to speak, and their transparency cannot be denied. In addition, their website is very clearly set out, and the customer support team is prompt and professional, and easily contactable. Having said that, this broker's trading conditions would seemingly be more suitable and appropriate for experienced traders, and not total novices.