Z.com Trade is a forex broker that was founded in 2005 as GMO Click and was rebranded in 2015 as Z.com. They are authorized and regulated by the Financial Conduct Authority and offer powerful technology, STP NDD execution, ultra-tight spreads, and comprehensive account service. That is according to the website, in this review we will be taking a look under the hood to see if they really do offer what they say.
Account Types
There are 4 different accounts on offer from X.com Trade, these are the Classic, ECN, ECN Plus and the professional account. Let's take a little look at what each account offers.
Classic Account: The classic account is like other accounts you will see on most brokers. It has a minimum deposit of $10,000 and the base currency can be in USD, EUR or GBP. It has leverage up to 1:30 and the minimum trade size is 0.01 lots. It has a floating spread which starts at 1 pip and there is no added commission when trading. The maximum trade size os 50 lots and the server is located in London.
ECN Account: The ECN account also has a minimum deposit of $10,000, this account can have a base currency of USD, GBP, and EUR. This account has a leverage of 1:30 and has a floating spread starting at 0 pips, due to the low spread there is an added commission of $4 per lot traded. There is also a maximum trade size of 50 lots and the server is also located in London.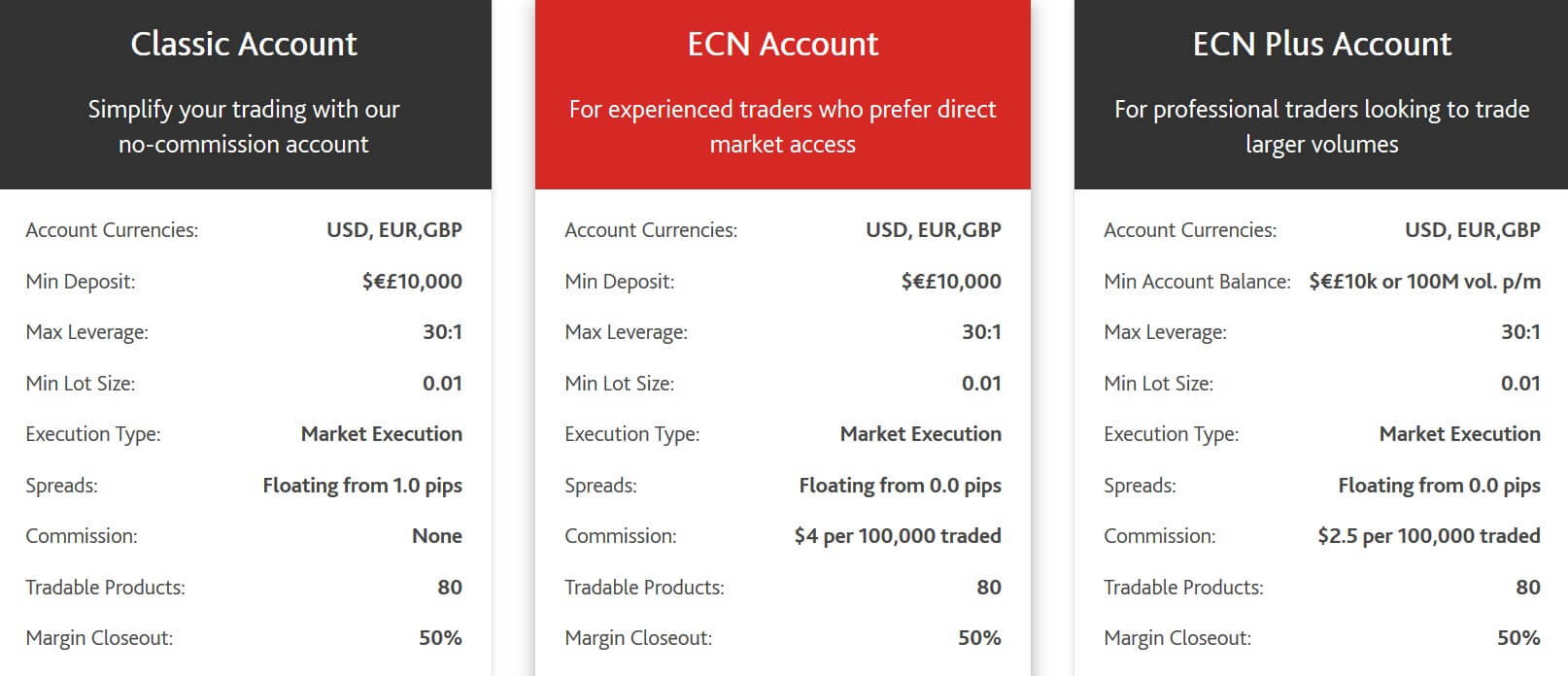 ECN Plus Account: This account is slightly different as it is based on a minimum balance or trade volume, it requires a minimum deposit of $10,000 or a trading volume of 100 million. It has a leverage of 1:30 and the minimum trade size os 0.01 lots and the maximum is 50 lots. It can have a base currency of USD, EUR or GBP and it also has a spread starting from 0 pips, the commission is slightly reduced and now sits at %2.5 per lot traded.
Professional Account: The professional account is very similar to the ECN Plus account in the fact that it requires a minimum balance of $10,000 or a trading volume of 100 million per month. This account has larger maximum leverage though as it has now increased up to 1:200, the spread remains as a floating spread starting at 0 pips with a commission of $2.5 per lot traded added to the account. The minimum trade size remains at 0.1 lots and the maximum is still 50 lots. The account can also use USD, EUR or GBP as the base currency.
Platforms
X.com Trade only has one main trading platform which is MetaTrader 4, it also uses an API function should you wish to trade that way.
MT4: MetaTrader 4 (MT4) is one of the world's most popular trading platforms and for good reason. Released in 2005 by MetaQuotes Software, it has been around a while, it is stable customizable and full of features to help with your trading and analysis. MT4 is compatible with hundreds and thousands of different indicators, expert advisors, signal providers and more. Millions of people use MT4 for its interactive charts, multiple timeframes, one-click trading, trade copying and more. In terms of accessibility, MT4 is second to none, available as a desktop download, an app for Android and iOS devices and as a WebTrader where you can trade from within your internet browser. MetaTrader 4 is a great trading solution to have.

API: There isn't too much information provided regarding the API functions but this is very advanced and you will already know all about it should you be attempting to use it. It allows you to access the markets through your own software using Z.Com Trades APIs settings.
Leverage
The maximum leverage available for the Classic, ECN and ECN Plus accounts is 1:30 this is due to the regulations that Z.com Trade has. The professional account allows you to have maximum leverage up to 1:200. The leverage can be selected when opening up an account, once an account is open you can request for it to be changed by getting in contact with the customer service team, there must be no active trades when requesting to have the leverage on an account changed.
Trade Sizes
Trade sizes for all accounts start at 0.01 lots which are also known as a micro lot, trades then go up in increments of 0.01 lots so the next available trade would be 0.02 lots and then 0.03 lots. The maximum trade size is 50 lots, this is relevant for all account types and is at an appropriate level as we never suggest making trades larger than 50 lots anyway.
Trading Costs
The classic account uses a spread based payment system that we will look into more later in this review. The ECN account has an added commission of $4 per lot traded, the ENC Plus and Professional account have a commission of $2.5 per lot added to the account, both of which are under the industry average of $6 per lot traded. There are also swap charges which can be both positive and negative for holding trades overnight, the swap charges can be viewed from within the trading platform itself.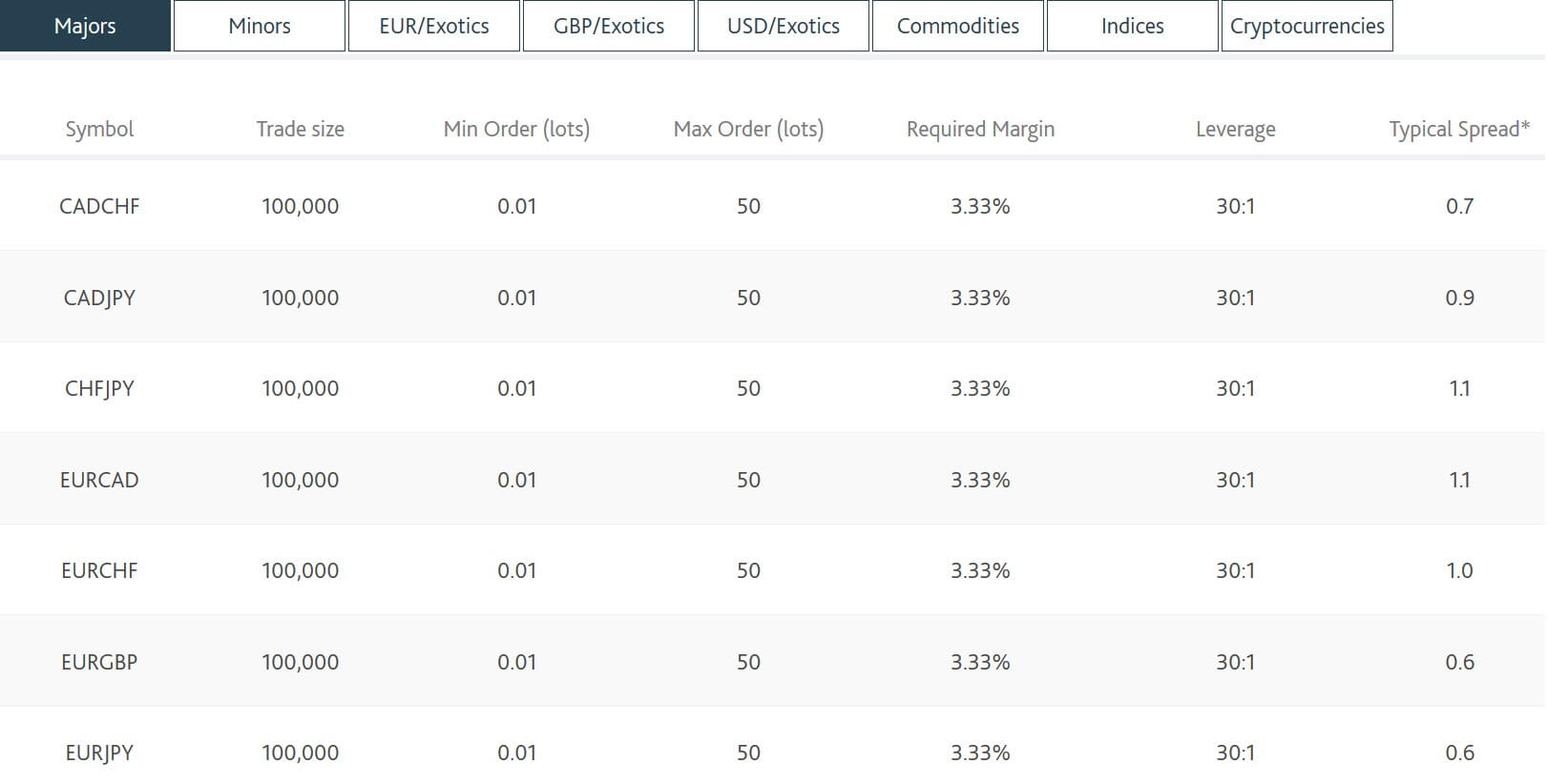 Assets
Z.com Trade has broken down their assets into 8 different categories, however, a number of them interlink with each other so there aren't actually as many.
Forex Majors: The forex majors include pairs such as CAS/CHF, EUR/GBP and EUR/USD, these are the major trading pairs that have the most liquidity and so the markets are more stable.
Forex Minors: The forex minor pairs include currency pairings like GBP/AUD, NZD/CHF and AUD/USD, these pairs have slightly less liquidity and so offer a slightly more volatile trading experience.
EUR Exotics: These are exotic pairs that are traded against the Euro, they include pairs like EUR/PLN, EUR/RUB, and EUR/CZK, these are much less frequently traded pairs so offer a lot of volatility, especially during news events.
GBP Exotics: Just like the EUR exotics, theses are less traded instruments which offer a lot of volatility, some examples are GBP/SEL, GBP/ZAR, and GBP/NZD
USD Exotics: Exactly the same except these ones are traded against the United States Dollar, they include pairs such as USD/MXN, USD/HUF, and USD/DKK
Commodities: There aren't as many commodities as you would expect, there are the usual metals of Gold and Silver and then some other commodities such as Coffee, however, the majority are other metals such as Copper and Nickel.
Indices: There are 10 different indices which include the usual suspects of UK 100, US 500 and DE 30.
Cryptocurrencies: The final category is cryptocurrencies which is great to see, coins such as Bitcoin, Ethereum, Ripple, Litecoin and Bitcoin Cash are available to trade against the US Dollar.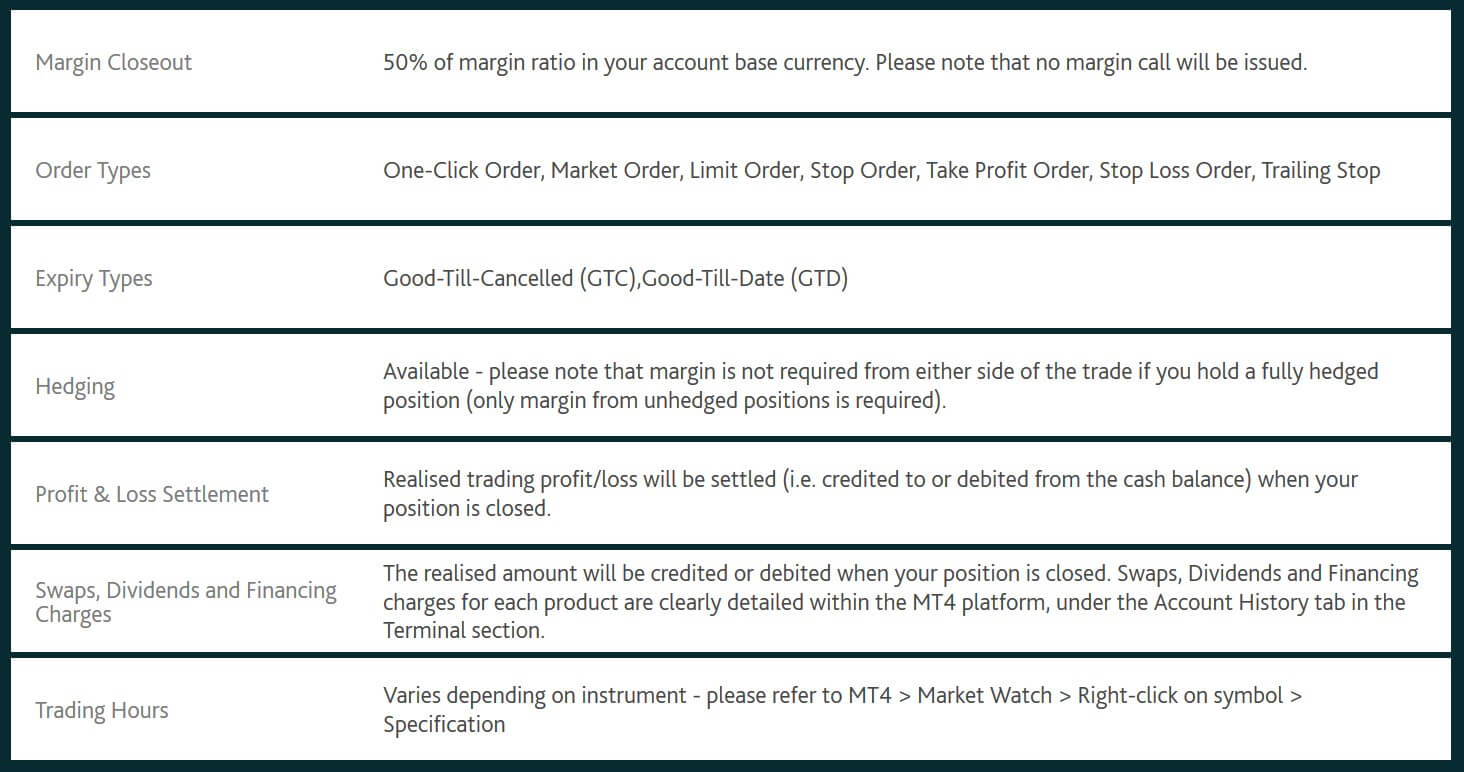 Spreads
The spreads that you receive are dependant on the account that you trade with and the instrument that you are trading. When trading on the classic account you have spreads starting from 1 pip, this means that they will not drop below this level, with all other accounts they are as low as 0 pips.
The spreads on all accounts are variable (also known as floating) which means that they move with the markets, when there is a lot of volatility in the markets the spreads will often be seen higher than the stated amount. It is also important to note that different instruments have different spreads, so while one instrument such as EUR/USD may have a spread starting at 1 pip, another currency pair may have a spread starting at 1.6 pips, so it is important to check the pair you are trading.
Minimum Deposit
The minimum deposit required to open an account seems to be $10,00 which is relatively high and could price out a lot of potential new clients. Normally when a broker requires a large amount to open an account any subsequent deposits into the already opened account have a reduced limit, however, we could not see any information regarding this on the website.
Deposit Methods & Costs
A few different ways to deposit your money into Z.com Trade, we have set out the table below in regard to the method and currencies available.
MasterCard – USD, EUR, GBP
Visa – USD, EUR, GBP
Co-branded Cards – USD, EUR, GBP
Neteller – USD, EUR, GBP
Skrill – USD, EUR, GBP
WebMoney – USD, EUR
2C2P – USD
Bank Wire Transfer – USD, EUR, GBP
There are no added fees for deposits as Z.com Trade has decided to cover all transfer costs when depositing funds.

Withdrawal Methods & Costs
The same methods are available for withdrawing, unfortunately, there are some added fees for withdrawals and we have outlined them for you below.
MasterCard – 2.6%
Visa – 2.6 %
Co-branded Cards – 2.6%
Neteller – 2%
Skrill – 1%
WebMoney – 1.85%
Bank Wire Transfer – 0GBP, 20 EUR, 25 USD
Withdrawals must be made to the same method that you used to deposit.
Withdrawal Processing & Wait Time
Requests made before 12:00 UK time will be processed the same day, any requests after this time will be processed on the next working day. You can only make one withdrawal request per day. Neteller, Skrill, and WebMoney will arrive in your account around 15 minutes after the request being processed, credit/debit cards and bank wire transfers will take between 1 – 5 business days to appear in your bank account.
Bonuses & Promotions
There is the usual affiliate program and introducing broker program but we will not be going into that in detail, apart from these there does not appear to be any active promotions, there may have been in the past and there may be new ones in the future so be sure to check back regularly if you are looking for bonuses.
Educational & Trading Tools
We could not locate any educational tools or trading tools on the website so it does not appear that there are any which is a shame as a lot of more modern brokers are actively trying to help their clients become better traders so it would have been nice to see X.com Trade do the same thing.
Customer Service
Should you wish to get in contact with Z.com Trade you can do so in a few different ways, you can use the online chat feature where you can talk to a representative through a chat client. This support is open between 09:00 and 17:00 UK time from Monday to Friday. You can also get in touch via phone, there is a UK phone number which has the same opening times of 09:00 to 17:00 UK time from Monday to Friday. Finally, there is a postal address should you wish to send a physical letter.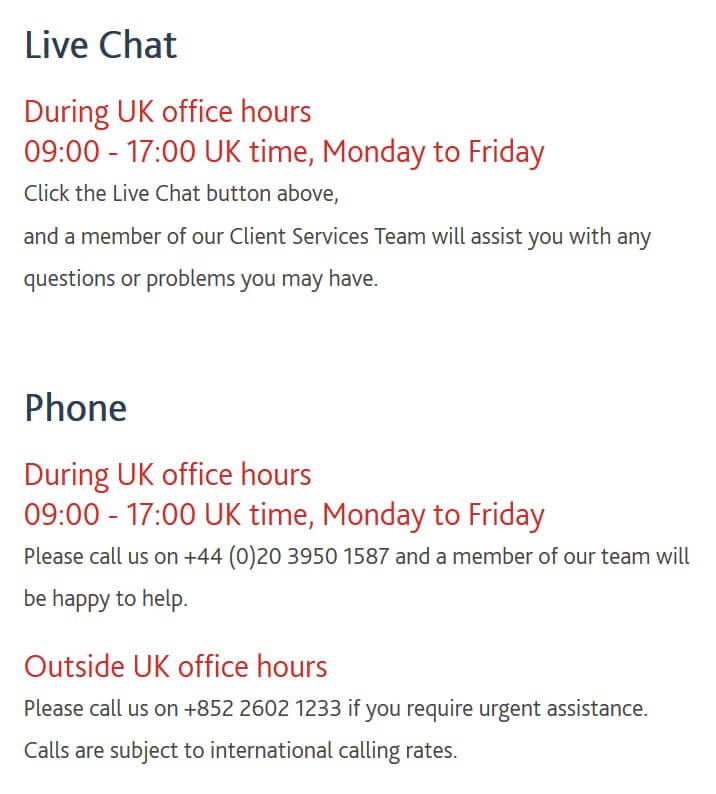 It is a shame that the support is not available 24 hours a day as many traders may have issues during the night and there would be no way to get any assistance until the morning.
Demo Account
Demo accounts are available, you can sign up by clicking the try demo button, but at this point in time Z.com Trade is not accepting new clients, the demo account can mimic any of the trading conditions of the 4 available account types. There was not any information in regards to how long they last though as some brokers allow them to work indefinitely and others put time limits such as 30 days before they expire so it would have been nice to know this information.
Countries Accepted
We could not locate any information in regards to eligible or excluded countries so if you are unsure we would recommend getting in touch with the customer service team in order to get a definitive answer.
Conclusion
The service being offered by Z.com Trade seems competitive and competent, the main downside right now is that Z.com Trade is not currently accepting new clients, we spoke to the customer service team and this may change in the future but at the moment no new clients are able to join. The trading conditions are good with decent spreads and very low commissions, they also have plenty of tradable assets and the main downside being the reduced maximum leverage for all accounts except the professional account. If you are interested in joining X.com Trade we would recommend keeping an eye out for when (if) they open up for new clients again.
We hope you like this Z.com review. If you did, we invite you to check out some of the other reviews on Forex Academy to help find the broker that is right for you.