NumerousFX is an online FX and CFD broker that offers leveraged trading as high as 1:1000 on FX, precious metals, CFDs, and cryptocurrency pairs. The company was founded in the year 2008 by a group of financial experts and professionals, with years of experience in financial trading and technical support. The broker is located in the United Kingdom and offers the advantage of choosing from 5 account types; however, one would definitely want to read more about those terms before deciding whether to open an account.
Account Types
NumerousFX offers the choice of five different account types: Basic, Classic, Premium, Pro, and Advanced. The Basic account offers the lowest deposit requirement, with a leverage cap of 1:300 and spreads from 2.5 pips. From there, one would find an incentive to make a larger deposit in the form of higher leverage options and lower spreads. The Classic account offers a leverage cap of 1:400 with spreads from 2 pips, although the deposit requirement jumps to $1,000.
The Premium account shares the same starting spreads as the Classic account, although the account offers a higher leverage option and requires a $5,000 deposit. Spreads start from 1.5 pips on Pro accounts, with leverage options as high as 1:700 and there is a $10,000 deposit requirement on this account type.
Finally, the Advanced account offers a maximum leverage cap of up to 1:1000 and spreads start from 1 pip, with a deposit requirement of $50,000. There are no commission charges on any of the accounts. None of these accounts offer swap-free options, so those looking for Islamic accounts will have to look elsewhere. All aforementioned conditions have been listed below.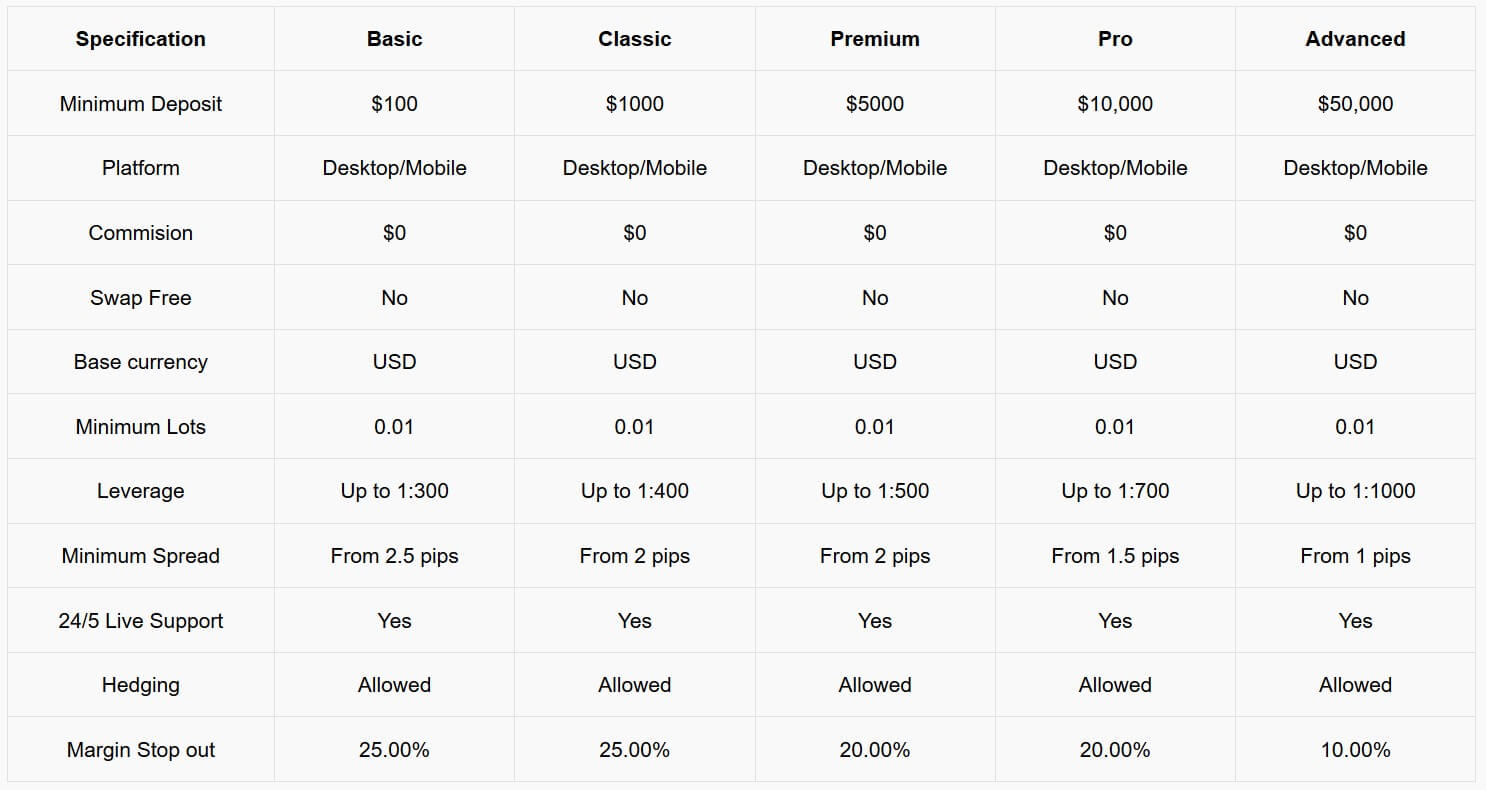 Basic Account
Minimum Deposit: $100
Leverage: Up to 1:300
Spread: From 2.5 pips
Commission: $0
Classic Account
Minimum Deposit: $1,000
Leverage: Up to 1:400
Spread: From 2 pips
Commission: $0
Premium Account
Minimum Deposit: $5,000
Leverage: Up to 1:500
Spread: From 2 pips
Commission: $0
Pro Account
Minimum Deposit: $10,000
Leverage: Up to 1:700
Spread: From 1.5 pips
Commission: $0
Advanced Account
Minimum Deposit: $50,000
Leverage: Up to 1:1000
Spread: From 1 pip
Commission: $0
The broker doesn't mention anything about account verification on their website, so it is unclear whether ID and/or address documents would be required before one could fund their account and begin trading.
Platform
This broker exclusively supports the MetaTrader 4 trading platform. Links to download and access the platform can be accessed from the broker's website by navigating to the "Downloads" tab. Note that the NumerousFX server can be accessed by choosing with the server name PROFX. Most have already heard about this platform and know that it comes loaded with features and supports trading styles that will suit all types of traders.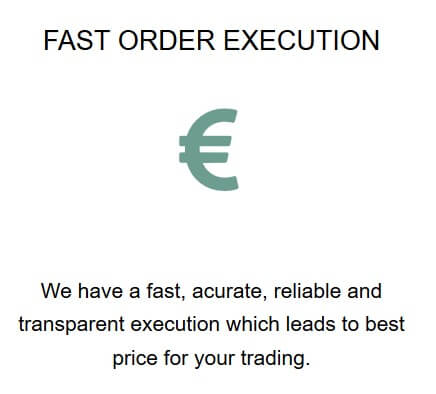 If you haven't heard about MT4, you should know that the platform supports one-click trading, trailing stops, Expert Advisors, customizable charts, a user-friendly interface, analysis tools, multiple order types, 4 pending timeframes, micro-lots, and more. MT4 is accessible on PC, Mac, iOS, and Android devices, or through the WebTrader.
Leverage
Leverages with this broker range from 1:300 up to 1:1000. The lowest leverage cap is reserved for the Basic account and is still high enough to satisfy a broad range of traders. The Classic account raises the cap to 1:400, while the Premium account offers a maximum cap of 1:500. From there, options become much higher than average at 1:500 on Premium accounts and 1:700 on Pro accounts. The Advanced accounts offer an advantage to professional traders, being that the account offers a leverage of up to 1:1000. Options are typically much more limited for account types that require larger deposits with other brokers.
Trade Sizes
All accounts allow for the trading of micro-lots and maximum trade sizes are not listed anywhere on the website. Stop out occurs at 25% on Basic and Classic accounts, 20% on Premium and Pro accounts, and 10% on Advanced accounts. The broker does not specify whether hedging or scalping is allowed.
Trading Costs
NumerousFX has done away with commissions altogether and only profits from spreads and swaps. The fact that all trading costs are built-into the spreads makes it easier for one to calculate the exact costs that are being incurred, so this is always an advantage for beginners. Do note that spreads seem a bit higher than average, although spreads are raised to make up for the missing commissions. As for swaps, these charges would be incurred on positions that are held overnight, with triple charges on Wednesdays. There do not appear to be any inactivity charges associated with this broker.
Assets
NumerousFX has a very simplistic website – one that, unfortunately, fails to list a product page. We can still tell you that the broker offers currency pairs, precious metals, CFDs on commodities and indices, and a number of cryptocurrency pairs, including Bitcoin, Dash, Ethereum, Litecoin, and more. Sadly, we can't offer more details, like the exact number of available instruments, or more detail about each category.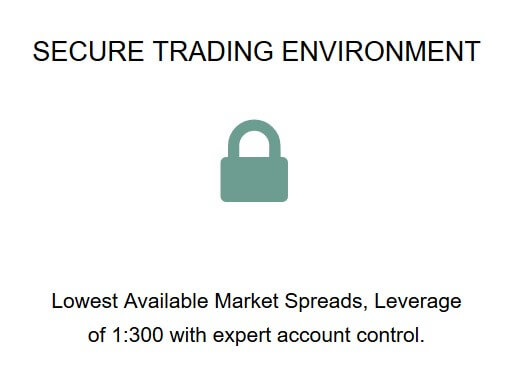 Spreads
One should expect spreads to be a bit higher with this broker, considering that all of the costs are built-into the spread due to the lack of commission charges. Still, the starting spreads from 2.5 pips seem a bit high for the Basic account type and one would need to make a deposit of at least $1,000 to access the starting spreads from 2 pips on the Classic and Premium account types. The starting spreads drop to a much more reasonable level from 1.5 pips on Pro accounts. To access the best spreads possible, one would want to open an Advanced account, which offers spreads from 1 pip.
Minimum Deposit
If you're looking to deposit less than $1k, then your only option would be the Basic account type, which has a $100 minimum deposit requirement. From there, requirements jump into the thousands, at $1,000 on the Classic, $5,000 on the Premium, and $10,000 on the Pro account. The most expensive account would be the Advanced account, which comes with a steep $50,000 deposit requirement.

Overall, it seems that the broker is offering a good range of different account types, although it would be nice to see less expensive options, at least on the Classic account. One can open an account with as little as a few dollars through some bigger brokers, although the $100 minimum for the Basic account is a realistic number.
Deposit Methods & Costs
According to the website, accounts can be funded via Bank Wire, Visa/MasterCard, Neteller, Skrill, and WebMoney. The website doesn't go into any further detail about costs or wait times, although it's safe to assume that there are likely fees associated with the majority of these methods. This can be said for Bank Wire especially, as the bank will apply their own charges on deposits. The lack of transparency when it comes to these costs is somewhat disappointing and unfortunately, this pattern repeats itself as we move on to withdrawals. One suggestion would be to make the smallest initial deposit possible in order to test the process.
Withdrawal Methods & Costs
Once again, the website fails to provide us with any solid information about withdrawals. With most brokers, we do see rules in place that force withdrawals to be made back to the original deposit source, for example, if one were to initially deposit $100 through a card, then rules would require one to withdraw funds back to that card up to $100.
We don't see any pages dedicated to terms or conditions on the website, so it is unclear whether this broker follows that familiar trend. As for fees, one should definitely be prepared to see costs when it comes to withdrawing funds. If withdrawals were fee-free, this would definitely be something that the broker would boast about somewhere on their website.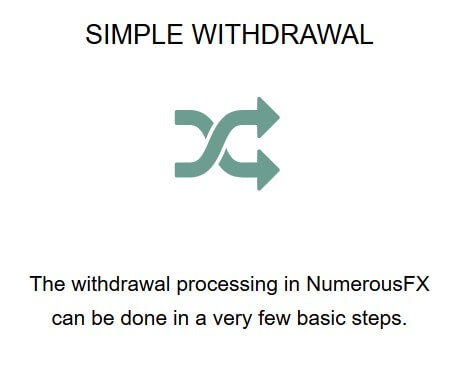 Withdrawal Processing & Wait Time
The website doesn't provide any information that gives us a substantial idea of how long wait times may be for withdrawals. We do know that customer support is active 24 hours a day, Monday through Friday, so withdrawals are likely processed during these hours, with a longer wait time for a request that is submitted on a Friday. Bank Wire and Visa/MasterCard withdrawals typically take longer to be received based on the bank's processing times.
Bonuses & Promotions
At this time, the broker is not offering any type of bonus or promotion. We usually read through broker's terms and look for hints on the website that suggest that these types of opportunities may be offered from time to time; however, this broker's website remains simple and does not seem to refer to bonuses at any point. This leaves little room for faith that we will see these options offered through this broker at any time.
Educational & Trading Tools
As we mentioned earlier, this broker's website is fairly simple and nothing extra is offered in the ways of education. NumerousFX has even failed to offer simple demo accounts, which will force beginners and novice traders to look elsewhere for learning material. This doesn't actually affect whether one should open a real account, it's just nice to see brokers making an effort to educate their clients and make the process easier by offering those resources directly. We also failed to find any tools on the website, although MT4 does come loaded with some helpful tools that will somewhat make up for the lack of options on the website.
Demo Account
Surprisingly enough, we don't see the option to open a demo account available through this broker. The majority of forex brokers offer demo accounts to their potential clients free of charge, as a way to allow traders to test out their conditions and gain experience trading without risking funds. We're disappointed to see the option missing here, especially coupled with the fact that the broker isn't offering any educational resources at all.
Customer Service
One can get in touch with a support agent at any hour on weekdays through phone, email, by filling out a form on the website, or Skype. While we did try to contact the broker's support team on Skype, our search result did not yield any results when using the company's provided Skype ID. Hopefully, the broker will correct this issue, otherwise, traders will only be left without an instant contact option.
There's nothing wrong with email, although response times typically take 24 hours or more through this method. If one were in a hurry because of a technical error or missing funds, then we would certainly hope to be able to contact an agent more quickly. All contact methods have been listed below, including the currently non-active Skype ID.
Email: [email protected]
Phone: +44 (0) 3700 0106
Skype: supportnfx
Address: 20 Ropemaker Street, Finsbury, London, EC2Y 9AR, UK

Countries Accepted
The broker doesn't list any restricted countries anywhere on their website. Instead of offering a traditional registration page, the broker directs potential clients to fill out a form with a message to send to support. The form does ask for the trader's country and allows anything to be typed in. This leaves it unclear as to whether the broker would reject clients from certain countries.
Conclusion
NumerousFX offers leveraged trading as high as 1:1000 on FX, precious metals, CFDs, and cryptocurrencies from the MT4 platform. Traders can choose from five separate account types, all of which offer commission-free trading. Deposit minimums range from $100 to $50,000, and the Basic account type is the only option for less than $1k. Spreads are floating, starting from a below-average 1 pip all the way up to an above-average 2.5 pips, with starting spreads being dependent on the chosen account type.
Funding is iffy with this broker – there is no information listed about the associated fees on deposits and withdrawals, nor are processing times listed. This makes us apprehensive about making a deposit. Support is available 24/5 via phone, email, or Skype. Currently, there are no current offers or signs that the broker will be offering any bonuses or promotions any time in the future.
The website is also lacking any educational resources, including demo accounts, and tools. It is unclear whether those in the US and other commonly restricted locations would be able to get passed the registration process with this broker. One would definitely want to take all of this into consideration before opening an account.