ETFinance is a forex broker based in Cyprus and is regulated by the Cyprus Securities and Exchange Commission (the "CySEC"). Their mission is to provide a firm foundation and a cutting edge platform to allow traders to reach their full potential. During this forex broker review, we will be looking at different aspects to see if they live up to this and so you can decide if they are the right broker for you to trade with.
Account Types
There are three accounts available when trading with ETFinance, these are Silver, Gold, and Platinum, we will take a look at the requirements and features of these accounts are.
Silver: This being the lower value metal is the entry-level account for ETFinance. It is unknown at this time what the deposit requirement is but the account comes with over 750 tradable assets, 1:30 maximum leverage for retail traders and 1:400 / 1:500 for people classed as professional. Spreads start at 0.07 which is unclear but we will go into more details regarding spreads later in this review.
Gold: The gold account has a slightly reduces spread at 0.05, leverage remains the same for both retail and professional traders. This account comes with a dedicated account manager, access to webinars and videos and also allows hedging. There is also a nice 25% discount for swap charges.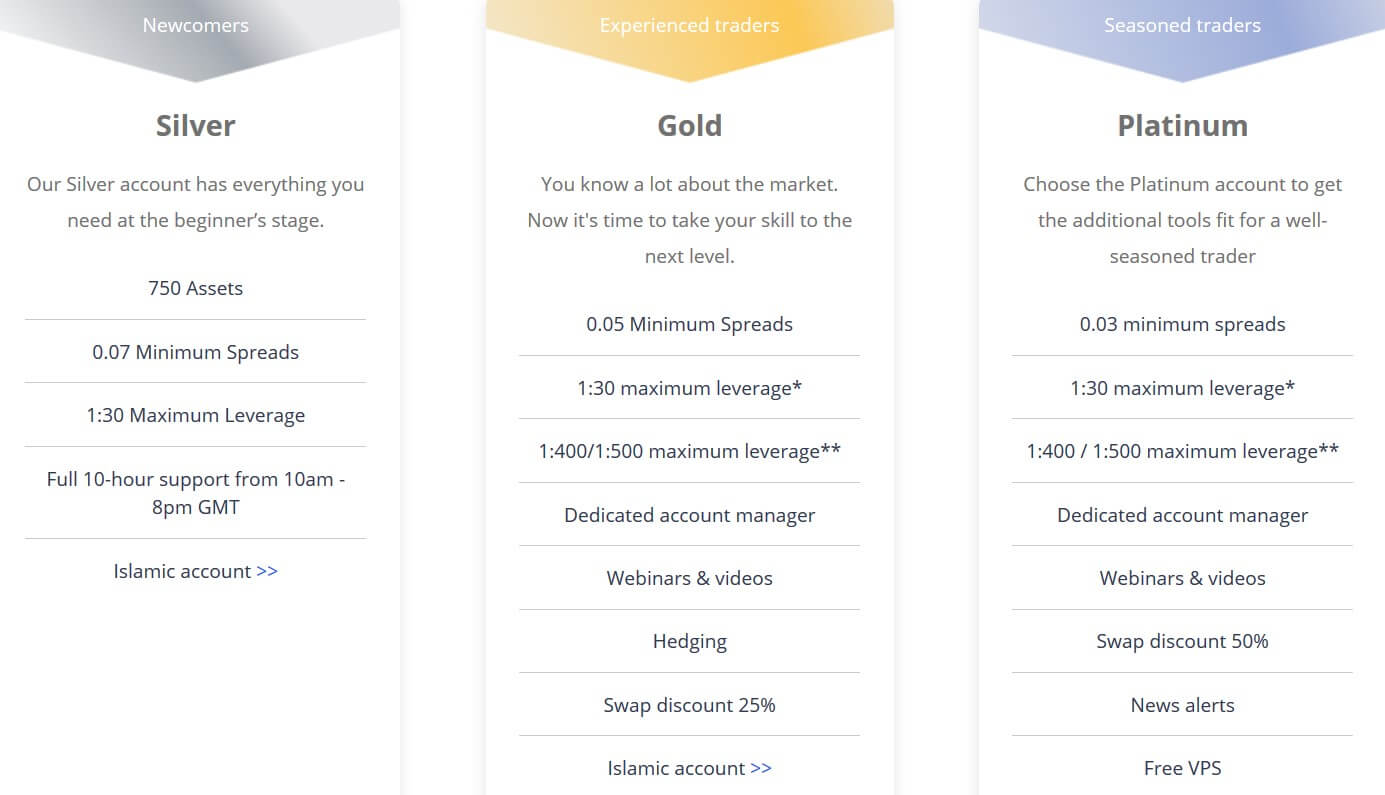 Platinum: The platinum account is the top-level account, it further reduces the spreads to 0.03 and leverage remains unchanged. This account also has access to an account manager, webinars and videos, a further reduced 50% discount on spreads and now also has news alerts and a free VPS.
All account types can be used as an Islamic account if you are not allowed to receive or pay interest such as swap charges due to your beliefs.
Platforms
Just the one platform on offer from ETFinance and that one platform is MetaTrader 4.
MetaTrader 4 (MT4) is one of the world's most popular trading platforms and for good reason. Released in 2005 by MetaQuotes Software, it has been around a while, it is stable customizable and full of features to help with your trading and analysis. MT4 is compatible with hundreds and thousands of different indicators, expert advisors, signal providers and more. Millions of people use MT4 for its interactive charts, multiple timeframes, one-click trading, trade copying and more. In terms of accessibility, MT4 is second to none, available as a desktop download, an app for Android and iOS devices and as a WebTrader where you can trade from within your internet browser. MetaTrader 4 is a great trading solution to have.
Leverage
Leverage varies depending on how ETFinance class you as a trader, if you are assigned as a retail trader (someone who is new to trading) then you will have a leverage up[ to a maximum of 1:30, if you are classed as a professional trader, then you will have a maximum leverage up to 1:400 or 1:500, how the difference between 1:400 and 1:500 is decided we do not know. We are also currently unsure of what ETFinance constitutes as a professional client and what they require to assign you as one.
Trade Sizes
Trades start at 0.01 lots which are also known as a micro lot, trades then go up in increments of 0.01 so the next trade would be 0.02 lots and then 0.03 lots. We are unclear what the maximum trade size is but whatever it is, we do not recommend trading over 50 lots in a single trade as it will become harder and harder for liquidity providers and the market to execute trades quickly without any slippage the bigger they become.
It is also important to note that different assets will have different minimums and maximums, as an example forex pairs have a minimum of 0.01 lots while some commodities or indices will have minimums of 0.1 lots.
Trading Costs
There are no commissions charged on any of the accounts with ETFinance, at least not according to the website, each account uses a spread based system that we will look into later on in this review.
There are swap fees charged on accounts though, these are either paid or received when holding a trade overnight, they can be viewed directly within the MetaTrader 4 trading platform. If you have an Islamic account then you will not pay these, however, there will be an administration charge added to the account.
Assets
Plenty of assets on offer, in fact, the website states that there are over 750 available to trade. These are broken down into 5 different categories. In the forex group, you have major pairs, minor pairs, and exotic pairs, these include the likes of EUR/USD, AUD/NZD and CHFJPY. There are also crypto pairs, and there are a lot of them, too many to list individually but the major coins such as Bitcoin, Ethereum, Litecoin, and Ripple are there and tradable against multiple different currencies.
There are indices such as the FTSE 100, DAX 30 and SP 500 along with many more. Commodities are also present and there are plenty of them, including metals such as gold and silver along with others such as Coffee, Corn and Orange Juice. Finally, there are stocks, this is where the majority of the 750+ assets mentioned lie with stocks from the USA, Europe and the rest of the world present and tradable.
Spreads
The spreads mentioned on the accounts page can be a little confusing, usually, it states the spreads for currency pairs, however on the accounts page it is going for the lowest spread possible which comes with some of the commodities.
In regards to currency pairs, they are as low as 0.7 pips on the platinum account, the crypto pairs have floating spreads and no minimum is given on the website. All spreads are technically floating (variable) which means that they move with the market and when there is a lot of volatility will often be seen much higher than the stated amount.
It is also important to note that the minimums stated are for the platinum accounts and the lower tier accounts will have slightly higher spreads as a minimum. The final point to note is that not all pairs and assets have the same starting spread, EUR/USD as an example has a minimum spread of 0.7 pips while AUD/CAD has a minimum of 3.6 pips.
Minimum Deposit
There isn't much information regarding the deposits and what the minimum deposits are which is a shame as this is important information for potential clients so not seeing what this information can put a lot of potential clients off. Scouring the internet, it appears that the minimum deposit is either $200 or $250 as different sources offer different amounts as a minimum.
Deposit Methods & Costs
Just three methods available for depositing and they are the once most frequently found with forex brokers. You can deposit via credit and debit card, Trustly, bank transfer, and Skrill. There are no added fees when depositing but be sure to check with your own bank just in case they charge their own transfer fees. There may be other methods to deposit, but we were not able to locate them.

Withdrawal Methods & Costs
You can use the same methods to withdraw as you do to deposit, similarly to the deposits, there are no added transfer fees by ETFinance however check with your own bank to see if they will charge any incoming transfer fees.
It should be noted that if you deposit and then withdraw with only 1 or fewer trades being made, ETFinance may charge a withdrawal fee of $50, so ensure that at least 2 trades have been made before withdrawing.
Withdrawal Processing & Wait Time
Withdrawal requests will be processed on the day they are made as long as the request is before 11 am GMT, if they are made after 11 am GMT then they will be processed the next working day. Credit and debit cards will then take an additional 1 to 5 working days and bank transfers a further 3 to 5 days before they clear into your account. Trustly and Skrill withdrawals should arrive within 20 minutes of the request being processed,
Bonuses & Promotions
There wasn't any clear information regarding any promotions or bonuses apart from the usual affiliate program where you can refer others to use ETFinance. Due to there being no information it does not look like there are any active promotions or bonuses but if you are interested in them, be sure to check back regularly to see if any have popped up.
Educational & Trading Tools
On the outside, it appears that ETFinance offers quite a lot when it comes to education. They offer some webinars and it seems like they have one every few days, plenty of ended events and it does not appear that you can rewatch the ones that have already been which is a shame. There is also an earnings calendar which is based around the earnings reported by a lot of companies, not really beneficial unless you are a stock trader. Articles are the next section which as well, articles about various different aspects of trading and about different things that may affect your trading.
There is also a video section that has a number of different videos about various subjects including MetaTrader 4, and different things like a risk in trading. There are also some Ebooks to download, we didn't get to take a look but there are a few on topics that could be helpful to new traders. Finally, there are courses and tutorials which go over a number of different trading aspects to help give you the edge.
While there is a lot of content, none of it is truly groundbreaking and is very similar to other sources on the internet.
Customer Service
The contact us part of the site is a pretty standard one, there is everyone's favorite online contact form where you fill in your query and can expect to get a reply via email. There is also an email address that you can email your query directly. A phone number is also available should you wish to talk to someone directly and finally, there is a live chat to get to talk to someone quickly.

We tested out the live chat and got a response quite quickly, the person on the other end was helpful and understood our questions well. The customer service team is open Monday to Friday between 8 am and 8 pm GMT.
Demo Account
We could not locate any information regarding demo accounts so it does not appear that there are any available if there are then they are not advertised very clearly. We always feel that it is beneficial for a broker to offer demo accounts as it gives potential clients a way to test the servers and also to test out any strategy that they may have without risking any real money. If demo accounts are not available then it is something that ETFinance should definitely look into getting them.
Countries Accepted
There wasn't any clear information regarding which countries are accepted or not, the only clear detail was that clients from the USA are not able to join. If you are unsure if you are eligible for an account, be sure to get in contact with the support department to find out.
Conclusion
ETFinance seems to be running quite a competent platform, their initial accounts do not have the best trading conditions however the upper accounts have much better conditions. There needs to be more information available on the site in regards to deposits and withdrawals as well as the requirements for opening each account as they must be different due to the drastic improvements in the trading conditions. This along with the lack of demo accounts can make it hard to recommend, the big plus was a helpful and quick response from a customer service representative. It is now up to you to decide if you feel that ETFinance is the right broker for you.
We hope you like this forex broker review. If you did, be sure to check out some of the other reviews to help find the broker that is right for you.