Topic Markets, otherwise known as TMFX, is an online FX & CFD broker that is located in the United Kingdom. The company is registered with the Vanuatu financial service commission under the name TI Securities Limited and has managed to attract a growing number of clients since its establishment in 2018, although the website doesn't provide us with an exact figure. The company offers leveraged trading as high as 1:400 on FX, metals, and CFD options. Stay with us to find out more about the conditions on the broker's five different account types.
Account Types
Topic Markets features five different account types: Classic, Pro, Premium, VIP, and Islamic/Swap-Free. The Classic account provides a typical trading experience, minus the ability to trade metals, with the lowest deposit requirement and the highest leverage option. The Pro account keeps spreads at the industry average or below while providing access to metals and offering a commission-free experience. The Premium and VIP accounts reward those that can make larger deposits with tight spreads, although commissions are charged are both accounts. It's also nice to see an account created specifically for clients of the Islamic religion, as many others seem to offer these accounts as an afterthought. The drawbacks to choosing this specialized account would be higher spreads and a lack of market execution.

Classic Account
Minimum Deposit: $200
Leverage: 1:400
Spread: 1-2 pips
Commission: None
Instruments: FX & CFDs
Pro Account
Minimum Deposit: $3,000
Leverage: 1:200
Spread: 0.8-1.5 pips
Commission: None
Instruments: FX, CFDs, & metals
Premium Account
Minimum Deposit: $7,500
Leverage: 1:200
Spread: 0.1-0.5 pips
Commission: Yes
Instruments: FX, CFDs, & metals
VIP Account
Minimum Deposit: $15,000
Leverage: 1:100
Spread: 0.1-0.5 pips
Commission: Yes
Instruments: FX, CFDs, & metals
Islamic/Swap-Free Account
Minimum Deposit: $1,000
Leverage: 1:200
Spread: 3 to 5 pips
Commission: Yes
Instruments: FX

Platform
The broker supports the award-winning MetaTrader 4 platform, available on PC, mobile, tablets, or through the WebTrader, in addition to their own mobile platform, which can be downloaded on Android and iOS devices. MT4 is a timeless option and is most commonly chosen by forex brokers, due to the wide range of tools and features that are built into the platform. Within MT4, we see Expert Advisors, multiple languages supported, the ability to trade micro-lots, and other extra features that aren't always supported by others. The broker describes their own platform as having a sleek look and feel, with robust trading options, new execution gestures, and the most accurate market rates.
Leverage
The highest leverage option goes up to an impressive 1:400 on the broker's Classic account. This would be the best option for those that absolutely require a large leverage ratio for trading. Meanwhile, the Pro, Premium, and Islamic accounts all offer leverage as high as 1:200. This amount should be satisfactory enough for most traders since many find it too risky to trade with a leverage level that is higher than this. As for the VIP account type, we see the lowest limit at 1:100. Brokers often place these limitations on accounts that require large deposit amounts, so it isn't surprising to see the lower cap here.
Trade Sizes
The Classic account is the only option that allows for the trading of micro-lots. The Pro and Islamic accounts set the minimum at one mini lot, while the Premium and VIP accounts require a minimum trade size of 1 lot. The Classic account allows for 100 simultaneously open orders, the Pro and Islamic accounts allow for 200 open orders, and the Premium and VIP accounts allow for 300 open and pending orders. As for the exact margin call/stop out levels and maximum trade sizes, the website isn't as transparent.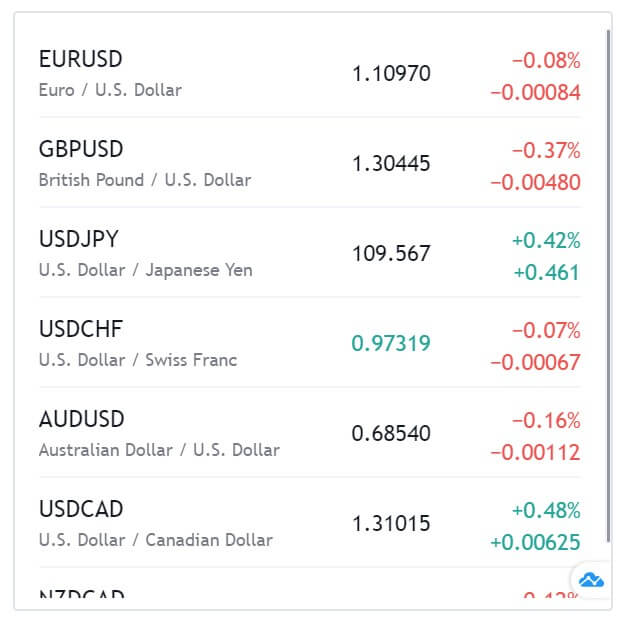 Trading Costs
Topic Markets profits through typical charges on spreads, commission fees, and overnight financing fees (or swaps). Starting with commissions, we will note that these charges aren't applicable on the Classic and Pro account types. One thing that the website fails to cover is the exact charges incurred through these fees. As fans of transparency, we are disappointed that the exact figure isn't available. We are also curious as to whether the broker charges the same standard commissions on each of these accounts, or if each account has a different charge.
We'll offer more detail on spreads later, but for now, traders should know that most accounts keep the spreads well-below average, with the exception of a couple of the accounts. Overnight interest charges can be viewed within the MT4 platform and will be charged on applicable positions that are left open overnight, with triple charges occurring on Wednesdays. The broker does not seem to tack on any extra fees, like inactivity fees, transfer fees, etc.
Assets
Before we provide more detail on the available instruments, we'd like to remind traders that there are some limitations on the Classic and Islamic accounts that exclude those account holders from trading metals. Otherwise, the broker's instrument portfolio consists of FX, metals, and CFDs. More than 50 currency pairs are available, while the broker also offers CFDs on stocks, indices, commodities, and energies like oil and gas. Metal options include Gold, Silver, and Pallidum, in addition to a few other possible options.

Spreads
All of the spreads offered by Topic Markets are floating, however, there are limitations that stop spreads from going higher than a certain amount. This is reassuring, as we often notice that brokers advertise the lowest possible spread when their options can climb much higher. Those with the Premium and VIP account types will see the tightest spreads, which start from 0.1 pips and go no higher than 0.5 pips.
The Pro account comes in second place, with options beginning at 0.8 pips and topping out at the industry average of 1.5 pips. From there, we see higher spreads on the Classic account, which are between 1-2 pips. On the bright side, the account doesn't have any commission charges, meaning that this offer is fairly competitive. Islamic account holders will see much higher spreads that range from 3 to 5 pips. The higher options would stem from the lack of swap charges, although this option still seems high, considering that Islamic account holders pay commissions.
Minimum Deposit
The broker's lowest deposit offer is $200 on their Classic account. The asking amount is so-so, as many others allow a deposit of around $100 or less on at least one account type. Islamic account holders will have to make a significant deposit of at least $1,000 in order to open one of those accounts. Even though this broker has paid special attention to those clients, some may be forced to look elsewhere for a cheaper option.
The Pro account requires a $3,000 deposit, while the Premium account asks for $7,500, and the VIP asks for the highest deposit at $15,000. Note that the Premium account has an ongoing promotion that lowers the account's requirement to $5,000 for now. Many traders may be limited to the Classic account because of the higher requirements this broker is asking for on most of their accounts.
Deposit Methods & Costs
Accounts can be funded through bank wire, credit/debit cards, and Neteller. Transactions through bank wire are handled by the company's affiliate bank, which can almost definitely guarantee that fees will be applicable on deposits. However, the broker mentions that any fees incurred on deposits will be reimbursed, so traders will definitely want to check with support if there are fees deducted when funding through any method.
Withdrawal Methods & Costs
The broker doesn't offer much information about withdrawals on their website, other than mentioning that all deposit methods are available for withdrawals and that it is necessary to withdraw through the method that was used to fund the account. The fact that the broker isn't willing to provide us with information about potential fees is concerning. We would definitely recommend making a test withdrawal to be aware of any hidden charges.
Withdrawal Processing & Wait Time
The broker mentions that withdrawals are processed instantly. Typically, it can take companies anywhere from 1 to 5 business days to process funds. Once those funds have been sent, we see a waiting period of at least a few business days. Neteller would likely be the fastest option since e-wallets are usually credited with funds much more quickly than bank wire and card options are.

Bonuses & Promotions
The broker has an entire section of their website dedicated to promotions, which includes the following offers:
30% Cashback & Rebate
Introduce & Earn up to $5 IB Commission
Brexit Deal
The IB commission offer seems to reward $5 per client. The Brexit Deal is a multi-offer that would either allow one to open a Premium account for only $5,000 instead of the regular $7,500 requirement or to earn a 75% bonus on the Pro account. The broker also lists free educational resources as an offer, but we would consider this to be something that should already be free.

Educational & Trading Tools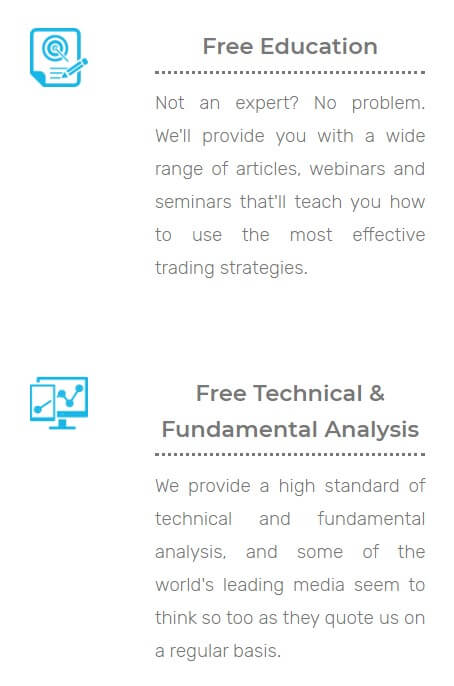 TMFX has an education section that is made up of a forex glossary, economic calendar, FAQ, forms, and a blog. The forex glossary and FAQ seem to focus on providing some of the most relevant terms that revolve around forex trading. The forms section is less of an educational resource, as it simply contains various company documents (KYC, transfer form, account opening form, etc.). The broker's blog can be helpful, as it focuses on trends in the market and provides predictions that may help traders make choices about which instruments to trade.
Demo Account
The broker has made the strange decision not to provide demo accounts. Anyone that has traded from a demo before knows how helpful these accounts can be when it comes to getting much-needed practice and testing strategies. The majority of others do provide demo accounts. Hopefully, TMFX will offer the option in the near future.
Customer Service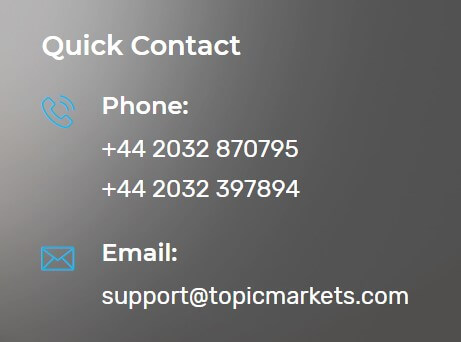 Support can be reached 24/5 through chat instantly, or via phone, email, or by filling out a form on the website. Although the broker does provide 24-hour support, we did notice that there weren't any agents on chat when we checked on a weekday. The broker also provides two phone numbers, but there doesn't seem to be any specific reason to call one or the other, as the numbers aren't linked to different departments or offices.
If you'd like to get in touch through email, you'll be able to send your email to one convenient address. Otherwise, the contact form on the website can be filled out by navigating to the "Contact US" page, located on the top menu. The contact information has been listed below.
Phone
+44 2032 870795
+44 2032 397894
Email: support@topicmarkets.com
Address: Golden Cross House, 8 Duncannon St, London WC2N 4JF, United Kingdom
Countries Accepted
The broker seems to be accepting of all clients, as we couldn't find any disclaimer listing specifically restricted countries. To be sure, we did check out the registration form to check for any missing locations that stood out. Fortunately, we found the United States, Iran, Iraq, North and South Korea, and all other options available on the sign-up page.
Conclusion
Topic Markets offers the ability to trade more than 50 currency pairs, metals, and CFDs on oil and other commodities from five different account types. A Classic account can be opened with $200, while Islamic account holders will have to pay $1,000 and it would cost at least $3,000 to open the Pro account and up. The broker offers a maximum leverage cap of 1:400, with caps lowered to 1:100 and 1:200 on most of the accounts. There are limitations placed on the spreads that keep options within a reasonable amount, with spreads going no higher than 0.5 pips on some accounts.
On the downside, the broker doesn't provide us with the exact commission charges that are applicable. When it comes to payments, the website is extremely vague about potential charges, although we do see instant processing times and the company is willing to reimburse any fees charged on deposits. Support is available 24/5, but instant support is not always available during business hours.
The broker is currently offering several promotions that would credit cashback rebates on deposited amounts, IB commission bonuses for referred clients, and an option to open the Premium account for $2,500 less. There are some educational resources available, but options are fairly limited and don't go into much detail. Demo accounts are also missing from the list. The broker is willing to accept clients from all locations, so this could be a plus for those located in commonly restricted regions.