AlainFX is a UK-based broker that has been established since 2015 and seems to be a big hit in India. AlainFX offers online trading for a wide range of financial assets, including shares, indices, foreign exchange, and commodities. It is unregulated and the footer on their site indicates that they are incorporated in Saint Vincents, a location used by many unregulated brokers.
As one can see from their 'About Us' page, AlainFX claims to have a successful history full of high achievements, long-term relationships with their clients and even technological breakthroughs. Contrary to these claims, we found quite a large number of negative feedback about this broker on online reviews, so keep reading to discover what we've found out about AlainFx and determine whether they are the right broker for you.

Account Types
If you decide to trade using AlainFx you will have a choice of three different account types, namely; Basic, Economy, and Classic. All three accounts are similar when it comes to minimum trade size, which is 1 micro lot and all three are fee-free. The minimum deposit required changes according to which account you opt for, and these range from $100 for a basic account to $10,000 for a Classic account, which means this broker has an account suitable for beginners as well as more advanced clients.
The stop levels for the Basic and the Economic accounts are at 50% but this increases to 70% for the Classic account. When it comes to leverage this broker offers a maximum of 1:400 for the Basic account (remember to always be cautious of such high leverages as these can result in major losses), 1:200 for the Economic account and leverage is decreased further to 1:100 for the Classic account.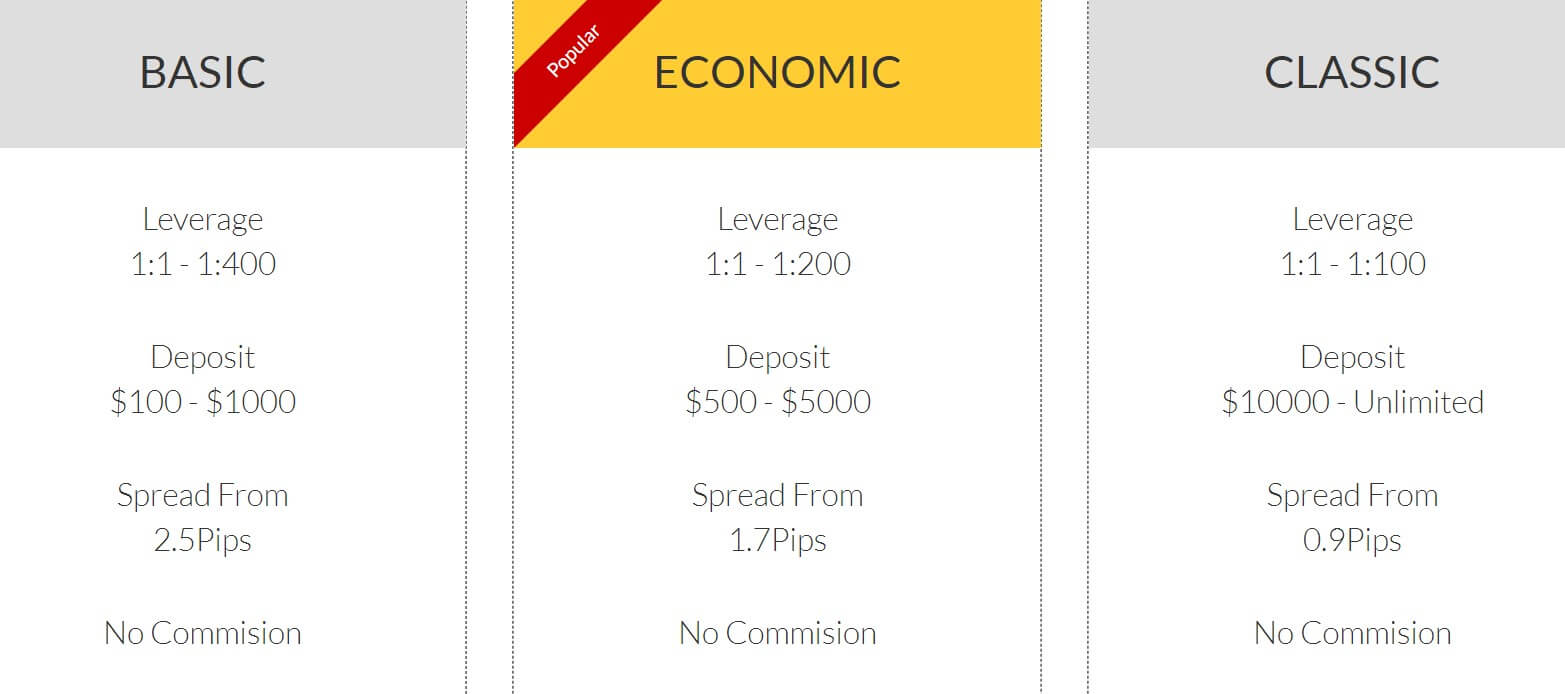 We have noticed that this broker's average spreads are quite high when compared to other brokers, as they amount to around 2.5pip for the Basic account and decrease to 0.7pips for the classic account, so this would mean that in order to get decent spreads when using AlainFx, you would have to open a classic account, which is not affordable to everyone as it has a minimum deposit of $10,000.
On their website, you can find a clear account breakdown that can help guide you towards the ideal account for you. We have also listed the main conditions for all three accounts listed below.
Basic Account
Minimum Deposit: $100 – $1000
Leverage: 1.1 – 1:400
Spreads: 2.5 Pips
Commissions – None
Economic Account
Minimum Deposit: $500 – $5000
Leverage: 1:1 – 1:200
Spreads: 1.7Pips
Commissions – None
Classic Account
Minimum Deposit: $10000 – Unlimited
Leverage: 1:1 – 1:100
Spreads: 0.9Pips
Commissions – None
Platforms
AlainFX uses MetaTrader 5 (MT5) solely as their platform, and we can't complain, as this platform, released in 2010, is used by millions worldwide and for good reason. The MT5 platform comes equipped with around 40 technical indicators, 44 analytical objects and they also provide candlestick, line and bar charts with a wide variety of time frames and much more. As it is stated in AlainFx's site, the MT5 is compatible with windows, Mac, iPhone and Ipad as well as android. This means that you can access your accounts wherever you are through your phone or tablet.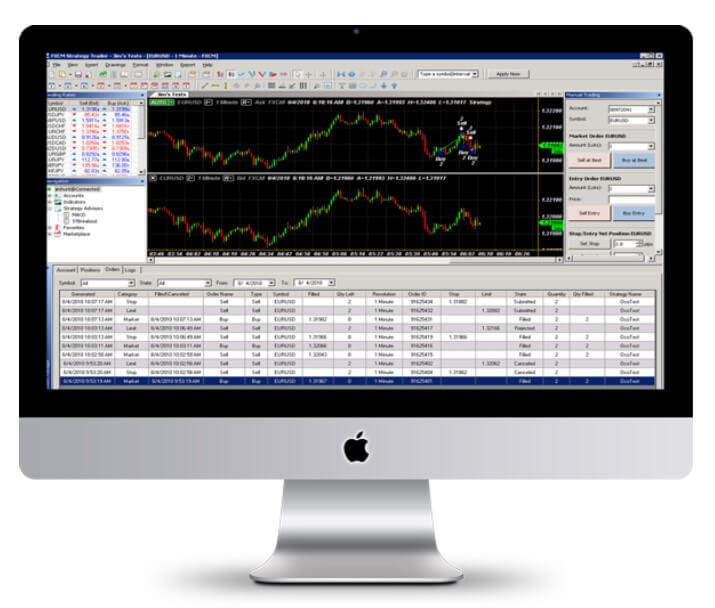 Leverage
The leverage ratios offered depend on the type of account that you opt for and the volume of funds that your account holds. As we mentioned before leverages range from 1:1 to 1:400. We couldn't find much more information regarding leverages on their website; obviously it would be beneficial to have more information regarding this before opening an account with AlainFX.
Trade Sizes
The minimum trade size offered by AlainFX is the same for all three accounts, that of 0.01, also known as a micro lot. There is no indication of what the maximum trade size is for this broker but it is not recommended to go over 50 lots as this makes it harder for instant execution.

Trading Costs
From the information provided on their website, we could not find any commissions added to trades. Even when going through the Trading Conditions segment of their site, we did not find any mention of fees or commissions. We tried to contact AlainFx to make sure no hidden fees are present but no answer was provided during the writing of this review. It seems that clients' costs are derived from the spread, which we will look at later on in this review, as well as overnight (swap) financing, where applicable.
Assets
AlainFX has broken down their assets into six categories namely; Forex with over 55 currency pairs consisting of major, minor and also exotic pairs available for trading, Metals including Gold and Silver, CFD's, Commodities including cotton, corn, WTI crude oil, coffee and sugar amongst others, Indices and shares. We found no mention of cryptocurrencies available for trade with this broker.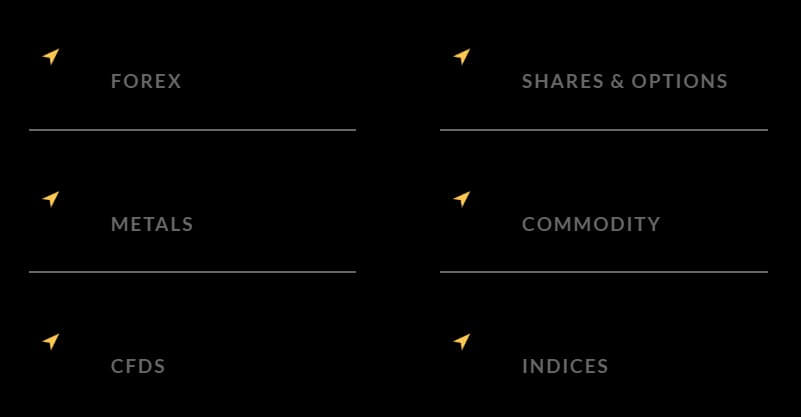 Spreads
This broker states that their clients can enjoy low spreads through interbank sources, acquired from over 100 of the world's leading banks and alternative market makers, providing a concrete source of liquidity for their traders. On their site, AlainFx claims to have spreads starting from 0.0pips but as we went through all their available products, we failed to find one where the spreads actually started at 0.0pips.

We actually found a segment of the site where this statement is contradicted as it states that spreads start from 0.2 pips, so we are uncertain about this detail. As we mentioned before, AlainFX offers spreads which range from normal, like 0.026 for USD/JPY, to quite high like 2.4 for USD/RUB. It is always advised to have a clear indication of what spreads a broker offers before beginning to trade with them.
Minimum Deposit
The three accounts offered by this broker have different minimum deposit requirements, as is the norm. The most affordable account is the basic account which requires a fair $100. The Economic account, which is stated as the most popular on their website, has a minimum deposit of $1000 which is still quite affordable, whereas the Classic account required a $10,000 deposit which makes it suitable for experienced traders.
Deposit Methods & Costs
This broker offers a variety of deposit methods namely; MasterCard, Visa, American Express, Neteller, Webmoney, China Union Pay, Skrill, Yemadai, Local Deposit, Ideal and Giropay among others. One can see that this broker offers a very wide variety of deposit methods which is convenient. It seems that all deposit methods are fee-free, but the processing time varies from instant with Mastercard, Visa, WeChatPay, American Express, Ideal, Maestro, etc to 5-7 days with International Deposit. You can find a list on AlainFX's website indicating the waiting time for each method.

Withdrawal Methods & Costs
Withdrawal methods and costs on AlainFX's website are exactly the same as their deposit methods, so clients have a wide variety of options when it comes to withdrawing their money. We must also mention that we found a number of online complaints regarding withdrawals with AlainFx. Although we cannot verify these complaints, it is always suggested to do your own research before working with a particular broker.
Withdrawal Processing & Wait Time
As with the deposits the waiting time varies from instant to 3-7 days depending on the method you opt for.
Bonuses & Promotions
On AlainFx's accounts website page, it is indicated that both the Basic and Economic accounts have promotions, but we did not find any other information regarding these. We also tried to reach out for more information but it seems that their LiveChat isn't functioning at the moment. Although we could not find any promotions or bonuses on the website, they do have an interesting Partnership page that offers a number of different opportunities to those interested in partnering with this broker namely; Introducing Broker, Regional Representative, Alai Card Dealer or White Label. You can find more information about these on the Partnership page on AlainFX's website.
Educational & Trading Tools
Although this broker has a dedicated page to Education on their website, it seems to lack useful articles for anyone looking to learn more about the subject. The website also indicates that there is a quiz that one can take to determine their trading personality, but we could not find the actual quiz on the site. The only information found on the Education page is a description of the types of traders one can find namely; Beginners, Intermediate and Expert. Needless to say, this segment leaves much to be desired.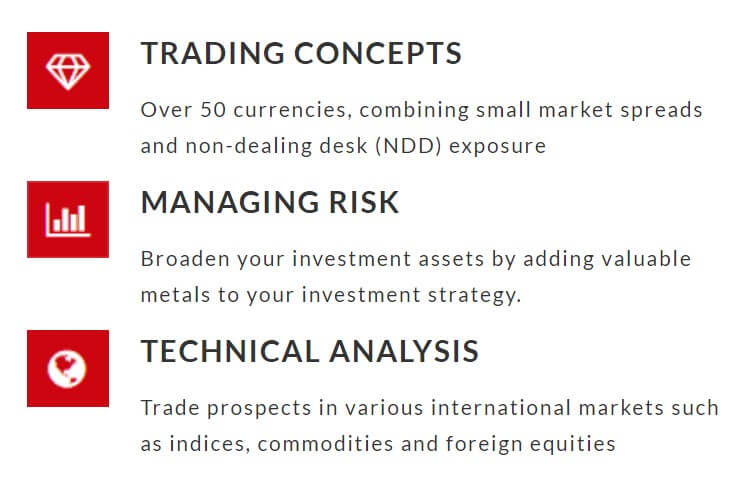 When it comes to the tools used by this broker, namely; MT5, the broker does offer some brief information about this platform. It is important to note that although the Education part of the website is practically non-existent, one can still find snippets of information regarding trading throughout the site for example product histories and descriptions.
Customer Service
This broker seems to have good customer service from what is stated on their website. A multi-lingual support team is available 24hours a day during the Forex trading week. You can reach out to them either via live chat, phone or through a number of different emails available. It is good to note that the Sales and Technical Support Team is available 24/7.
When it comes to actually using the customer service AlainFX has to offer, we encountered a number of issues. The live-chat buttons don't seem to be working at the moment, an e-mail we sent with some queries was not answered after 48hours and we also noticed that the Facebook, Twitter and Instagram buttons on their site, all direct the user to the main AlainFX website. We also realized that although there are 6 different numbers which one can call for these different reasons, namely; Complaints, Technical Support, Payments, Account support, Sales and General Queries, all 6 numbers are identical.
We are unsure if these are all temporary issues that the broker is arranging at the moment or if this broker has a below-average customer care service.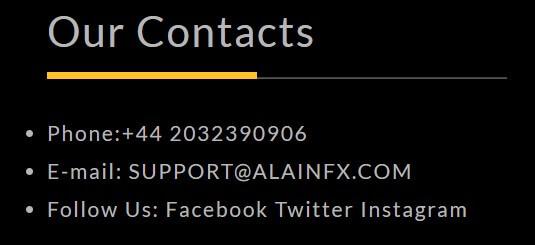 Demo Account
This broker offers free demo accounts for any potential clients that would like to practice and sharpen their trading skills before actually delving into the trading market. Singing up for a demo account seems very straightforward and should only take up a minute of your time. To sign up you must provide your first and last name, e-mail address, date of birth, country of residence and a contact number. There is no information about what type of account this demo would mimic (Basic, Economic or Classic) and again our questions have not been answered by their customer service.
Countries Accepted
AlainFX welcomes traders from all over the globe. As we went through the list of countries whilst setting up a live account, we did not notice any missing countries. So countries such as the USA, New Zealand and Japan which are sometimes not accepted due to law violations are welcome to use this broker for their trading. However, if you do have an issue with finding your country whilst setting up your account, speak to the customer service for further information.
Conclusion
AlainFX is an unregulated broker that provides a variety of trading options, including; 3 different account types that vary in leverage and minimum deposits, making this broker affordable for a wide range of trading enthusiasts. Although this broker only works with 1 platform, MT5, it is still one of the most popular platforms out there with ample extra features to help you with your trading activities.
This broker also offers several funding methods and there seem to be no extra charges associated with deposits and withdrawals. At the moment there are no ongoing bonuses or promotions available on their website and the education segment is quite lacking when it comes to up to date information which can help guide beginners. The support seems to be adequate but our own experience thus far has been lacking as no feedback was given through email and we could not access their live chat. A good factor about this broker is that there are no restricted countries which means you can easily set up an account with AlainFX from any part of the globe.