Exante is an international investment services company established in 2011 that offers global multi-asset financial services, including direct access to a wide range of financial markets in the US, European Union, and Asia-Pacific. Exante is licensed by two European authorities (MFSA and CySEC) to provide financial services to retail and corporate clients, including trading and investment. Their main values are to provide innovation, transparency, security, and quality. This review is intended to look at the services being offered to see if they live up to these values and so you can decide if they are the right broker for you.
Account Types
Exante is keeping things easy with just one account type for everyone. The account comes with a number of features such as cross-margin (using previous assets to leverage new ones), flexible terms in regards to 50% off commissions when trading larger volumes, a dedicated manager, transparent conditions, customization as you can request new instrument to trade and 24/7 customer support. A lot of the trading conditions are not mentioned on this page but we will look into them as we go through this review.

Platforms
Exante uses its own made trading platform rather than using someone else's, here is what it offers.
The Exante platform makes use of the latest trends in the world of technology. It is perfect for traders, brokers, asset managers, and analysts. The Exante trading platform provides instant access to all financial markets and instruments available from a single multi-currency account. This means that any of the 150,000+ assets are only a couple of clicks away from you. The platform works on every device: trade on the web, from a desktop application on Windows, MacOS or Linux, or right from your iOS or Android smartphone.

Leverage
We could not find any information regarding account leverage and so, unfortunately, can not comment on it at this point in time.
Trade Sizes
Trade sizes are based on volume and price rather than lot sizes, so in order to trade a micro lot (0.01 lots), you will instead need to trade the value of 1,000. There does not seem to be a limit to how much you can trade at once, there does not seem to be a minimum or maximum as we tested with 0.1 cents and also with 1,000,000 and all went through ok on the demo account.
Trading Costs
There is mention of commissions, however on the assets page they talk about commissions in relation to spreads, so it may be that there is a spread-based system rather than an added commission. We cannot say for sure though, there are added commissions on different commodities and funds such as Gold having a commission of 3 USD.

Swap charges are present, these are interest charges that are incurred for holding trades overnight, they can be both negative or positive and can usually be viewed from within the trading platform of choice.
Update: Having tested the demo account, there seems to be a commission added to all trades, when trading 100 EUR there is a fee of 0.25 EUR added to the trade.
Assets
Plenty of assets and instruments are available from Exante, they also state that if you want a new asset added, to contact them and they will add it within 24 hours.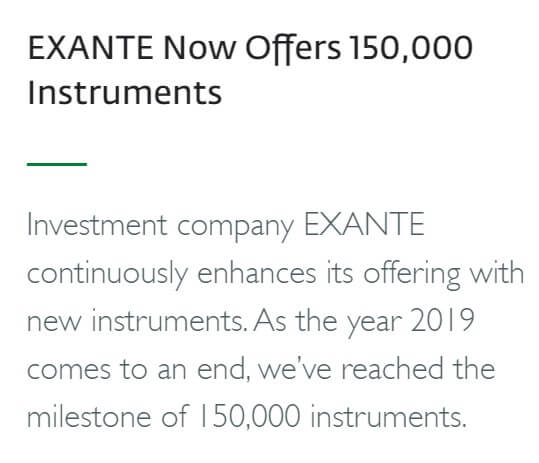 Currencies: Over 50 different currencies currently on offer, these include things like AUDUSD, EURJPY, USDCHF, and EURGBP.
Metals: Metals are also available with the likes of Copper, Gold, Silver, Palladium, and Platinum all being available to trade with Exante.
Futures: There are over 30 different futures to trade including the Chicago Board of Trade, Osaka Exchange, Hong Kong Exchange and Eurex Exchange.
Options: Instruments like the Australian Stock Exchange, Intercontinental Exchange, and the New York Mercantile Exchange are available to trade.
Funds and Bonds: Funds and Bonds are also there to be traded, places like the European Government, US Corporates and Euronext Bonds are all available to trade.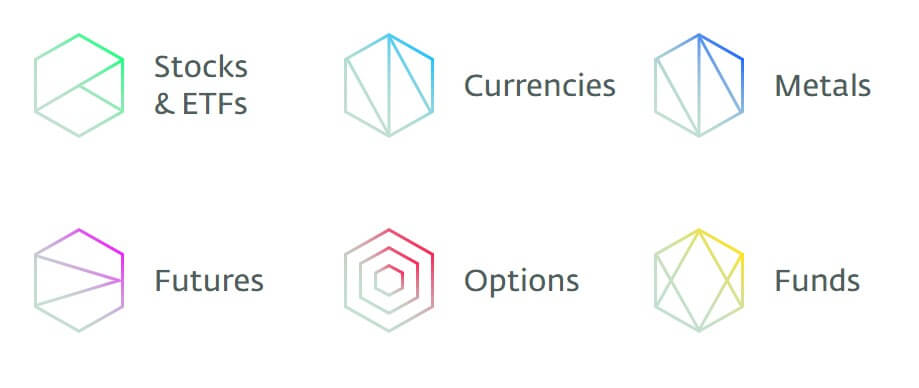 Spreads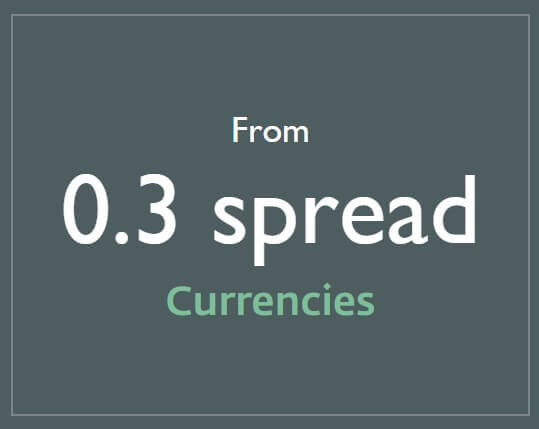 Spreads are kept pretty low, they are seen to be starting from 0.3 pips, the spreads are variable (also known as floating) so this means that when the markets are being volatile, the spreads will often be seen higher. It is also important to note that different instruments and assets have different starting spreads, so while EURUSD may start at 0.3 pips, other assets like USDCHF may start slightly higher, in this case, 0.6 pips.
Minimum Deposit
The minimum deposit is 10,000 EUR which can be done in a number of different currencies (see below). This is quite high for an initial deposit and could price out newer traders or lower volume traders.
Deposit Methods & Costs
Deposits an only be done via Bank Wire Transfer, they can be done in GBP, USD, JPY, EUR, CHF, RUB, SEK, CAD, HDK, MXN, PLN, CNY, NOK, SGD or AUD. There does not appear to be a deposit fee added by Exante, but be sure to check with your bank to see if they add a fee of their own.
Withdrawal Methods & Costs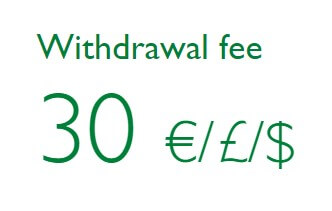 Withdrawals can also only be done via Bank Wire Transfer, withdrawals can use the same currencies of GBP, USD, JPY, EUR, CHF, RUB, SEK, CAD, HDK, MXN, PLN, CNY, NOK, SGD or AUD. There is a fee of 30 EUR, GBP or USD added to each withdrawal, also be sure to check with your bank to understand if they add any fees of their own on top of the Exante fee.
Withdrawal Processing & Wait Time
Exante aims to process withdrawal requests within one day of receipt of the request., You should then receive your funds within 3 to 5 business days depending on your banks' processing times.
Bonuses & Promotions
We could not locate any information on the website in regards to bonuses or promotions so it does not appear that there are any active ones at the time of writing this review. If you are interested in bonuses then be sure to check back regularly or get in contact with the customer service team to see if there are any upcoming bonuses or promotions.
Educational & Trading Tools
There doesn't appear to be any education or additional trading tools available. Many brokers these days are looking into helping their clients become better traders through education and other tools so it would be nice to see Exante go a similar route.
Customer Service
The support team is available 24/7 which is great. There are quite a few ways to get in contact with the Exante customer service team, you can request a call back using the online form. There is also an email address if you wish to communicate that way, finally, there are a number of different phone numbers that you can use to get in touch, these are available from London, Amsterdam, Moscow, Saint Pietersburg, Kyiv, Almaty, Riga, Malta, Cyprus, Sofia, and Hong Kong, so wherever you are from you should be able to find someone to help.

Demo Account
Demo accounts are available, it can be accessed by clicking the demo account button and this will bring you to the WebTrader where you can test things out. The demo account has a value of 1,000,000 EUR, the other features of the demo account are unknown and we are not sure how long the demo accounts last, refreshing the page keeps all trades and history but we can not say how long it will last.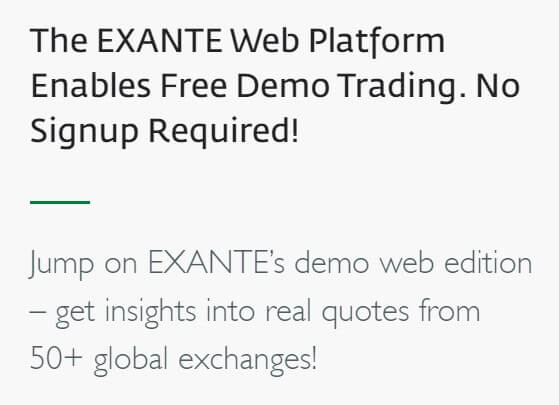 Countries Accepted
The following statement is present on the Exante website: "XNT LTD. does not provide services for citizens of certain regions, such as The United States of America." If you are interested in an account but are unsure of your eligibility we would recommend getting in contact with the customer service team to find out.
Conclusion
Exante is a little different from your usual trading platform, they offer their services in a slightly different way moving away from the conventional lot system. Due to this, it can be a little confusing understanding of how things work but they actually function in much the same way. We could not work out if there was any leverage and the initial deposit is quite high potentially pricing out newer traders. Bank Wire Transfer is the only transfer method and there is, unfortunately, a hefty withdrawal fee. Exante seems to be aiming towards the more experienced traders, so if you are new, it may be better to look elsewhere.