Fast FX is a broker with no regulation and not registered on any address. There are no records about the company names mentioned in the Terms and Conditions such as "Fast FX Trading Ltd Intershore Chambers, Road Town, Tortola, BVI" or FASTFX LTD. Some information points to 2003 when the broker was active, but this information is not confirmed. Right from the start, you will be welcomed by a well-designed website with nice design and good quality content for promoting Forex to beginners, but experienced traders will recognize hollow phrases without any backup.
Fast FX promotes itself as an innovator, globally present, owner of several proprietary platforms, hedge fund managers, and other superlatives that do not have any references. Transparency is also an issue, limited information can be obtained from the website about the trading conditions too. On the scene, Fast FX brand has a bad reputation, but also marginal attention from user benchmark sites. The website gives an impression of dedicated and professional service, but this fades away very quickly once you contact their support. If we set these issues aside, the highlights of this broker are cryptocurrency trading and bonuses. This Fast FX review will preview the issues in greater detail, what services they promote and if all if they are worth your time and investment.
Account Types
Brokers like Fast FX are known to frequently change their account packages and conditions. Currently, 4 account types differentiate by the minimum deposit and spreads. All other presented differences are the same. All accounts feature unlimited leverage and no commissions. Starting with the Mini Account, the minimum deposit is affordable to most but ahs the least favorable spreads compared to other accounts. Classic Account steps up the minimum requirement to a more serious level and offers negligible better spreads than the Mini Account.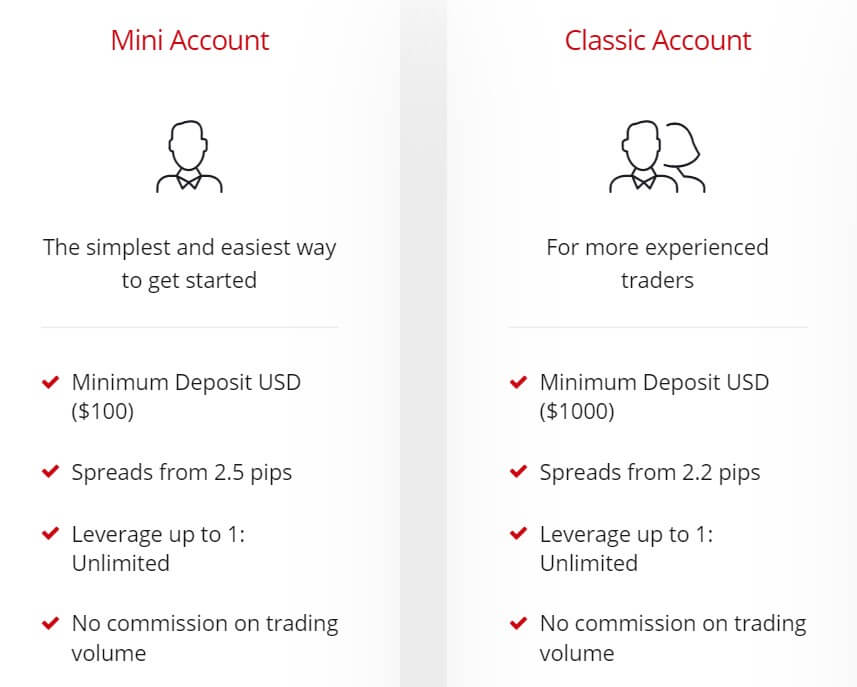 Standard and Pro Accounts both have minimum deposit requirements that are probably not what most are willing to risk with this broker category. More details are seen in the Platform section where it is stated that the execution model is NDD, no restrictions on Expert Advisors (MT5/4 automated trading algorithms), hedging or scalping trading strategies. There is no other information about the accounts apart that they are available in USD or EUR.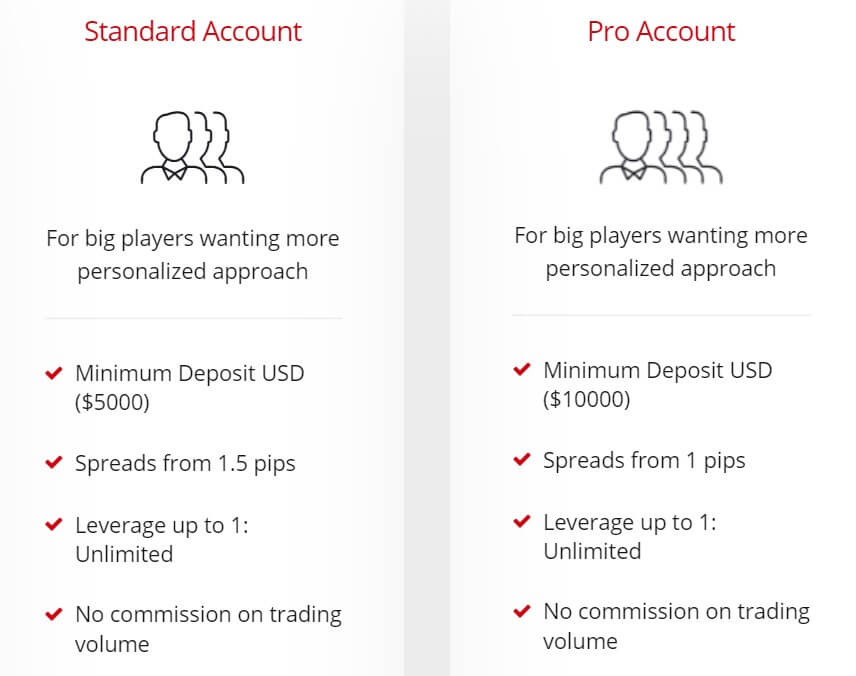 Note that there are different account specifications in the Members Area once you register. Spreads and leverage values promoted for all 4 account types are different. More details on this issue in sections below.
Platforms
Fast FX is offering only MetaTrader 5 platform. There is no mention of any other platforms mentioned in the Terms and Conditions legal document. Links for the MT5 platform download are available but the web-accessible MT5 version is not implemented, so visitors will have to download and install the platform to see the conditions. Operation systems supported are Windows, Mac, and for smart devices running on iOS and Android. Some of the MT5 platform features are copied from MetaQuotes as the feature of having "more than 1000 servers of various forex brokers available" is not something to be presented by a broker.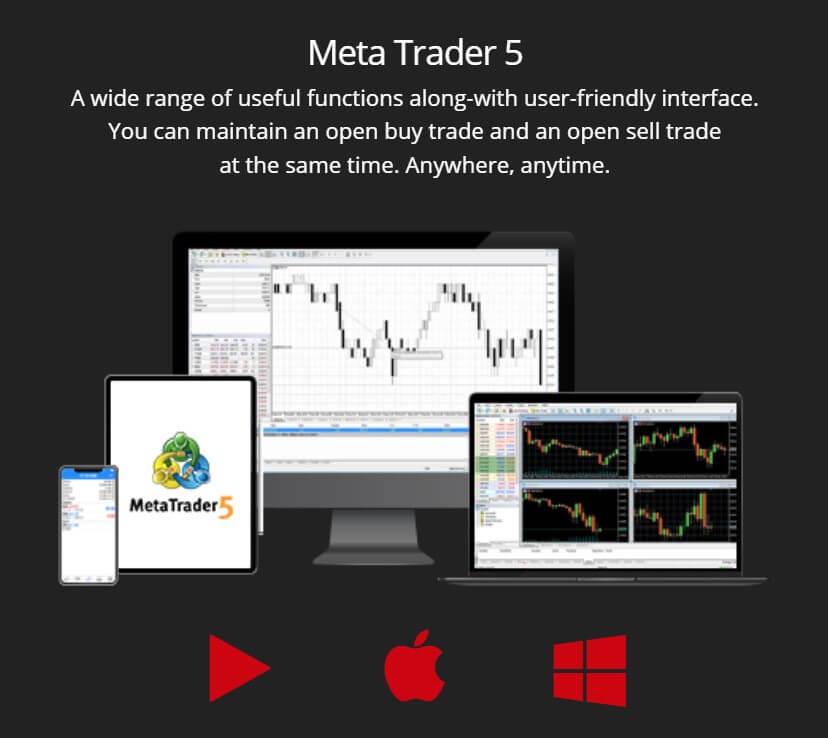 Upon the standard installation, the MT5 client gives us only one server with a great ping rate of just 26ms. After some delay, all four default charts receive data from the server and show the default timeframes and indicators on the major Forex currency pairs. There are no additional templates or indicators inserted. One-click trading buttons are visible on all charts. The About window shows us the latest version of the client and registration to Fast FX Trading Technologies Limited located at Intershore Chambers, Road Town, Tortola, BVI. Symbols are very well organized into respective groups that are correctly named.
All assets are correctly put and it is noticeable that most non-forex instruments are CFD futures. Some of them may have confusing symbols but a description is provided. The Specification window is not showing any information related to swaps, and this may be of concern. All else is presented, and as Fast FX does not have commissions, they are absent from the specification. The execution time is also extremely good with just 28ms execution with no deviations bigger than 1 ms. On some occasions around the day session ending, liquidity problems may arise and off quotes warning may pop up. These conditions are only possible close to or unloaded servers. The Company tab in the Toolbox module is referring to the MQL5 website, not Fast FX.
Leverage
The broker promotes unlimited leverage for all account types on the website, although what we see in the Members Area are different values. For the Mini and Classic Account the maximum leverage offered is 1:500 while for the Standard is 1:300. The Pro Account has leverage set to only 1:10. What we have experienced in the MT5 platform is the maximum leverage 1:200 where it should be 1:500 as selected. More surprising is the spot Gold against the USD with no leverage and the specification does not show this.
Trade Sizes
The minimum trading size volume for all Forex assets is in micro-lots or 0.01 lot. Additional steps are also 0.01 lots while the maximum trade size volume is 20 lots. Spot Precious Metals have the same sizing setup while other assets, specifically CFD futures on commodities, indexes, metals, and currencies have different sizing. Gold and Silver futures CFDs have 0.1 lot minimum trade volume size and 20 lots maximum. Oil futures have 0.1 lot minimum and 10 lots and Indexes have 0.1 lot minimum and 10 lots maximum trade size volume. Currency futures have the same setup as Stocks.
As for the Stops level for Forex instruments, it is set to 30 points, the same is for Gold and Silver. For CFD futures Stops level vary, from 0 to extreme levels. Those under extreme are Crude Oil futures with 250 points and all NASDAQ Index instruments with 300 points. There is no information about the Margin Call or Stop Out levels. Also, note that the futures CFDs may have different contract sizes than usual.
Trading Costs
Fast FX does not charge commissions, and every account presentation source does not include them. Swaps are not disclosed on the website or the MT5 platform. The rollover fee is mentioned in the Terms and Conditions document and it is charged in a very unusual way. To quote, "If there are not sufficient funds in your free balance, we may deduct such Fee directly from your credit card (the minimum charge being 3.00 USD, but this may vary). If you are using another method of payment, and we are unable to collect the Rolling Fee, we may close a part, or all, your open positions."

Fast FX "renewal fee" or "Rollover" is actually a Swap as described in their document. We have never encountered this way of charging for a swap. The inactivity fee is also stated in the T&A document. If no trading is done within 6 months a $250 will be deducted from the account. This time credit card charge is not mentioned.
Assets
In the MT5 platform, we have encountered Forex, Precious Metals on spot and as futures, Index futures, currency futures, and Oil futures CFD. Forex range is average with 32 total currency pairs. In this class, Dollar Index is also included although it is indicative only and closed for trading. All majors and crosses are listed. Exotics are limited to a few pairs, they are USD/TRY, USD/CNH, and USD/ZAR. In addition to these, there are also futures on the Euro, GBP, NZD and so on.
Precious metals are limited to spot Gol and Silver quoted in USD but also two futures for these metals. Index range is all future CFDs with just 5 different Indexes not counting the mini versions. All of the Indexes are major ones. As for the commodities, there is only Crude Oil futures CFD. Brent is not listed according to the MT5.
Spreads
Fast FX has inconsistent statements on the website and in the Members Area about the spreads. They are a floating type for certain. We will use all sources and present what is actually in the MT5 platform. Micro Account has spread from 2.5 pips, Mini from 2.2 pips, Standard from 1.5 pips and Pro from 1 pip. When opening a real account you will be given the same account types but with different conditions. For the Micro Account, the spread is from 3.5 pips, Mini from 2.1 pips, Standard from 1.8 and Pro Account from 0.8 pips.
Now, what we encounter in the MT5 is 3.3 pips for the EUR/USD, 5 pips for the GBP/USD, 3.6 pips for USD/JPY and 5.4 pips for USD/CHF. Other non-exotic pairs are around 5 to 6 pips, GBP/AUD having the widest at 10.3 pips. Exotics spread is 1051 points for the USD/TRY, 80 points for the USD/CNH and the widest spread is for the USD/ZAR with 1104 points. For the spot Gold against the USD the spread is 62 pips and for Silver 55.
Minimum Deposit
The minimum deposit for the most affordable Micro Account is $100. For the Classic the minimum jumps to $1000. Standard Account minimum deposit is $5000 while for the Pro is $10,000.
Deposit Methods & Costs
In the Members area, there are no Bank cards or wire transfer options. This means Fast FX does not have a payment processor or a bank account. Among other options presented are Bitcoin, Netteler, Skrill, WebMoney, Perfect Money and Pallapay. None of these methods work. As for the costs, Fast FX states that any costs that arise form deposit transfers will be compensated by the broker.

Withdrawal Methods & Costs
Fast FX members area has an integrated E-wallet. The purpose of this e-wallet is probably as an intermediary for transfer between accounts. Other methods presented are Skrill, Neteller, and Bitcoin. Interestingly, on the website, only Visa and MasterCards are presented as available options. There are no commissions for withdrawals.
Withdrawal Processing & Wait Time
The withdrawal processing time is 24 hours for all methods on the website, which is for the VISA and MasterCard, but no information is disclosed for other methods.
Bonuses & Promotions
Fast FX offers two bonuses called Welcome Bonus and Deposit Bonus.
The Welcome bonus is a $50 non-withdrawable bonus on top of a deposit for new clients. Therefore, this type of bonus acts as a margin extension used for trading only. The Deposit bonus is the same type of non-withdrawable bonus but it is 10% of the deposit amount and up to $5000. These types of bonuses have more value for the broker's sales team pitch used on beginners than in practice. Actually, some dishonest brokers use the bonus terms to lockout funds from withdrawal until a considerable amount of trading volume is met.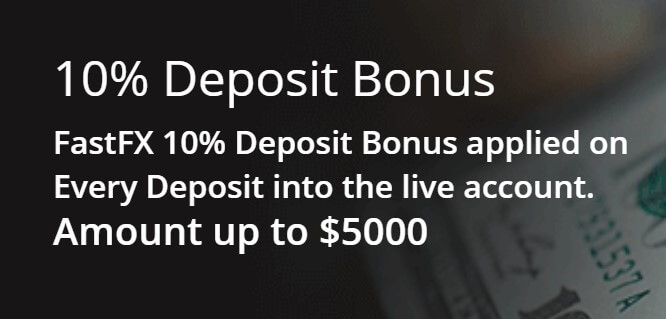 Educational & Trading Tools
Fast FX has two menus with educational related content, Forex News and Forex Education. Even so, these resources do provide free market analysis. Both of these are links to the forexlive.com media website and none is by Fast FX. Economic Calendar exists only as an empty page.
Customer Service
The broker has published some phone lines that are VOIP and not receiving calls. Other channels presented are website chat app, Skype, WhatsApp, Facebook, and Twitter. WhatsApp and Skype are dead links while Twitter account does not have any content. Facebook's last post is from October 2019 and does not respond to our messages. The chat app on the Fast FX website is on the side and always popping with a script message that they are online and ready to help. The staff did not take long to answer us but we have not received any kind of answers to our questions.

Instead, we were asked for a phone number, email, and name. They were reluctant to give their number for a call nor did they want to answer any questions about trading and regulation. This practice is typical for gray area brokers that exploit this information for sales, manipulation and sharing your information as a lead for other parties. These databases are then sold to other grey area brokers that try to get to your funds. Often, the sales managers presenting themselves as Account Managers or similar will ask for your credit card data.
Demo Account
The demo account link does not work on the registration step. But once registered you can make one form the Members Area. The demo will have $10,000 virtual funds and a leverage setting. The demo can be opened directly from the MT5 platform too, with up to 100,000 virtual funds. We cannot confirm that it reflects actual trading conditions as much information is missing.
Countries Accepted
According to the info published on the Fast FX website, the broker does not offer services in the United States of America, Canada, Japan, Cuba, Israel, The Islamic Republic of Iran, North Korea, Yemen, Palestine, Sudan, and Syria.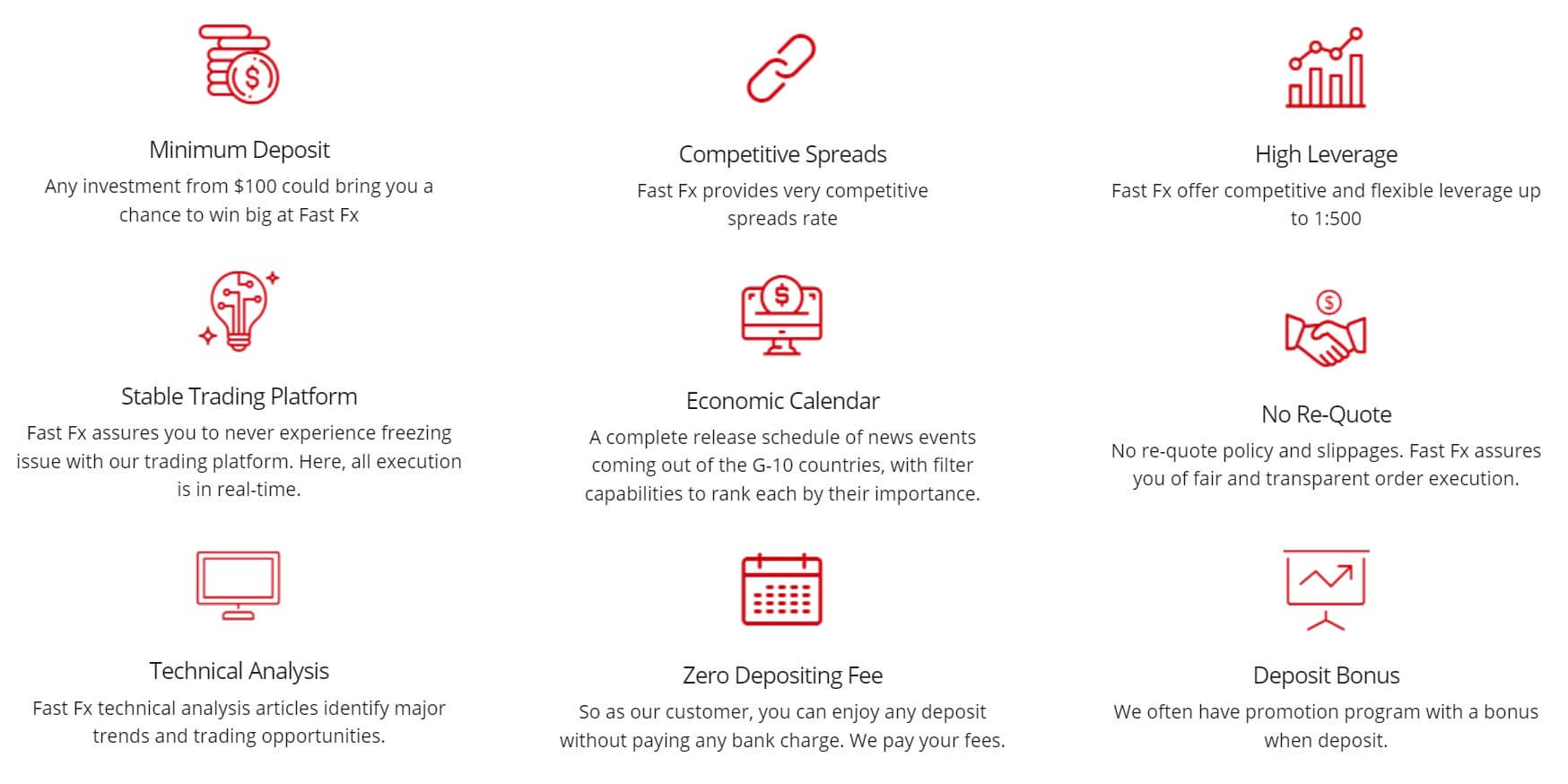 Conclusion
To conclude this Fast FX review we will provide some additional information. There are so many issues with this broker only completely unfamiliar visitors can be lured into extremely risky business with Fast FX. The website looks good enough to leave a positive impression on the unaware and these are Fast FX's target clients. Under the surface of the website template, there is a plethora of plain evidence of a gray area broker.
Staring with the fake proprietary platform claims, fake promotional and inconsistent trading information, total company info obscurity, very strange and unprofessionally written legal documents, withdrawal and deposit problems, no bank account, unprofessional and aggressive staff and many more. Not much more is needed to say about Fast FX except to turn away, fast, and find much better, legit and regulated brokers on the scene.