WSM is an online broker that offers investment opportunities in currency pairs, indices, and commodities. We know that the broker is located in ST. Vincent & the Grenadines, but the website doesn't provide us with much else about their background, so we can't say when WSM was established or who exactly is running the company. As an STP broker, WSM does mention that they do not profit when their clients incur losses and that they are only interested in establishing successful long-term cooperation with their clients. If you're considering this broker, you'll want to take a look at our detailed review below.
Account Types
WSM offers four main account types; Standard, Bronze, Silver, and Gold. One of the first things traders will want to consider is the amount that it costs to open each account, as the minimum deposit requirements range from $500 USD to $50k. Most of the accounts offer an impressive leverage cap of 1:400 and all accounts grant access to the broker's entire instrument portfolio.
All accounts offer STP execution and have zero commission charges. One thing that the broker fails to present would be the spreads for each account type, which could make it difficult to figure out whether the broker is offering competitive pricing. Bronze, Silver, and Gold accounts allegedly offer rebates for clients that trade more than 50 lots per month. All of the listed conditions for each account can be viewed below.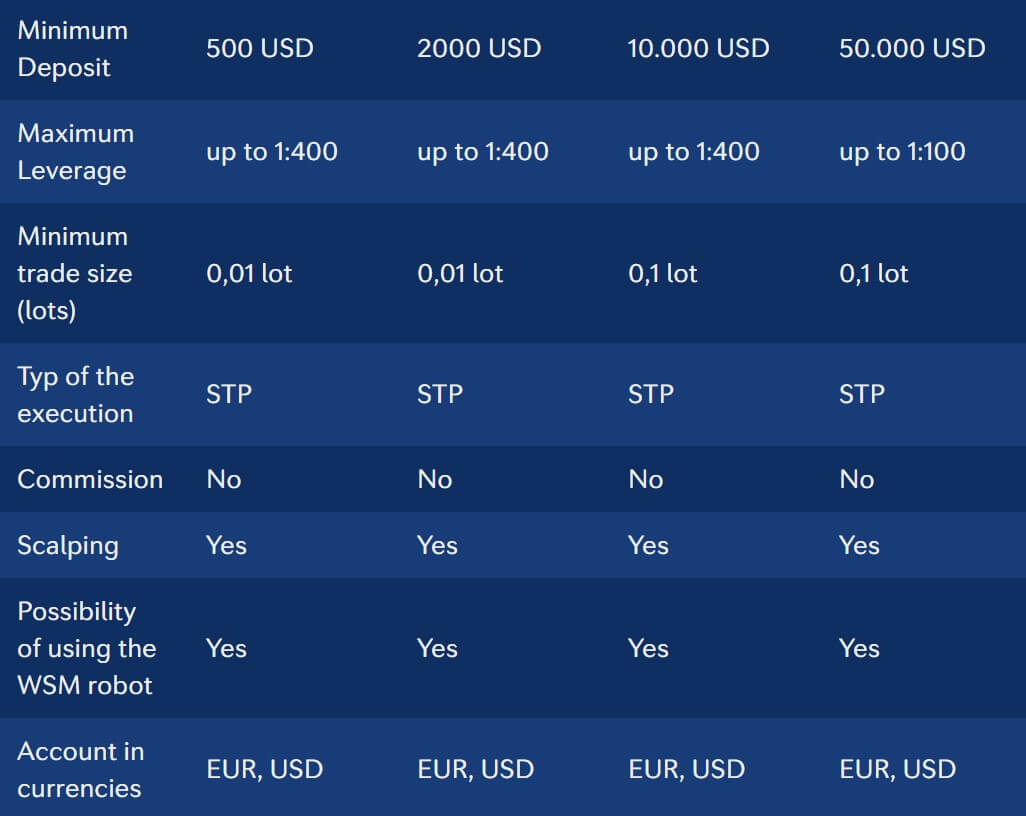 Standard Account
Minimum Deposit: $500 USD
Leverage: Up to 1:400
Spread: NA
Commission: None
Bronze Account
Minimum Deposit: $2,000 USD
Leverage: Up to 1:400
Spread: NA
Commission: None
Silver Account
Minimum Deposit: $10,000 USD
Leverage: Up to 1:400
Spread: NA
Commission: None
Gold Account
Minimum Deposit: $50,000 USD
Leverage: Up to 1:100
Spread: NA
Commission: None
Platform
From the WSM website, traders can download the award-winning MetaTrader 4 platform on PC, iOS, and Android devices. If you aren't familiar with MT4, you should know that it is the most commonly offered trading platform in the world today. Many traders prefer MT4 because of its navigable and easy to use interface, while others enjoy the built-in features and customization options found within the trading platform. MT4 is suitable for every type of trader, as it supports one-click trading, multiple order types, Expert Advisors, hedging, scalping, etc. All of these features come together to bring traders a sturdy and reliable program that should be up to everyone's standards.

Leverage
Most of the broker's live accounts allow for maximum leverage of up to 1:400. This amount is significantly higher than what many of their competitors are offering, especially considering that the Silver account requires a larger deposit. However, the broker does set a stricter cap of 1:100 on their Gold account. It's common to see lower limits on accounts that have deposit requirements in the thousands, so we aren't surprised to see the lower limit based on the account's $50,000 deposit requirement.
Trade Sizes
It's possible to trade micro-lots on the broker's Standard and Bronze accounts, while the Silver and Gold accounts require a minimum trade size of at least one mini lot. Not surprisingly, the website fails to provide any details about maximum trade sizes or margin call and stop out levels. Hedging is allowed on the Bronze, Silver, and Gold accounts, but the broker doesn't allow hedging on the Standard account.
Trading Costs
WSM profits from spreads, swaps, and transfer charges. The broker has done away with commission costs altogether, ideally making it easier for traders to keep up with exact charges that will be built-in with the spread; however, the broker doesn't advertise their spreads. Swaps are not charged on CFDs, but these fees will apply as overnight interest charges on other positions that are left open past market closing time. Note that the broker would charge triple swap fees on Wednesdays in order to account for the upcoming weekend. WSM also has a transfer fee of 10 USD will be applied if a transfer amount of less than 10% of the subaccount's balance is made to the master account.

Assets
WSM offers investment opportunities in currency pairs, indices, and commodities. With no products page, the website leaves us with several questions about their investment options. We can't say how many currency pairs are available, or even whether exotic options are featured. We'd also like to know whether precious metals, oil, and gas are offered. Sadly, the broker doesn't provide much information about their available assets, and this isn't the first or last time that the website seemed to be vague.

Spreads
WSM offers variable spreads and advertises the spread on EURUSD as being from 1.2 pips. Unfortunately, the broker doesn't specify whether each account offers different starting spreads. Ideally, we would see spreads from the advertised amount on all accounts, which would certainly set traders up with competitive trading costs. However, one should keep in mind that many brokers offer better spreads on their more expensive account types. It's possible that the broker chose their wording carefully, in order to trick traders into thinking that these conditions are offered on all accounts.
Minimum Deposit
Traders will have to deposit at least $500 in order to open the most basic Standard account through this broker. Many others offer the same account type for $100 or less, so those with little capital to invest may have to cross this option off their list entirely. From there, we see a deposit requirement of $2,000 on the Bronze account, $10,000 on the Silver account, and $50,000 on the Gold account.

Deposit Methods & Costs
Once again, the website fails to provide us with any information about available funding methods or costs. We would usually suggest making a small deposit in order to test out these conditions, but the broker's $500 deposit requirement makes it impossible to do so. If you do decide to make a deposit, keep in mind that bank wire transfers are usually charged some type of fee on the bank's behalf. This is the most common deposit method, so we're assuming that the broker is offering it, hopefully in addition to cards for convenience.
Withdrawal Methods & Costs
If you withdraw through bank wire, you should expect to see some fees charged on the bank's behalf. These charges can differ, and we've seen the charges range from around $25 to $50 or more in some cases. If the broker offers card or e-wallet withdrawals, then there's a chance that these withdrawals could be fee-free, although its common to see a percentage charge on these withdrawals. We would expect to see WSM advertising fee-free withdrawals if they offered them.

Withdrawal Processing & Wait Time
Brokers typically take between one and five business days to process withdrawals. WSM doesn't provide any information on the topic, so we can't say for certain how long it would take the broker to release funds. It does seem as though the company has a smaller support team since LiveChat isn't available. Once funds have been sent, we typically see wait times that can take weeks for bank wire and cards. If the broker is offering any e-wallets for funding, then withdrawals would likely be returned to these methods much more quickly.
Bonuses & Promotions
While the broker doesn't offer any bonuses, Bronze, Silver, and Gold account holders seem to be able to earn cashback rewards by trading a certain amount of lots per month. Cashback amounts would be between 0.1 and 1 pip, depending on the number of traded lots and the account type. In order to qualify, traders would need to trade at least 50 lots per month. Traders with the Gold account type would be able to earn larger amounts back by trading 100 to 200 lots per month.
Educational & Trading Tools
We weren't surprised to find that the broker isn't offering any education material or trading tools, based on the overall simple and vague layout of the website. It isn't absolutely necessary for brokers to make these resources available, but we do feel that it benefits beginners and even expert level traders having video tutorials, webinars, seminars, e-books, and other materials available at their fingertips. If you don't have any experience, you'll have to search the web for those resources.
Demo Account
One can open a demo account through the broker by selecting "Demo Account" at the top right of the website. We were having some issues getting the website to take us to the registration page, but traders should know that it is also possible to open a demo account once MT4 has been launched. Demo accounts serve an excellent purpose, as they allow traders to practice trading, learn to use the MT4 platform, try different leverages, test different strategies, etc. with no risk involved.

Customer Service
WSM has a multilingual support team that can be contacted through email or by filling out a contact form on their website. The fact that LiveChat is missing from the website takes away the convenience that many other brokers are offering, and we can't help but point out that the lack of direct phone number could also be frustrating. Many traders know that it is vital to get in touch with an agent as soon as possible if something goes wrong. Traders will simply have to email support@wsmfx.com and hope to receive a quick response in these cases.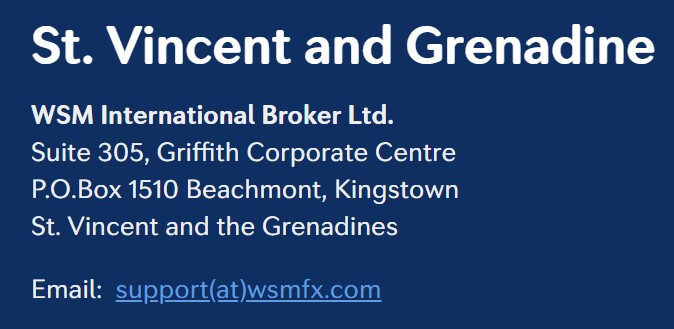 Countries Accepted
At the bottom of their website, WSM states that clients from the United States are not accepted. In addition, clients from Hong Kong, Canada, Israel, Iraq, Pakistan, and Madagascar seem to be restricted from opening accounts as well.
Conclusion
WSM is an online STP broker that offers leveraged trading of up to 1:400 on currency pairs, indices, and commodities. The broker features four separate account types. The deposit required to open a Standard account is set at a steep $500, with requirements ranging from $2,000 to $50,000 for the other three accounts. One advantage of choosing this broker would be the lack of commission charges. The broker's website can be vague where it counts, especially when describing available assets, the exact spreads offered on each account type, and funding information. In fact, the broker doesn't mention their available funding methods or associated charges at all.

We'd usually consider this to be a red flag, especially considering how large the deposits must be. Traders that have issues will find themselves waiting a while to hear from support, as email is the only contact option available. As far as extra options, the broker does offer cashback for those that qualify by trading at least 50 lots per month. Demo accounts are available, but the website is missing any other educational resources or tools. Those located in certain countries, including the USA, will not be able to open an account with WSM.