Finexo is an online foreign exchange broker that offers investment opportunities in a diverse range of instruments, including FX pairs, commodities, indices, bonds, ETFs, stocks, and cryptocurrencies. The Finexo name is a business name of Trade Capital Markets (TCM). TCM is located in Cyprus and regulated by the Cyprus Securities and Exchange Commission under license #227/14. Finexo attracts traders from nearly every country around the globe and strives to provide an effective trading environment for everyone, from beginners to more advanced clients. Take a look at our detailed review below to find out if the company manages to accomplish their goals effectively.
Account Types
Finexo features five live account types: Micro, Silver, Gold, Platinum, and Exclusive. A Micro account can be opened with as a deposit as low as $100 USD, while the other accounts require deposits from $1K and up. The broker offers leverages up to 1:300, with options being based on the specific instrument that is being traded, rather than the chosen account type.
Account-holders will not have to pay and type of commission fees and the broker offers tighter spreads to those that can afford to open a more expensive account type. Competitive offers are reserved for Platinum and Exclusive accounts. Aside from the Micro account, all of the live accounts come with an account manager. Platinum and Exclusive account holders will also have access to premium customer support. If you're interested in opening an account, you'll want to take a look at all of the provided details below.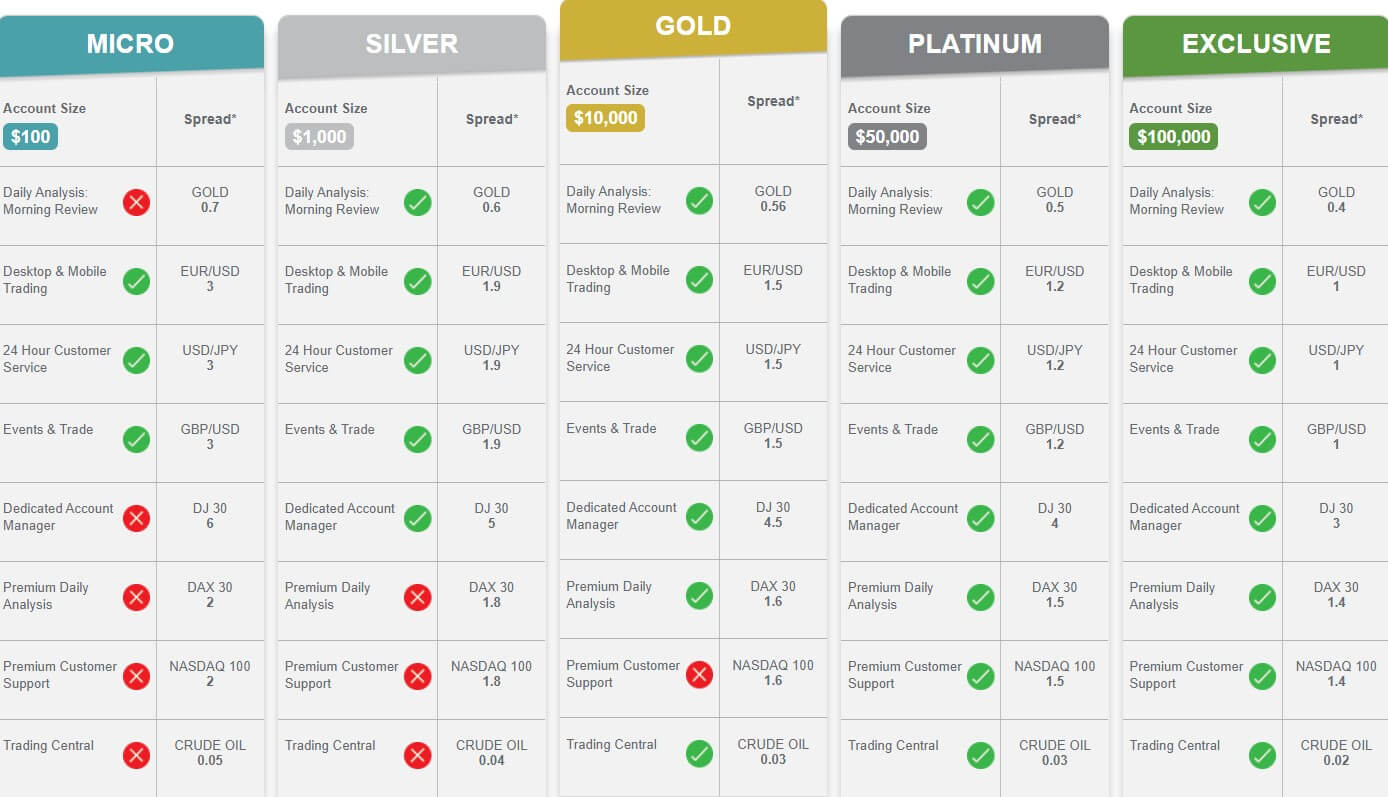 Micro Account
Minimum Deposit: $100 USD
Leverage: Up to 1:300
Spread: From 3 pips on majors
Commission: None
Silver Account
Minimum Deposit: $1,000 USD
Leverage: Up to 1:300
Spread: From 1.9 pips on majors
Commission: None
Gold Account
Minimum Deposit: $10,000 USD
Leverage: Up to 1:300
Spread: From 1.5 pips on majors
Commission: None
Platinum Account
Minimum Deposit: $50,000 USD
Leverage: Up to 1:300
Spread: From 1.2 pips on majors
Commission: None
Exclusive Account
Minimum Deposit: $100,000 USD
Leverage: Up to 1:300
Spread: From 1 pip on majors
Commission: None
Platform
Finexo supports the MetaTrader 4 platform on PC, iOS, and Android devices, alongside the WebTrader platform, which is also available on mobile devices. MT4 is one of the most powerful and well-known trading platforms to date, due to the program's range of features and the software support for one-click trading, stop and limit orders, and a large variety of charts and analytics.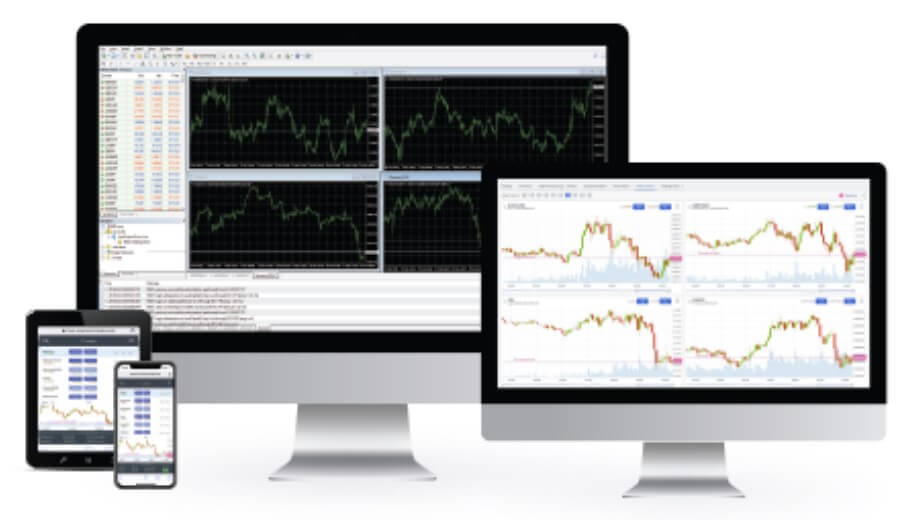 The mobile-compatible WebTrader platform features more than 2,100 instruments and allows traders to access LiveChat, deposit and withdrawals, support, a FAQ, and more convenient options directly without having to switch over to the back office. WebTrader also focuses on monitor and viewing options, risk management tools, intelligent analysis tools, and more.
The broker leaves the platform choice up to the client completely by having all five live accounts support trading on both of the available options. The majority of traders would likely prefer MT4, but it is nice to see an additional option available.
Leverage
Leverage caps are based on the specific instrument that is being traded, rather than being set specifically for each account type. The broker's maximum offer goes up to 1:300, although they primarily set a cap of up to 1:294 on most of their major and minor currency pairs. Exotics allow for a leverage range from 1:25 to 1:200, depending on the underlying asset. The maximum cap is lowered to 1:200 on futures and 1:100 on some commodities. Note that this maximum cap isn't available for all instruments in each category, as some instruments set a lower limit. Traders can view the exact leverages for each instrument by clicking on "Assets" at the top of the website.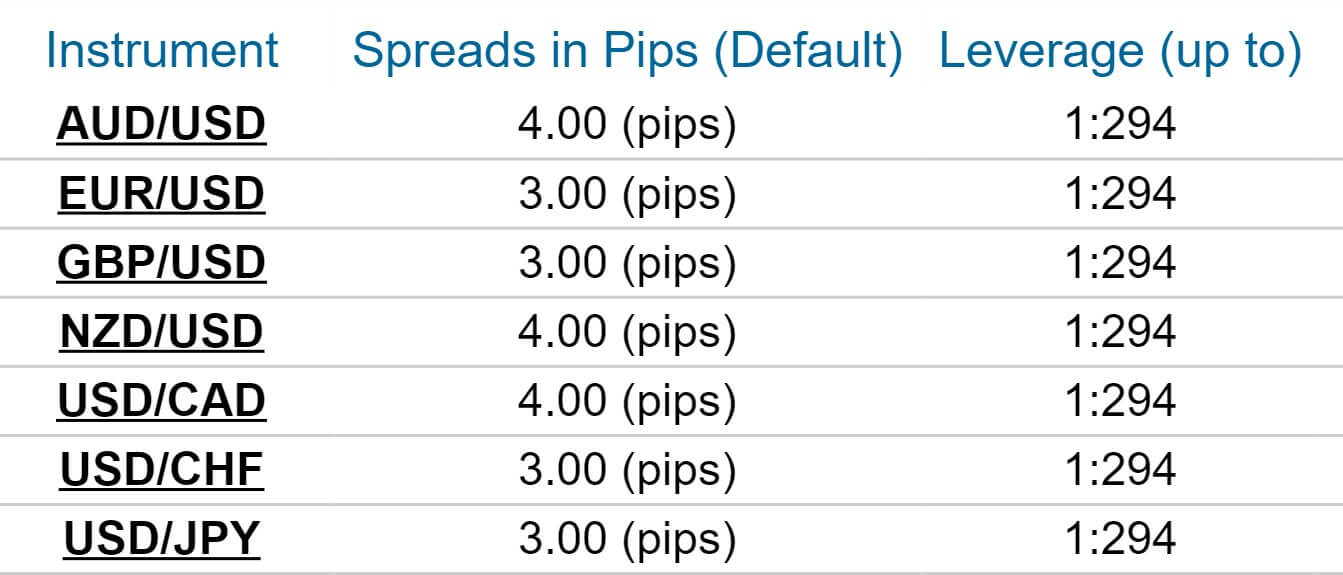 Trade Sizes
Finexo doesn't go into much detail about the minimum and maximum trade sizes or the maximum number of positions that can be opened at once. Naturally, we would assume that that the Micro account supports micro-lots, while the other accounts likely have minimum trade sizes that range from one micro lot to one lot. The broker sets a stop out level of 50%. If this level is reached, then all open trades will be closed by the system automatically to keep the account from going negative.
Trading Costs
Finexo profits from spreads, swaps, conversion charges, and inactivity fees. The broker's primary financial gain comes from spreads, and account holders will pay differing amounts based on their chosen account type. Spreads on the Micro account start from twice the industry average, while the Exclusive account's spreads are 0.5 pips below average. One advantage of trading through this broker would be the complete lack of commission charges on all of their live account types.

Conversion fees of 0.5% apply when your account currency is different than the quoted currency of the asset being traded. Once an account reaches 90 days of inactivity, the broker begins charging a $25 monthly fee until trading resumes or the account's balance is completely depleted. After a year of inactivity, the fee is charged at $100 per quarter. Swaps are also charged on positions that are left open past market closing time, at a rate that is specified on the website and tripled on Wednesdays.
Assets
Finexo advertises 2100+ available instruments for trading, which consist of FX pairs, commodities, ETFs, stocks, bonds, indices, and possibly cryptocurrencies. Traders would have access to 58 currency pairs, including majors, minors, and several exotics. Available CFD's include Brent Oil, Natural Gas, Heating Oil, and Oil, precious metals Gold, Silver, Aluminum, Copper, Palladium, Platinum, and Zinc. Traders can also access agricultural commodities like Cocoa, Cotton, Wheat, Sugar, and more.

There are several cash indices to choose from as well, plus 23 futures. Multiple stocks and ETFs are offered in addition, making for an incredibly diverse investment portfolio. Cryptocurrencies are also a listed category, although the section doesn't list any instruments specifically, so it seems as though the broker could be planning on adding options in the near future.
Spreads
The broker's website does provide a brief overview of spreads; however, Finexo only provides one set of detailed spreads, which seem to fit the advertised options for their Micro account. This makes it possible for us to compare the spreads on that account type, but we can't take a closer look at any of the accounts with better spreads. Spreads on the Micro account are advertised from 3 pips, spreads start as low as 1.9 pips on the Silver account, from 1.5 pips on the Gold account, 1.2 pips on the Platinum account, and from 1 pip on the Exclusive account.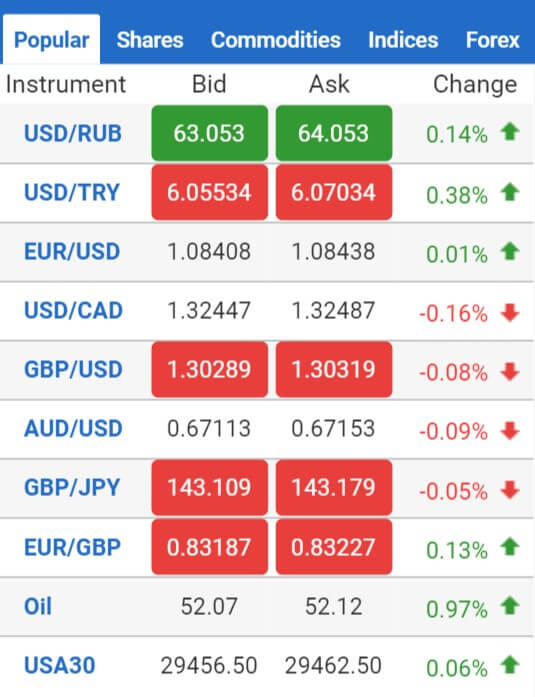 Taking a closer look at the Micro account, we see a default spread of 3 pips on the benchmark pair EURUSD. Options on several minors are at 4 pips and options can be outrageous on exotics. The default spread is actually 30,000 pips EUR/RUB, 10,000 pips on USD/RUB, and 150 pips on a few other exotics. Of course, those examples are on the extreme side, but the high spreads do make it best to avoid those instruments altogether.
Spreads seem to be much tighter when trading CFDs and several other instruments. On the downside, we do feel as though the broker needs to provide a more transparent look at the spreads available on all of their account types. Judging by the information we've been given; it seems as though the broker expects traders to make a $50K deposit to gain access to an account that offers lower than average starting spreads. This price model isn't uncommon, but it is usually possible to access spreads from 1 pip with less than a $100K deposit.
Minimum Deposit
Minimum deposit requirements range from $100 USD on the Micro account to $100,000 on the Exclusive account, which makes for a diverse price gap between accounts. Accounts that fall in the middle of the spectrum would be the Silver account, with an asking amount of $1,000, the Gold account, which requires a $10,000 deposit, and the Platinum account, which raises the requirement to a steeper $50,000. Overall, the asking amounts can be expensive, and traders would need to meet the Platinum account's $50K deposit to access better than average spreads. If you can only afford to open a Micro account, you'll be met with the disadvantage of trading with spreads that are at least twice the industry average.
Deposit Methods & Costs
Accounts can be funded through a variety of payment methods, including debit/credit cards, bank wire transfers, and e-wallets, including Skrill, Neteller, Sofort, EPS, Giropay, Multibanco, Przelewy24, iDeal, Epay.bg, and Safetypay. Deposits made through wire transfer would likely incur charges on the bank's behalf. The remaining deposit methods are fee-free.
Withdrawal Methods & Costs
Traders will be able to withdraw funds using any of the available deposit methods, with withdrawals likely being processed back to the originating payment method. Although the funding page doesn't mention any fees, the broker does mention fee-free deposits and withdrawals on their "Charges & Fees" page. The lack of fees provides an advantage where traders will actually receive more of their profits. Through other brokers, withdrawal fees can sometimes be steep, especially considering that many fees are 3% of the total withdrawal amount or even higher through some payment methods. Keep in mind that bank wire transfers may not be completely free since the receiving bank will likely charge some type of fee from their end.
Withdrawal Processing & Wait Time
Bank wire withdrawal is advertised as a "fast and efficient method", although our experience shows that these withdrawals typically take the longest to be received once you factor in processing times for both the broker and the receiving bank. The broker does mention instant payouts for Skrill withdrawals and it is possible that the instant option would be available when withdrawing through any e-wallet. Card withdrawals would likely take a few business days to be received at the least.
Bonuses & Promotions
Finexo isn't currently offering any advantages to their existing clients or those that choose to open an account with them. We sometimes see welcome bonuses or deposit bonuses available through other brokers, which serve as an incentive for beginners to open a trading account. More established brokers will sometimes offer contests, occasionally even demo contests that reward traders with real cash.
We've seen a whole variety of promotional offers, so it is always disappointing when brokers have nothing unique or helpful to offer in this category. One shouldn't discount this broker entirely based on the lack of promotions alone, but it may be hard to overlook another broker with a better offer if you have a few potential options in mind.
Educational & Trading Tools
Those that are looking for resources won't find anything useful on the broker's website, aside from the bare-minimum demo accounts that are offered. It's always a little concerning when brokers fail to offer anything in this category, especially considering that it is in the broker's best interest to educate their clients. This ensures that those clients stay invested in the long-run and understand what they're doing, instead of jumping in head-first and quitting quickly. Traders will be able to find video tutorials on YouTube and search Google for other resources, but they will be missing the convenience of having helpful tools at their fingertips.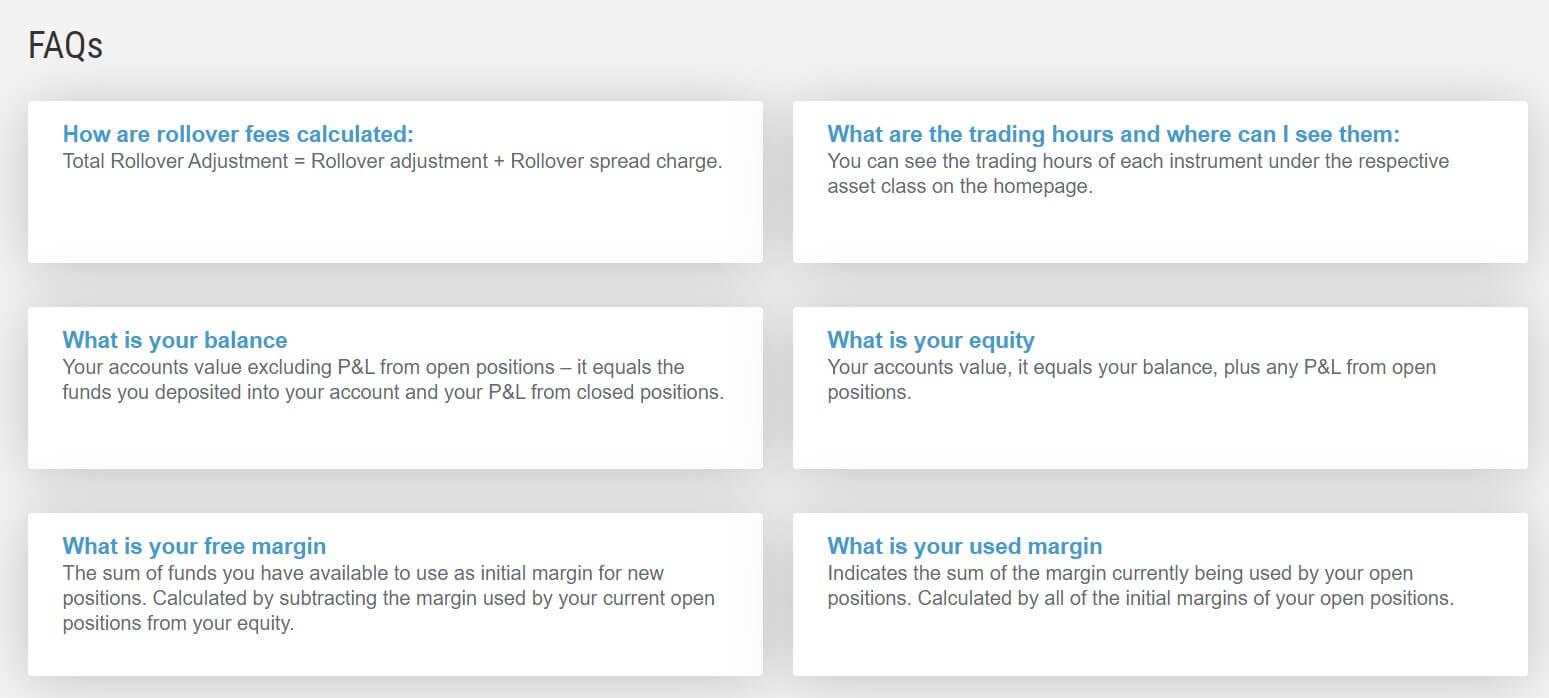 Demo Account
Finexo does manage to offer free demo accounts, even though they don't offer anything else from an educational standpoint. To be fair, demo accounts serve multiple purposes and could be considered one of the best learning tools out there, so these accounts could help beginners to better prepare themselves for trading on a live account. On the downside, the broker's website actually blocks some users from registering a demo account based on their IP address. If you're located in a restricted country, then you won't even have the option to open a demo. It's rare for a broker to block someone from opening a simulation account based on their location, so we are disappointed in Finexo for that fact.
Customer Service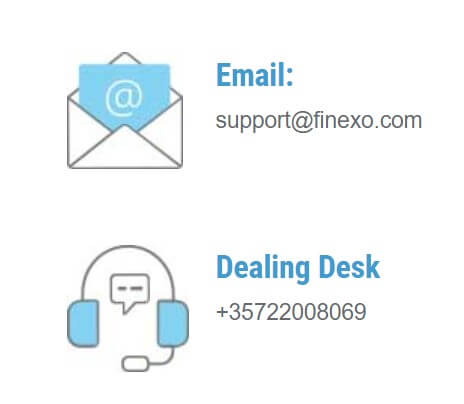 The broker's customer service team can be contacted through LiveChat, email, or phone. Agents are in the office from 22:00 GMT on Sunday evening through Friday afternoon at 22:00 GMT. Although we were initially happy to see the instant contact option LiveChat available on the website, there weren't any agents online when we attempted to start a chat. This was during business hours, so it seems as though support agents can't be counted on to always be online when they're supposed to be. In the broker's defense, the chat does ask for an email address and allow one to type in their problem to receive a response once an agent does come online, but this doesn't really provide more convenience than simply emailing support in the first place. We've provided contact details below and LiveChat can be accessed from the bottom right corner of the website.
Countries Accepted
We were fairly certain that traders from the United States would be banned from registering for a live account, considering that the website blocked us from even opening a demo account from a US-based IP address. When we tried to register a live account, we were greeted once again by the frustrating blocked IP address message. Canada and Japan also seem to be on the restricted countries list. Traders located in those countries would most likely be blocked from even accessing the registration form based on their IP address as well. Sadly, it seems as though there is no way for residents of the USA, Canada, and Japan to bypass the restrictions.
Conclusion
Finexo's asset portfolio is made up of a diverse category of instruments, including FX pairs, CFDs, and several more options. Traders would be able to access a maximum leverage cap of 1:300 on some options, with a choice to trade on the popular MetaTrader 4 platform or the convenient WebTrader platform. Commissions are not charged on any account type, meaning that trading costs are built-into the spreads. Those options can start as low as 1 pip on the Exclusive account, which requires a $100K deposit, while the spreads start from a higher 3 pips on the $100 Micro account.
Deposits and withdrawals are fee-free and can be made using debit/credit cards, bank wire transfers, and a variety of e-wallets. Support is available 24/5 via LiveChat, email, or phone. Based on our experience, traders shouldn't expect to be able to connect with a support agent instantly 100% of the time during business hours. We were also disappointed to find that Finexo's website is missing any promotional opportunities, trading tools, and educational offers, aside from demo accounts, which aren't available to those located in the USA, Japan, or Canada.
Like many other forex brokers, Finexo offers better conditions to those that can afford their better accounts. There are still some advantages that would affect all clients, like free deposits & withdrawals and access to multiple types of tradable instruments.