CF Group is an Australian-based foreign-exchange broker that has been in business for more than eleven years. The company's established time in the competitive market, coupled with its strong regulation by the Financial Services Provider (license #507506) and the Securities Commission of the Bahamas (license #001273790) make the broker a reliable provider. The company, which provides leveraged trading as high as 1:500 on FX, metals, and CFDs, has become a leader in the industry and is highly favored by investors. Stay with us to find out more about the costs and features associated with this broker.

Account Types
CF Group allows traders to choose from three unique account types; Mini, Standard, and Platinum. The Mini account is targeted towards beginners that would like the advantage of an account that only requires a $20 minimum deposit. This account offers the same 1:500 leverage cap like the other accounts, with a drawback being a higher floating spread. The Standard account lowers the spread cost by 30% while asking for a realistic deposit of $200 USD. It costs at least $5,000 to open a Platinum account, with incentives being a spread cost that is reduced by 50%, a new member gift, and a birthday gift worth $30.
Although the broker does have a category related to commissions on their cost spreadsheet, all of those inputs remained blank, essentially showing that commissions are not charged on any instruments. Accounts also share some other similarities, including supported trading platforms, margin call levels, etc. We've provided a quick overview of each account type below.
Mini Account
Minimum Deposit: $20 USD
Leverage: Up to 1:500
Spread: From 1.6 pips
Commission: None
Standard Account
Minimum Deposit: $200 USD
Leverage: Up to 1:500
Spread: From 1.2 pips
Commission: None
Platinum Account
Minimum Deposit: $5,000 USD
Leverage: Up to 1:500
Spread: From 1 pip
Commission: None

Platform
The broker offers its own CFD Platform, alongside the world-famous MetaTrader 4 platform. Both platforms feature free demo accounts, market execution, and drawing tools while being easily accessible on PC, web, Android, and iOS devices. A few incentives to choose the broker-based platform would be an additional chart type, price alerts, daily history quotes, and the ability to deposit directly into the platform.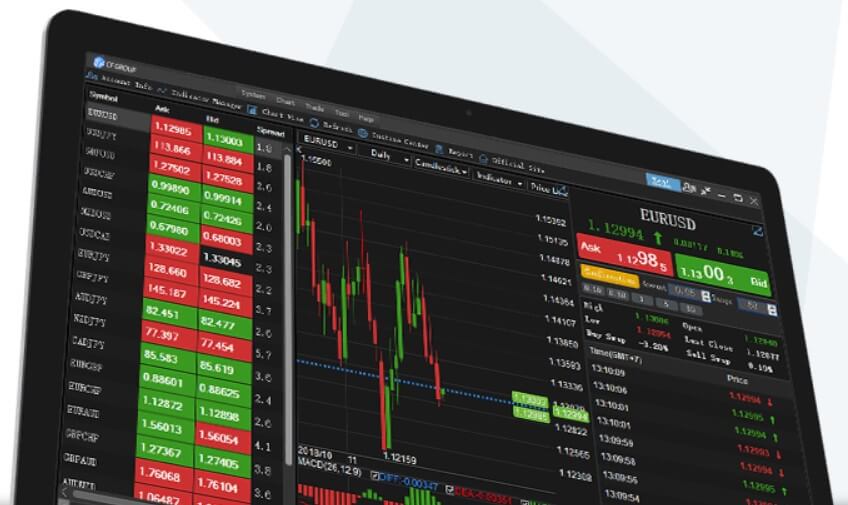 Another huge incentive would be the fact that spreads seem to differ on the two platforms, with the broker advertising floating spreads that average 0.3 pips on their own platform, while market spreads average 1.2 pips on the MT4 platform. Many traders would likely to prefer MT4 for its vast array of features, or for the simple fact that they may be more used to trading from that platform. It seems a little disappointing that those traders wouldn't have access to the better spreads if they decide to stick with the familiar option.
Leverage

This broker provides a generous leverage cap of up to 1:500 for all account holders, with no restrictions based on the account's equity. Many regulators limit that maximum leverage that can be offered to 1:30 or 1:100 and many traders will find this broker's options to be much better than several of their competitor's offers. All traders should keep in mind that trading with high leverages, especially with one as high as the cap offered by this broker, is extremely risky. Doing so can result in large gains or large losses and taking those risks is better suited for professionals that have the funds the risk. If you need more experience, then there would always be room to grow and select a larger option through this broker once you're prepared to do so.
Trade Sizes
The Mini and Platinum accounts support a minimum trade size of one micro lot on all instruments. The Standard account type has minimum trade size of 0.05 lot on foreign exchange pairs, while micro lots are allowed on all other instruments. The maximum number of open orders (including open positions and pending orders) allowed is 50 contracts on the Mini account and 100 contracts on the Standard and Platinum accounts. If the account reaches a margin level of less than 20%, the margin call mechanism will automatically close the positions with the highest losses.
Trading Costs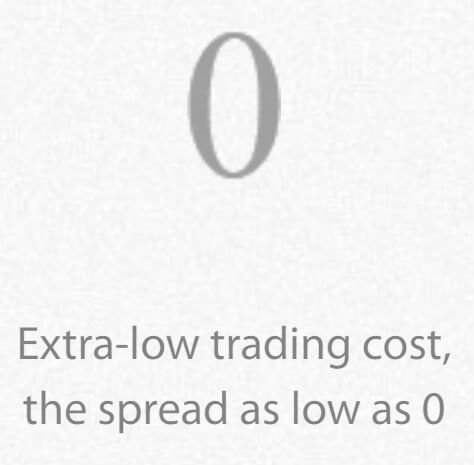 CF Group only profits from spreads and swap charges, with commission costs being eliminated altogether. We did find a category related to commission costs on the page that details minimum and average spreads and swap costs, but all of the inputs for that category remained blank, meaning that traders will not have to worry about commission costs when trading any instrument. Swaps would be charged or credited based on the current rate when holding positions past market closing time, and the applicable swap rates can be viewed on the website under "Charges and Fees on CF CFD Platform". The broker reserves the right to charge statement fees, idle account fees, order cancellation fees, transfer fees, and other fees at any time without notice.
Assets
CF Group provides access to a rather limited number of currency pairs, with 29 total options. Exotic pairs are missing from the list entirely, which accounts for the lowered number of options when compared to the number of FX options that are usually provided by other brokers. CFDs are available as well on the most popular metals Gold and Silver, in addition to US Oil, UK Oil, Natural Gas, and 12 other cash indices. The combined total comes out to 46 tradable instruments, which doesn't allow for much variety. Traders that are looking to trade assets from more diverse categories, or even to simply trade exotics may need to consider opening a secondary account with another broker.
Spreads
Earlier, we listed the broker's advertised spreads when referencing all of the available account types. In order to paint a more accurate picture, we checked the broker's charges and fees for more detailed information. Doing so revealed that the broker was advertising the minimum charges, while average options could climb higher. For example, the minimum spread on the currency pair EURUSD is 1.8 pips, but the average spread was 2 pips.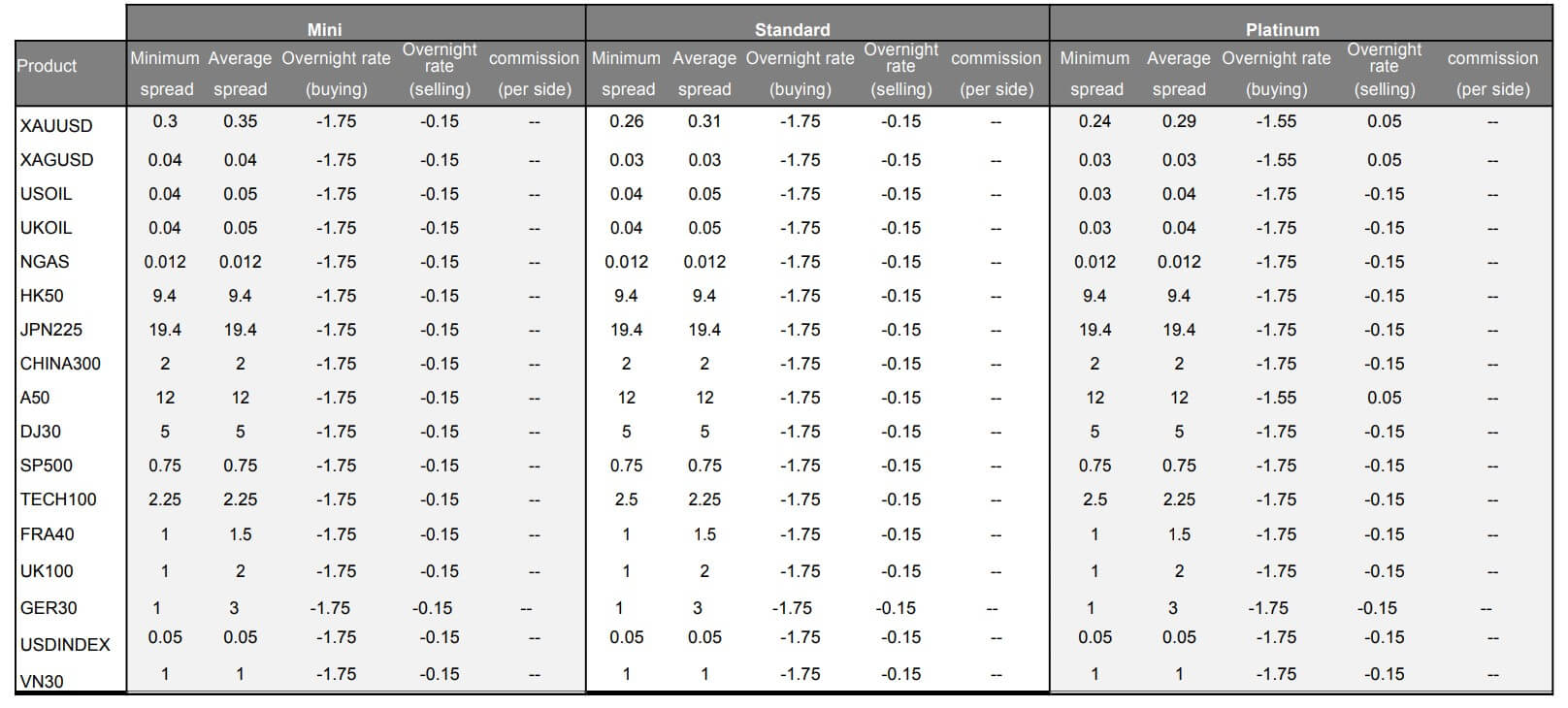 Most of the average spreads were 0.1 – 0.2 pips higher than the minimum. Comparing spreads based on different account types can also help one to see how much the pricing can differ. Taking the currency pair USDJPY, we see an average spread of 2 pips on the Mini account, 1.6 pips on the Standard account, and 1.4 pips on the Platinum account. Traders will be able to compare all options for themselves on the broker's website by navigating to the "Account Types" page and selecting "CFD Prices and Charges" underneath the account chart.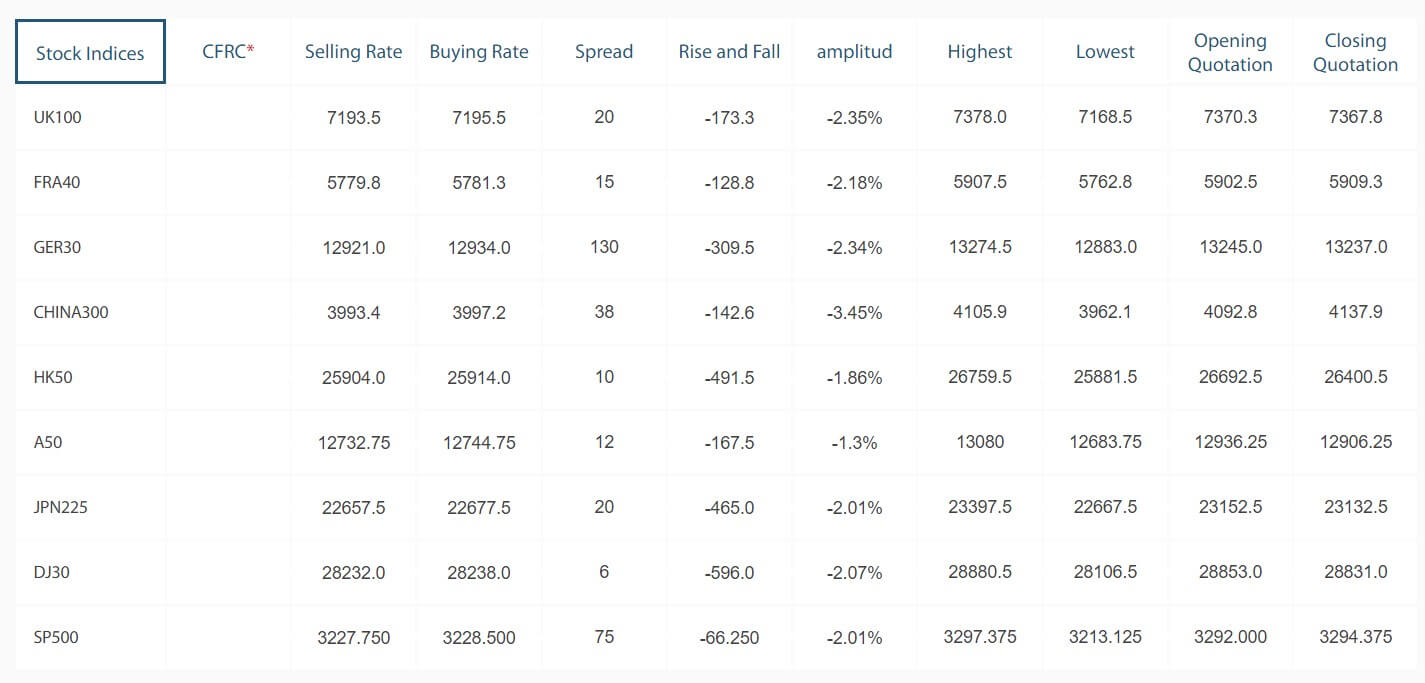 Minimum Deposit
One of the advantages of opening an account through this broker would be the low deposit requirements on the Mini and Standard account types. The Mini account only asks for a $20 deposit, an affordable amount for any trader. In order to gain access to tighter spreads, traders could also choose to deposit $200 USD to gain access to a Standard account. This amount falls in line with the industry average while remaining fairly affordable. The Platinum account, which reduces spread costs by 50% and comes with some added incentives, requires a $5,000 deposit. Even if one can't afford this amount, there will still be two options to choose from without having to account for affordability.
Deposit Methods & Costs
It seems as though deposits are only accepted via bank wire transfer. The website doesn't address funding information very transparently, which forced us to check the Client Agreement for relevant details. Within the agreement, we could only find information that addressed wire transfers, although the broker never directly stated that this was the only payment method. If you need your funds to be available quickly, note that the document states that traders must understand that the broker needs time to process deposits and that if a deposit is made to avoid a margin call, it won't be credited immediately.
Withdrawal Methods & Costs
Before making a withdrawal, traders will need to ensure that the account's remaining balance would be enough to cover the broker's margin requirements if there are any open positions. Clients would also need to agree to pay any fees involved in transfers, including bank fees, exchange rates, and all related costs. Third-party withdrawals are not accepted. Any withdrawals for less than $50 USD will be charged a $3 remittance fee. If the customer requests a withdrawal that is less than 60% of the injection amount, then the company will receive 6% of the withdrawal amount as the remittance fee.
Withdrawal Processing & Wait Time
Accounts must be completely verified before clients will be able to make any withdrawals. Once a withdrawal request has been submitted, CF will deduct the balance of the withdrawal from the client's account in real-time. The broker goes on to mention that it takes time to process those withdrawals and the amount will not be available immediately. All withdrawals are processed within two hours; however, the amount of time that it can take for those funds to be received will depend on the bank. This could likely take a few business days.
Bonuses & Promotions
CF Group is currently advertising a referral program that rewards both the referring client and the referred client with $10 each once the new client makes a deposit of at least $100 and completes the trade requirement within 30 days. Inviting 4-10 people would increase the cash reward to $15 per client while referring more than $10 people would change the award amount to $20 per client.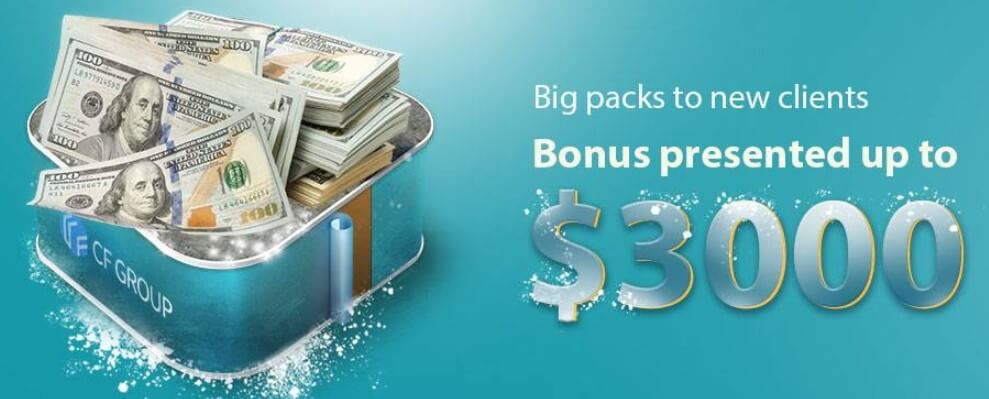 Traders can also earn rebates based on their referrals trading activity at a rate of $5 per lot, up to $400 per person referred. Platinum account holders are eligible for a birthday gift worthy of $30 USD as long as those clients have closed at least 20 lots. The broker also advertises a new member gift for those clients, but we don't see any details about how much that gift is worth and exactly how it would be awarded.
Educational & Trading Tools
Aside from real-time quotes, traders won't find any trading tools or educational resources like articles, eBooks, video tutorials, or other materials that we sometimes find available through other brokers on the CF Group website. The lack of resources shouldn't be enough to cause one to switch brokers, but we always enjoy seeing forex brokers making an effort to educate their clients. If you're already up to date on current terms and understand how forex trading goes, then opening a demo account through this broker could be helpful. Otherwise, traders would need to conduct research elsewhere on the web.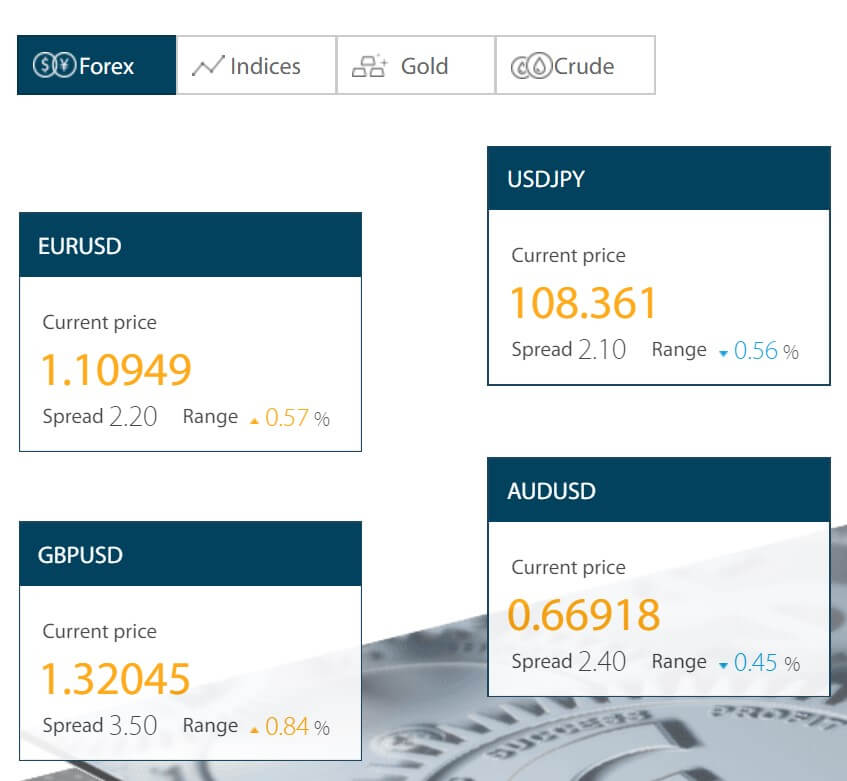 Demo Account
CF Group may be missing other educational alternatives, but traders should be happy to know that the broker does manage to offer risk-free demo accounts, which serve as a simulation for traders that aren't quite prepared to open a live account. Demo accounts can also serve other purposes, and can even be helpful for more advanced traders that would like to test out new strategies or trade under the broker's exact conditions. Registering for an account only takes a moment, since the broker doesn't ask for very much identifying information. We didn't see an option to choose an amount of virtual currency or leverage setting for the demo account, meaning that these factors are likely predetermined.
Customer Service
Traders can reach out to the broker's support team through Skype, instant chat, phone, or email. It's easy to miss the instant chat option, so traders will want to know that this can be accessed from the top right of the website, by clicking on "Customer Service". Choosing this option opens a direct chat mini window. When we tested this method, we were connected to a real person immediately, so this seems to be a quick and convenient way to contact an agent. Skype would be another excellent option for those that are looking to get in touch with support asap. The website doesn't mention exact contact hours, but many brokers are closed on weekends. The contact information has been listed below.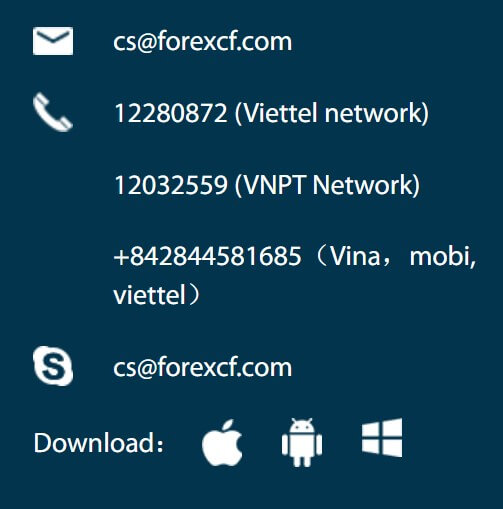 Email: cs@forexcf.com
Skype: cs@forexcf.com
Phone
12280872 (Viettel network)
12032559 (VNPT network)
+842844581685 (Vina, Mobi, Viettel)
Countries Accepted
While the website didn't directly state any restricted countries, we checked the registration page as always to check for any missing locations that stood out. Sadly, the United States and other related options were missing from the list entirely. The broker does seem to accept clients from other commonly restricted countries, including Afghanistan, Iran, Japan, North and South Korea, and many others.
Conclusion
CF Group is an online foreign exchange broker that allows traders to open one of three account types for $20, $200, or $5K. All traders are provided an impressive leverage cap of 1:500 with no restrictions, but the total number of tradable instruments is limited to just 46 options, divided into FX, metals, and a few CFDs. Spreads vary based on the account type, starting from 1.6 pips on the Mini account and from 1 pip on the Platinum account type.
The broker does feature the MT4 platform, although traders are pushed to use their own platform, as it comes with lower spreads. Commissions aren't charged, but the broker does reserve the right to charge several extra fees at any time should they decide to. Deposits only seem to be accepted in the form of wire transfer, and the broker tacks on extra fees on withdrawals that don't meet certain minimums, with a steep 6% fee on withdrawals of less than 60% of the deposited amount. On the bright side, processing times for withdrawals are extremely fast.

The website can be disappointing in the fact that the only available educational resource would be a demo account. Promotional opportunities consist of a referral program, plus a birthday gift and new member awards for Platinum clients. Traders located in the United States cannot open an account through this broker. If you're considering opening an account through CF, you'll want to study these factors closely and choose an account type that is best suited for you personally.