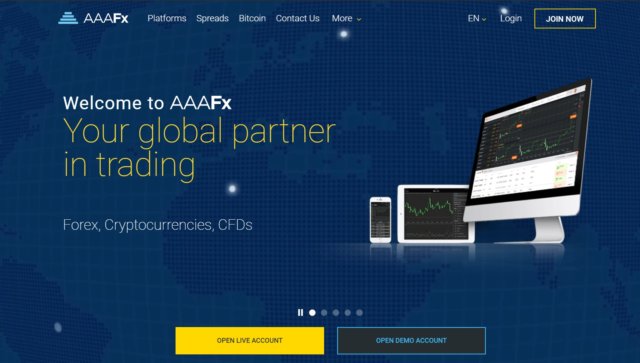 AAAFx is a foreign exchange broker that was founded in 2008 in Athens, Greece. They don't give a lot of information about themselves away except for the fact that they employ over 70 people and have in house offices in 11 different languages. In this review, we will be looking at what is being offered by AAAFx so you can decide if they are the right broker for you.
Account Types
When joining AAAFx you are offered just one account type however you need to make a choice on what method you wish to use to access the account (see Platforms section in this review). Due to this there is only one account type and one set of trading conditions, throughout this review we will be looking into these in detail, so all that is written in the different sections are relevant to the account you will be using should you sign up with AAAFx.
Platforms
AAAFx offers a number of different platforms for their clients, we are going to look at them briefly to see what they offer.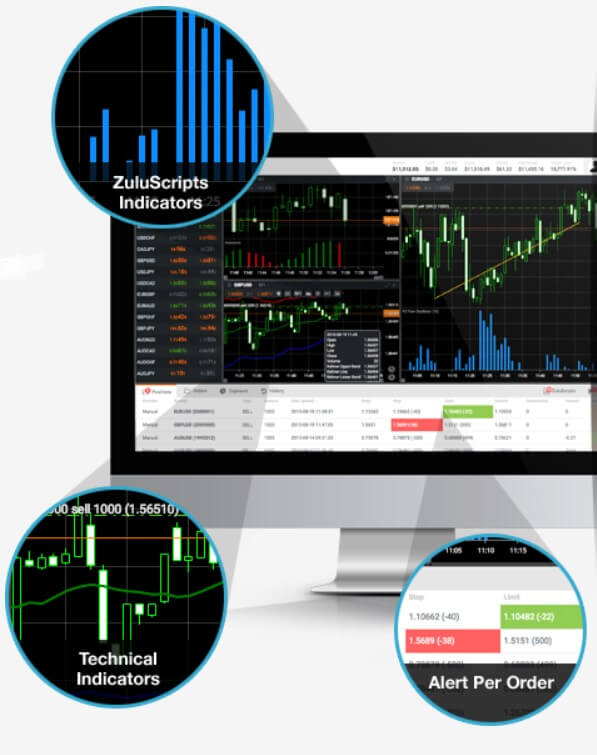 ZTP: Provides you with a fully-fledged web-based Trading Station for Forex and CFDs manual trading. Offers technical charts (Candlesticks, OHLC, lines) and indicators (Trend, Oscillators, volatility, volumes, Bill Williams, etc.) you can tailor according to your trading requirements. In addition, ZuluScripts™ allows trading robots to be used or developed via your own algorithms to run your trading strategies. Your account is shielded at all times against connectivity issues and can run EAs uninterruptedly without the need for a VPS.
MetaTrader 4 (MT4): The AAAFx version of MetaTrader 4 provides clients with the most powerful tools and resources needed to fully analyze the markets and improve their trading performance. This platform offers opportunities to FX traders of every skill level, providing each with advanced technical analysis tools, a flexible trading system, algorithmic trading opportunities, Expert Advisors, and mobile apps.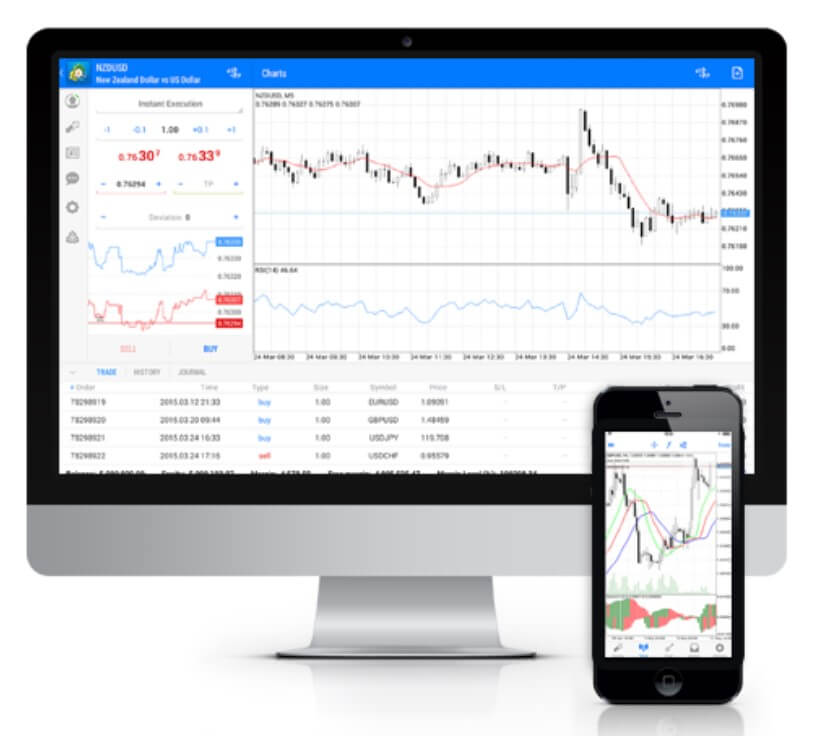 ZuluTrade: ZuluTrade is the largest network of talented Forex and Crypto Traders from 192 countries that you can simply choose to follow and automatically set your account to copy their trading signals. As a follower, you can fully manage your account, customize it and protect your capital through advanced risk management features such as ZuluGuard™ or the Margin-Call-O-Meter™ in your Forex account.

This advanced auto-trading platform is easy to use, requires no installation, delivers all the right tools to make your trading experience easy. It is offered with all the above platforms: ZTP and MT4. Finally with its native mobile applications for iOS, Android, and Windows you can auto-trade from anywhere, anytime and also enjoy support in multiple languages.
Leverage
AAAFx has different leverage based on the instrument that you are using, due to the ESMA restrictions these are as follows:
Major Currency Pairs: 1:30
Non-Major Currency Pairs: 1:20
Gold and Major Indices: 1:20
Commodities other than Gold and non-major indices: 1:10
Bund: 1:5
Cryptocurrencies: 1:2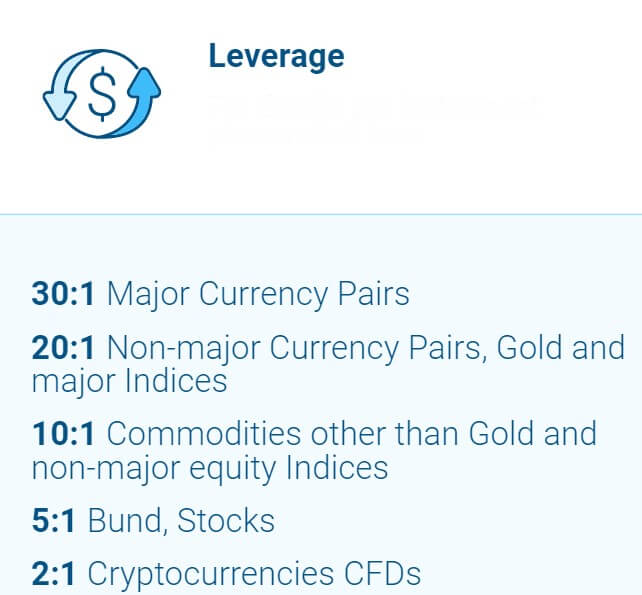 Should you be classified as a professional trader then you are able to get increased leverage, however, we are not clear on what the increased maximum is.
Trade Sizes
Trade sizes start at 0.01 lots (known as micro-lots) and go up in increments of 0.01 lots so the next available trade would be 0.02 lots and then 0.03 lots. The maximum trade size for a single trade is 100 lots, but we would recommend not trading in sizes larger than 50 lots, as the bigger a trade becomes the harder it is for the markets or liquidity provider to execute the trade quickly and without any slippage. There can also be a maximum number of 1000 trades open at any one time, but you will find it hard to get anywhere near that number anyway.
Trading Costs
There is quite a hefty commission when trading with AAAFx, so hefty that we haven't really seen any so high in a long time. There is a commission of 10 USD (9 EUR, 1200 JPY, 13 AUD, 9 CHF or 6.5GBP) per side of a lot traded, this means the commission is added when a trade is opened and when it is closed, so the total commission will be $20 per round lot traded. This is incredibly high considering the average seems to be around $6 per round lot traded.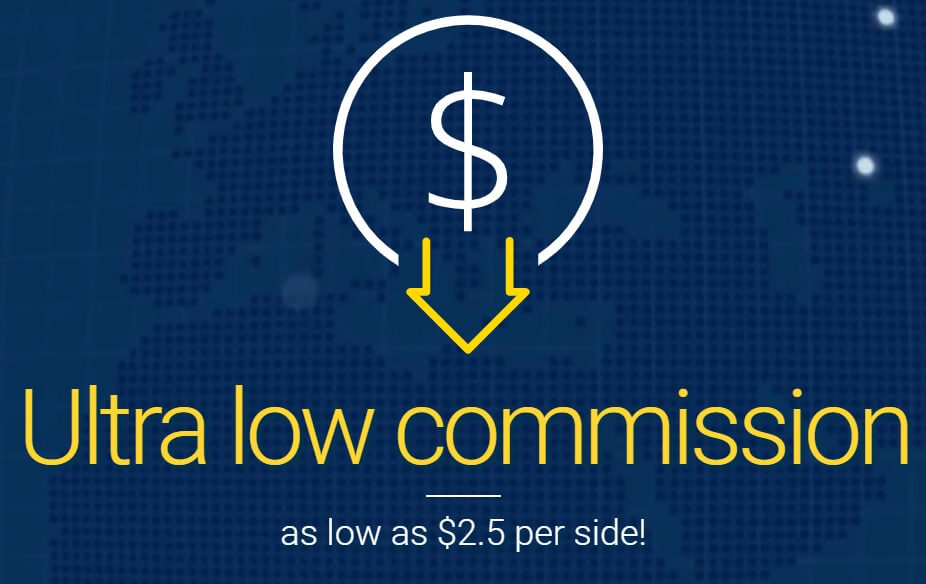 Swap charges are also included, these are interest charges that are incurred for holding trades overnight, they can be both negative or positive and can usually be viewed from within the trading platform of choice, they can also be viewed on the AAAFx website.
Assets
AAAFx have broken down their assets into a few different categories that we will look at and outline what assets and instruments are available within them.
Forex: EURUSD, USDJPY, GBPUSD, USDCHF, EURCHF, AUDUSD, USDCAD, NZDUSD, EURGBP, EURJPY, GBPJPY, CHFJPY, GBPJPY, EURAUD, EURCAD, AUDCAD, AUDJPY, CADJPY, NZDJPY, GBPCAD, AUDNZD, EURNZD, AUDCHF, GBPAUD, CADCHF, EURSEK, USDSEK, EURNOK, USDNOK, USNMXN, USDZAR, ZARJPY, NZDCHF, NZDCAD, USDCNH.
Indices: ESP 35, GER 30, US 30, CHN 50, NAS 100, SPX 500, AUS 200, FRA 40, UK 100, EUSTX 50
Commodities: US Oil, UK Oil, Gold, Silver, Copper, Natural Gas
Treasury: Bund
Cryptocurrencies: Bitcoin, Ethereum, Litecoin, Ripple, Bitcoin Cash
Stocks: US Stocks

Spreads
Spreads start from as low as 0.3 pips, the spreads are variable (also known as floating) so this means that when the markets are being volatile, the spreads will often be seen higher. It is also important to note that different instruments and assets have different starting spreads, so while EURUSD may start at 0.3 pips, other assets like GBPJPY may start slightly higher, in this case, 1 pip.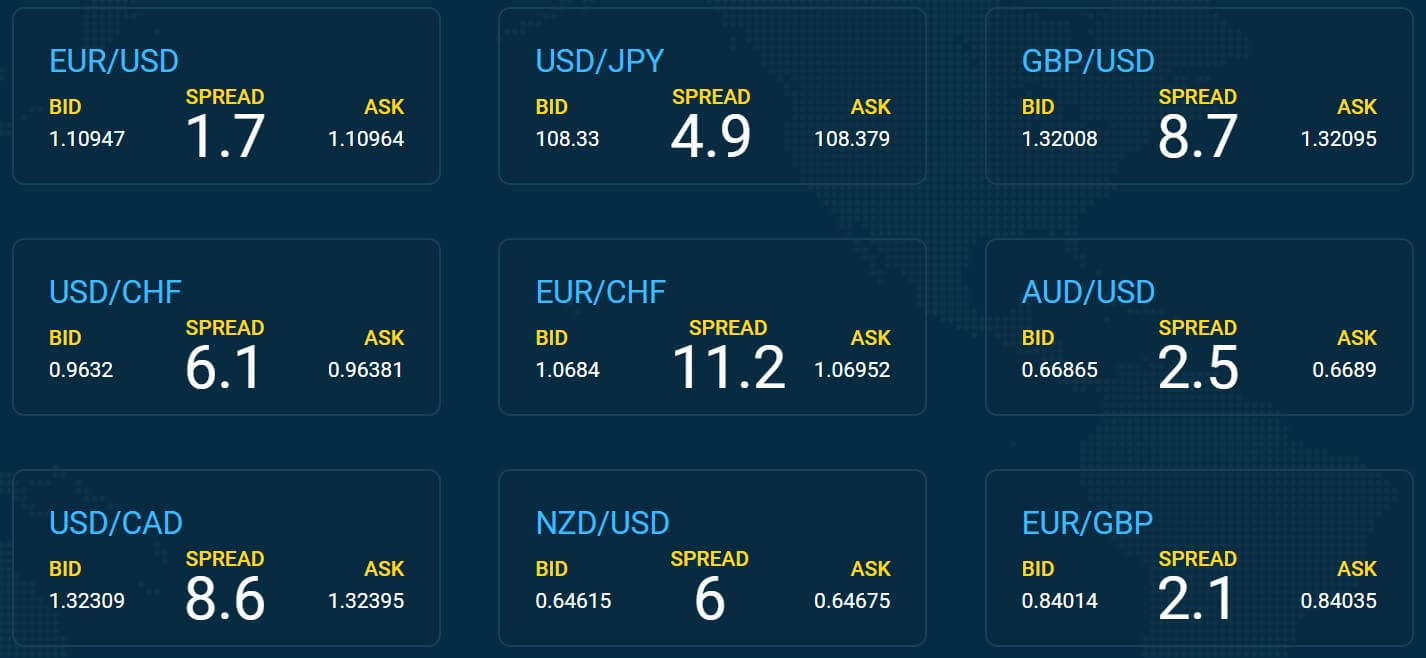 Minimum Deposit
The minimum amount required to open an account is 300 USD, 250 EUR, 35,000 JPY, 200 GBP, 250 FR, and 370 AUD. Once an account has been opened, any subsequent deposits will have their minimum reduced down to $100.
Deposit Methods & Costs
There are quite a few different deposit methods available and each has its own fees and currencies, we have outlined them below is a list which follows the order of "Method – Currencies – Fee".
Visa / MasterCard (Wirecard) – EUR, USD, JPY, CHF, GBP, BGN, AUD – 2.5%
Union Pay – CNY – 2.99%
Visa / MasterCard (Ecommpay) – EUR, USD, CHF, GBP – 2.8%
Bitcoin – BTC – up to 0.25%
Sqissquote Bank – EUR, USD, JPY, CHF, GBP, AUD – Bank commission
Eurobank – EUR, USD, JPY, CHF, GBP, BGN, AUD – Bank commission
Skrill – EUR, USD, JPY, CHF, GBP, AUD – 2.9% + 0.25%
Neteller – EUR, USD, GBP – 3.4% + 0.29 USD
Giropay – EUR – 2.2%
EPS – EUR – 2.9%
DirectPay24 / Sofortüberweisung – EUR – 2.2%
iDeal – EUR – 0.7%
Przelewy24 – EUR – 2.9%
QIWI Wallet – EUR, USD, GBP, CHF, AUD, JPY – 4.2%
As you can see some of the fees are quite high, this is for depositing which most brokers allow for free so it is a disappointment seeing them so high, you should also check with your own bank and processor to see if they add any fees of their own. The only good side is that there are plenty of options for depositing.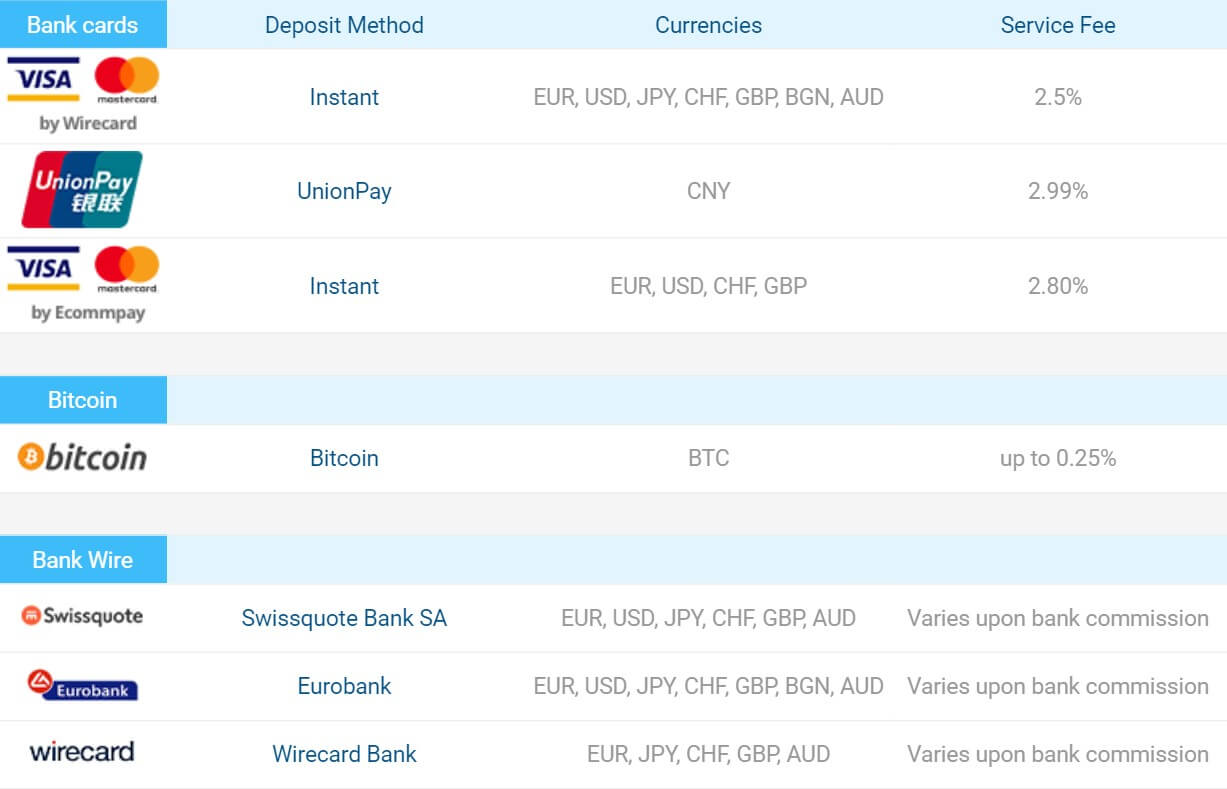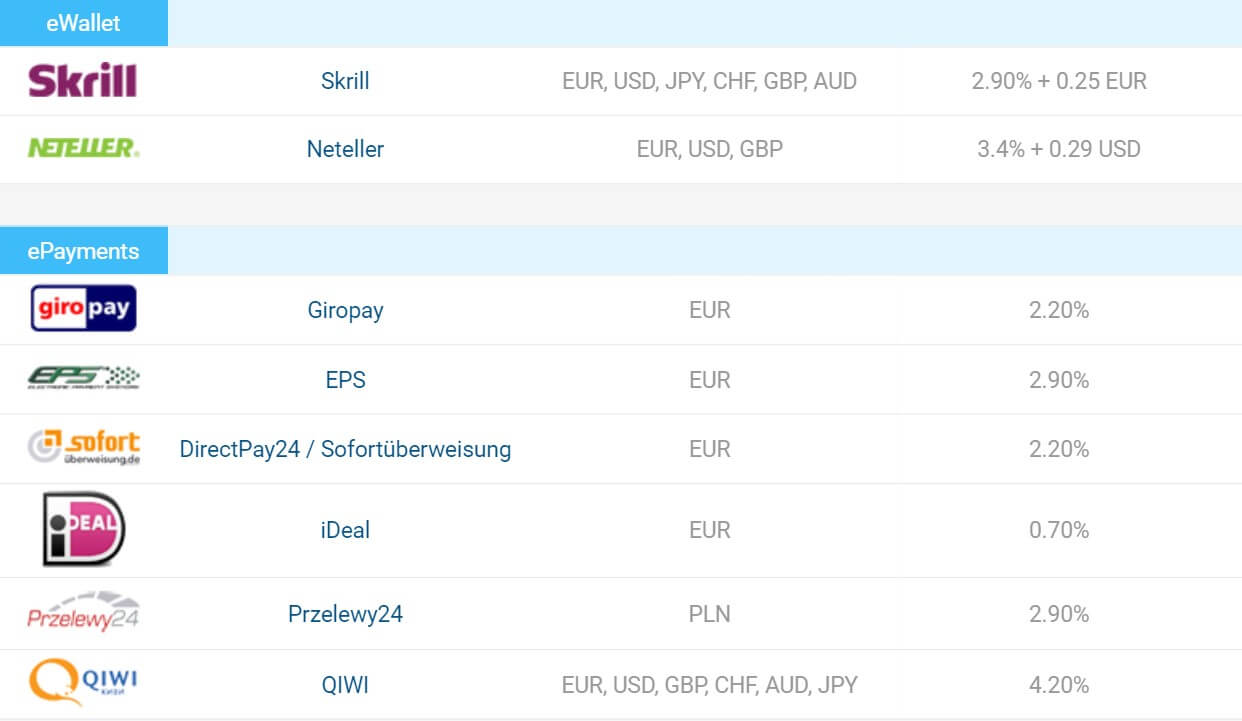 Withdrawal Methods & Costs
You must withdraw to the same method that you used to deposit (see list above), once the withdrawal amount equals that of the deposit, all further funds must be withdrawn via Bank Wire Transfer.
There is no fee for Instant Deposit Credit Cards, however, all other withdrawals have a flat $25 (25 EUR, 3,000 JPY, 30 AUD, 17 GBP, and 25 FR) fee added to all withdrawals, you should also check with your own bank and processor to see if they add any fees of their own. It is disappointing to see such fees present, hopefully, this is an aspect that AAAfx will look to improve for the future.

Withdrawal Processing & Wait Time
Withdrawal requests are normally confirmed within 1 business days, once the request is confirmed the time it takes to reach your account will depend on the method being used, if you are using Bank Wire Transfer as an example, it can take an additional 2 to 5 business days for the money to become available to use.
Bonuses & Promotions
We could not locate any information on the website in regards to bonuses or promotions so it does not appear that there are any active ones at the time of writing this review. If you are interested in bonuses then be sure to check back regularly or get in contact with the customer service team to see if there are any upcoming bonuses or promotions. The FAQ also states that there are no active promotions at this time, there is a bonus section of the account section, however, it is currently blank.
Educational & Trading Tools
There doesn't appear to be anything in regards to education or trading tools. This is a shame as a lot of brokers these days are looking to help their clients improve and become more profitable with educational courses or tools to help them trade or analyze. It would be nice to see AAAFx do something similar for their clients.
Customer Service
There are plenty of ways to get in contact with the customer service team from AAAFx. The support team is open 24/5 from Sunday 21:00 UTC to Friday 23:000 UTC. Support is available in English, Greek, German, French, Spanish, Italian, Portuguese, Russian, Chinese, Arabic and Japanese.

You can get in touch via an online chat window to speak to someone via chat, there is also a support email to use and there is a phone number for various locations including Moscow, London, Melbourne, Athens, Tokyo, and Bogota.
Demo Account
You can easily sign up for a demo account, just click the demo account button and fill in the short form. The demo account is for MetaTrader 4 however you can sign up for a ZuluTrade demo account by visiting the ZuluTrade website. The conditions will match those that we have described in this review and they should work indefinitely as long as they are in use, if left dormant for too long they may be removed to free up server space.
Countries Accepted
The information about which countries are accepted and which are not is not present on the website, so if you are interested in joining, be sure to get in contact with the customer service team to check if you are eligible for an account or not.
Conclusion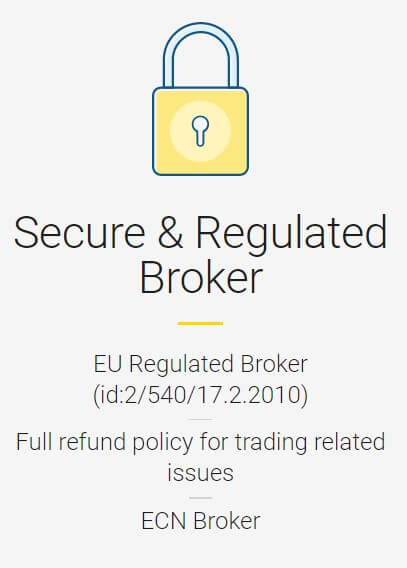 AAAFx is a well-known name in the social trading world thanks to their affiliation with ZuluTrade, they have adapted their accounts for that trading platform above all else. The spreads and leverage are what you would expect from a commission-based regulated broker, the big let down to the trading conditions are the huge commission, $20 (or currency equivalent) per round turn lot is incredibly high, over triple what the industry average of $6 is.
The other major downside is the big fees and charges when depositing and withdrawing, it should cost you to give someone your money, nor should it cost to get it back out, this is something that really needs to be approved. Plenty of ways to contact the customer service team is a plus though. If you can survive the huge costs then AAAFx looks promising, however, there are far cheaper brokers out there.