The crypto market went into a consolidation phase, which it is still in. Cryptocurrencies are divided between slightly red and slightly green on the day. Bitcoin, the largest cryptocurrency by market cap, is currently trading for $9267, which represents a 1.09% decrease on the day. Meanwhile, Ethereum lost 1.18% on the day, while XRP went up 0.68%.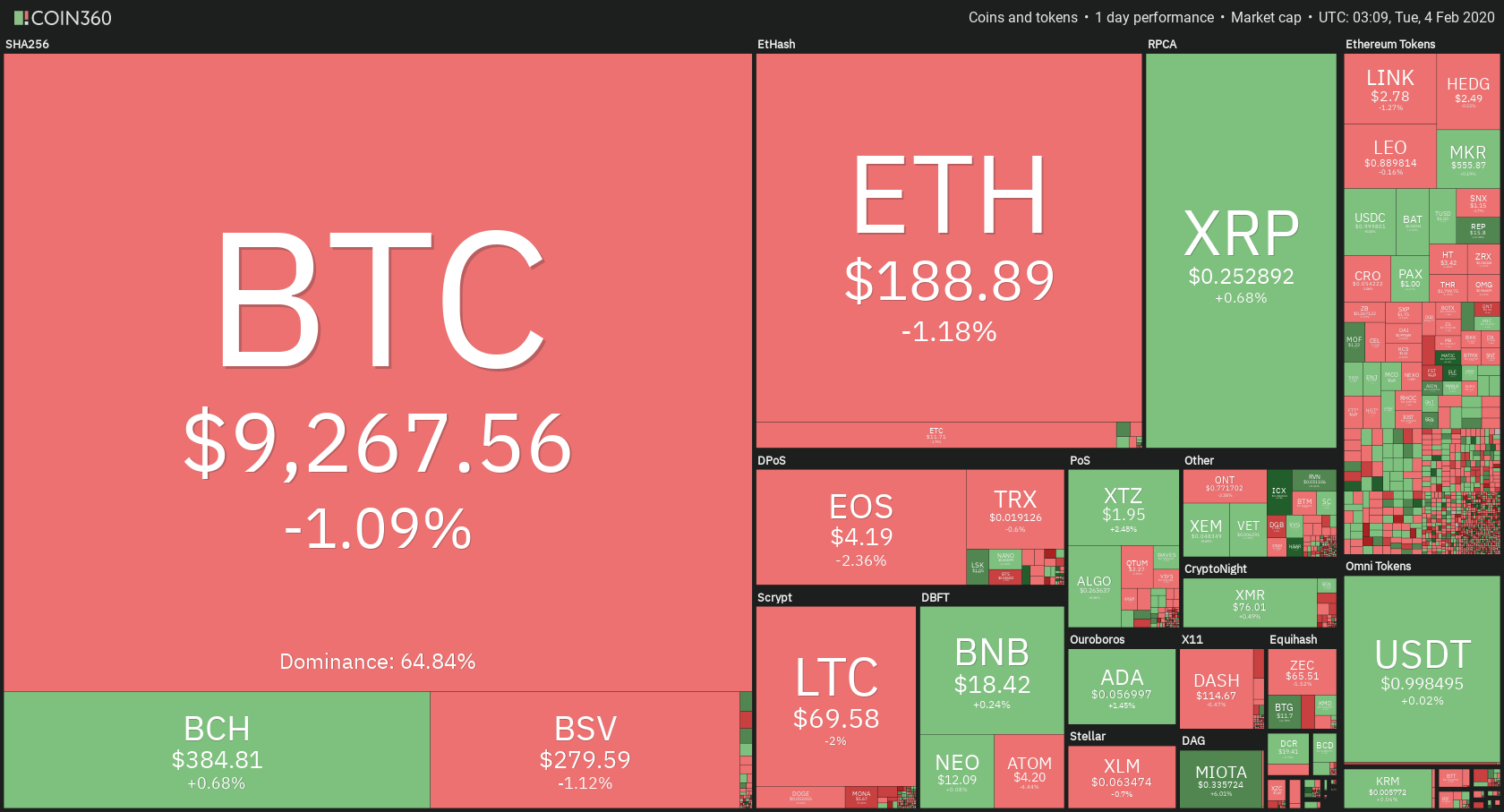 Hedera Hashgraph took today's most prominent daily gainer title with gains of 34.17%. On the other side, MonaCoin lost 10.66% on the day, which made it the most prominent daily loser.
Bitcoin's dominance decreased significantly over the weekend. It is now at 64.82%, which represents a decrease of 0.48% when compared to the value it had yesterday.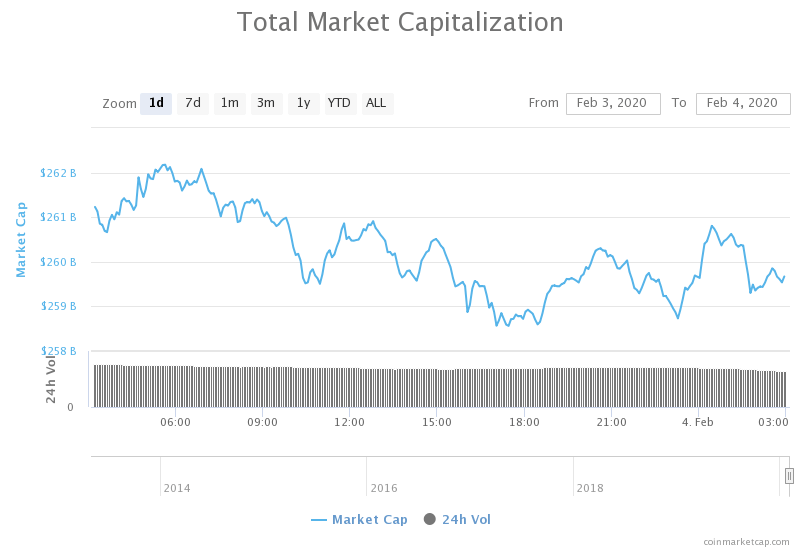 The cryptocurrency market capitalization stayed at pretty much the same level as yesterday. It is currently valued at $259.66 billion, which represents an increase of $1.68 billion when compared to yesterday's value.
What happened in the past 24 hours
Mastercard Chief Executive Officer Ajay Banga explained why this company dropped its support for Libra in an interview with the Financial Times on Feb 3. He boldly stated Libra's lack of transparency and argued that national payment systems are "really stupid."
Mastercard, at the start of the project, was one of the founding members of the Libra association. Mastercard was not the only one, but one among many. Companies such as Visa, PayPal, and Stripe were also supporting Libra. All four dropped their support in Oct 2019 without any proper explanation. However, many suspected fear of regulation to be the main contributor to how things unveiled.
Honorable mention
Waves 
Open-source blockchain platform Waves founded a non-profit organization that goes by the name Waves Association. The organization is located in Frankfurt, Germany. It aims to provide governance for its ecosystem, Web3, as well as to foster the development of DLTs, which would include both public and private blockchain protocols.
The Waves Association will not be represented only in Germany. It will be supported and represented by ten community members located in six different countries: Germany, Portugal, Spain, the Netherlands, Switzerland, and Russia.
_______________________________________________________________________
Technical analysis
_______________________________________________________________________
Bitcoin
Bitcoin's price entered a slight stagnation period as the bulls dropped pressure by the end of January. Its price is now trading in a tight range between $9,251 (majoy support) and $9,373 (minor resistance) or $9,585 (major resistance). Its price dropped slightly on the day, but no significant breaks happened.
Bitcoin's RSI is slowly descending while its volume is average or slightly below average.
Key levels to the upside                    Key levels to the downside
1: $9,585                                           1: $9,251
2: $9,732                                           2: $9,120
3: $10,000                                         3: $8,905
---
Ethereum
Ethereum also entered a consolidation phase, just like Bitcoin. However, its consolidation phase started a bit later, as ETH kept making moves even when BTC stopped. Ethereum could not break its $193.6 resistance level and decided to consolidate below it. Its price is now bound by this resistance, as well as the $185 support level.
Ethereum's volume is on the lower side of the spectrum, while its RSI is still above the middle of the value range. However, it is slowly descending.
Key levels to the upside                    Key levels to the downside
1: $193.6                                            1: $185
2: $198                                              2: $178.5
                                                         3: $167.8
---
Ripple
XRP seems to be sharing fate with Ethereum for the past couple of days. It too began consolidating a bit after Bitcoin, but at approximately the same time as Ethereum. Once its price went above the $0.2454 resistance (now support) level, the bulls lost the strength that was required to push the price even further. Because of that, XRP is now in the middle of a wide price range between $0.2454 and $0.266.
XRP's volume is tilting towards average when compared to the past week. Its RSI level is slowly descending from the higher values.
Key levels to the upside                    Key levels to the downside
1: $0.266                                            1: $0.2454
2: $0.285                                            2: $0.235
3: $0.31                                              3: $0.227