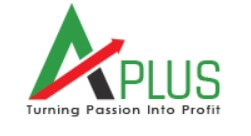 A+ Plus Trader is a tradename of Aplus Solution Ltd, which is supposedly registered under St. Vincent & the Grenadines with the motto "turning passions into profit". The company has won multiple awards, including Best Trading Support Team 2012 – 2015, Most Credible Forex Broker 2010 – 2016, Best Online Secured Broker 2014 – 2016, and etc. Being that Aplus has been an established brokerage for more than 10 years, one would assume that the company is reliable, however, the broker actually seems to be based in the UK, while being regulated offshore in Belize. If you're interested in this broker, we would highly recommend taking a look at our review before making the decision to make an investment.
Account Types
A Plus does not specify different conditions, so we're assuming that the broker only offers one live account. Islamic accounts are available as an additional option for clients that would need to adhere to Sharia laws regarding swap fees. As for the account's conditions – the website isn't exactly forthcoming with details. The website's polished look quickly falls away once one notices the various inconsistencies and lack of information related to trading conditions.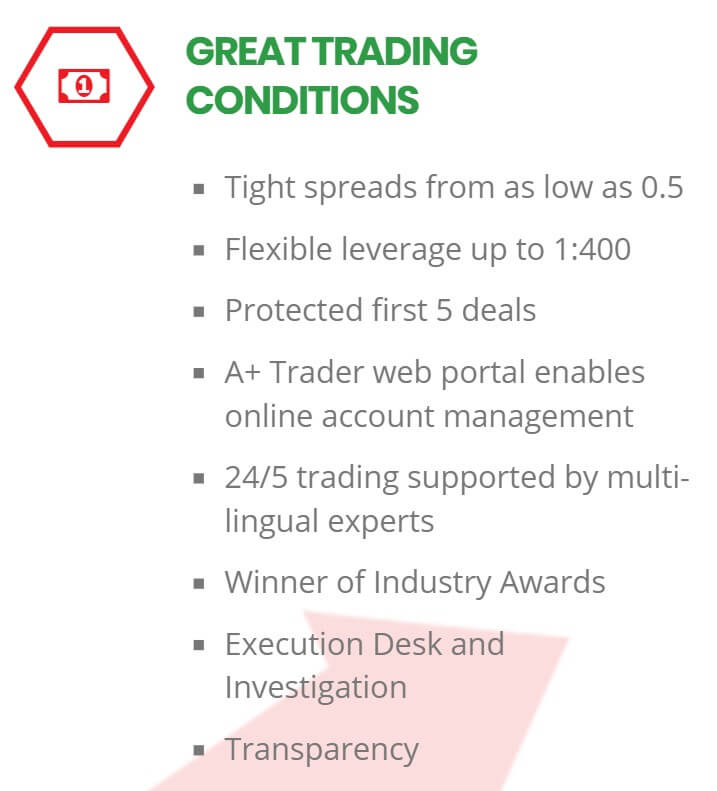 We can't even say what the broker's minimum deposit requirements are for the account, or whether commissions are charged. The broker's terms & conditions don't cover anything having to do with regular trading activity and only focus on bonus terms, so there aren't any clues there. As for leverage options, we found a 1:400 cap and 1:1000 cap advertised. It isn't clear which cap is actually available. There is also some false advertising centered around the broker's spreads, with 0.1 and 0.5 starting pips listed on the website, however, spreads actually start from around 2.4 pips on EURUSD. We've provided an overview of the account's conditions below.
Minimum Deposit: NA
Leverage: Up to 1:400 or 1:1000 (conflicting info on the website)
Spread: Advertised from 0.5 pips (Actually around 2.4 pips)
Commission: NA
Minimum/Maximum Trade Sizes: NA
Platform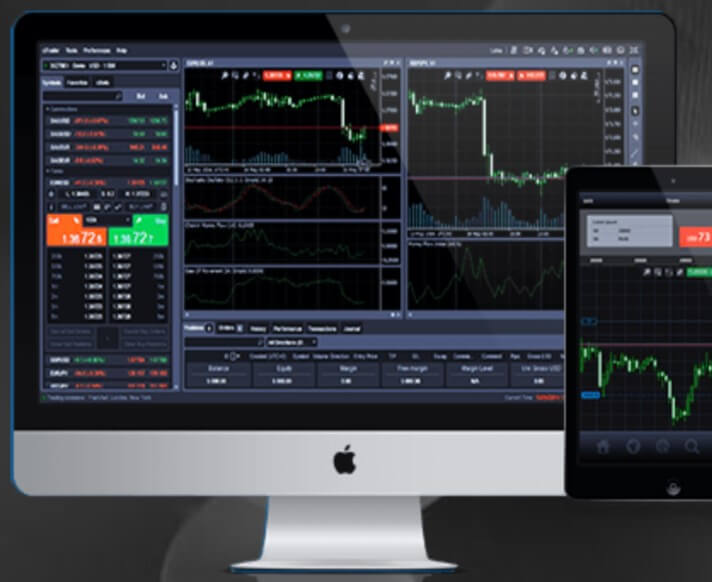 One advantage that Aplus Trader does provide would be the provision of access to the world-famous trading platform, MetaTrader 4. The platform is highly praised by beginner and professional traders alike and can be found among the available platforms supported by most forex brokers. MT4 comes with advanced charting capabilities, customization options, supports EAs, multiple timeframes and pending order types, and etc. Mobile versions of the platform are available for trading on the go.
Other accessibility options include desktop (Windows, Linux, and Mac – although Mac users may have difficulty downloading the software) or the web-browser, which is a good alternative to download for Mac users. We're excited to see such a popular platform available through this broker, but traders should remember – MT4 is widely available and there is no reason to choose a broker based on the fact that the platform is offered alone, especially if trading conditions are not ideal.
Leverage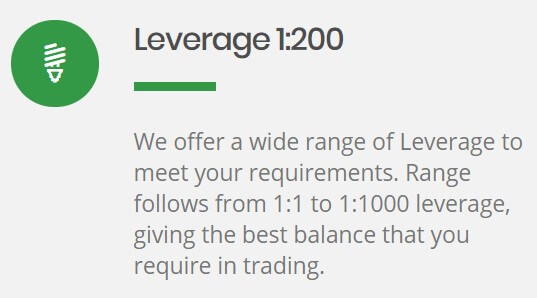 Aplus Trader is not consistent when describing their available leverage options. One section of the website states that caps go up to an impressive 1:1000, while the trading conditions actually list a 1:400 leverage cap. Either way, the leverage cap does appear to be extremely flexible, although we aren't happy with the fact that Aplus is once again providing inconsistent information. There is a significant difference between the two options and traders that are looking for specific caps may not be able to make a decision without better supporting information.
Do keep in mind that higher leverage allows traders to risk larger amounts of funds, so we wouldn't recommend the broker's higher option to beginners or any trader that isn't looking for a high-risk high-reward experience. If you fall into one of those categories, you shouldn't have to worry about being restricted based on the broker's extremely generous leverage offers.
Trade Sizes
The broker's website fails to provide any indicative information based on the minimum and maximum trade sizes, margin call/stop out levels/whether hedging/scalping is supported, etc. We would assume that the minimum trade size is one micro lot or one mini lot, but it's hard to guess without knowing what account sizes the broker is working with.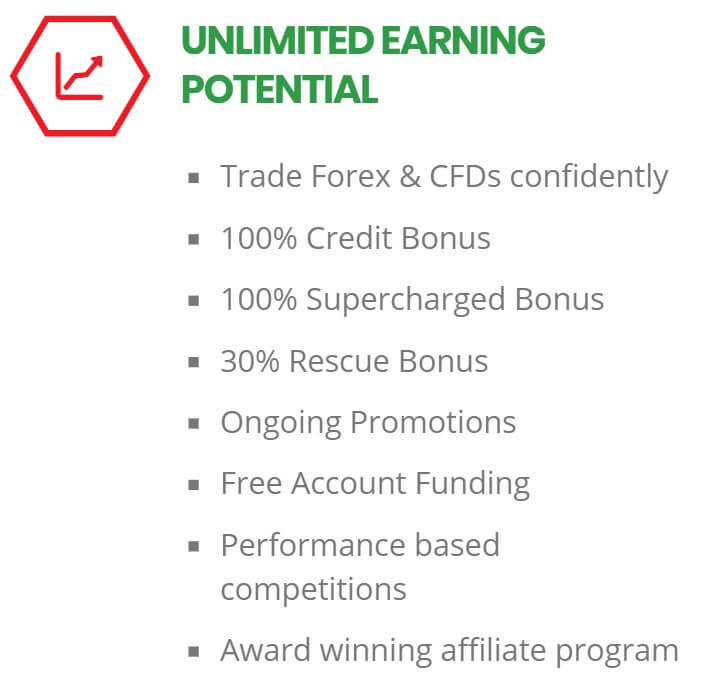 Trading Costs
The website's lack of information makes it difficult to pinpoint exact trading costs. We do know that Aplus implements high spreads of around 2.4 pips, which is at least 1 pip higher than average. It isn't clear whether commissions are charged. Traders would still be paying outrageous amounts on spreads without even factoring in potential commission charges, so we will remain hopeful that the broker doesn't add these fees on top of the spreads.
Overnight interest charges are also applicable to certain positions that are held past the daily market closing time, with a triple charge on Wednesdays. If one opens an Islamic account, it would be possible to avoid paying swaps. We couldn't find a list of those fees on the website, so traders would need to view those fees within the MT4 platform. The broker mentions that fees aren't charged on outgoing withdrawals, but the website never clarifies whether additional fees for inactivity, maintenance, or other charges exist.
Assets
A+ Plus offers investment options in 30 currency pairs and a few CFDs on indices. The more limited number of currency pairs would likely mean that the broker doesn't offer many exotic options alongside major and minor pairs. The website doesn't actually give us further details, so we can't comment on the prescience of metals or oil options.
Overall, the broker's asset portfolio seems rather limited, considering that several other brokers offer nearly double the number of currency pairs plus commodities, shares, and options from other categories. Once again, we were disappointed to see that the broker's website didn't offer a product page or any concrete information about their available instruments.
Spreads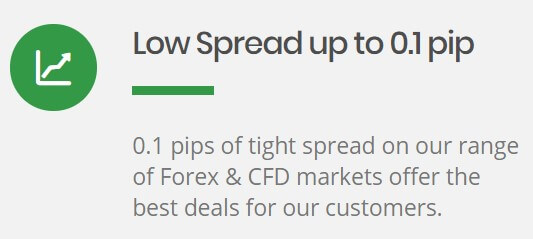 The broker's website provides inconsistent information about spreads. On the homepage, spreads from 0.1 pip are advertised, yet the broker also lists starting spreads from 0.5 pips under their trading conditions. Once one actually opens an account, they will find that spreads are nearly five times higher than advertised options, at around 2.4 pips on EURUSD. That amount is also 1 pip higher than the industry average 1.5 pip spread. Not to mention that spreads are typically tighter on the advertised instrument, meaning that traders will likely see spreads of 2.5 pips and higher on several other currency pairs.
Minimum Deposit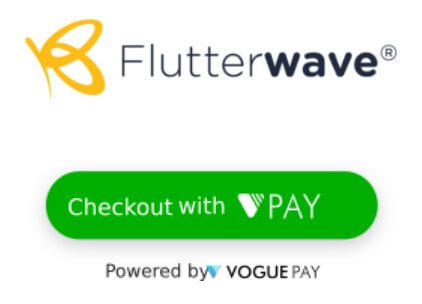 Oddly enough, Aplus does not mention its minimum deposit requirement anywhere on the website. It's possible that the broker may base these amounts on the chosen deposit method, but there's really no way of knowing until one prepares to make a deposit. If options fall into an average range, we would see minimum requirements from $1 to around $250, which is on the higher end of things. Based on what we know, Aplus is offering spreads that are high even for a Mini/Micro/Cent account type. Elsewhere, those types of accounts go for $100 or less. If Aplus is asking for more than that, then traders would be better off opening an account through another broker.
Deposit Methods & Costs
A Plus doesn't provide much information related to funding. It's possible to download a page related to the companies refund & withdrawal policy, but the page really only covers the broker's policy to refund money that was used to fund an account back to the original payment source if no trading activity takes place within a month of the time that the deposit was made. We do see the company mention bank wire and cards while explaining their policy, so we would assume that both methods are supported. It isn't clear whether any e-wallets would be available as additional options. Elsewhere on the website, the broker also advertises zero fees on deposits from their side.
Withdrawal Methods & Costs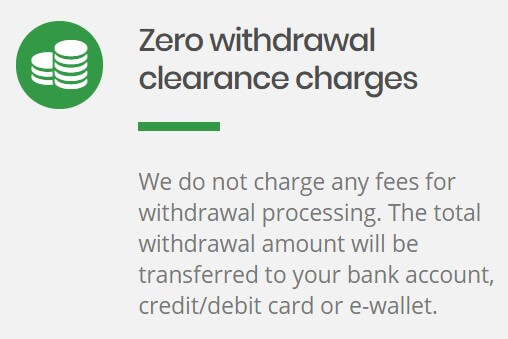 As we mentioned, the broker doesn't tell us much about their funding methods. Assuming that Aplus follows standard anti-money laundering practices, withdrawals would likely be processed back to the original bank account, card, or e-wallet that was used to fund the account. Typically, profits are returned to bank wire. The broker advertises an advantage in the form of fee-free withdrawals. Elsewhere, we've seen fees of 3%, 4%, and even higher, sometimes charged in addition to deposit fees, so this would definitely be one of the few advantages we've seen so far.
Withdrawal Processing & Wait Time
The website briefly mentions that there is a 24-hour withdrawal process without going into further detail. This would likely be the equivalent of one-business-day withdrawal time, with assumed business days being from Monday – Friday, since support is not available on weekends. This is a relatively quick processing time, but traders should expect it to take at least a couple of extra days for funds to show up in their accounts based on the bank's processing times.
Bonuses & Promotions
Bonuses can be divided into a 100% Credit Bonus, 100% Supercharged Bonus, and 30% Rescue Bonus. A 50% Referral Bonus is also available, with the reward amount being limited to $1,000 USD. The exact amount of the reward is based on the referred client's deposit of $100 or more. The website advertises performance-based trading competitions and mentions that the first 5 trades that are placed are covered by the company. However, we found multiple false claims on the website, so one shouldn't entirely expect the broker to cover those charges in full.
Educational & Trading Tools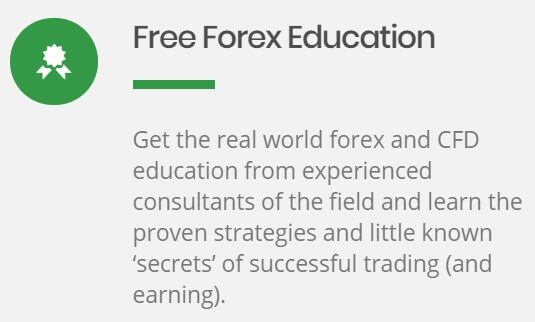 Aplus Trader seems very dedicated to providing beginners with all of the tools that they would need to be successful, and the company has even won awards for having the best educational program in 2013, 2014, 2015, and 2016. The program teaches the pitfalls and roadblocks of trading, provides practical tips & tricks from pros, explains terminology, and basically explains everything from a beginner-friendly approach. Apps can be accessed from the "Trading Tools" section of the website and include an economic calendar and multiple calculators. Educational resources, on the other hand, cannot be accessed until one actually opens an account. Forcing one to make a deposit in order to access educational material is not ideal, since most brokers have those options available directly.
Demo Account
Earlier, we mentioned that Aplus withholds educational resources until one has signed up for an account, but it seems as though the broker fails to provide demo accounts entirely. The majority of forex brokers offer the ability to trade from a demo account, even if it is the only educational resource on their websites. This certainly takes away from the reliability of the broker's claim that they are entirely focused on educating beginners since traders will definitely be at a disadvantage without the ability to practice from a demo account before going live.
Customer Service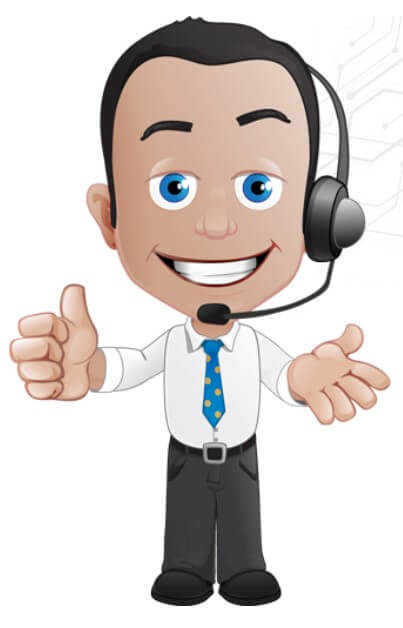 Support is available 24 hours a day, from 5 pm EST Sunday until 4 pm EST Friday. The quickest contact methods include phone, Skype, and Whatsapp. Traders can also fill out a contact form on the website, request a callback, or email support directly. Aplus seems to make contacting support fairly convenient, although the addition of weekend support and LiveChat would offer the ultimate convenience to clients. We've provided the available contact details below.
Phone: +44 7853 75 08 75
Email: info@aplustrader.com
Countries Accepted
Aplus doesn't actually list any restricted countries on their website. This is usually a good sign that everyone is accepted, but we checked out the registration page just to be sure. To our surprise, Aplus actually allows traders to type in their country, rather than offering the list of selectable countries that we typically see on registration forms. This seems like an easy way to bypass any countries that are restricted by regulators, since Aplus isn't directly stating that service is offered to clients of the US, Japan, etc. Fortunately, all traders will be able to open an account through this broker without a hassle because of the convenient sign-up option.
Conclusion
Aplus Trader hides shady conditions behind a polished and well-presented website. It's easy to read about the broker's achievements, 10+ years in service, and multiple awards and feel reassured that they are a reliable investment option. In a nutshell, Aplus Trader's live account doesn't even specify minimum deposit requirements, provide any information about trade sizes, or mention whether commission charges are applicable. The leverage cap is set at a generous 1:400 or 1:1000 option, but we can't even say which offer is actually available based on inconsistencies. In a similar fashion, the broker advertises spreads from 0.1 and 0.5 pips, while actually offering starting spreads from 2.4 pips.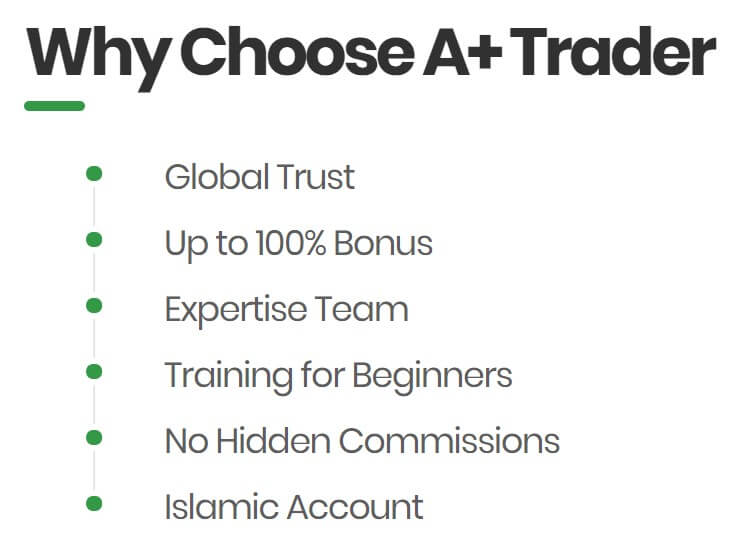 It's also difficult to find information about investment options, but our research revealed that instruments are limited to around 30 FX pairs and some cash indices on CFDs. From what we could tell, deposit options are limited to bank wire transfers and cards, with zero fees on deposits or withdrawals. If the broker keeps their word, then processing times are also relatively quick. Contacting support is fairly convenient and multiple bonuses and trading contests are supposedly available. The company's beginner-friendly approach to education seems attractive until one realizes that Aplus fails to provide demo accounts and withholds those resources until one has opened an account and made a deposit. Add that to the website's inconsistencies and lack of transparency, and Aplus does not seem so attractive after all.