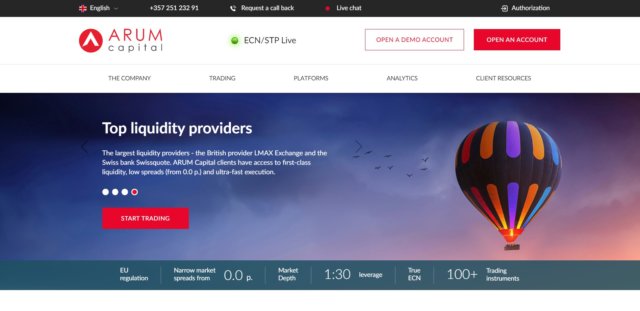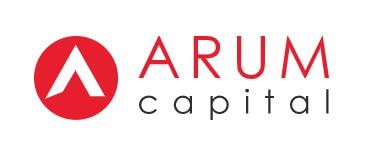 Arum Capital is regulated by a European Licensincing body (CySEC) and is fully compliant with the MIFID policy. Arum Capital have been operating their business since the year 2007. On the surface, this broker appears to be very well rounded and seems to offer a lot of appealing factors including a wide variety of tradable assets (over 65 in total) and also the newer, most popular trading platform, MT5. The website is very clearly set out making navigation quick and easy. There is also a live chat facility available for fast communication/assistance should you require it, although it should be noted that this link seldom appears to work.
Account Types
The website sets out the live account types for ease of comparison. Traders have the option to choose from either the 'ECN.STANDARD' or the 'ECN.CLASSIC'. Both have many of the same features: $500 minimum deposit, access to MT5 trading platform, and maximum leverage of up to 1:30. Both Scalping and hedging are allowed on both account types also. The only real difference between the two accounts is that the Standard account has spreads (floating) starting from 0.0 pips while the Classic accounts' spreads (floating) start from 0.7 pips.
Platforms
Arum Capital gives its clients access to the latest version of Meta Trader, which is the newly revised and growing in popularity, MT5. clients can trade on both MT5 web-based platforms as well as mobile (iOS/Android). The MT5 platform is definitely gaining appeal to the more high level experienced traders who seek more detail in their trades, with access to 38 technical indicators, 21 timeframes and 6 variations of pending orders, just to mention a few features.
Leverage
Due to the fact that Arum Capital comply with the MIFID policy under the CySEC regulation requirement, the maximum leverage that clients may use is 1:30 (applicable to both Standard and Classic accounts). Although this is relatively low in comparison to what competitors can offer, bear in mind that the minimum deposit requirement is set higher than average, meaning that clients are likely to trade larger trade sizes so smaller leverage would likely be ideal and preferable in that case.

Trade Sizes
The minimum trade size allowed is set at the standard 0.01 lot, while the maximum clients can trade is 100 orders (including pending). Both of these limits are flexible in terms of giving traders the ability to trade small sizes and not be pushed into trading large trade sizes given the fact the minimum deposit is set relatively high.
Trading Costs
Both the Standard and Classic accounts charge swap (overnight) fees as but only the Standard account charges commission fees, the Classic is commission-free however this account offers higher spreads, which is where the broker makes their profit from instead. Do note however that the Classic account does charge trade commissions if you were to trade cryptocurrencies. All relevant commission charges are set out of course ont he website but note that the crypto commission fees are a fair bit higher in comparison to other brokers, so do bear this in mind if you are trading cryptos.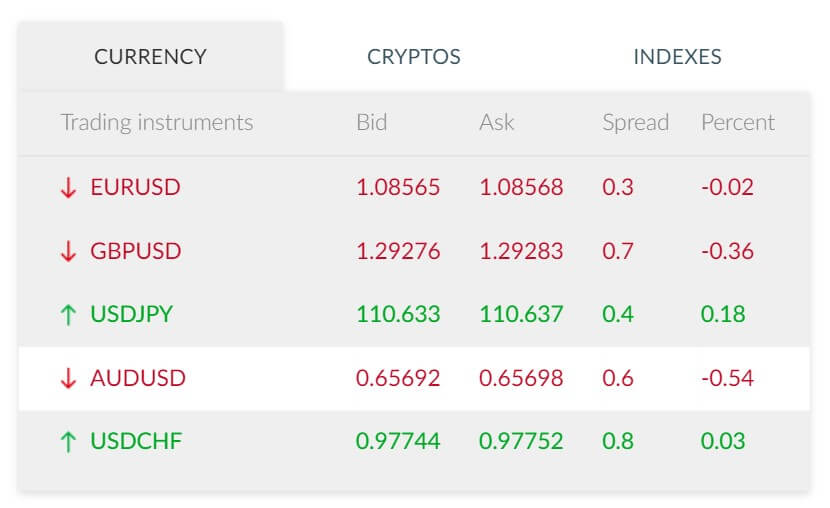 The commission fees for the Standard account are set out on the website, specific to each individual tradable pair/asset. All in all, the commission fees are reasonable and not extortionate by comparison to competitors, for the most part.
Assets
Arum Capital is not short of offering a wide variety of tradable assets to its clients and this is definitely an element of this broker which makes them stand out competitively. ArumCapital offer over 100 tradable assets in total including:
69 currency pairs
11 CFD-contracts on indices
7 CFD-contracts on metals
3 CFD-contracts on energy
5 CFD-contracts on crypto-currencies
Arum Capital should also be commended for the liquidity providers they are in partnership with (Lmax exchange and Swissquotes) who are renowned for providing top tier liquidity and tight spreads.

Spreads
As mentioned earlier, the spreads between the two live account types do vary- the Standard account may seem more preferable since it offers spreads starting at 0.0 (floating) however this account carries commission fees. On the other hand, the Classic account has floating spreads starting from 0.7 pips but does not charge commission fees, apart from for the crypto pairs offered. While one account may appeal to you over the other, bear in mind that where there are 0 spreads, the broker earns from the client via the commission and visa versa, so essentially the client cost is relatively equal no matter which account type you opt for.

Only the FX majors have displayed directly on the website with their live variable spreads but to actually see ALL live floating spreads, the only way would be to open a demo account and try out the demo environment before opening the live account to ensure these spreads fit well with your trading expectations, style, and strategies.
Minimum Deposit
The minimum deposit required to get started in trading with Arum Capital is $500 for both the Standard and Classic accounts. This minimum could be seen as relatively higher than what many brokers offer, which is also indicative of the type of client trader this brokerage service is aimed at; expansive trader knowledge and experience and for traders who likely wish to trade substantial volume.
Deposit Methods & Costs
Arum Capital offers a fair selection of deposit methods to their clients:
Skrill
Neteller
Visa and MasterCard (debit/credit)
Qiwi
Wire Transfer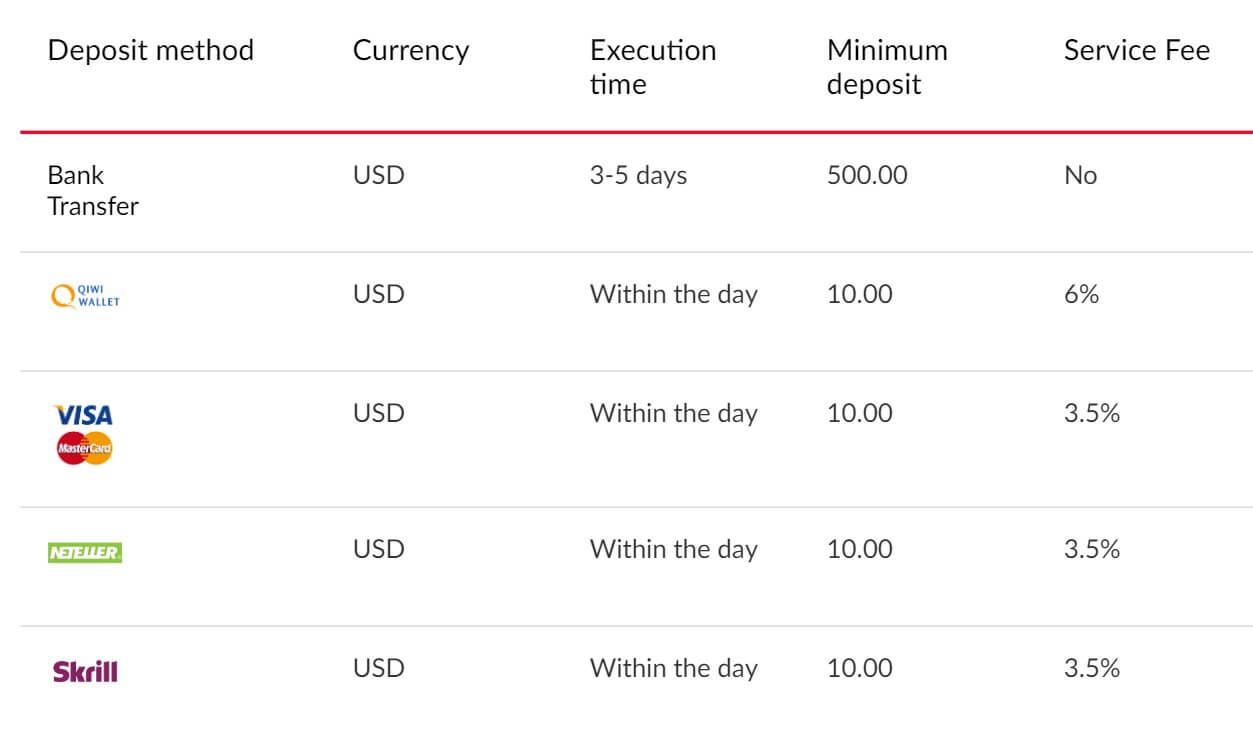 The timescales and costs are not at all mentioned on the website, and there is not an FAQ page to refer to find out timescales or costs involved. The Live Chat facility also did not serve its purpose in this case at the link appears to be broken. However, as standard goes, Skrill and Neteller are likely the fastest options to fund your trading account.
Withdrawal Methods & Costs
The withdrawal methods available with Arum Capital are the same as the funding methods (Wire Transfer, Skrill, Neteller, Bankcard and Qiwi). Again, the website does not tell us the costs involved here but it is always best to check with the provider you choose to use first and enquire if you are liable for any fees. Typically the fees with non-standard banks, i.e Skrill or Neteller, have low fees or none at all. But, this may also depend on the amount you are transferring, too.
Withdrawal Processing & Wait Time
Unfortunately, timescales for withdrawals are not something that is provided freely on the website by Arum Capital which is a little odd seeing as they are very transparent with every other aspect of their service. Although this would usually be a cause for concern, this broker cannot be deemed unreliable as they are fully regulated and compliant with CySEC for many years and do not receive complaints or negative feedback in regards to delays in deposit/withdrawal transactions. Having said that, it is still unhelpful that such timescales and fees involved (if any) are not displayed on the website, or in an FAQ.
Bonuses & Promotions
Arum Capital does not offer any bonus or promotional schemes that could sway their clients into depositing copious amounts of money or feeling pressured to do so. This is definitely a positive most likely stemming from the regulatory status they adhere to.
Educational & Trading Tools
Arum Capital is not overly focussed on providing their clients with trading education, which definitely highlights the sense that their target audience is adequately experienced traders, who do not require such tools. What can, however, be found on the website, which is helpful to all traders, is technical analysis articles and daily analyzed charts on particular markets in focus for that day. This is a highly useful tool for all clients to use when charting up before beginning a trading session.

Customer Service
The customer service from Arum Capital is the one aspect that many could say is a bit of a let down when it comes to the broker; although this broker provides a solid and legitimate service, well rounded and efficient, the same cannot be said for the customer support team. More often than not, a broker can be fairly judged on the level of customer support they provide, which in turn often reflects the level of care the broker has for its clients in general. This is not the case with this broker, as stated earlier, however, it is disappointing that the customer service is very inefficient with the fact their live chat link is consistently broken, and their telephone line is not always available during all 'normal working' GMT hours.

Something that could be improved with this broker is perhaps adding an FAQ page, especially in the absence of a responsive and efficient live chat. An FAQ page can also serve to keep the client ques down as it can be used as a quick reference guide without having to speak to an agent directly.
Demo Account
Arum Capital does offer their live trading conditions in a demo environment which is always ideal to take advantage of to fully establish if this broker meets your trading expectations and is suitably in line with your trading style and needs.

Countries Accepted
Given the fact that Arum Capital is fully licensed and regulated by CySEC, it should be known that restrictions are therefore in place to not accept particular client traders of certain countries and jurisdictions, which include: USA, Canada, Japan, Brazil, North Korea, Belgium, France, and the non-cooperative countries under FATF. This is clearly set out in the website disclaimer also.
Conclusion
Arum Capital has been operating a solid and decent all-rounder service for a number of years but does not seem to gain a lot of social media traction in the way of outstanding reviews. However, this broker does offer a great service in terms of liquidity, spreads, payment methods, and trading platform. The one element this broker lacks is the client support area which certainly has room for improvement; the live chat facility would be useful to all traders, especially int he case of a complex trade query, and an FAQ page would be useful to not just existing clients, but also prospective ones too.

This broker is certainly a good option if you are looking to deposit a substantial sum, and are an adequately confident, and well-experienced trader.