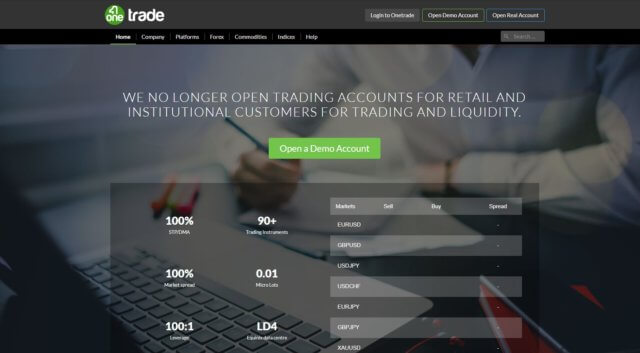 OneTrade is an online STP/DMA broker that is fully regulated by the Financial Conduct Authority (FCA) in the United Kingdom, under reference number 537787. The company is a trading name of FxStat Ltd, which is also registered in England and Wales. The company has been providing leveraged trading on multiple currency pairs, commodities, including metals and energies, and cash indices since its launch in 2010. Stay with us to find out more about the broker's conditions and if any special opportunities are available.
Account Types
OneTrade offers access to 50+ FX, commodities, and cash indices instruments from one account type. Some traders may be looking for the option to choose from several more specialized accounts; however, the conditions on this broker's live account can be advantageous and may eliminate the need for multiple choices. The OneTrade account asks for a standard initial deposit of $100 and provides traders with access to tight spreads that start as low as 0 pips. It would be difficult to find a similar offer elsewhere.
The account does come with commission charges and sets a somewhat restrictive leverage cap of 1:100, which could be two potential downsides. Traders will also be able to trade mini lots and access several different platforms from the broker's live account. We've provided a quick overview of the main account details below.
Minimum Deposit: $100
Leverage: Up to 1:100
Spread: From 0 pips
Commission: $0.35 per mini lot per side
Platform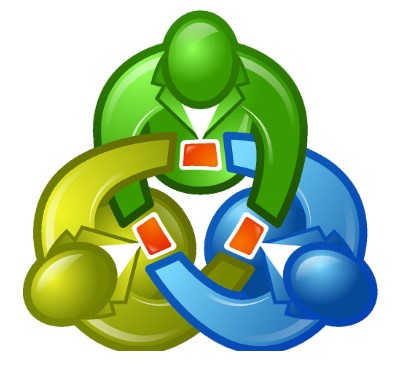 OneTrade allows traders to choose from a few different trading platforms, including our personal favorite MetaTrader 4 on a browser, PC, Android, and iOS devices, the OneTrade WebTrader, which also supports copy trading, and the Social Trading investment platform. MT4 is known for its powerful reliability, along with a vast array of built-in features that make the platform easy to use and navigate.
The OneTrade WebTrader was designed to allow traders to trade from anywhere without having to download any programs on their PC. The platform includes several options seen within MT4, like one-click trading, trailing stop-loss, one-click close all positions and more. Social Trading allows one to copy the trades made by experienced traders with set risk parameters such as maximum position, leverage, and cut off points. Links to download or access each platform are conveniently provided on the website under the "Platforms" tab.
Leverage
The maximum leverage that can be used through this broker is 1:100. Compare that with the 1:300, 1:400, and higher options offered by some brokers and the cap might seem rather restrictive. On the other hand, many experts prefer to use a leverage of 1:100 or lower. It really comes down to personal preference when deciding whether this cap will be sufficient, although we would advise beginners to consider choosing a lower cap regardless.
Trade Sizes
Mini lots are supported on almost every instrument, with exceptions being a one-mini-lot requirement on Silver and Gold and a 1 lot requirement on energies and cash indices. The majority of instruments also support an impressive 1,000 lot maximum trade size. Instruments like Gold and Silver limit the maximum trade size to 50 lots and the maximum on commodities can vary. Fortunately, OneTrade does list the exact specifications for each instrument on its product pages.
Trading Costs
OneTrade profits from spreads, commissions, and overnight interest charges. Commissions are charged at a rate of $0.35 per mini lot per side on Forex, Gold, Copper, and Silver. When trading indices, the commission rate is lowered to $0.3 per side per CFD. High volume traders may qualify for a discounted commission rate and one would need to email sales@onetrade.com if they might qualify.

Spreads start from 0 pips on majors. FX market rollover occurs from 21:00 to 21:05 GMT every night. Traders may be debited or credited for any positons open into the next trading day, with the amount being based on interest rates. Swap charges can be viewed on the website under each instrument category. There do not appear to be any extra costs associated with account inactivity or other charges.
Assets
OneTrade offers investment opportunities in more than 50 FX options, commodities, and cash indices. Available currency pairs include majors, minors, and exotic options like the Turkish Lira, South African Rand, Hong Kong Dollar, Norwegian Krone, and several others. Commodities include precious metals Silver and Gold, in addition to Brent Crude Oil, WTI Crude Oil, and Natural Gas. Traders will also be able to choose from more than 11 indices, including DOW, DAX, Nikkei, and more. Overall, the broker seems to be offering a good number of currency pairs and some variety in other assets. Some traders may feel disappointed that stocks, bonds, cryptocurrencies, and other categories are not available.

Spreads
OneTrade offers floating Intermarket spreads with fill or kill market execution with an advertised spread from 0 pips on majors. The website does provide the average spreads on indices, but the broker leaves this section off where FX and commodity options are listed. This does make us curious about how high the spreads on minors and exotics may be. Looking at indices, the typical spread tends to start at 1 pip. Based on the information available on the website, it does seem as though OneTrade is offering competitive spreads on their live account.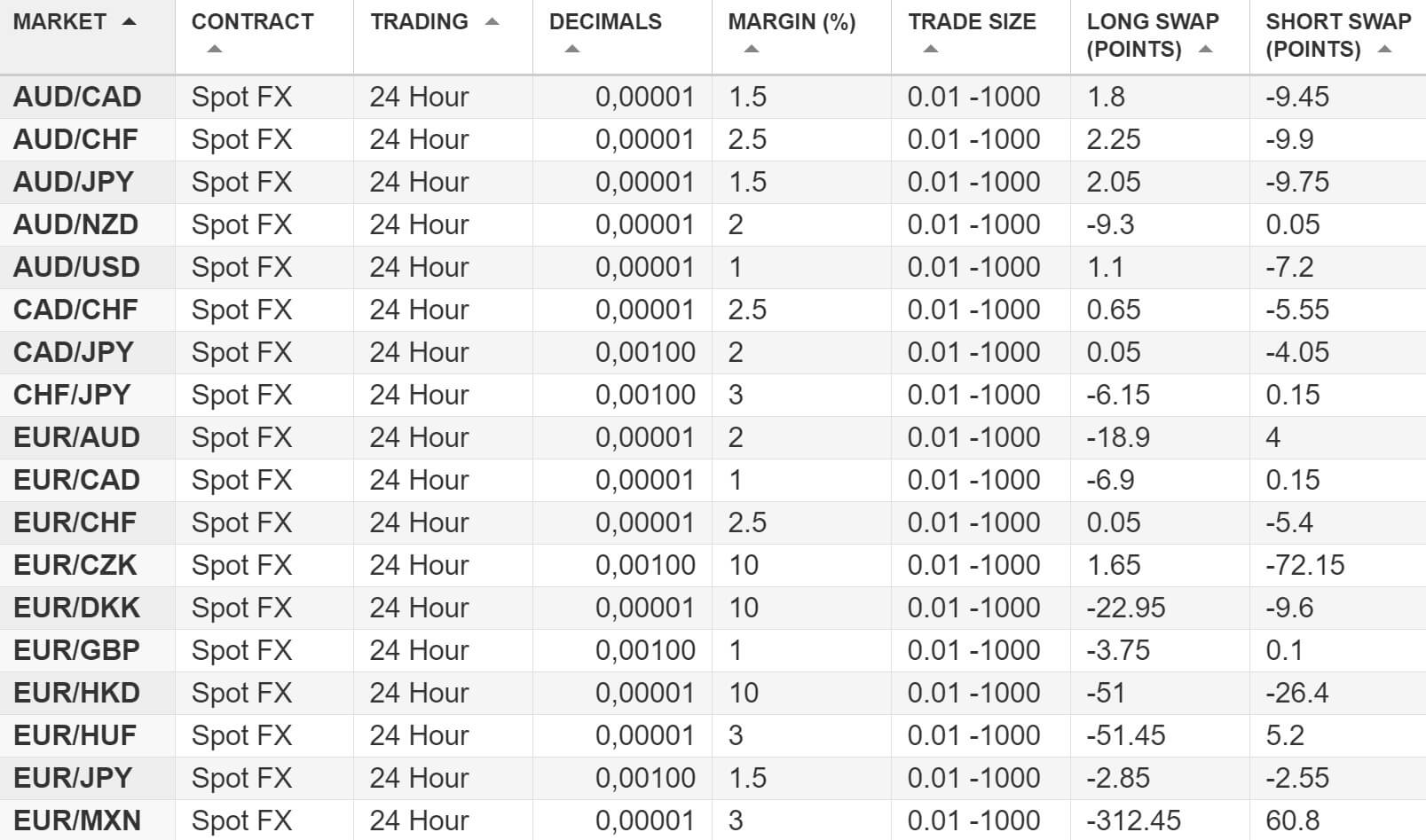 Minimum Deposit
Traders will need to deposit at least $100 USD, or the equivalent in another currency, to open a live account through this broker. It's true that some brokers have done away with initial deposit requirements altogether, but the $100 asking amount on the OneTrade account is low enough to be realistic. The amount also gives traders access to tight spreads and a number of currency pairs that may not be available elsewhere.
Deposit Methods & Costs
Accounts can be funded through bank cards, bank wire transfer, and Skrill. There is a daily funding limit of $5,000 EUR/USD/GBP per account holder per day when funds are sent through credit/debit card or Skrill. Some international transfers will incur a fee on the bank's behalf and the broker will only credit the account with the received amount after those fees are deducted. The website does not state exactly how much those fees may be. Deposited funds qualify under the Financial Services Compensation Scheme, which protects traders from the insolvency of the broker with a compensation of up to $50,000 GBP per person.

Withdrawal Methods & Costs
Withdrawals must be processed back to the card, bank account, or Skrill account that was used to make the deposit. Card deposits can only be withdrawn back to the same card within 30 days of the initial funding date, up to the amount of the deposit. Profits and bank wire transfers can be withdrawn to a bank account in the account holder's name.
OneTrade does not impose a minimum withdrawal requirement like some other brokers, so it should always be possible to withdraw any amount of funds. While no fees are specifically stated on the website, traders may want to check with their personal bank to see if any deductions will be made from the total withdrawal amount.
Withdrawal Processing & Wait Time
The OneTrade website doesn't provide us with any estimated wait times for withdrawals to be processed or sent. The broker does require account verification, so traders would want to ensure that all documents have been provided and the account has been completely verified in order to avoid any delays. Other brokers can impose wait times from one working day to a week or more, so there's really no way to guess just how long it could take to receive funds. If you're in a hurry, we would suggest withdrawing through any method besides bank wire transfer, as it usually takes the longest.
Bonuses & Promotions
Currently, there aren't any ongoing promotions through OneTrade. It's always nice to see brokers offering things like welcome bonuses, deposit bonuses, cashback rewards, referral rewards, contests, etc. Even though we always to check to see if any of these options are available, this isn't something that we necessarily expect. Many larger brokers are able to provide special circumstances, while many others simply can't. Traders should never choose a particular company based on the presence of promotional opportunities since there are usually several conditions that make the withdrawal of the funds hard to meet or impossible. Still, we hope to see the addition of some type of bonus or reward in the future, especially considering that the company has been in business for more than ten years.
Educational & Trading Tools
The broker's website is completely lacking any educational resources, aside from demo accounts. While we're happy to see the broker offering the bare minimum, it would be nice to see video tutorials, a forex glossary, or some other type of material that could help beginners and possibly intermediate traders.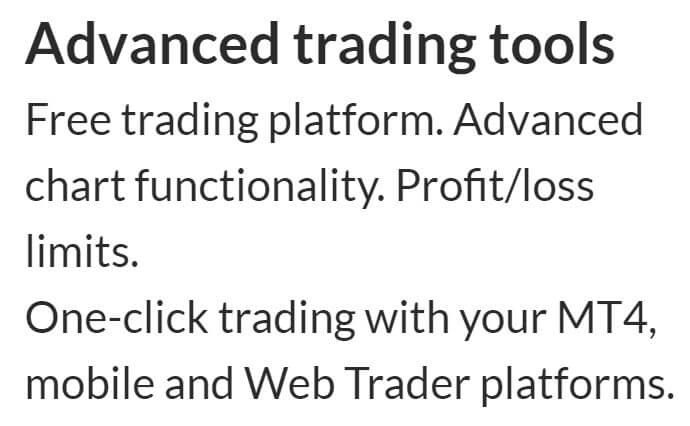 OneTrade does have a link to a FAQ page that can be accessed by clicking on "Help", but options on that page are primarily directed towards creating an account, verification, and other subjects that don't actually teach traders anything useful.
Demo Account
Traders can register for a free demo account by choosing "Open Demo Account" and selecting "Create Account" instead of signing in. It's easy to assume that these simulation accounts would be best suited for beginners, but even professional traders can benefit by using the account to test different trading strategies, trade under a specific broker's conditions, practice with a leverage one wouldn't normally use, etc. Many beginners use demo accounts to determine when they are prepared to make a real deposit and open a live account. Doing so can definitely make one less apprehensive about getting started. These risk-free accounts are offered by the majority of forex brokers and we are happy to report that OneTrade is no different.
Customer Service
The OneTrade customer support team is in the office from 08:00 to 19:00 (UK time), Monday through Friday. With no instant contact options like LiveChat or Skype, traders will be forced to reach out via phone or through email. The website states that support will respond to email inquiries as quickly as possible, although it can take up to 48 business hours to receive a response. The lack of weekend support/24 hour weekday support and instant contact options are enough to make it seem more difficult to reach an agent, plus the wait time for email responses can be lengthy. We've provided all of the listed contact details below.
Phone: +44 (0) 203 5823171
Email:
General Inquiries – support@onetrade.com
Partnership Inquiries – partner@onetrade.com
Press Inquiries – press@onetrade.com
Address: One Broadgate Circle, London, EC2M 2QS, United Kingdom
Countries Accepted
According to the broker's disclaimer, the information on the website is not directed towards residents of the United States. Unfortunately, OneTrade does not seem to be open to providing service to those traders due to the fact that the US and any related options are completely missing from the registration list. This is likely due to the stricter regulation laws that are imposed on traders from the location. Traders from all other countries seem to be welcome.
Conclusion
OneTrade is an online broker that allows maximum leverage of up to 1:100 on more than 50 FX options, plus commodities and cash indices. The broker provides one account type with a reasonable $100 deposit minimum and access to spreads that start as low as 0 pips on majors. Traders will save money thanks to the lower spreads, although commissions are charged at 0.3 to 0.35 per side.
Accounts can be funded through bank wire transfers, cards, and Skrill and there only seem to be associated fees with some international transfers. The broker doesn't give us any estimated withdrawal timeframe, which means it may take a while to receive funds. Despite being in operation for 10+ years, OneTrade has not joined many of their colleagues in providing instant/weekend customer support, promotional opportunities, or educational resources.
Traders from the US are also banned from opening accounts. If you can do without those things and are looking for a simpler experience, then the low initial deposit requirement, noteworthy spreads, and access to a wide variety of currency pairs may very well be enough to warrant opening an account.