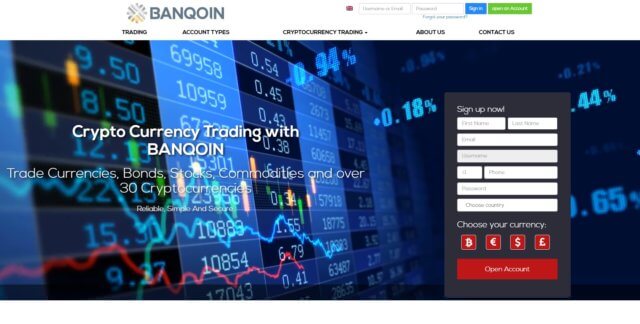 Banqoin is a foreign exchange broker and CFD on cryptocurrencies, which seems to be more focused on the cryptocurrency market. The website is available in 4 languages, English, German, Russian, and Italian. The main problem we see with Banqoin is that this broker and the companies that support it do not have a license to supply financial services in regulated markets such as the European Union, the United States, Australia, or Japan. Banqoin is operated by Infocom Media Ltd., based and registered in the Marshall Islands, but Banqasia Limited processes payments.
Please note that opening a trading account in unregulated brokers has its risks, as the security of your funds depends solely on the integrity of the people who run those brokers. That is why we say that there are unregulated brokers who are trustworthy, thanks to the good work of their managers.
Brokers, regulated by major financial institutions such as the Cyprus Securities and Exchange Commission (Cysec), the Financial Conduct Authority (FCA) in the UK, or the Australian Securities and Investments Commission (ASIC), provide sufficient security to their traders, as they are required to comply with specific standards, including regular reporting, external auditing, providing negative balance protection to customers, keep all funds invested in a segregated account and other than the broker's operating account, usually refrain from offering offers and offers of trading, maintain a minimum capital to prove their solvency; and in some cases, they even ensure traders money through a guarantee fund created for that purpose.
For example, all brokers regulated by the FCA must participate in a clearing system for traders, which guarantees up to GBP 50000 of the capital invested in the event that the broker becomes insolvent. Similarly, if you are trading with a Cysec licensed broker, you do not have to worry about the first 20,000 EUR of your account.
Account Types
Banqoin offers its customers 2 different types of accounts. Unfortunately, it does not offer much information about them. What we do know are the account titles and minimum deposit requirements for each.
Bronze Account: $100
Silver Account: $1500
Gold Account: $5000
We can see how the only difference between them, apparently, is the minimum deposit to access each one of them.

Platforms
Unfortunately, this broker does not offer the platform we like best, MT4. Banqoin has a web-based trading platform, and it is quite simple. This platform reminds us of the platforms that were widely used in the past by binary options brokers. Although the available platform has a pretty decent graphics package, provided by Tradingview, the platform lacks many options, such as the option to run automated trading sessions, with customizable trading bots, the scant variety of technical indicators, the zero possibility of customizing the interface, among other features that we do have available in MT4 and that this platform lacks.
Leverage
As we have already commented, there is a lot of misinformation on the Banqoin website, and this data, the leverage, is one of those that we have not been able to have information about. After analyzing the broker, in general, we can assume that Banqoin is very likely to accept high leverages, of 1:500, for example. But this is not confirmed and is indicative of our experience.
Trade Sizes
We do not know the trade sizes available. Also based on our experience and the type of broker that it is, we venture to say that in all probability this broker will offer trade with small trade sizes, of 0.01 lots (micro lots), but this is information that has not been verified and is based only on our experience.
Trading Costs
On the platform, we can see that spreads in the EUR/USD fluctuate around 1 pip, AUD/USD 1.2 pips, USD/CAD 1.1 pips, and USD/JPY around 1 pip. We haven't been able to figure out which of the 3 accounts the broker offers these spreads to. There is no information about commissions that may exist for trading.
And the only expense we know they have is the swap, because all the brokers apply it, except for the Islamic accounts, which this broker does not offer. The swap is, any position held overnight, which will incur a maintenance cost (interest). This amount can be negative or positive depending on the instrument and the direction of the position, and its amount is fixed by the central banks of the base currency of the open position.
Assets
One of the greatest advantages of this broker is the variety of CFDs in cryptocurrencies. It has almost 30 pairs with coins like Bitcoin, Zcahs, Verge, Ox, Ethereum, Ripple, Monero, Stellar, Tron, Augur, Neo, Litecoin, IOTA, Ethereum Classic, EOS, Dash, Bitcoin Cash, and Cardano.

In addition to cryptographic assets, Banqoin also offers CFDs on gold, platinum, silver and oil, indices and stocks. Unfortunately, currency pairs (Forex) are very few: only 13, and with the Russian rouble and the Turkish lira as the only exotic currencies on their list.
Spreads
Unfortunately, we have not been able to open a demo account, so we cannot analyze the trading conditions that this broker offers. However, on its web-based trading platform, the EUR/USD benchmark spread fluctuated around 1 pip, which can be considered acceptable in a standard account. Banqoin offers three different types of accounts: Bronze, Silver, and Gold, and we haven't been able to figure out which of those three accounts are linked to the spreads appearing on their web platform.
Minimum Deposit
This is one of the advantages of Banqoin: you can open a trading account with as little as $100 on the bronze account. This amount is on average with what most brokers would ask for an initial investment. To access the Silver and Gold accounts, the required minimum deposit is USD 1,500 and USD 5,000, respectively. Amounts that seem a little high to us.
Deposit Methods & Costs
Banqoin accepts deposits only with the most traditional means, including the main credit cards such as VISA and Mastercard, and also with a bank transfer. Unfortunately, the most popular e-wallets like Neteller or Skrill are not available, as well as the option to pay with Bitcoins. The website does not inform if there are costs associated with deposits.

Withdrawal Methods & Costs
Withdrawals should always be made at the source method of the deposit. In this case, since we only have 2 deposit options, withdrawals will be made by bank transfer or by bank card, if you made your deposit with a card. On this occasion, Banqoin also does not report on the costs associated with withdrawals.

Withdrawal Processing & Wait Time
The only thing we have been able to find out, reading the terms and conditions of Banqoin, is that the broker will process the request within 2 to 5 business days after receipt. This seems to us to be an extended period of time, considering that most brokers process withdrawals within the first 24 hours after receiving requests.
After that processing time and knowing that this broker only works with bank transfers and debit or credit cards, we can think that the waiting time for card withdrawals will be a maximum of 5 business days, and the bank transfer will have to add between 2 and 5 working days to the processing time.
Bonuses & Promotions
Banqoin offers 3 deposit bonuses on its three accounts, as follows:
Bronze Account: 150% registration bonus up to a maximum of $1,000
Silver Account: 100% registration bonus up to a maximum of $5,000
Gold Account: A 100% registration bonus up to a maximum of $10,000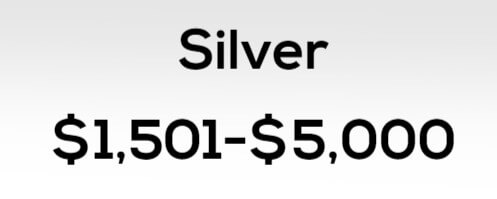 Banqoin offers these commercial bonuses, which may seem very attractive, but in reality, the offer is a bit complicated. Please note that this type of bonus is linked to high minimum trading volume requirements, which, if not met, will prevent you from withdrawing your funds.
Educational & Trading Tools
The broker has a section called "Cryptomonedas trading", where he explains very well that they are cryptocurrencies, and analyzes each of the main ones. There are no more tools or educational elements. We lack an economic calendar, which is a very useful tool for any trader, because it is seen as the main economic events of the day, and that can affect the different assets.
Customer Service
To get in touch with the customer service of this broker, we have mainly 3 ways of contact, phone, email, and a contact form that you will find on the web. The contact points are:
UNITED KINGDOM: Level 18, 40 Bank Street. Canary Wharf, London. E14 5NR, United Kingdom.
GERMANY: Banqoin AG, Börsenplatz 4. 603 13 Frankfurt / Main.
Phones: Tel: 44 (0) 157 194 0006. +49-322 2109 8381. Whatsapp: +1 209 248 1747
Email: support@banqoin.com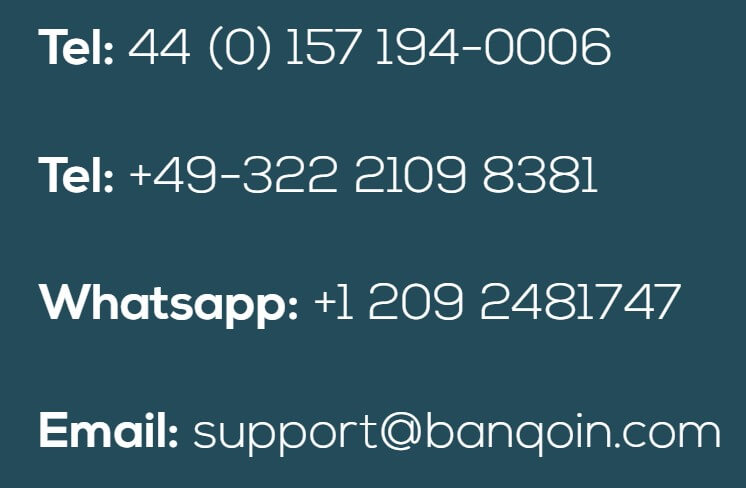 Demo Account
A Demo account can benefit the trader in many ways. It is widespread practice for traders to open a Demo account before depositing money into a real account. It is also essential to know that the Demo account retains the same live prices and market conditions, simulating the exposure in a real account. Unfortunately, we have not been able to open a demo account, so we cannot analyze the trading conditions that this broker offers.
Countries Accepted
We have not found on the broker's website information concerning states or jurisdictions with which a Banqoin trading account cannot be opened. We had to resort to pretending to open a real account, and in the personal data section, find the list of countries. Among the usually excluded countries, we have discovered that neither Canada, nor Syria, nor the United States of America, were on the list of available countries, so we deduce that the citizens of these countries will not be able to open an account with this broker.
Conclusion
Banqoin is an unregulated offshore broker, and, as we have said before, our best advice is to trust your money only with brokers authorized by one of the trusted financial regulators in Europe, Australia or the United States. We have found negative reviews, browsing the internet, about this broker, so you have to take extra precautions before opening an account with him.
We see a website that is too simple, but the worst is that there is a lot of misinformation. We have not been able to learn which leverages ratios are available, the different spreads for each of their accounts, the minimum, and maximum trade size, or whether there are commissions or not to trade. All of this is much-needed information for any individual who is considering opening an account with this broker.
The platform, based on the web, has seemed to us too simple and with few resources for the trader. We miss the possibility of an MT4 platform, which is very complete and satisfies most traders. We have also found that we do not have more means of payment than traditional methods. And not knowing in advance the costs for deposits and withdrawals has not pleased us either because it can lead to surprises in the future.
That is why our recommendation for this broker is not a positive one. Not only because of the lack of regulation but also because of the little information it provides and the feeling of lack of professionalism it gives. Many unregulated brokers trade honestly and have websites with all the information needed for a trader to decide to open an account with them.
Advantages:
Good selection of CFDs in cryptocurrencies
Possibility to open a commercial account with only 100 USD
Disadvantages:
Broker not regulated
No demo account available
No deposit with e-wallets like Neteller or Skrill
Platform too simple and with few resources
Lack of general information on important commercial aspects