FSMSmart is a forex broker based in Switzerland and offers a number of different trading opportunities. There are a number of different accounts, assets, and instruments available with FSMSmart. In this review, we will delve a little deeper to find out what makes them tick, looking at aspects such as customer services, spreads, costs, deposits and more, and if it is worth signing up with FSMSmart.
Account Types
FSMSmart provides their clients with 5 different account types to choose from each one has different opening balance requirements and slightly different features, let's take a little look at what they offer.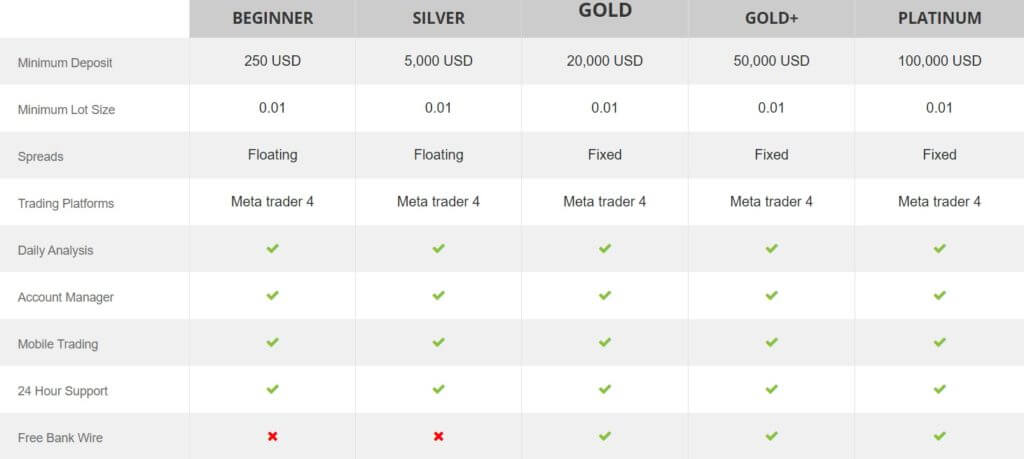 Beginner: The entry-level account from FSMSmart, with an opening deposit requirement of $250 it is accessible to most retail traders. It has a minimum lot size of 0.01 lots also known as a micro lot. It has floating spreads and uses the MetaTrader 4 (MT4) trading platform. The one downside to this account is that it does not offer free bank transfers.
Silver: The silver account increases its minimum deposit to $5,000, all other features seem to remain the same, however, we are unsure of what the floating spread entails at this time and we would expect it to be slightly lower than on the beginner accounts.
Gold: The gold account further increases the minimum deposit to $20,000, pricing out a lot of retail traders. It keeps the 0.01 lots minimum trade size however now the spreads change from floating to fixed, what the fixed spreads are is not clear at this point in time. This account also uses MetaTrader 4 (MT4), all other features
Gold+: The minimum deposit continues to rise with it now sitting at $50,000. According to the comparison tables, there are no differences to the Gold account, it does not say what the spread is, but we can assume they would be slightly lower, otherwise, it would make the difference in accounts pointless apart from the increased deposit.
Platinum: This is the top tier account with a minimum deposit of $100,000, once again, it does not appear that there are any differences to the previous two accounts, we are sure that there are some hidden details, and we may discover what these are later in the review.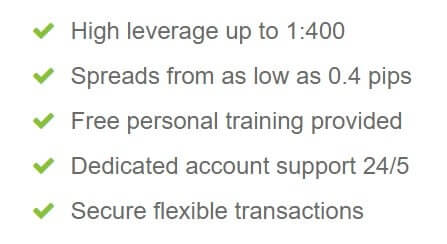 Platforms
FSMSmart offers a single trading platform, which is MetaTrader 4 (MT4), they advertise a platform called FSM platform, but this is simply a branded version of MT4. Having MT4 as the sole platform is not such a bad thing as it is one of the world's most popular trading platforms. It offers a wide variety of financial instruments, one-click trading, and compatibility with hundreds and thousands of indicators and expert advisors to help aid your trading. MT4 is available on multiple platforms including desktop, android, and iOS devices and as a WebTrader to trade using your web browser. This allows for accessibility wherever you are. It would have been nice to have additional platforms to choose from, but MT4 is still a solid platform to use.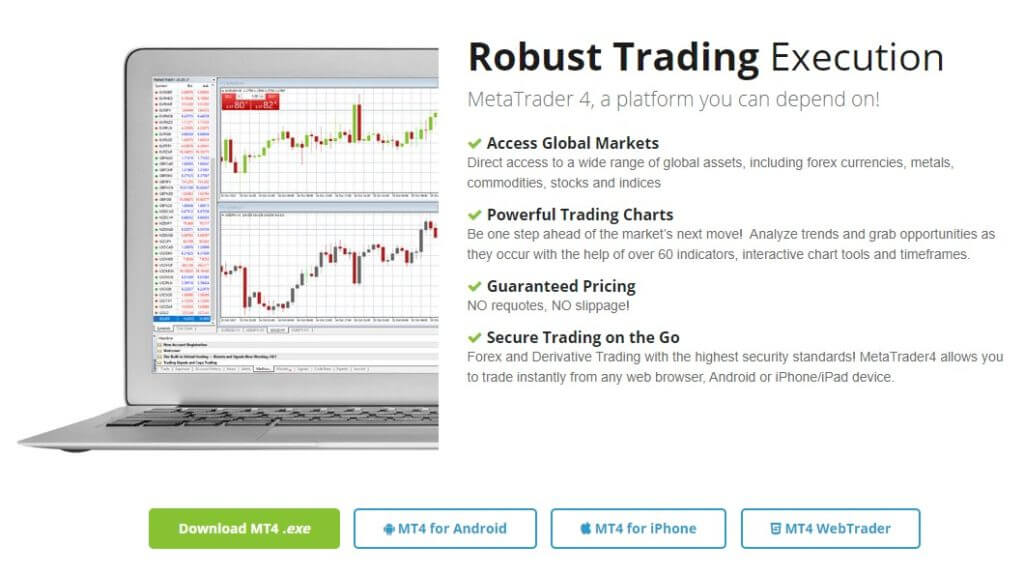 Leverage
Leverage can be selected when opening up accounts, there is currently maximum leverage available of 1:400. Different increments can be used when selecting leverage such as 1:50 or 1:100, so it is up to the client how much leverage they wish to use. 1:400 is a good amount and is in line with what the industry standard seems to be moving towards.

Trade Sizes
All accounts with FSMSmart come with a minimum trade volume of 0.01 lots which is also known as a micro lot. There is no mention of the maximum trade size on the website.
Trading Costs
FSMSmart does not work with a commission-based system and so all trading costs are added to the spreads when opening and closing trades. Spreads are dependant on the account that you are using, with both flexible and fixed spreads being available. The beginner and silver accounts have floating spread with the beginner accounts starting at 3 pips and the silver account starting at 2 pips, these are flexible so will move both up and down depending on the market conditions.
The gold and platinum accounts have fixed spreads which do not change depending on the market conditions, the gold account starts at 2 pips while the platinum account starts at 1.5 pips.
Assets
FSMSmart offers a number of different tradable assets including Forex pairs, Metals, and Derivatives. There is not a definitive list of what assets are available but the website states that there are over 50 forex pairs, silver, and gold for metals, and a number of commodities, world stock indices and equity shares available.
Spreads
Spreads are based on the account that you are using and also whether or not the account you have has fixed or variable spreads. The beginner accounts have spreads starting at 3 pips, however, these are variable and so can go higher, the silver account has minimum spreads of 2 pips and similarly to the beginner account it has variable spreads so they can often be seen higher. The gold and platinum accounts have fixed spreads so they do not change, the gold accounts have a starting spread of 2 pips while the platinum account has a starting spread of 1.5 pips.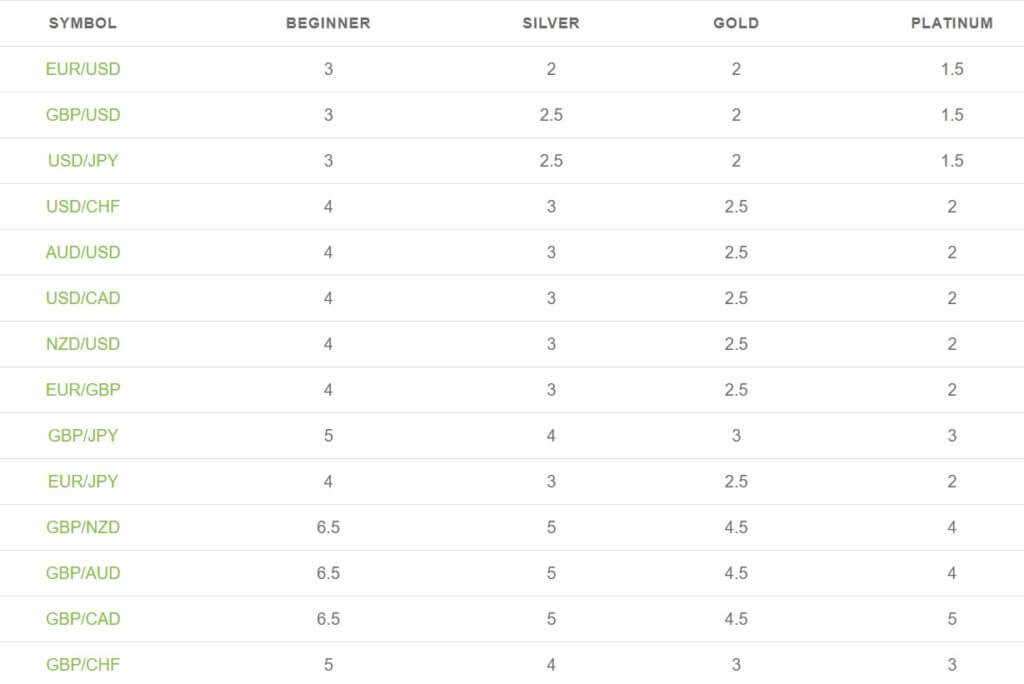 Minimum Deposit
FSMSmart indicates that their minimum deposit amount is $100, while this may be true overall, if you are opening an account for the first time, you are required to make a minimum deposit of $250, any subsequent deposits will have the minimum lowered to $100.
Deposit Methods & Costs
There are a variety of deposit methods available, these include credit/debit cards, Vload vouchers, Ethereum, Wire Transfers, Bitcoin Cash, Litecoin, Bitcoin and MPWP. FSMSmart indicates that they do not add any transaction fees to their deposits, however, your own bank or deposit provider may charge fees. It would have been a benefit if other online e-wallets such as Neteller and Skrill were available, but the current selection is sufficient.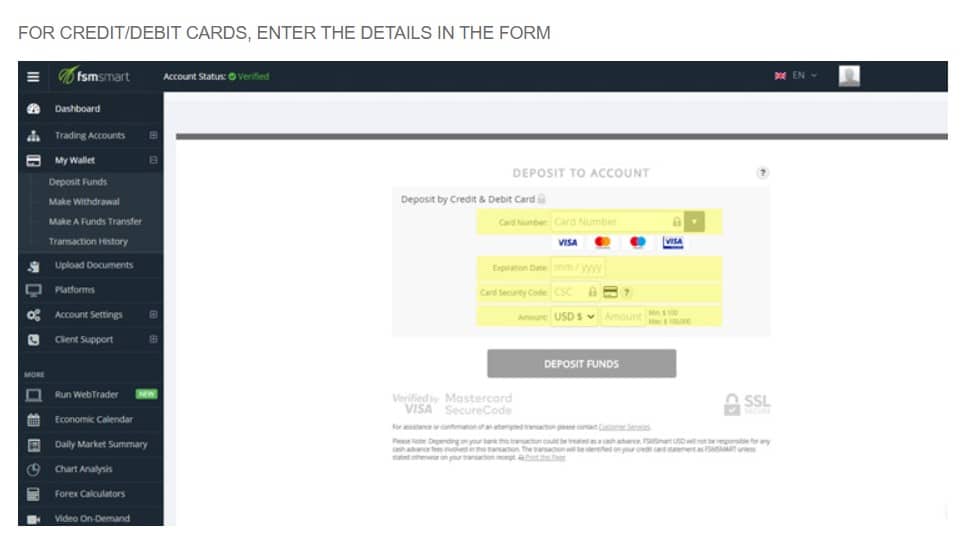 Withdrawal Methods & Costs
There is no indication of which methods are available to withdraw with, the majority of the deposit methods are also withdrawal methods on other brokers so we would expect to see, credit/debit cards, Bitcoin, Litecoin, Bitcoin Cash, Ethereum as a minimum for withdrawal methods. Similarly to deposits, there are no added fees to withdrawals by FSMSmart. It is worth noting that only one withdrawal request will be processed each day.
Withdrawal Processing & Wait Time
The FSMSmart website does not indicate how long the processing time is for withdrawals, we would be expecting 24 hours for cryptocurrencies and between 1 to 5 business days for a card and bank transfer.
Bonuses & Promotions
There was no mention of any promotions or bonuses so we believe that there are currently not any available, there may be in the future so be sure to check back and see.
Educational & Trading Tools
FSMSmart offers a number of different educational tools to use, there are ebooks available that help to teach you the basics of forex, they do not go into massive detail, but they are definitely enough to get you started. Along with the ebooks is a video series that teaches you the basics and what a few different definitions mean.
There are interactive courses available, where you learn by doing things and answering questions, this is quite good because it ensures that you are doing and learning what is being taught.
There is chart analysis, although basic, can give an idea of what the markets will be doing, these are available as both charts and also as videos. Along with the analysis is daily news and a summary of what was predicted and what actually occurred.
Some of these tools can be helpful to those first getting started, however, once you have learned the basics and know how to do basic analysis yourself, you will quickly outgrow what is currently available from FSMSmart.

Customer Service
There are a few ways to get your questions and queries over to FSMSmart, these include an online web form where you will get a reply via email, there is also an online chat, telephone number, and email address. We tested out the live chat and got a response within a few minutes, the respondent was helpful, although rather slow. We got the answers we needed and were satisfied with the service being offered in regards to the customer service.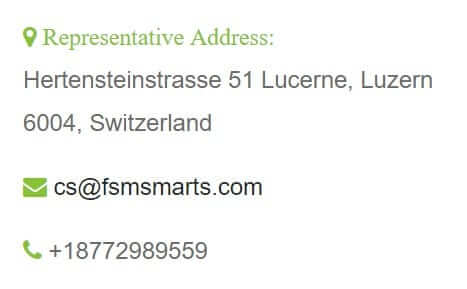 Demo Account
Demo accounts are apparently available with FSMSmart, however, we could not open one and assume that the ability to do this is from within the client area. Details of what conditions the demo account shave are not present or easily accessible on the website.
Countries Accepted
FSMSmart does not accept clients from the following countries: USA, North Korea, and Iran.
Conclusion
FSMSmart has a good selection of accounts to choose from, they offer decent leverage at 1:400 however the spreads are relatively high, this is acceptable when considering that there is no commission, however, lower spreads can be found on quite a few other brokers. Customer service was helpful and responded well, we could not test the demo accounts though which was a shame. FSMSmart certainly does not seem like the worst broker around, however, they have not done much to really stand out from the crowd. Make of that what you will.
We hope you liked this FSM Smart review, if you did, be sure to check out some of the other reviews to make sure that you find the broker that is right for you.