The cryptocurrency market has been relatively neutral in the past 24 hours. After a pretty horrible drop that ended with some cryptocurrencies dropping double digits in price, the market is in a stabilization phase. While some cryptocurrencies gained a bit of value, most remained at their yesterday's levels. As for the top3 cryptocurrencies, Bitcoin went up 0.24%, while Ethereum gained 0.2% of its value. XRP was the biggest gainer out of the three and gained 2.45%.
Bitcoin has lost a fraction of its dominance due to it not moving much while some other cryptocurrencies managed to secure gains in the past 24 hours. It now sits at 65.6 %, which represents a 0.04% decrease when compared to the previous day.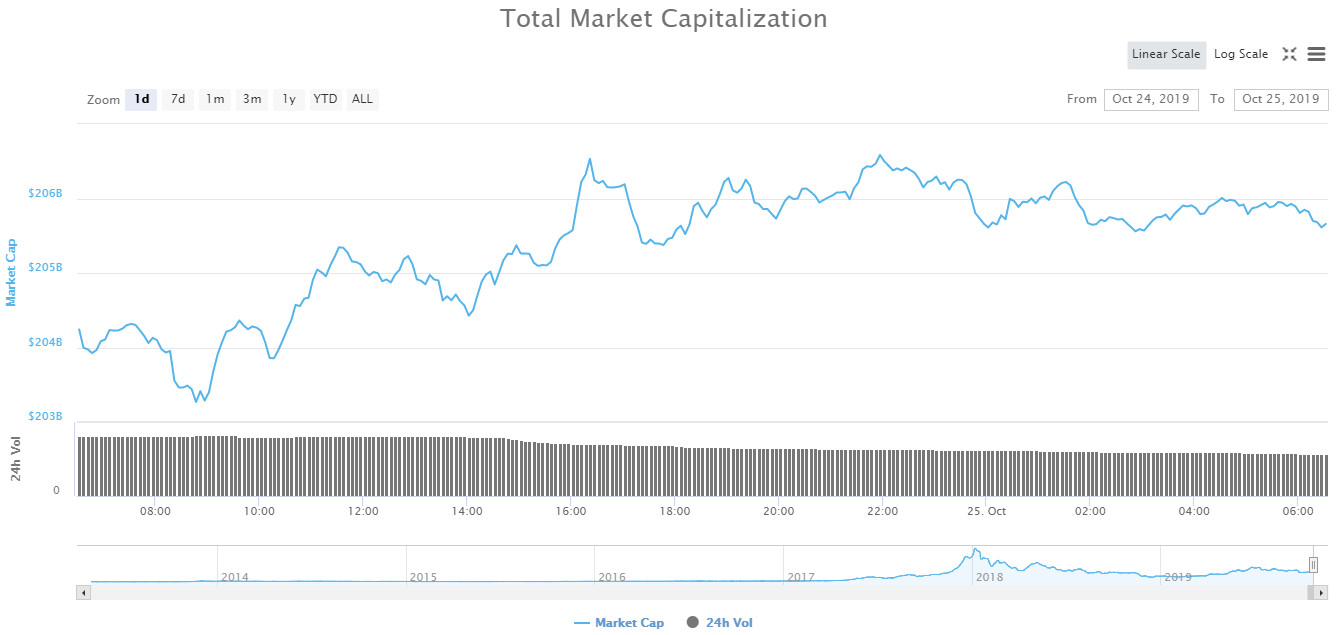 The industry has gained some value as far as market capitalization goes in the past 24 hours. Cryptocurrencies now have a market capitalization of $205.66 billion, which represents a $1.5 billion increase from the previous day.
What happened in the past 24 hours?
The markets have been pretty stable in the past 24 hours as there were no moves from neither bears nor bulls. There were also no significant news that could impact the price of the overall crypto market.
XRP has managed to gain some value on positive news, however. CryptoBull tweeted that he remains bullish on XRP and that his price goal would be $10 by the end of 2020. On top of that, Tim Draper also announced that he expects XRP to explode soon.
Cryptocurrencies are gaining momentum in adoption, and we can see the future changing right before our eyes. Peter Schiff, an economist that is considered anti-crypto and a goldbug, announced that "Privately issued cryptocurrencies, backed by real assets, would represent a major improvement over our current system of national fiat currencies."
Technical analysis
Bitcoin
Bitcoin was pretty stagnant in the past 24 hours. After finding resistance at $7,410, Bitcoin could not move far above the price point. However, this support line stopped a big bear move from that could cause much more harm to Bitcoin's price.
Bitcoin's RSI is slowly moving out of the oversold territory while the volume is on the decrease. This condition has historically shown that a move (bullish or bearish) is near.
Ethereum
Ethereum has had a slightly better day than Bitcoin in terms of price. Even though its price gain is far from big, Ethereum did manage to pull away somewhat from its support zone.
It is now sitting at $161.5, with the same indicator positions as Bitcoin (RSI and volume)
XRP
XRP has gained the most in the past 24 hours. This fact could be attributed to a large bull rally when the price broke $0.266. Even though the price managed to slip below the line, bulls rallied and propelled it upwards.
XRP is now trading at around $0.278 and looks pretty bullish in the short-term.