BlueMax Capital is an offshore, unregulated ECN type broker without anything distinguishable in their services except the PAMM. Their HQ is in Belize but the location in the footer of their website states another, familiar address, in Saint Vincent And Grenadines. The same address is used for many unregulated brokers without a physical registered location. BlueMax Capital was found in 2014 and has only achieved a mixed reputation since then. Recently they had a setback with the PAMM accounts that are popular among the users, which hit their reliability.
According to the website, they also have offices in Hong Kong and London which are claimed not to be real. Most of the website is blanked with common marketing phrases like best the execution times and an industry leader with top tier banks for liquidity. The content does not showcase any figures or specifics that could make the website more useful for an experienced trader. Some of the information is inconsistent in different parts of the BlueMax Capital website, such as for spreads and the commission. Still, this broker managed to attract 12.000 traders mostly from India, primarily interested in their PAMM service. We will evaluate their services by sections so traders can understand the risks and advantages.
Account Types
Blumax Capital is offering 4 types of trading accounts, Explorer, Lite, Standard and Prime. They all feature 5 digits and technical reports, although most brokers are 5 digits. The Explorer Account has the smallest deposit requirement and the main advantages are the leverage, micro-lot trade sizes, and no commission.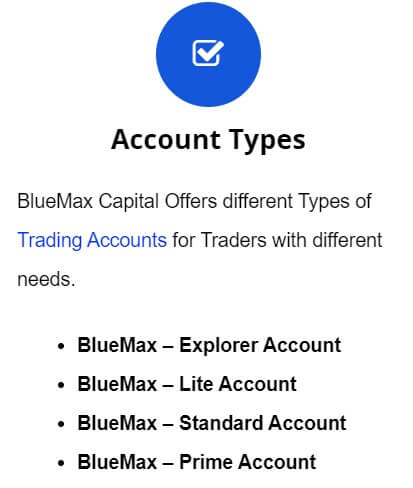 Lite Account has increased deposit requirement and it is different from the Explorer Account by tighter spreads and the included commission. As we go to the next tier, Standard Account has further increased deposit requirement, lower commission but the spread is the same. The leverage is reduced and also the trading sizes are bigger. The final, Prime Account has a very big deposit requirement and the smallest commission of them all. Trade sizes are increased and the leverage is further reduced.
BlueMax Capital states in their FAQ that the broker does not charge any commissions and the broker is only compensated for their services by the spread. This said it could be possible that there are no other account types except for the Explorer. This information could not be confirmed with the BlueMax Capital, we could not reach them by any means.
Note that there is another pdf document in the User Guide section about account types that is different than what is published on the web site. As registrations seem to be closed at the moment of writing this review for cyber attack reasons, we could not check this information.
Automated trading is not restricted and also all trading styles are allowed. Scalper type traders are also allowed although the FAQ states "unethical" and close end scalping are not allowed by banks and are prohibited. There is no information about Swap-free accounts.
Platforms
BlueMax Capital is a MetaTrader 4 platform only broker. The MT4 platform is usually available in multiple versions depending on the OS. There are links to PC and Mac versions as well as for mobile devices running on Android and iOS. An additional version for PAMM managers is available and features multiple subaccounts management from a single instance. The platform is updated to the latest version and quickly finds the BLuemax Capital servers, showing a ping of 133ms.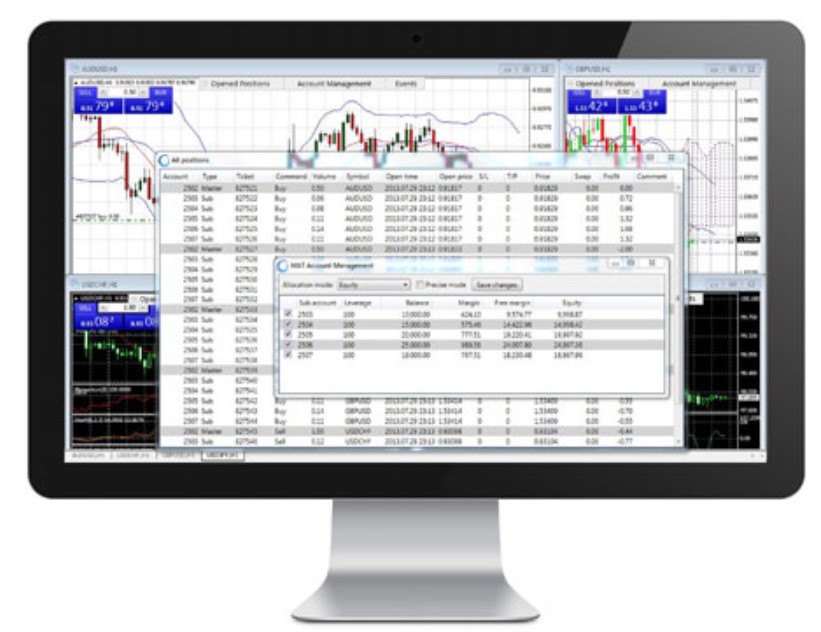 The location of the broker is presented to be in Belize according to the MT4 About window. Everything is set to defaults, showing the usual four major currency pairs charts, with one-click trading buttons visible. Trading instruments are a bit overcategorized as Forex is split into 4 groups and mixed with the other asset categories. The execution times are always below 200ms with great consistency, 180ms which is competitive. The commission column does not show any figures and the specification window is also devoid of any commission information. Swaps are displayed correctly though.
Leverage
The leverage will depend on the account type. The Explorer account features a maximum of 1:400 leverage, as well as the Lite type. The Standard account has a maximum of 1:200, and Prime has the leverage reduced to 1:50 considering the high minimum deposit requirement. The maximum leverage is kept for all currency pairs, even for exotics, while all Oil assets are 1:80. Precious metals still have the maximum leverage and Cryptocurrency is fixed to 1:4 regardless of the account type.
Trade Sizes
According to the account types specifications, micro-lot trade sizes are available only for the Explorer and Lite packages. For these, the minimum trade volume size is 0.01 lots as well as the additional volume steps. The maximum volume for a single trade is 10,000 lots as per the MT4 specifications. Standard Account has the minimum trade volume set to 0.1 lots while keeping the increments volume to 0.01 lots. The Prime account is set to work only with full lots for all orders.
Cryptocurrency trade sizes are a bit extreme to the point they are not all tradeable for the minimum deposit according to the Explorer account. The minimum trade volume is 1 lot, also the additional steps have to be 1 lot. The maximum trade size for cryptos is 10 lots. For Oil, the minimum trade size and steps volume are 0.1 lots. Indexes' minimum trade volume is 1 lot and 100 lots maximum.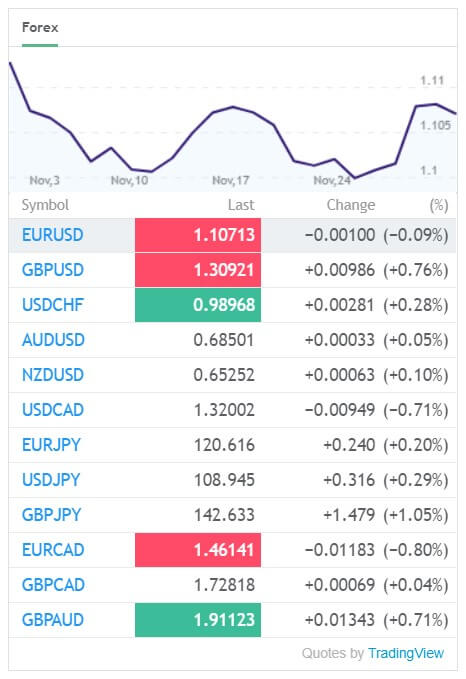 There is conflicting information about the maximum volume size on the BlueMax Capital's website and within the MT4 platform, what we have encountered on the website is 50 lots maximum for all account types.
BlueMax Capital does not have Stops levels, which means Stop Loss and Take Profit orders do not have a margin from the current price. This is true for all trading instruments according to the MT4 specifications. Stop Out level is not disclosed on the website. Legal documents are also not available.
Trading Costs
According to the described account types, BlueMax Capital charges commissions for the Lite, Standard, and Prime accounts. While Explorer Account is commission-free, Lite Account has $7 commission per lot traded. The Standard account has $6 and the Prime account $4. Note that the commissions do not show up in the MT4 so we can only confirm what is published form the website. The FAQ also states there is no commission charged by BlueMax Capital.
Swaps that are presented in the MT4 specifications are under normal levels, without a single case of extreme figures and calculated in points except for the cryptocurrencies. Whatsmore, the swaps were consistently low for all currency pairs with common positive numbers. The most traded pair, EUR/USD has -7.21 long and 3.6 points for short. Non USD pairs like EUR/JPY has -2.29 long and -1.01 short swap, GBP/CHF 0.64 long and -3.36 short, AUD/NZD -0.65 long and -0.4 short and so on.
From the exotics we could mention USD/CHN with -13.8 points for long and -1.8 for short, USD/MXN -180 long and 50 short, USD/RUB -770 long and 140 short, and USD/PLN with -7.2 points long and -4.8 points for short position swap. Precious metals swaps follow low swaps like with Forex, so XAU/USD has -10.88 long swap and a positive 3.58 for short. XPT/USD has -11.36 long and -1.41 short. Oil assets have very low swaps and cryptocurrencies are all -20% on both positions.
BlueMax does not have any account maintenance or inactivity fees.
Assets
The full list if not published on the broker's website, only a TradingView feedback window unrelated to BlueMax Capital. What is offered could be described as modest and mostly focused on Forex trading. This category has a total of 40 currency pairs. All the majors are present although some crosses are missing. In the exotic domain, we have encountered USD/RUB, USD/PLN, USD/MXN, USD/ZAR, USD/CHN and some non-USD like the GBP/SGD. Enough pairs for a common trader.
Precious metals are not minimal and traders can trade Platinum in addition to spot Gold and Silver. The list does not feature other quoted currencies except for the USD so a total of 3 instruments are found in this category.
Indexes are present but very limited. The MT4 showed only 6 of them, SPX 500, US 30, UK 100, NASDAQ, Nikkei 225, and CAC 40. In the Cryptocurrencies category, the range is similar to the Indices. All quoted in USD, we found Bitcoin, Litecoin, Ethereum, and Dash.
Energies have both Oil types, Brent and WTI. BlueMax Capital offer ends with Natural Gas.
Spreads
The spreads are a floating type and are scaled to account types. For the Explorer account, the spread is stated to be from 1.2 pips. What we have encountered in MT4 was much lower. For the Standard account and up, the spread is reduced to 0.2 pips. What we have observed in the MT4 is 5 to 20 points for the EUR/USD pair, nothing close to from 0.2 pips nor 1.2 pips stated for the Explorer account.

The spread for the other majors in wider, almost triple the EUR/USD. Less liquid currency pairs had spreads that are not so attractive compared with other brokers, for example, GBP/NZD – 8 pips, EUR/CAD – 4 pips, or EUR/CHF – 4 pips. Exotics like the USD/CHN had 20 pips.
Spot Gold has a tighter spread with 25 pips and Platinum 85. Silver is also competitive with 19 pips. Brent and WTI showed 10 pips spread while some will be disappointed to see Bitcoin with 100 pips difference we have noticed.
Minimum Deposit
The minimum deposit is $1000 for the starting Explorer and Lite account. For the Standard, it is increased to $10,000 and Prime requires no less than $100,000. Note that the minimum trading sizes are increased for the last two account types. Also, the minimum of $1000 may not be enough even for Bitcoin/USD trade as cryptocurrencies have 1 lot minimum trade size.
Deposit Methods & Costs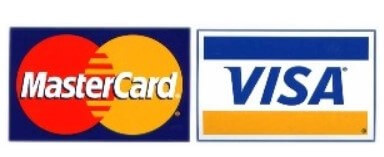 BlueMax has a few deposit methods, one of which is via Bitcoin and Ethereum. Bank Transfer fees depend on the depositor's bank, the deposit process will take 3 to 5 days. Card deposits will induce a 3% transaction fee and will take 1 to 2 days to be completed. Netteler deposits should be faster but the broker will need 1 day to process the funds. A fee of 2.5% will apply. Skrill is similar to Netteler but with an increased fee to 2.8%.
Now crypto deposits have some special requirements, Bitcoin minimum deposit is 0.2 BTC and for Ethereum 4 ETH. The fee is 0.2 to 1% and will require 1 day to complete. Note that we could not test these as registrations are closed at the moment and you may see some options missing in the Client's Area. Currencies available for the deposit are GBP, EUR, and USD.
Withdrawal Methods & Costs
BlueMax Capital state that if you fund via credit/ debit card or any e-wallet, withdrawal of funds will be made only on the same channel. For crypto, withdrawals know that BlueMax Capital can decide if the withdrawal will be approved in cryptocurrency or the USD. The costs are not disclosed but trades should expect the same costs as with deposits.
Withdrawal Processing & Wait Time
The minimum withdrawal amount is 100 USD. For PAMM Investor withdrawals will be processed only on weekends when markets are closed. The withdrawal time is 3 to 5 days for Bank Transfers, and 1 day for cryptocurrency, Netteler and Skrill. The request is made within the Client's Area.

Bonuses & Promotions
BlueMax Capital does not have any bonuses offered. Promotions are associated with the PAMM and the special benefits for Promoters who bring clients to the PAMM program.
Educational & Trading Tools
BlueMax has a minor, in-house educational material that contains seven articles. These are not long, up to 3 pages and do not have any special qualities, mostly are elementary subjects that are very common on the internet. Some of the topics are "Forex Trading Market Strategies", "Introduction to Forex Trading Charts", "Forex Trading Money Management", etc.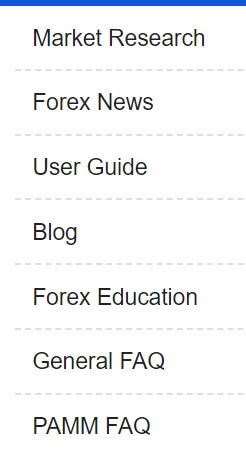 The User Guide is an addition on how to use the MT4 platform, PAMM features and guides, IB program introduction, how to deposit and withdraw and some other articles that are mostly marketing content.
The Blog section of BlueMax Capital is outdated, the staff has stopped producing new content since the end of 2018. The articles posted are much broader with educational content than the actual Education section of the website. The topics are more advanced and interesting like "How To Choose a Good Forex Broker?", "Best Investment Plan with Consistent Returns and Controlled Risk", "Cryptocurrency- Creation | Mining | Wallet | Trading" and so on. The content quality is better than the basics with some honest statements about the regulation being one of the factors for selecting a broker, even though BlueMax Capital does not have any.
Market Research section has more recent material, but we have noticed a sudden stop after September 2019. The research featured Forex Daily Forecasts that are based on Price Action, Support and Resistance, and Channels, with the short notice on Economic Events.
Forex News section is also discontinued since September 2019. The news content had almost no useable information for traders, mostly half baked rumors and statements from the officials mixed with some price levels.
Customer Service
The BlueMax Capital promotes outstanding 24/5 customer support. We were met with closed doors on all channels, phone lines, email, and chat that was always in the offline status. This is probably because of the latest cyber-attack.

Demo Account
The Damo account can be easily opened within the MT4 platform, no need for registration that is currently closed. There is no information if there are time limits, and we cannot claim that the demo will reflect a live trading environment. We were unable to asses the reason for the spread difference in MT4 and what is presented on the broker's website.
Countries Accepted
There is no information on what countries are denied service. Taking into account the Cryptocurrency deposits and the lack of regulation we can assume there are no restrictions.
Conclusion
BlueMax Capital's main issue now is to resolve the alleged cyber attack. In their popular PAMM service, we have noticed that almost all of their promoted PAMM managers have a negative performance, which is not intended and proves the display shows actual figures. The users that have invested in PAMM are showing their dissatisfaction and the ratings of this broker plummeted. Some of the hacked funds were returned to the investors which shows BlueMax Capital's genuine intention.
If we set this aside, the broker does not show great trading conditions but average, in terms of instruments range, spreads, and security of funds. The main selling point – PAMM service, is now compromised leaving the only one specialty of BlueMax Capital remaining – cryptocurrency deposits. Of course, this kind of deposits brings other risks and advantages but remains popular.