Intertrader is a renewed CFD and Spread Betting brand in 2019, as it is acquired by the GVC Holdings PLC. GVC is a betting and gambling business company that is expanding into the brokerage industry. GVC is publically listed on FTSE 250. The broker is headquartered in Gibraltar and authorized by Gibraltar Financial Services Commission and partly regulated by the FCA. The broker states it has 10 years experience in the industry, back in 2010 Intertrader brand was under the London Capital Group, an old broker with not so good reputation.
Intertrader has DMA execution for equities and ECN for Forex and also offers Prime brokerage service for institutional trading, supplied by Argon Financial. Intertrader has a mediocre reputation among the users, yet the brand could have a new business model, management and policies that could provide a better experience. Certainly, this broker has strong regulation and legitimate addresses despite being an overseas company.
The website has a classic structure but different content marketing, FAQ, Trading Information, the product range is not presented clearly, visitors will need to navigate to find this important info. Intertrader puts their neutrality, no conflict of interest, funds security and regulation as one of the key selling points, carefully explaining how they operate to inspire trust.

The main idea of Intertrader's website is to serve more as promotion than as an information portal, even though the spreads are tight enough to promote one of the great features of Intertrader, still, this info is hidden under a few menus. Whatsmore, the trading conditions list for their web platform overlaps with other elements of the website if expanded to show more than 10 instruments per page, giving us a feel this section received less attention from developers.
There are many awards Intertrader received before 2019, they are presented on every page of the website with additional video clips that explain how to deposit and to promote forex trading. Whole website content is geared towards new traders as there are over explanations for all categories. We will review Intertrader's services by sections to bring better information than what is actually presented, so traders can decide if this broker matches their needs.
Account Types
Intertrader offers Spread Betting and classic CFD trading. As stated both can be done from one account and one platform, but what is meant is that you will have to select the account type, Spread betting or CFD trading during the registration. Note that there is different pricing for the MT4 and the web platform. Based on the options given, traders can select Metatrader 4 Account or Web Account, under which they select Spread Betting or CFD trading.
The broker presents what you will need for registration and the required minimum deposit. There is also an option to select a corporate or individual account. The account currency can be in GBP, EUR, or USD. Since the accounts have different trading conditions on the platforms, Intratrader presents a feature list of both platforms on the account creation page. The only difference between the two is EAs and FIX API that is available only on MT4 while the Web Platform features Shares trading and TradeBack™ rebate program, not otherwise available on MT4.
We would also like to add that the Web Platform does not support custom indicators and other features, but has a news feed module, more on platforms in the next section. Also, there are differences in pricing between the two.
Intertrader also features a professional account named Black Account. This account has special pricing and higher leverage but, as per regulations, has certain requirements. Two of them must be met to be classified as a professional trader:
-Executed at least 10 sizeable trades per quarter over the last four quarters
-Have a total trading portfolio size more than €500,000
-You have worked in the financial sector for at least one year in a professional position
Platforms
Intertrader offers two platforms, Metatrader 4 which is available in mobile and desktop installments, for Mac, Windows, iOS, and Android. Web MT4 version is replaced by Intertrader's platform. Advanced Intertrader Platform is the second, available as a downloadable install for Windows and Mac.
MetaTrader 4 is updated to the latest version and set to default settings. There are two servers available and both are from the UK, relaying a ping of just above 60ms. Classic default chart layout is loaded with the 4 major Forex pairs set on 4 hours timeframe, there are no additional indicators or templates.
Symbols are grouped into 4 sets that do not represent the assets class correctly, for example, you can find Brent Oil under the "Indices (CFD)2" group. Instrument Specification window is filled with enough trading information. One-Click trading buttons are visible and the Termina Trade tab shows all relevant trading costs, swaps, and commissions. The execution times ranged from 130ms to 190ms which is very fast even though we have seen execution times lower than 70ms with ECN STP brokers. Indeed Stocks are not listed in MT4 but Indexes are.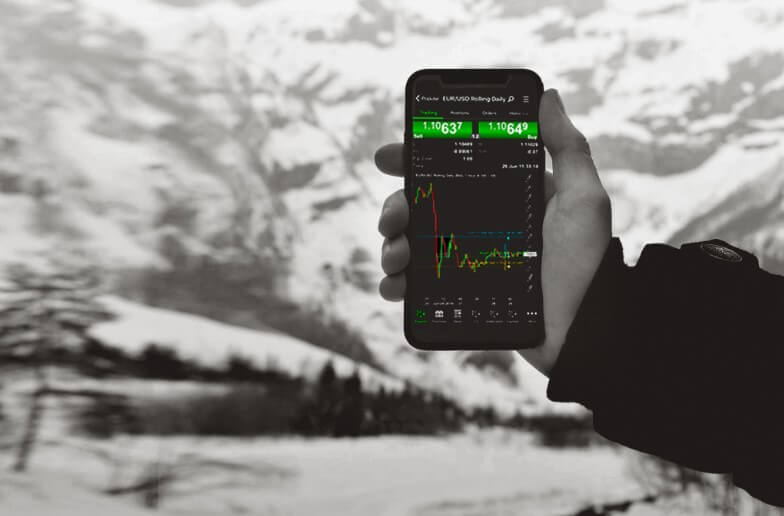 Intertrader Web Platform is integrated with different services from the broker and has a neatly organized "Market Watch" into sets. On top, there are tabs for additional features so traders can access the Analysis from the Intertrader's website which consists of Strategy Centre, Education Centre, and Trading Tools. These are just web pages to webinars and latest Intertrader's blog posts, while Tools window opens the login to Trading Central and Autochratist service.
The "News" tab has a nice feedback window from RANsquawk which requires Flash Player but still lists daily digest with useful short information. Whatsmore, Daily Brief will allow you to insert a Trading Central plugin to your MT4 or Intratreder platform. This plugin will act as an indicator on a chart that will display the analysis and Trading Central trading recommendation. In the "News" tab, Economic Calendar is also added that is powered by Econoday. This Calendar has a great overview of events, descriptions on click, impact meter, filtering by country and different time scaling.
The "Resources" tab contains just a platform guide and mobile apps link while the "Product Information" has a link to Intertrader's website FAQ, product tables and a TradeBack app for the broker's rebate program. The last "Platform Help" tab is all about deposit and platform guides. The chart has similar if not all the features like in MT4 but with more timeframes and has automatic analysis lines applied.
The chart windows are resizeable but not modular, have different themes and a few chart types, some of which are not available in MT4. A total of 29 indicators are available to insert, some are interesting like the Elastic Volume Weighted MA. Finally, apart from the almost the same trading positions panel as the MT4, there is a Signals and Patterns module that is available only for Live accounts that feature analysis from Intratrader.

Overall the web platform is far superior to what is seen usually and packed with features.
Intratrader's downloadable version is based on Java and is even better than the Web version. While similar in design, it has even more features and advanced possibilities not available in the MT4. The only drawback is the inability to insert Automated Trading Robots, custom indicators, and the FIX API. This time all windows are modular and resizeable, even more, chart types are available with the ability to link as well as more indicators.
Complex alerts can be set, a lot of tools are at your disposal. They are of high quality and provide useful detailed information. Workspaces can be saved giving traders the ability to specialize on, for example, on fundamental, technical analysis and trading. There are more than 70 indicators on the list and more than 20 automatic patterns plotting. Traders that are used to MT4 would need some adaptation while cTrader users will have an easier time as the platform uses similar design. Overall, a professional, broker-specialized platform.
Zulutrade's automatic trading subscription is promoted.
Leverage
Leverage is instrument-specific and is also different for professional and retail clients. For Forex, the leverage is 1:30 for majors and crosses, and 1:20 for minors. Exotics have 1:10 and some even lower to 1:5 like for the USD/ZAR pair. For professionals, the leverage is higher to 1:200 and 1:100 levels. Indexes have 1:10 and 1:20 leverage while Cryptocurrencies have 1:2 for all. Commodities usually have 1:10 but precious metals have 1:20 leverage including the futures contracts.
Trade Sizes
Intratrader is a micro-lot broker or the minimum trade volume size is 0.01 lots for Forex. The maximum individual trade size is 100 lots. This is the same for spot Gold and Silver while Gold futures have 1 lot minimum trade size and 500 lots maximum. The same is for other futures including the WTI and Brent Oil. Indexes have the same trade sizes, 1 lot minimum and 500 lots maximum. Cryptocurrencies futures hide a surprise, the minimum trade volume is 1 lot, including the Bitcoin, which is too high especially considering the leverage of 1:2.
Stops levels are 0 for most assets, the exception is cryptocurrencies which have a 10 points limit. Note that all Futures have an expiration date at which your trade positions will be realized. We could not find Stop Out and Margin Call levels so we had to ask Intertrader staff. The Stop Out is at 50% levels and Margin Call is at 100%.
Trading Costs
Intratrader charges commissions for Forex CFDs while other instruments have the costs included in the spreads. The commission is 3 currency units per side per lot, so it will depend on the currency pair traded. For example, GBP/USD trading will involve 6£ per lot traded. We have confirmed this statement in the MT4. The commission is not presented in the specification window within the MT4, but it is in the Terminal once you open a trade. Commissions are not charged for the web platform.
Swaps are calculated in points and are under normal levels with frequent positives, tripled on Wednesdays. The website pricing table does not have swaps and visitors are redirected to see instrument specification in the MT4. The most traded currency pair, EUR/USD have -15.11 points for long and a positive 3.89 points for short. USD/JPY has 3.94 points long and -12.78 points for short while for the EUR/NZD swap is getting higher to -19.65 for long and -15 short.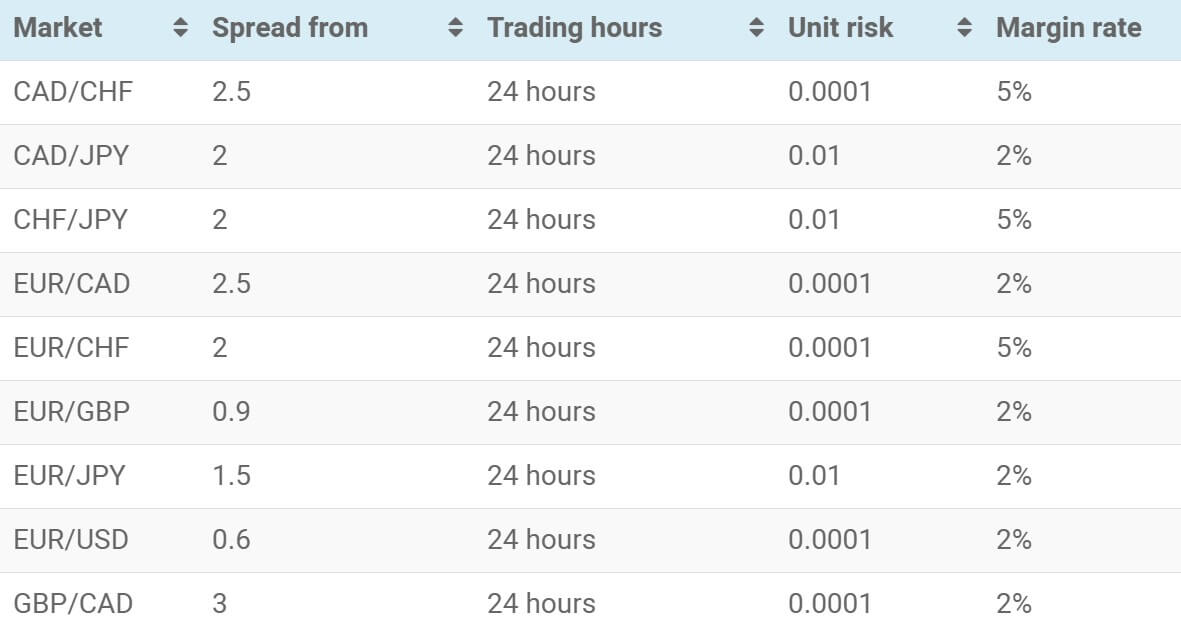 As we go to move into exotics pairs the swap is getting higher, so the USD/HKD has -133.6 points for long and -189.9 for short, USD/CNH -131.13 points long and -178.30 points short, and the USD/ZAR -324 long and 108 points for short position swap. The highest swap is for the USD/MXN at -538.12 long and 24.29 points short position swap. Spot Gold/USD has-23 points for long and -1 point for short, it is not common to see negative swaps on both sides for Gold.
For Cryptocurrencies, the swap is calculated in percentage terms, and it is -55% on both sides. This is per annum rate and is much higher than average in the industry. Also, note that the cryptos are also futures so they have an expiration date.
Web platform shares have a commission, 0.1% commission per side for Germany and UK companies and 2.95 cents per side added to underlying for US companies shares. Dividends are paid and debited depending on the position and on the company or Index. On the MT4 no shares trading is possible.
Assets
Metatrader 4 Account does not have shares so traders will have Commodities, Precious metals, Forex, Cryptocurrencies, and Indexes. Forex has a total of 50 currency pairs. All the majors and crosses are present while exotics have GBP, EUR, and USD as a base currency. Therefore traders can find GBP/PLN but also EUR/PLN and USD/PLN. This is also true for TRY, HKD, ZAR, and Scandinavian currencies. CNH and MXN are available only with the USD as a base. Some other EU currencies are not present like the HUF but still, this is above average Forex range.
Precious metals are limited to Gold and Silver in the MT4 but with the Futures extension. This is not a better offer as the difference is negligible. Platinum futures are mentioned on the website listing but we could not find it in the Web platform nor the MT4.

Indexes have a good range with 13 total in MT4 and 14 on the Web platform. Major ones are lited with the addition of less common ones like the N25 (Netherlands), SWI 20, CAC 40, US Tech 100, and Spain 35. Wall Street and US Russell 2000 are additional assets in the Web platform. Volatility Index is available as a futures contract. US Dollar Index is also open for trading only in MT4.
Commodities are limited to energy assets mostly. Both Brent and WTI Oil can be found in multiple instances like US Crude spot and futures, UK Crude Oil spot and futures, US Gas RBOB futures and US Cotton futures. In the MT4 only two Oil types can be found. Coffee and Cotton futures are present in the Web Platform but not in MT4. Coffee futures are not on the website's official listing. As we are informed by the Intertrader's staff, Platinum, Wheat, Soybean, Corn and Orange Juice futures are not available in the platform and the website is not yet updated to reflect the real offer.

The cryptocurrencies range is basic, limited to 5 coins. These are Bitcoin, Ripple, Litecoin, Ethereum, and one less common – Aether Cash (XBN). For the Web platform, only two are listed on the web site, Bitcoin and Ethereum but we could not find the Cryptocurrencies category in the Web platform.
Stocks are available only for the Web and Intertrader desktop platform. They are categorized into the US, UK and EU groups. The overall offer range is extreme so the listing is done alphabetically to avoid long lists.
Web and Intertrader Desktop platform also feature Bond and Interest Rates Futures. These are not common to see, a total of 4 instruments are listed on the website but only 3 are found in the platforms. These are Euribor Futures CFD, Euro-Bund Futures CFD, and Short Sterling Futures. Note that Euribir Futures are tradeable by phone only.
Spreads
Intertrader have floating type spreads that are tight for some assets while for others are not competitive. EUR/USD pair has from 3 points spread and during our observation did not pass 5 points. On the website, it is stated from 0.6 pips, but obviously, the spread is tighter. USD/JPY also has the spread form 0.3 pips while USD/CHF is under the double-digit point spread most of the time.
Double-digit spreads are only for EUR/AUD, EUR/CHF, GBP/CHF, AUD/NZD, EUR/NZD and even they do not pass 17 points figure. Higher spreads are only for exotics, so for example, USD/CNH has around 100 points spread, USD/HKD – 44 points, USD/MXN – 40 points, USD/PLN – 70 points, USD/TRY – 200 points, etc. The biggest spread is for GBP/ZAR going from 500 to 1000 points.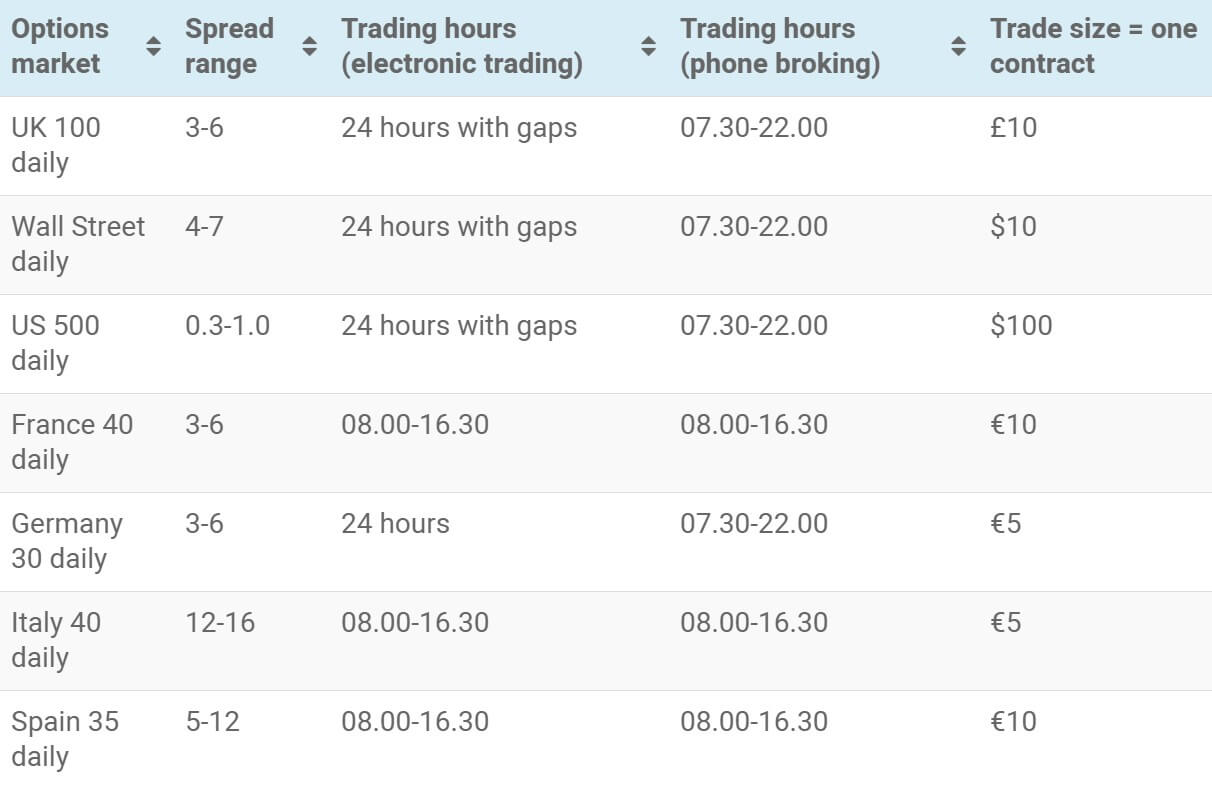 Spot Gold/USD spread is one of the top tiers in the industry around 15 pips. Spot Silver is at 4 pips while Gold futures is like fixed to 40 pips – not moving even the prices fluctuate.
Spot Brent and WTI have both around 40 points spread and their futures contract versions have like fixed to 20 points but are classified as floating spreads.
Crypto spreads are not as with Forex. They act like fixed to $100 for Bitcoin, $1 for Ethereum, and 10 points for Ripple. These spreads are not competitive.
Minimum Deposit
The minimum initial deposit is stated at 500 USD/GBP/EUR for all account types. If you plan to trade Bitcoin, this will not be enough as the minimum trade size is 1 lot and the leverage is 1:2.
Deposit Methods & Costs
Deposit channels are by bank transfer, by debit or credit card, or by Skrill. GBP, USD, and EUR are accepted currencies to the Intertrader's bank account transfer or by credit cards. Skrill also has a small transfer charge of 3 % but no fees are charged by the broker. Skrill deposits are instant after your Skrill account has been verified. All accounts must be on the investor's name.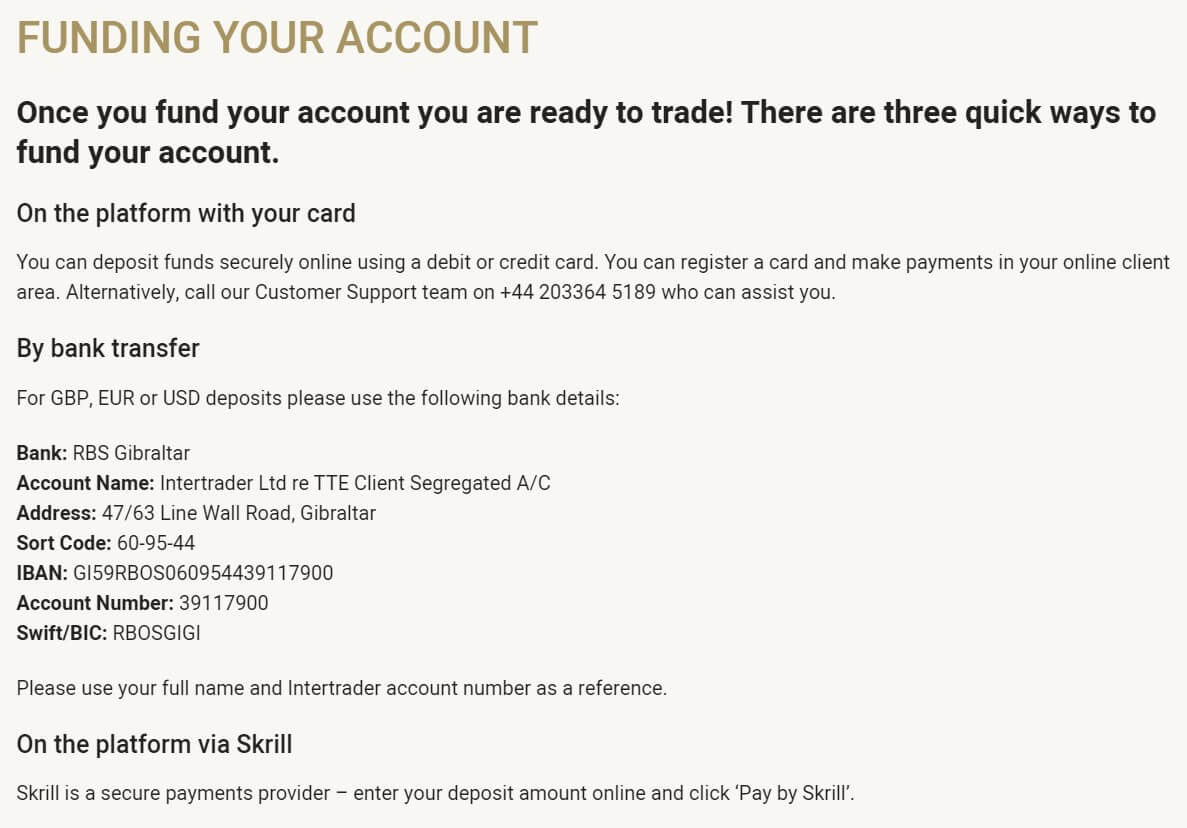 Withdrawal Methods & Costs
Funds must be sent to the same source as with the deposit, so if you made your initial deposit by bank transfer funds must be returned to your bank, while deposit by card funds must be returned to the card if possible, otherwise the funds will be sent to the bank account associated with the card. The minimum withdrawal amount can exist as InterTrader can refuse individual withdrawals under 50 EUR/GBP/USD unless this is to close your account.
Withdrawal Processing & Wait Time
After a trader has made a request within the Clients' area, Intertrader will process the request within 24 hours timeframe, although your bank or card provider may take up to 3 to 5 days to return the funds to your account. There are no associated fees with the withdrawals.
Bonuses & Promotions
Intertrader does not have classic promotions or bonuses. The only similar service is the TradeBack rebate. TradeBack is for professional clients only. The rebate is paid at the end of the month to clients who have traded in sufficient volume. The rebate is based on the total spread fees amount so if a trader spreads cost reach 500 GBP they will receive a 5% rebate, over 1999 GBP is 7.5% and above 4999GBP is 10%.
A Referral program is also available but for professional clients only. Each additionally referred client will have an increasing bonus by 50 GBP, starting from 100GBP for the first. Additional time and trading volume conditions apply.
Educational & Trading Tools
There is no special educational section but the Intertrader's website is full of explanatory content. Of course, there are classic introductions like "Why trade Forex", "Why trade CFD's", "Why spread betting", and video tutorials.
Economic Calendar is also added to the website, not just from the Intertrader's platforms. It is the same great design by Econoday with a good overview and features as in the platform.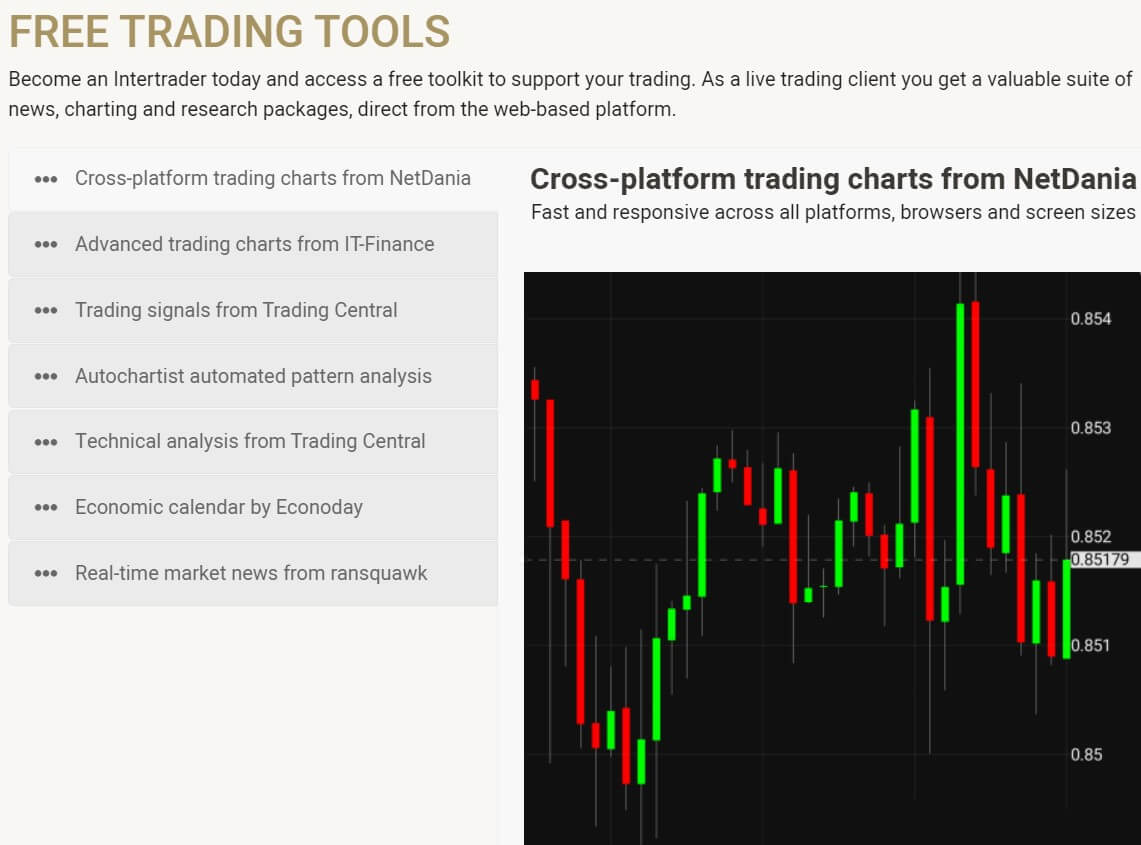 Apart from the tools and features mentioned in the platforms, the Technical Analysis section on the website is actually Intertrader's blog that contains articles of various categories and topics. For example, here you can find educational content "How do IPOs work? The basics", "Safe havens: four assets that can reduce risk", and "Eight traits of a professional trader".
Other topics are about trading like "Bitcoin continues lower: short-term outlook", "Gold and silver trading in a gently downward-sloping trend", and "Short-term trading levels for index futures ahead of US-China trade discussions". The analysis content has a lot of graphics, different indicators and is based on price action and some other reputable trader's claims. The arguments are not based on anything substantial except for Fibbonaci levels or similar.
The blog section has more categories to choose from and also a search box that comes useful. The blog is updated a few times a month although lately, only one is published in November.
Customer Service
Intertrader has 3 communication channels, phone line, chat service, and email. Customer care is claimed to be 24/5 and we have confirmed that this is true. The chat service is very good, without any delays more than a minute. The answers are not always to the full and the staff is not very courteous like with some UK brokers, but the service quality is good overall.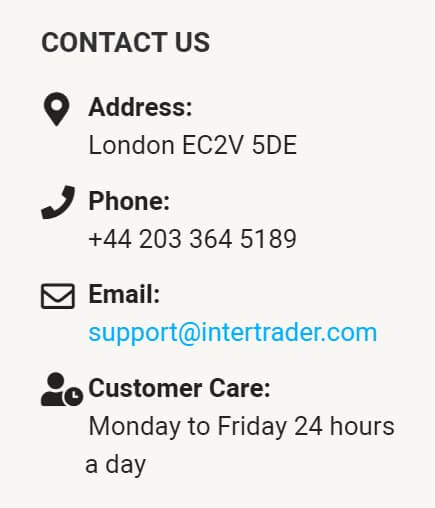 Demo Account
The demo accounts exist for all account types and platforms. They reflect real trading conditions and it is not time-limited. All accounts are funded with 50k or 10k virtual funds which are not changeable. The leverage is also predetermined. Traders can use multiple demo accounts and also test the cross-platform trading orders.
Countries Accepted
An official list of unsupported countries is not disclosed but we can confirm from the Intertrader's support that clients from the United States are not allowed.
Conclusion
We will address a few more important information that is not covered in this Intertrader review. The broker discloses that 78% of retail investor accounts lose money with them. It is noticeable that the broker internal alignment is not clear as the website feels it is made for traders that are new while offering products, tools, and platforms that require knowledge and are still not easy to adopt with all the video tutorials.
On the other hand, experienced traders will search for better trading conditions, more information that is not wasting too much time to find. As in terms of funds security, Intertrader is providing more than an average regulated broker, with a special compensation scheme in case of insolvency by the GICS, up to 20,000 EUR. It is also claimed to have additional funds above the requirements secured by the GVC subsidiary, bwin.party holdings Ltd.
Traders ratings for this broker are average, with the common problem for traders which made a profit. The complaints are about the denial of the withdrawal by the broker, claiming that traders are violating one of their terms. This case is often enough to raise suspicion even though there are not many trader reviews as the broker is not very popular. Note that Intertrader is renewed with new management and there are no new reviews so whether this practice will continue is not certain.
The main selling point of Intertrader is the good spread and trading conditions for the Forex market, including precious metals. This is further complemented with great tools and good execution times that could attract traders that also seek funds security.