In today's lesson, we are going to demonstrate an example of trendline breakout trading. Price action trading is mainly based on support/resistance and breakout. It does not mean that support/resistance is only horizontal. A trendline works as support/resistance as well. Let us now proceed and find out how a trendline breakout offers entry.
The price has been bearish by obeying a down-trending trendline. The price has rejection at the trendline four times. Now, it is the sellers' territory. However, one bullish candle may change the game.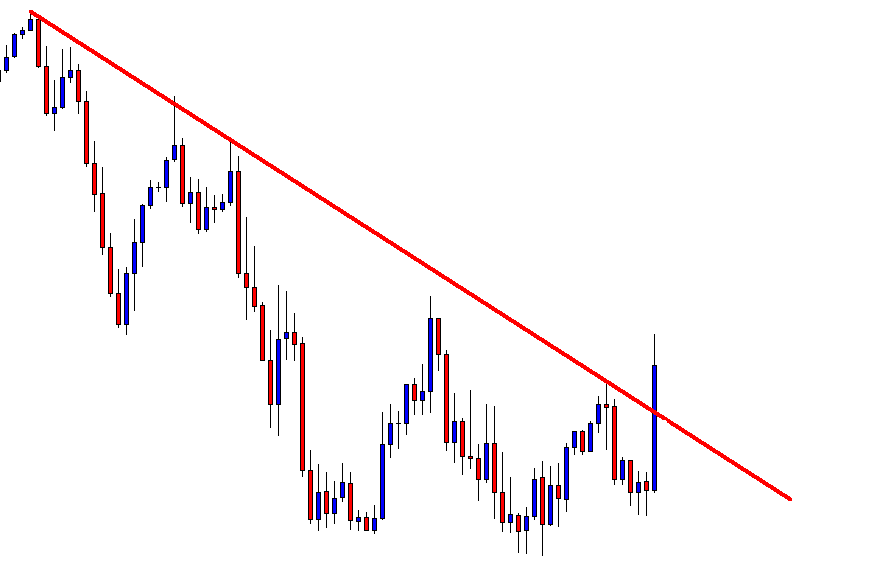 Here it is. One big bullish candle breaches through the trendline's resistance closing well above it. Usually, trendline breakout traders wait for the price to come back at the trendline again and get a reversal candle to take entry. This is the safest thing to do in trendline breakout trading.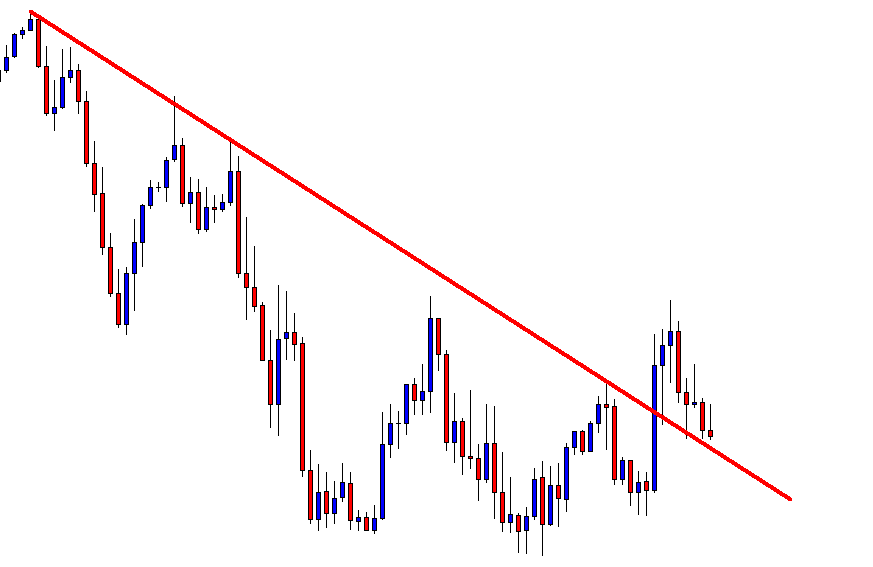 The chart shows that the price heads towards the North for two more candles and comes down for a correction. Trendline's resistance becomes support now, which is what happens with horizontal support/resistance. The buyers are to wait for a bullish reversal candle to go long in this chart. Typically, a bullish engulfing candle is the best reversal candle to go long as far as the trendline breakout trading strategy.
The chart produces two doji candles. These are reversal candles. However, look at the last candle. This is a bullish engulfing candle; thus, the buyers may go long right after the candle closes. Stop loss is to be set below the new support.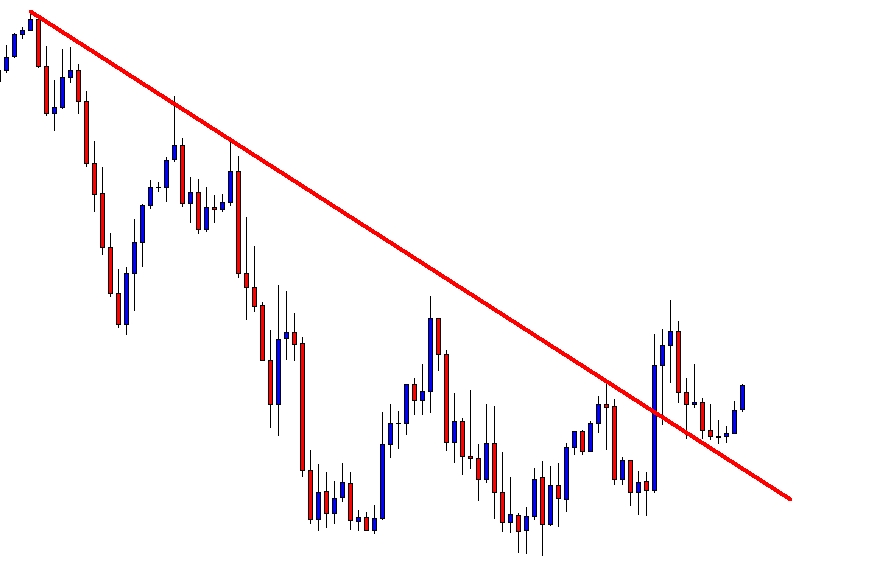 The next candle comes out as a bullish candle too. This looks good for the buyers. Since the price makes a breakout, confirms the breakout, and produces a bullish engulfing candle, it may make a new higher high. However, the safest option to set take profit is at the last swing high.
The price heads towards the North with good bullish momentum. The price hits the last swing high in a hurry. It gets us 2R here. As long as it offers us 1R, we shall go with it. If it offers less than 1R, we may skip taking the entry. The last candle comes out as a bullish candle. It suggests that the price may make a bullish breakout. That is another game. If we want to take a long entry upon the next bullish breakout, it would be based on a horizontal breakout trading strategy.
Trendline breakout trading is quite simple and rewarding. Stay tuned to get to more about trendline breakout trading strategy in our fore coming lessons.